Thank you to everyone who entered Musto Wine Grape Company's Wine Competition. We cannot wait for the Competition Dinner to give you all of the results! Dates for the dinner are coming soon….
You will be receiving an email this week with your medal results. All medals and feedback will be given out at the dinner.
And now for Best in Show…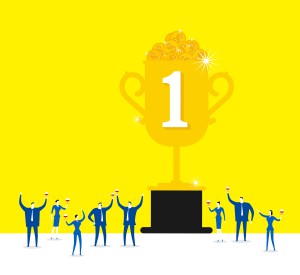 Best in Show – Commercial: Winemaker Amanda Brackett from Southern Connecticut Wine Company for their "Dark & Dirty Red Blend"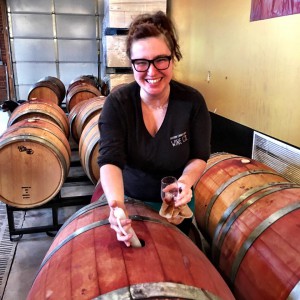 Best in Show Amateur: Eric Albetski & Ed Smith for their 75% Sangiovese, 25% Cabernet Sauvignon Blend.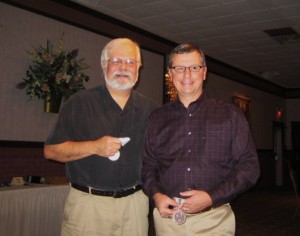 Congratulations to all the Winemakers who submitted their entries. We can't wait to see you at the dinner and celebrate your wines!
If you are like us then you get impatient waiting for your wine to finish the aging process. Here are few things to keep you busy while you wait for your vintage to be ready.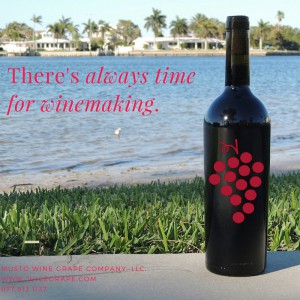 1. Drink Last Year's Wine – Yummy.
2. Make a Wine Kit – You can have wine on the table in 3-4 weeks! Personally we are loving the Castel del Papa and the Green Apple Riesling.
3. Search Out a New Wine Club or Two – These new wines can inspire a new blend or variety to be made next year.
4. Design Your Own Wine Label – Your wine label should represent you. Musto Wine Grape offers custom label design as well as stock labels to help you add your own flair to your wine label.
5. Drink Local – Check out your local wineries and compare wine notes with other local winemakers. Connecticut has a great Wine Trail you can check out the next time you stop by to pick up a few things.
6. Visit California Wine Country – Why not take a trip and see where your wine grapes came from? Contact Christina at cmusto@juicegrape.com for more information on where to taste, stay, and play in California Wine Country.
7. Clean and Organize Your Wine Cellar– Think of it as "spring" cleaning. I'm sure your house mates would be happy to see it organized.
8. Stock Up on Winemaking Products for Next Year – There are a lot of sales going on during the Holiday Season. Take advantage of them and get ahead for next year!
9. Plan for  your next Winemaking Project – Southern Hemisphere Grapes – Grapes from Chile and South Africa will arrive as early as the beginning of May. The California grapes will arrive in August.
10. Throw a Blending Party – Invite your friends over and create some new and interesting blends.
Fresco Juices and Other Italian Juices will start to arrive the Week of 10/10
Please give us a call at 877.812.1137 or email us at sales@juicegrape.com to schedule your pick up. 
Mosti Mondiale's flagship refrigerated fresh grape juice product, Mondiale Fresco, has served the home winemaking community since 1989. Sourced from both Italy and California, Mondiale Fresco marks the beginning of a new winemaking season based on traditional practices that have crafted wines of significant character. With over 30 fresh varieties to choose from, Mondiale Fresco is proud to be the only product to offer home winemakers their own vineyard in one unique package. 
Mosti Fresco Juices are PRE ORDER ONLY.  If you have not pre-ordered yet please give us a call at 877.812.1137 or email us at sales@juicegrape.com.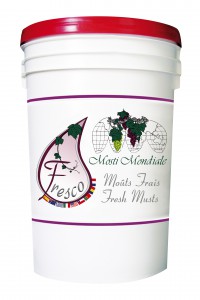 Mosti Fresco Fresh Juice Instructions
Mosti Fresco Varieties:
ALICANTE (CALIFORNIA)

AMARONE (ITALY)

BARBERA (CALIFORNIA)

BAROLO (ITALY)

BOURG ROYAL (CALIFORNIA)

CABERNET FRANC (CALI)

CABERNET SAUVIGNON (CALIFORNIA)

CASTEL DEL PAPA (ITALY)

CHIANTI (ITALY)

LAMBRUSCO (ITALY)

MERLOT (ITALY)

MONTELPULCIANO (ITALY)

NEBBIOLO (ITALY)

NERO D'AVOLA (ITALY)

PETITE SIRAH (CALIFORNIA)

PINOT NOIR (CALIFORNIA)

RUBY CABERNET (CALIFORNIA)

SANGIOVESE (ITALY)

SHIRAZ (CALIFORNIA)

VALPOLICELLA (ITALY)

ZINFANDEL (CALIFORNIA)

GRENACHE ROSE (CALIFORNIA)

ZINFANDEL ROSE (CALIFORNIA)

CHENIN BLANC (CALIFORNIA)

GEWÜRZTRAMINER (CALIFORNIA)

MOSCATO (CALIFORNIA)

PINOT CHARDONNAY (CALIFORNIA)

PINOT GRIGIO (ITALY)

RIESLING (CALIFORNIA)

SAUVIGNON BLANC (CALIFORNIA)

SOAVE (ITALY)

TOACAI (ITALY)

TREBBIANO (ITALY)

VINHO VERDE (CALIFORNIA)

MALVASIA AROMATICA (ITALY)

MOSCATO ITALIANO (ITALY)
Our Italian juices are prepared in multiple ways for multiple winemaking opportunities. We have our Italian Fresh Juices, Mosti Fresco Juices, and Original All Juice Sterile Juices. All of our juices are handled with utmost quality and care.
Other Italian Juice Opportunities:
Fresh Italian Juices: Our Mosto Imperatore Italian juices have arrived! Create the best wines Italy has to offer. We have all the specialty varietals and blends – Amarone, Barolo, Brunello, Chianti, Dolchetto, Lambrusco, Montelpulciano, Moscato, Nebbiolo, Nero D'Avola, Pinot Grigio, Sangiovese, Trebbiano, and Valpolicella.
Sterile Italian Juices: Mosti Mondiale's 23L Original AllJuice is a true 100% pasteurized fresh grape must product. Experienced winemakers looking to complement their skills and patience will become instantly rewarded with the introduction of fresh grape must. Italian Varieties: Castel del Papa, Lambrusco, Montelpulciano, Nero D'Avola, Trebbiano, Moscato, and Il Toscano (Chianti)
Please give us a call at 877.812.1137 or email us at sales@juicegrape.com to schedule your pick up.