The Winemaker's Think Tank: Vol 2 – What do I need to get started making wine with fresh juice?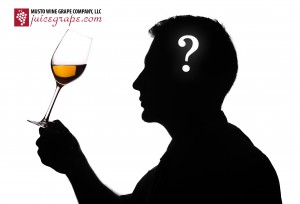 The Winemaker's Think Tank? 
Every Thursday we will post about a few frequently asked questions that our winemaker has answered. If you have a winemaking question you would like to have answered, please email us at support@juicegrape.com and we will try to get into next week's post. Cheers! 🙂
What do I need to get started making wine with fresh juice?
When elevating your winemaking to the next level, often sourcing the best ingredients is the most direct path to better results. After getting great base experience using wine kits, the next logical step to wine making greatness is fresh juice. When making this change from wine kits to fresh juice, other ingredients may be needed to ensure the juice will reach its greatest potential as wine. First, evaluate your juice for acid (pH) and sugar (Brix). What are the levels present in your juice? If the Brix level is below 20, you may consider adding sugar to increase the Brix levels to 24-26. What is the pH of the wine? Juice should have a pH greater than 3.1 to ensure a successful fermentation. If the pH is higher than 3.8, consider adding tartaric acid. This will ensure a better tasting wine after fermentation as well as a more stable wine.
The next area to consider is yeast. Certain strains of yeast will amplify certain traits within the finished product of wine such as fruit character, spice notes, or floral notes. The yeast has certain parameters that it will ferment best within, so consult a winemaking expert at Musto Wine Grape to help you select the best yeast strain for your wine. The yeast is the important catalyst that will process the grape juice into wine. The yeast will need certain nutrients to best assist it with its fermentation such as a rehydration nutrient like Go Ferm, and subsequent nutrients to finish out the fermentation process such as Fermaid O and Fermaid K. Musto Wine Grape stocks yeast along with all of the aforementioned nutrients in small packages, designed for the individual buckets of juice. This will give you perfectly measured amounts of products to add to your wine, making proper fermentation simple and with no wasted/unused product.
We hope this information helps with your winemaking. If you have any follow up questions or winemaking questions in general, please email us at support@juicegrape.com.