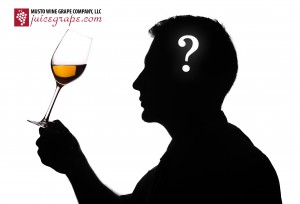 What's the Winemaker's Think Tank? 
Every Thursday we will post about a few frequently asked questions that our winemaker has answered. If you have a winemaking question you would like to have answered, please email us at support@juicegrape.com and we will try to get into next week's post. Cheers! 🙂
When it comes to making wine, often there is nothing more exhilarating than sampling the fresh grapes as they come in and selecting the varietals that will best suit your individual winemaking needs. Once you have selected the varietals that you would like to make that season, the most often the next question is "How many grapes will I need to make my desired amount of wine?". The answer changes slightly depending on the origin of the grapes. South American producers fill their crates with 18lbs of grapes. This typically requires the winemaker to purchase 4 crates (18lbs each) to yield 5 gallons of wine. The same formula roughly applies to South African grapes as well, with their grapes being packed 20lbs per crate. Obviously this will yield the winemaker a bit more juice, but the overall formula is applicable.
Fall harvest from the northern hemisphere gives us slightly different guidelines to follow for estimating yield. North American producers have larger crates, packed 36lbs/crate. On average, each crate yields 2.5 gallons of juice, the winemaker needing two crates per five gallons of desired wine. Seasonal growing conditions apply to the yield as well, rainfall having the most profound effect upon juice yield. Also, premium growing areas where the grapevines grow under stressed conditions, resulting in premium fruit will yield significantly less juice than grapes grown in irrigated fields. We suggest purchasing one additional crate per desired 5 gallons of finished product. The two crates per five gallon rule is a safe assumption when estimating juice yield, as it is more of a conservative estimate of juice yield. We often hear reports of a higher yield rate for certain west coast varietals. Berry size will affect the yield of juice as well. Pinot Noir and Grenache berries are significantly larger than Cabernet Sauvignon and Petit Syrah berries, often yielding up to 10% more juice. While a certain level of experience and research can aid in the estimated juice yield from your grapes, the basic rule of 4 crates per 5 gallons for South American/African produce and 2 crates per 5 gallons for North American produce is an easy means of determining how much produce you will need.
We hope this information helps with your winemaking. If you have any follow up questions or winemaking questions in general, please email us at support@juicegrape.com.