Ger-whaaaat? You may not be able to say Gewurztraminer, but here is why you should be making it.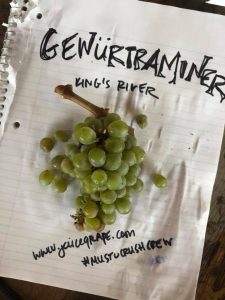 Gewurztraminer is an aromatic German varietal that has been twisting tongues of wine enthusiasts for decades. Only in the past decade has Gewurztraminer been making a more consistent appearance on wine lists and in wine stores. With interest in not just sweet, but complex, sweeter wines trending amongst millennial drinkers, varietals like Gewurztraminer are seeing a surge in their popularity.
              Gewurztraminer is a grape variety that is originally from the Alsatian region of France, on the German border. Its attractive pink to light red color of its skins was thought to be a genetic mutation of the Red Traminer grape of Germany and Northern Italy. Its name comes from the German "Gewurz", which means "herb" or "spice". When sipping Gewurztraminer, it is easy to see the development of its name, as the grape is famous for its floral, slightly herbal, and spicy aromas. Upon vinification, the grape often has large aromas of lychee, rose petal, white pepper, and passion fruit. The varietal is most well-known for its intense aroma. Even small amounts, when added to a blend, will greatly enhance complexity of the aroma.
              When making your own Gewurztraminer, Musto Wine Grape imports Gewurztraminer from the Central Valley of CA. This premium grape growing region generates a ripe, bold example of Gewurztraminer. The grapes average around 24-26Brix upon arrival, with appropriate, refreshing acidity. We would suggest using Vin 13 or R2 yeast to enhance the varietal character and to help promote the fruity and floral aromas that the Gewurztraminer is known for. The addition of supplemental yeast nutrients such as Booster Blanc and Opti-White will help to preserve the intense aroma for long term enjoyment and a small addition of FT Blanc Soft can help to increase the mid-palate volume and intensity of flavor. We always advise to use a complete nutrition program throughout fermentation, including the use of Go-Ferm, Fermaid O, and Fermaid K. This will help avoid any stuck fermentations and off aromas.  Gewurztraminer will not benefit from malolactic fermentation.
              The intense perfume-like aromas and luscious tropical flavors found in Gewurztraminer make it an excellent pairing for spicy food such as Asian cuisine or Indian Curry. It is a refreshing patio sipper with such an astounding aroma, it is guaranteed to impress anyone who you may pour it for.
by the Winemakers at Musto Wine Grape