2018 Wine Competition Results
Good Morning Winemakers,
The results are officially here! Click the links below to access the 2018 MWG Wine Competition Results
Our Wine Competition Dinner will be held Saturday February 23rd, 2019
at Zandri's Stillwood Inn. Click here
to purchase your tickets. Best in show will be announced at the dinner!
Congratulations to all of the winners!
Our Growers from California and Washington state will be in attendance to celebrate your wines. You don't want to miss this event.

We look forward to celebrating you and your wines in February!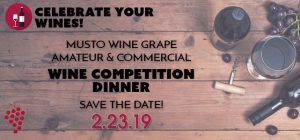 Wine Competition Dinner Details:
THE RESULTS & JUDGING NOTES WILL BE RELEASED at the dinner
ALONG WITH A MEDAL CEREMONY, Dinner, DANCING, FUN GAMES, & RAFFLES!!
Zandri's stillwood inn:
1074 S. Colony Rd, Wallingford, CT 06492
February 23rd, 2019
6:30PM – Midnight
 Please email cmusto@juicegrape.com with any questions regarding the wine competition or competition dinner.