Happy Halloween from the Crush Crew!
We put together some awesome wine pairings to go with all the Halloween candy you'll be getting- Uh, I mean your kids will be getting tonight!
We hope everyone has a safe and spooky Halloween.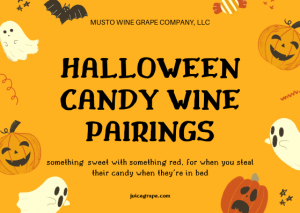 Peanut butter cups 
Ruby port. The sweet, rich flavors of ruby port will meld great with the chocolate and peanut butter combination. 
Twizzlers
Pinot Noir. Since Twizzlers are one of the less intense flavored Halloween candies you'll encounter, reach for a more delicately flavored. Bright cherry, raspberry, and earthy flavors will be a delicious compliment to Twizzlers.
Snickers
With so many flavors and textures in Snickers, you'll need a wine that can stand up to it – a high alcohol Syrah that already has aromas of chocolate, tobacco, spice, and stewed fruit is the go-to here.  
Starburst
Beaujolais Nouveau with its high acidity and low tannins, notes of bubblegum, strawberry, and banana, will pair great with the flavors of Starburst.
Skittles
Riesling. High acidity and sweetness will match perfectly with these sweet, fruity chewy candies. 
Butterfingers
Chardonnay. A luscious buttery Chardonnay will meet the rich and layered flavors of Butterfingers.
Yes – sometimes rice hulls are used for wine making!
Why, you ask?
Well, that's a great question and we're here to answer it.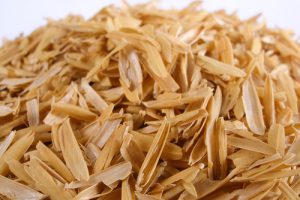 Q: First of all, what are rice hulls, anyway?
A: The husks, or hulls, of rice. It's the seed coating.
Q: What do they do?
A: They can be used during pressing your grape skins as a way to increase the ease of drainage during the pressing. By incorporating them during the pressing, the size and shape of the hull creates pathways for the otherwise very slippery grape skins to pass through, allowing the free run and the press run to escape with more ease.
Q: Do they impart any flavor or odor?
A: Nope.
Q: How do I use them?
A: Just sprinkle them throughout the grapes as you place them into your press.
Q: How much should I use?
A: 50 lbs of rice hulls can be used for 2-6 tons of grapes.
Q: Is it necessary to use them?
A: Absolutely not. However, you will hear about certain home winemakers as well as commercial winemakers who choose to use them. It's very much a personal preference. To a degree it also depends on the variety you are pressing; some "slip skin" grape varieties can create clogging issues in presses more easily than others. There's no particular downside to using them if you choose to do so – they will really just make the pressing easier.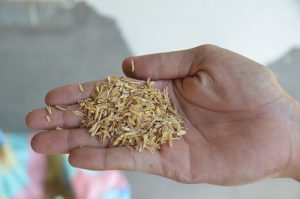 Interested in learning more about incorporating rice hulls into your pressing protocol? Stop by Musto Wine Grape or give us a call to learn more about the rice hulls we carry and our experience using them. Happy pressing!
During harvest we need some tasty fuel to keep us going. This sweet autumn butternut squash soup is nourishing and fulfilling, sure to satisfy the whole family. As the temperatures drop, we wanted to share this recipe to help keep you warm!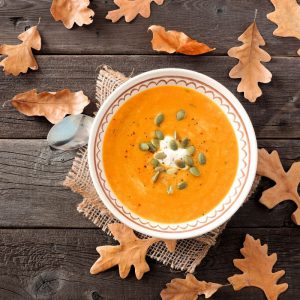 Ingredients
3 cups of diced butternut squash
1 unpeeled, diced apple
1 unpeeled, diced pear
2 tablespoons of extra-virgin olive oil
2 garlic gloves, minced
1 small onion, ½" diced
½ teaspoon of curry powder
¼ teaspoon of ground ginger
¼ teaspoon of ground cinnamon
4 cups of vegetable broth
Salt & black pepper
¼ cup chopped walnuts (toasted), 2 tablespoons roasted pumpkin seeds, chives and plain greek yogurt as optional toppings.

Instructions
Heat the oil in a large saucepan over medium heat and add the onion. Stir frequently until tender (for about 5 minutes) then stir in the garlic and continue to stir for another minute.
Add the squash, apple, pear, curry powder, cinnamon and ginger. Stir.
Stir in the broth, increase heat to high. Cover and bring to a boil.
Once boiling, reduce heat and maintain at a low boil, covered for 30 minutes.
Let cool for about 15 minutes and transfer to a blender (if you do not have an immersion blender). Puree until very smooth. Transfer back into the pot, reheat and season with salt and pepper to taste. Serve with optional toppings.
Pair with  a bottle of Gewurztraminer. This semi-sweet aromatic wine has notes of cinnamon, ginger and honey that compliment the silky and spicy characteristic of this soup.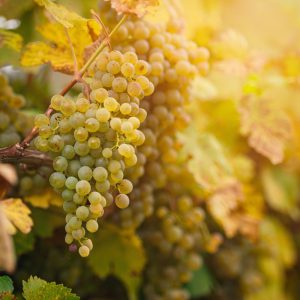 Gewurztraminer Recipe + Instructions
First choose if you want to make a sweet wine or a dry wine, as this will dictate a lot of your decisions when making your wine.
Secondly, feel confident in your pronunciation of this delicious variety, as you'll be telling all of your friends about the great wine you've made to be paired with the butternut squash soup. Let's say it together. Guh-VERTZ-truh-meen-er. That's right!
Decide if you are going to make wine from fruit, juice, or concentrate. This time of year you'll need to be making wine from juice or concentrate.
Add pectic enzyme to your juice. This will help with settling and clarifying down the road to ensure a clear and beautiful finished wine.
Pick the

yeast

of your choosing. Some great options for retaining the fruity, aromatic, perfume-like traits of Gewurztraminer include Alchemy I, Vin 13, QA23, and D47. Rehydrate your yeast using

Go-Ferm

for best results.
Time to ferment your wine! If you're using a kit, follow the directions they give you.
If fermenting fresh juice, add Booster Blanc and Opti-White to increase mouth feel and mid-palate intensity.
When you see the Brix drop by 2-3, add Fermaid O to your juice.
Continue checking the Brix each day. When you see a 1/3 drop in the starting number, add Fermaid K to ensure the fermentation remains strong and the yeast have the energy they need.
When alcoholic fermentation is over, rack off the gross lees. Add potassium metabisulfite. This is important, as this is a variety that stylistically does not benefit from malolactic fermentation.
If you want to back sweeten, you can do so. Gewurztraminer can make fantastic dry, semi-sweet, and sweet wines, so you can't go wrong with whatever you decide!
 For more information about making wine from juice click

HERE

!
Want to make your own wine for your next pairing? Musto Wine Grape Company is New England's largest supplier for home winemaking products and services. We'll get you set up with all of your juice, grape and equipment needs and have you on track to making your own perfect pairing. Visit juicegrape.com or give us a call at (877) 812 – 1137 to learn more. We look forward to hearing from you!
Create and serve some spooky at your next Halloween party with Musto Crush Crew's pumpkin wine recipe!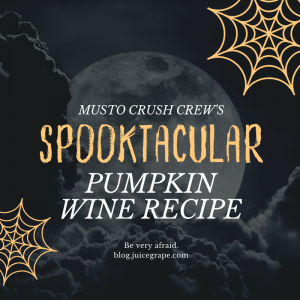 Ingredients:
24 pounds of pumpkin, canned or grated (approx. 2 medium pumpkins or 1 large pumpkin)
6 gallons of Pinot Grigio (Shop here)
12 tablespoons ground cinnamon
6 inches of fresh ginger root
4 tablespoons ground nutmeg
Fructose/Sugar – Depends on the heaviness you are aiming for. 9-18 pounds is standard range. (Shop here)
6 grams of yeast nutrient, Fermaid-K (Shop here)
3 ounces of acid blend (pumpkins are low acid, so you need to add acid to aid in proper fermentation) (Shop here)
6 grams of wine yeast, EC11-18 (Shop here)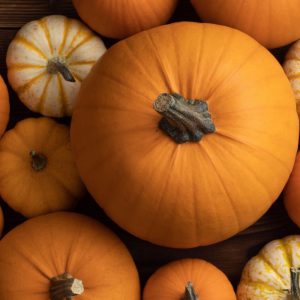 Instructions:
If using a fresh pumpkin, wash, peel, and grate/chop the pumpkin. Place pumpkin in your main fermentation vessel. Add your raisins, cinnamon, ginger, nutmeg and water (boiling). Allow to sit overnight.
Next, add the fructose/sugar, acid blend, and yeast nutrient. Stir until sugar is dissolved. Incorporate yeast into the mixture and stir. Stir daily until fermentation reaches zero (specific gravity of 1.040) – which usually takes about 3-5 days. The mixture should begin to bubble and a mild yeast smell should occur. Read more about Brix here (link)
Once the first fermentation is complete, the pumpkin should have turned into must. Strain and collect the rest of the juice from inside the must by squeezing. Use a racking cane auto siphon to siphon into your secondary fermentor and airlock. (Which airlock would be best?)
Rack at 3 weeks, and then every 3 months for a year. At one year, bottle and let age for at least a year.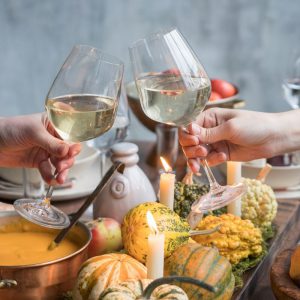 Want to make more of you own wine? Musto Wine Grape Company is New England's largest supplier for home winemaking products and services. We'll get you set up with all of your juice, grape and equipment needs and have you on track to making your own perfect pairing. Visit juicegrape.com or give us a call at (877) 812 – 1137 to learn more. We look forward to hearing from you!
Brrr… it's starting to get cold outside! Especially here in New England.
In the Northeast we get the joy of experiencing four distinct seasons. Harvest time is filled with lots of excitement in the air during the warm days and cool nights… but when the warm days start to turn into cool days too, things can get a little more complicated if your wine isn't done fermenting.
As anyone who makes wine knows, the alcoholic fermentation process can create some serious heat. As long as it doesn't get too cold outside, the heat generated from this can pretty much sustain itself without issue.
But once the alcoholic fermentation slows down and eventually ends, if the malolactic fermentation (MLF) hasn't finished and your wine is in a pretty cold (or even cool) location, it can be difficult to get MLF to finish. A half completed MLF can pose some issues in and of itself: delayed SO2 additions, persistent fizz, and stability issues down the road.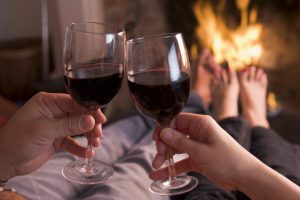 So what can you do to ensure you have as smooth a fermentation as possible that isn't TOO quick, yet doesn't drag on for too long?
Choose earlier ripening varieties if you live in cold regions and/or the place you ferment your wine is in a cold place like a basement/cellar.
Try

co-inoculation

as your method of malolactic fermentation.
Use space heaters as needed. These can be placed in small spaces with your barrels to prevent MLF from slowing down or even stopping entirely.
Choose a fast fermenting yeast strain.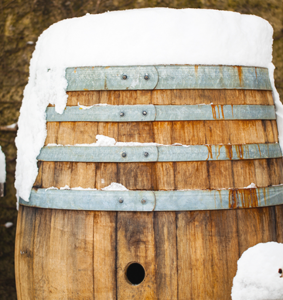 What are the potential results of making wine in cold weather?
Stuck alcoholic fermentation
Stuck malolactic fermentation
Unintentional cold stabilization (this can be positive or negative depending on the wine and style you're attempting) as it can affect the TA even when you don't want the TA to move, whether upwards or downwards.
Remember to keep a careful eye on your fermentations as they happen, because you can catch sight of a slow or sluggish fermentation caused by cold weather before it's too late. Happy fermenting, and remember to keep your aging vessels bundled up and warm enough to keep that fermentation going strong.
Let's make wine from Italian juice… at home!
Many winemakers wait all year for their annual Italian juice pickup at Musto. Despite the fact that they may be able to find some of these juices from California, they look forward to knowing that they will be able to make wine that hails from Italy itself.
There's so many juices to choose from:
Amarone- cooked cherries, dark plums, cherry liqueur
Barolo- tannic, rose aroma
Brunello- cherry, blackberry, tannic
Chianti- red fruit, dried herbs, herbaceous
Dolcetto- plum, blackberry, cocoa
Lambrusco- fruity, blackberry, bright red fruits
Montepulciano- red plum, thyme, baking spices
Moscato- sweet, fruity, aromatic
Nebbiolo- rose, cherry, leather
Nero D'Avola- cherry, plum, licorice, tobacco
Pinot Grigio- lemon, lime green apple, bright and crisp
Sangiovese- tart cherry, strawberry, plum
Trebbiano- peach, lemon, apple
Valpolicella- cherry, cinnamon, chocolate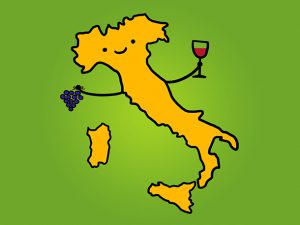 For winemakers who don't have access to a crusher, destemmer, or press, making wine from Italian juices is a great way to get the joy of making your own wine with less steps and less mess.
So how can you start making your own wine from Italian juices? Follow these steps and you'll be on your way!
Choose an Italian variety that speaks to you.
Come to Musto Wine Grape and pick up your pail of juice.
Bring it home, pop open that lid, and add 1/4 tsp potassium metabisulfite to it. Add

pectic enzyme

if you're going to (5 drops per gallon of juice). Give it a stir.
Allow it to come up to room temperature – we're talking 60 degrees or so.
Choose your fermentation vessel: will you keep it in pails or ferment in a carboy or demijohn? Make sure everything is clean and sanitized. *Be sure there is enough room to account for fermentation foaming*
If you are going to add fermentation tannins or additives (like oak dust,

Booster Rouge

,

Booster Blanc

) you can add that now. *Note: do not add tannins such as

FT Rouge

within 8 hours of adding enzyme*
Pitch the yeast once the temperature has reached at least 60F. Yeast strain choices will vary depending on the juice you choose – ask a winemaker at Musto Wine Grape for a strain recommendation for the varietal you're making. Follow the yeast starter directions explicitly. Be very careful of temperatures, never adding yeast if there is more than a 18 degree difference between the yeast starter liquid and the juice.
Carefully monitor the fermentation by checking Brix levels daily. Add yeast nutrients as needed if you choose to do so.
If you are adding

malolactic cultures

to your wine, you may also chose to do this at 1/3 Brix depletion. If using a malolactic nutrient (

Opti-Malo Plus

) with the bacterial culture, hydrate the nutrient in a separate container from the bacteria and add to the must directly before the addition of the bacteria. Follow all directions on the bacteria and nutrient packets explicitly.
When the fermentation is complete, rack off the lees and continue aging. Many Italian wines are aged with oak – if you choose to do this, you can do so in oak barrels or with

oak alternatives

(such as

chips

or staves).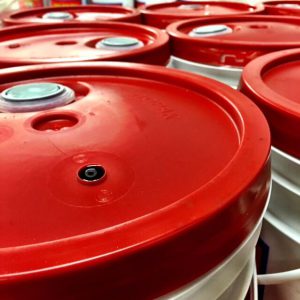 And there you have it! Delicious Italian wine that you made in your own home. There's nothing more rewarding than having a glass of wine you made with juice from a reliable source.
Feeling inspired? Come down to Musto Wine Grape and pick up some Italian juice. But don't wait too long – we are fast approaching the end of harvest time. Pick up everything you need and and be on your way to kicking back as you sip on a glass of homemade Italian wine. Who knows, maybe you'll even make Frank's Chicken Fettuccini Alfredo to accompany it!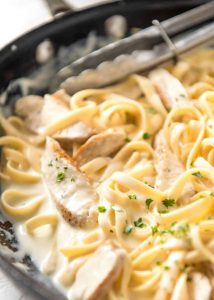 Washington state is producing some of the best wine grapes around.
A combination of a long growing season, perfect climate, and know-how on the part of the state's growers have led this region to grow world class fruit. At Musto Wine Grape we carry some delicious Washington State wine grapes, including Cabernet Sauvignon, Cabernet Franc, Merlot, and Pinot Noir.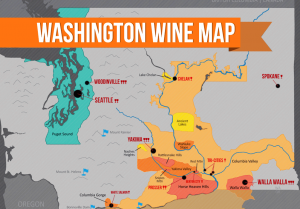 What to expect from Washington fruit
Structure, bright red fruit, great tannins, concentrated flavors.
Where is our Washington fruit from?
We source from Rattlesnake Hills (notable for its elevation, which is higher than most other WA AVAs), Wahluke Slope (ripe and full bodied wines full of varietal character hailing from one of the driest and warmed WA locations), and Red Mountain (known for growing some of the state's most highly acclaimed fruit, known less for its New World ripe fruitiness and moreso for its big, rich, terroir-driven resulting wines).
Yeast recommendations are as follows:
D80 – for big, structured reds
D254 – bring out ripe fruit, jam, and cedar notes
RP15 – to bring out red fruit and mineral notes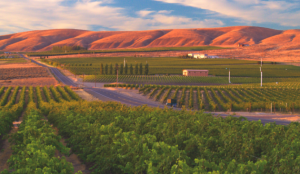 Fermenting recommendations
Consider adding FT Rouge or oak dust to function as your "sacrificial tannins."  Using tannin additives during fermentation can help the grapes themselves to retain their tannin which in turn helps to sustain the resulting wine's structure and color. Adding fermentation tannins do not add oak flavor – so if you do want to oak your wine, you would do that during the aging process.
Washington fruit is known for being lower in YAN so be sure to make some nutrient adds if need be. Try Fermaid O and/or Fermaid K
Are you excited to work on your Washington state grapes? Reach out with any questions you may have about the grapes you purchased through us at Musto Wine Grape!
When it comes to setting up your home wine lab, there is a lot to learn. You'll discover that the proper care of something as basic and simple seeming as your pH probe will make a world of difference when it comes to producing reliable, repeatable numbers. Even if you don't have access to any other means of wine testing at home, having a pH meter is a necessity.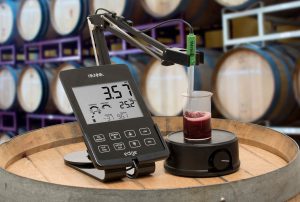 Do
Store your pH probe in the proper storage solution
Calibrate your meter – and use fresh calibration solution each time
Rinse the electrode before and after use. You may see salt deposits form – this is OK, just rinse them off too.
Be gentle at all times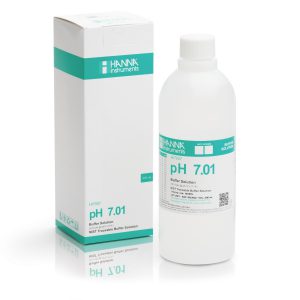 Do not
Store your pH probe in distilled water. 
Mix any of your buffer solutions with one another. This may seem obvious but it's easy to get a drop of one into the other if you're not paying attention.
Hit the pH probe against anything. This is especially important if using a stir plate and magnetic stir bar – don't let it hit it!
Pour buffer back into the bottle after use
Tips
Kimtech wipes are delicate tissues that reliably clean up liquid and small particulate from sensitive lab equipment such as pH probes. They're a great addition to any home lab.
A probe can look clean but be contaminated with various coatings – this is why consistent cleaning and proper storage is very important for continued accurate readings.
You will need to replace your probe over time regardless of how well you take care of it, but the more carefully you clean and store it, the longer it will last.
Fruity. Floral. Aromatic. Golden. Perfumey. Unique.
Meet Muscat.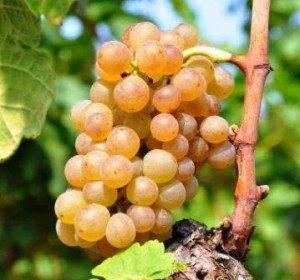 What's so great about this grape? With tons of variations and seemingly even more names, it's known all over the world for producing an absolutely delicious wine.
It can be made dry, sweet, or even fizzy. With its beautiful floral aromatics (think orange blossom, white flower, honeysuckle) you're bound to make a wine that impresses!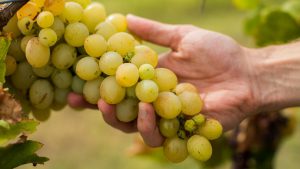 Muscat Winemaking Recipe
Crush/destem and press your Muscat into your fermentation vessel
Add potassium metabisulfite to kill off any native yeast present on the grapes
Let sit for 12 hours.
Add Cinn Free and stir well.
Add Booster Blanc and Opti-White to the juice.
When the juice reaches about 65 degrees, pitch your yeast. QA23, Vin13 and Alchemy I are good options for keeping the aroma in this wine alive and bright.
When you see the Brix drop by 2-3, add Fermaid O and mix well.
Check Brix daily – when Brix drops by 1/3 of the starting number, add Fermaid K
Rack off gross lees when alcoholic fermentation is complete and add potassium metabisulfite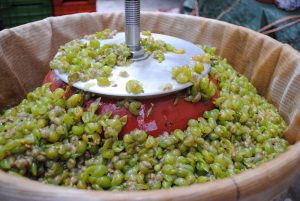 Helpful tips:
Don't lose out on Muscat's incredible aromatics by exposing it to excessive oxygen. Be sure that as soon as alcoholic fermentation has completed that it's not sitting out without an airlock.
Focus on yeasts with the most aromatic potential
Since this is low acid grape, you'll want to retain any acidity or semblance of freshness present within the finished wine. Do this by preventing malolactic fermentation from occurring (which can drop the acid) by being sure to add potassium metabisulfite as soon as fermentation ends.
Consider sweetening your muscat if you're looking to try making a wine style different than fermenting to dryness.
If you've ever found yourself wondering…
How do I get accurate numbers on my wine samples?
Can I trust the readings I'm getting?
How do I even do this test?!
…fear not! Musto Wine Grape Company can happily assist you with all of your wine analysis needs.
What analyses do we offer?
Brix, pH, TA
Free and/or total SO2
Alcohol
MLF
YAN
Sensory analysis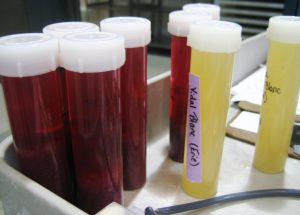 Why is analysis important?
Knowing the Brix, pH, and TA of your juice sample is the most important first step pre-fermentation. Depending on these numbers you may need to acidulate (add acid) or ameliorate (add water) to your must or juice before initiating fermentation.
SO2 levels will indicate how well protected your wine is. You may need to add more or less depending upon the reading.
Alcohol % (ABV) is an important number to confirm, especially if looking to confirm the final number for a wine label.
The presence of malolactic bacteria will indicate whether or not MLF has completed in your wine.
YAN numbers will tell you the amount of yeast assimilable nitrogen levels will help you decide how much nitrogen/nutrients you may want to add throughout the alcoholic fermentation.
Sensory analysis entails our highly knowledgeable and skilled staff conducting a taste test on your samples. This is especially helpful if you are looking to see how to improve upon your current wine, or how to sharpen your winemaking skills for future vintages.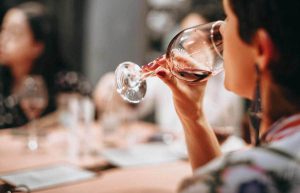 Interested in getting your wines analyzed at our lab?
Great! There's one of two ways to get your samples to us:
Drop by to say hello and give them to us directly. You can fill out a

lab analysis form

 from

our website

to bring in with you.
Send them in with the above lab analysis form. Be sure to include all of your contact information!
Any other questions? Give us a call at 860-278-7703. We're always happy to help you make your wine the best it can be!