Cabernet Chocolate Cake Recipe
National Chocolate Cake Day is on January 27th!
Celebrate by trying our dark chocolate red wine cake recipe. This decadent cake, smothered in sweet red wine raspberry sauce is sure to please your pallet.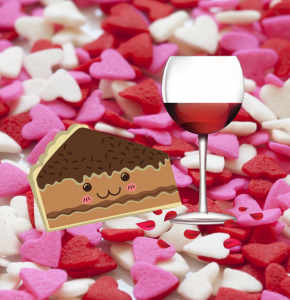 What you'll need for the cake:
2 cups of sugar
1 ¾ cups of all purpose flour
¾ cup of dark cocoa powder
2 teaspoons of baking soda
1 teaspoon of baking powder
1 teaspoon of salt
2 eggs
1 cup of buttermilk
1 cup of cabernet sauvignon
½ cup of light olive oil
2 tea spoons of pure vanilla extract
What you'll need for the glaze:
2 cups of heavy cream
1 cup of Cabernet Sauvignon
1 ½ cups of bittersweet cocoa powder, preferably 60% cocoa
3 tablespoons of corn syrup
½ cup of granulated sugar
1/8 teaspoon of salt
4 tablespoons of softened butter
What you'll need for the red wine raspberry sauce:
2 containers of fresh raspberries
¾ – 1 cup of sugar
2 table spoons of cabernet sauvignon
Baking Instructions:
Sift all dry ingredients and mix together into one bowl.
Add wet ingredients to dry ingredients and mix well.
Pour batter into two round cake pans.
Bake at 350 for about 28 minutes, check with tooth pick inserted into the center. If it comes out clean, you're good to go! Remove the cake from the oven and allow to cool.
Glaze Instructions:
In a pan over medium heat, add the chocolate and cream and stir until combined.
Add the corn syrup and mix until combined.
Remove from heat.
The consistency should thicken as it cools, making it easier to spread around the cake.
Sauce Instructions:
Combine the raspberries and sugar in a small saucepan, mashing the raspberries.
Bring to a boil then turn down to a simmer.
Simmer for about 3 minutes and then add in your Cabernet Sauvignon. Continue to simmer for 1 minute.
Remove and let cool.
Once all parts are cooled, spread glaze around. Spread the raspberry sauce, between the two layers of cake. Pour more raspberry sauce over the cake if desired and Enjoy!