It's been a rough week to say the least…. So I opened one of the special bottles I brought back from my trip to Chile to help me relax. Which of course got me thinking about the wine I want to make this year. After drinking the Envero Gran Reserva Carmenere I think I have found my blend – 90% Carmenere and 10% Cabernet.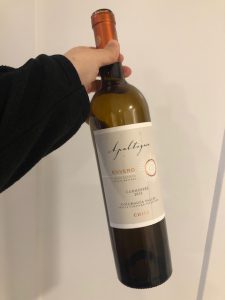 Wine Tasting Notes:
"Red-violet in color, brilliant and vivid, our Apaltagua Gran Reserva Envero shows ripe blackberries, tobacco, and spices. It possesses a remarkable combination of ripe fruit notes and oak mixed with vanilla. Its flavor is juicy, full, and concentrated, highlighting the softness in the mouth and the raspberry and plum tannins with a touch of tobacco. It has a long and lingering finish."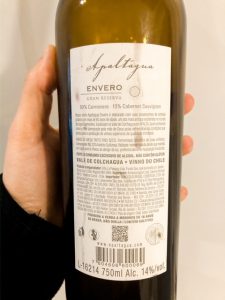 After enjoying this wine with my husband, he is totally on board with making it this spring season. So we discussed different ways to make Carmenere – things to consider, things to watch out for, and how to create the wine vibe we want. Below are some notes from our discussion on how we are going to attempt to re-create this bottle, as well as some information about where our Carmenere grapes come from.
FYI I have an alert on from Wine.com for when this wine becomes available to purchase in the US. If anyone is interested email me (cmusto@juicegrape.com) and I will share when I get the alert that it's back in stock.
Winemaking Ideas:
Yeast: CSM
Why did we decide on CSM? This yeast was derived from Bordeaux and helps create intense aromatic profiles of berries, spice, and licorice. It also helps counteract and reduce vegetal aromas and flavors. CSM aids in adding complexity to the palate and pairs well with malolactic fermentation.
Malo: VP41
We have decided to use VP41 as our malolactic bacteria because it is known for steady fermentations and helps with wine structure. We will most likely co-inoculate in order to ensure that our malo completes sooner than later.
For more information about Timing your Malolactic Fermentation click here.
TA and pH levels in Chilean Carmenere
Personally adjusting TA and pH always makes me a little nervous. Who else is with me? Acidity can be a tough stylistic balance between sweetness and astringency. It is also essential in preserving and keeping your wine safe and age worthy. You want your must to be around 6-8 grams per liter for red wines. The pH is next in the balancing act which should be around 3.3 – 3.6 in red wines. Keep in mind if you have to do adjustments, like add acid, your pH will decrease. You want to make sure your pH is in the above range. It is more important for your pH to be within the right range than your TA. This is because your pH is critical to a good fermentation and avoiding bacteria and spoilage during aging. Below are a few articles you can check out to read up on pH and TA if you need a refresher. Also, we sell the best home winemaking book in my opinion called "Techniques in Home Winemaking" by Daniel Pambiachi. If you don't already have it I would suggest ordering it. For more information on pH and TA I've referenced some articles below.
The Carmenere came in at a TA of .64 g/l and a pH of 3.84. So we adjusted the TA to 0.8 g/l and the pH to 3.56. This way our pH was in a stable range. Since we made adjustments last year, we are expecting to do a few adjustments to the must up front this season.
Watch Fermentation Temperatures
Our CSM yeast has great temperature range of 57F to 90F. Since we don't have the best temperature control, I like the flexibility it offers. However, we will need to keep track of our temperatures every day and try to make sure that the must never goes over 85F because we do not want to burn off any positive aromas.
No Cold Soak
We aren't going to do a cold soak because we don't want to extract any extra pyrazines in the wine. Pyrazines are an organic compound in wine grapes that gives off flavors and aromas similar to green peppers.
Brix Levels in Previous Carmenere
The Brix levels are very important when working with wine grapes. You want to make sure that your yeast can handle the amount of sugar in the grapes. The Carmenere grapes from Chile are picked off of 18 year old vines. So there is always a range of Brix levels, and the age of these vines help create a lot of complexity and intensity in the wines. Old vines are my favorite! The CSM yeast can take up to 14% ABV so we are usually in the right range with how the grapes have arrived in the past; which is a maximum of 25 degrees Brix. In 2019 our Brix were 25.5.
Blend Decision
90% of Carmenere and 10% of Cabernet or make it 100% Carmenere. I'm not gonna lie, I'm not sure why this blend works so well but it does and I'm looking forward to duplicating it. However, there is a lot to consider here. We don't have an aging vessel for 10% Cabernet, so we won't be able to do a separate fermentation. We will have to do a field blend of all the grapes at once. If our cellar was bigger and we had more storage options, I would ferment the Carmenere and Cabernet separately, age them separately, and then blend before bottling.
Possibly do a little French oak
The winemaker who made this Carmenere aged it in 60% American and French oak barrels and 40% in stainless steel tanks. Considering we don't have a large set up and multiple storage vessels we've decided to use French oak chips. This is because we enjoy the notes that French oak gives to the wine – vanilla, cedar, butter, cream soda, toasted bread, graham cracker, and marshmallow. Also, the wine we enjoyed had very silky tannins; usually attributed to French oak additions. Silky tannins are also attributed to micro-oxidation from aging in a barrel. If that doesn't work we might utilize some Noblesse to help soften the tannins in the future.
Racking and Filtering Thoughts
We talked about racking the wine 3-4 times and to splash rack when we do for at least the first 2 rackings, if we are getting a rotten egg smell. We will most likely use a course filter 4 months after malo has completed and a medium (polish) filter week before bottling. Many people are nervous about filtering red wines, thinking it will strip wine of color. Don't be concerned, it only takes out sediment and it really cleans up the wine.
Cellar bottles for 6 months
This is what the winemaker did with his wines, so we are going to try to do this with ours. Although the wine geek in me wants to drink it right away and maybe drink one bottle a month for "research purposes" (of course) to see the change and differences time in the bottle makes. But we will cross that bridge when we get to it. As for the types of bottles we will most likely use the CWA-018. I like the antique green color and the height gives more of a reserve style feel to the wine in my opinion. Also, we will use colmated corks as we will want to try to do some aging trials.
Viticulture Information:
Chile's wine growing success is due to the cooling influences they receive from the Pacific Ocean, the Andes Mountains, and the warm and plentiful sunshine. Their warm Mediterranean climate allows for grapes to fully ripen and avoid fungal diseases. There is a current called the Humboldt Current that flows up from Antarctica, along the Chilean coast, and the cool air is pushed inland by the wind patterns. This cooling effect helps cool off the grapes during those sunny days. Colchagua and Curico Valley both benefit from this ocean influence; which allows these regions to produce grapes from fertile soil for wines that are gaining premium reputations.
Arrival Estimates:
The Chilean grapes and juices should start arriving in late April, early May. Once the grapes are harvested we will have more details.
Grapes Available from Chile:
Cabernet Sauvignon, Cabernet Franc, Carmenere, Malbec, Merlot, Petite Verdot, Pinot Noir, Syrah, Chardonnay, Pinot Grigio, Sauvignon Blanc, and Viognier.
Juice Available from Chile:
Cabernet Sauvignon, Cabernet Franc, Carmenere, Malbec, Merlot, Petite Verdot, Pinot Noir, Syrah, Chardonnay, Pinot Grigio, Sauvignon Blanc, Viognier, and Muscat.
For more information on how to make Chilean Carmenere check out my 2019 vintage recipe here. For more information on how to order your grapes and juices please email cmusto@juicegrape.com or call 877-812-1137.
I hope you and your family are safe and healthy during these challenging times!
Sincerely,
Christina Musto