Every child has a wish list for Santa. They think and plan for months before Christmas. "I too have a wish list, however my list concerns the next grape harvest – Fall of 2020." Below are the items on Frank Renaldi's wish list.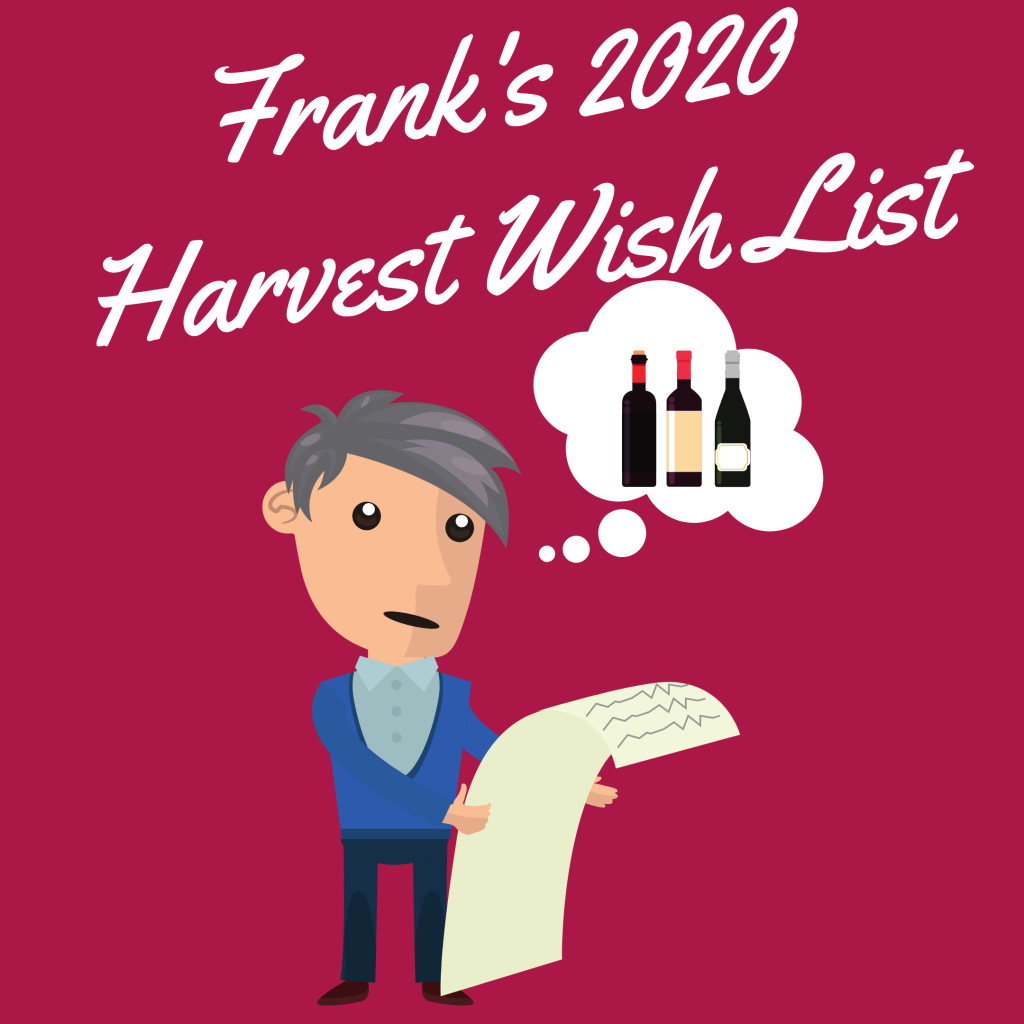 First, I always plan on the wine I want to make in the fall. I usually make 5 reds and one white. I chose my grape selection carefully. Why? I am a big red blending guy. So I choose the grapes I want to use to make one or two nice blends with. I wish all my selected grapes are available. If all of those grapes don't show up or are not to my approval, that throws my plans into panic mode. I may have to choose a different grape and adjust my game plan. It has happened to me in the past, but I have made it work.
Second, I wish all my grapes to have the perfect Brix level. I want my reds to be between 24 and 26 and my whites to be between 21 and 23 Brix. This means no sugar additions or reductions – one less concern. A perfect Brix means a good fermentation and good final alcohol.
Third, I wish for a perfect pH and TA value for my grapes. This is key to a balanced must for my fermentation. This means two things – the grapes are perfect and no work for me. A perfect pH for my reds is 3.5 and for my whites is 3.2. A perfect TA for my reds is 0.6 and for my whites is 0.8.
My fourth and final wish will never happen. I wish instead of picking up my $60 case of Lodi cab, the order got mixed up and they gave me $240 case of Napa Cabernet. I would love one chance to make wine from the best grapes in the world. Maybe someday!

A note regarding Covid-19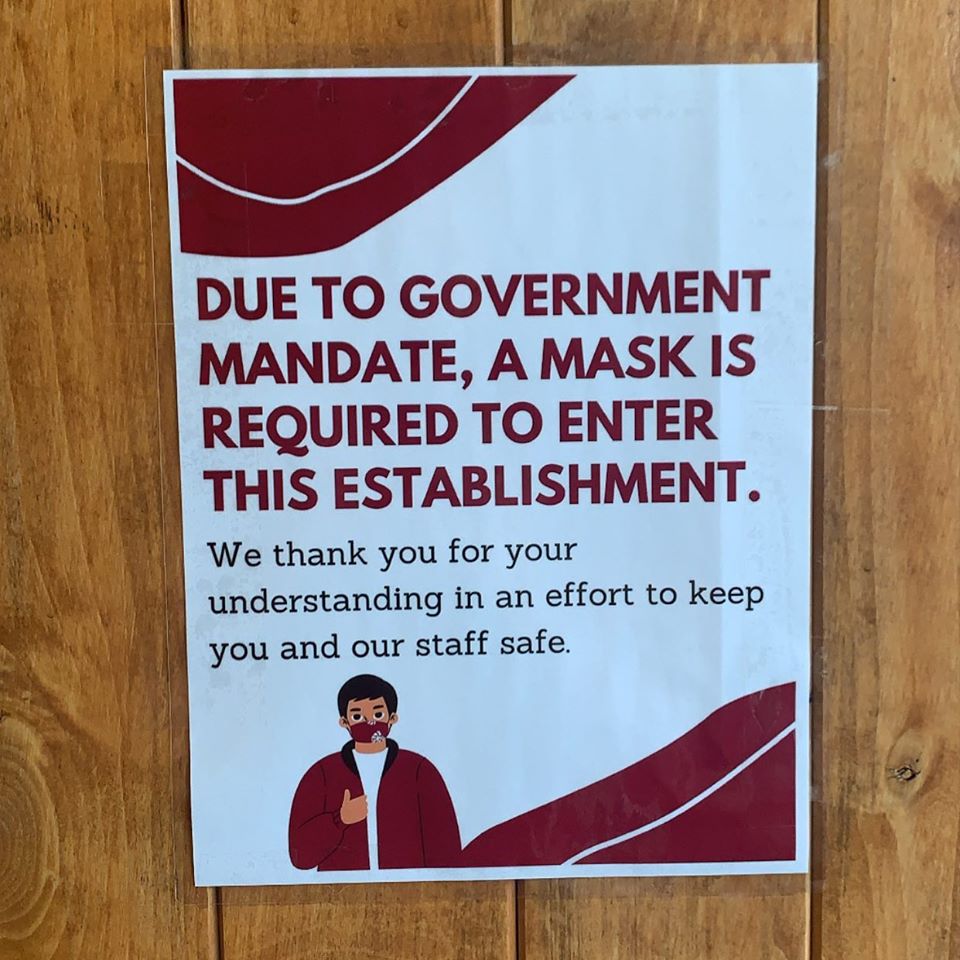 All of our growers and we at Musto Wine Grape continue to be vigilant when it comes to the safety of our employees and customers. To ensure that the grapes are harvested and shipped safely this year: some new protocols have been introduced.
In the Vineyard and Winery Facilities:
Temperature checks are taken everyday
Hand washing and sanitation stations have been set up among all work areas
Social distancing is required (employees are required to be 6ft apart)
Masks are required of all employees and customers
Anyone showing signs or symptoms of being sick is sent home
Ozone cleaning and sanitizing has been introduced, if was not utilized already
At Musto Wine Grape
Face coverings are being worn per Connecticut State requirements
Symptom checks done before shifts
OSHA/EPA employee training per state and county guidelines, including proper use of face coverings, cleaning procedures, symptom screenings, and correct self-assessment before reporting to work
Clean and sanitize all surfaces each morning prior to welcoming our first guests at 8:00am
Clean and sanitize between individuals coming in and out of the store and interacting on the dock
Consistent restroom cleanings
Proper use of EPA approved cleaning products
Dedicated sanitizing stations
Distanced purchasing (at least 6ft a part) in the store and on the dock
With regulations changing daily, we will keep you up to date with how we are doing our part to keep everyone safe, healthy, and making great wine this season!
Candy Mountain AVA – Washington State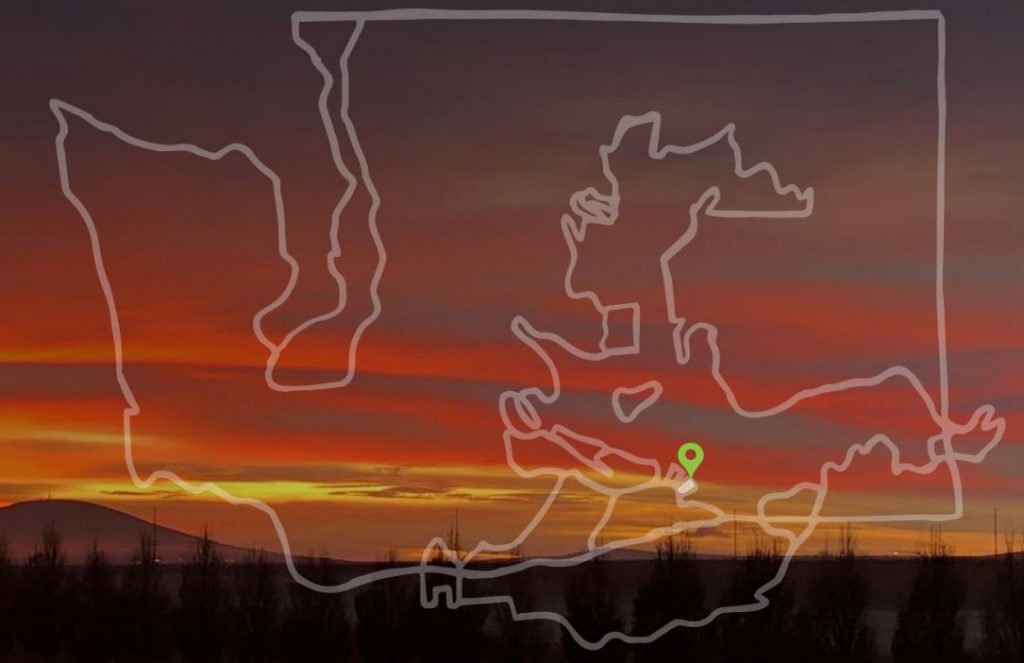 Candy Mountain is one of Washington State's newest pending AVA's. It is 784-925 elevation with around 60 acres planted. The soil is a mix of scooteney silt loam, shano silt loam, warden silt loam, and warden fine sand loam. Candy Mountain is a south-facing slope that sits just southeast of Red Mountain (Napa Valley of WA). We are calling Candy Mountain the "Suisun Valley" of Washington State. With outstanding growing conditions, this AVA produces wine that is fruit forward, rich, bold, and intense.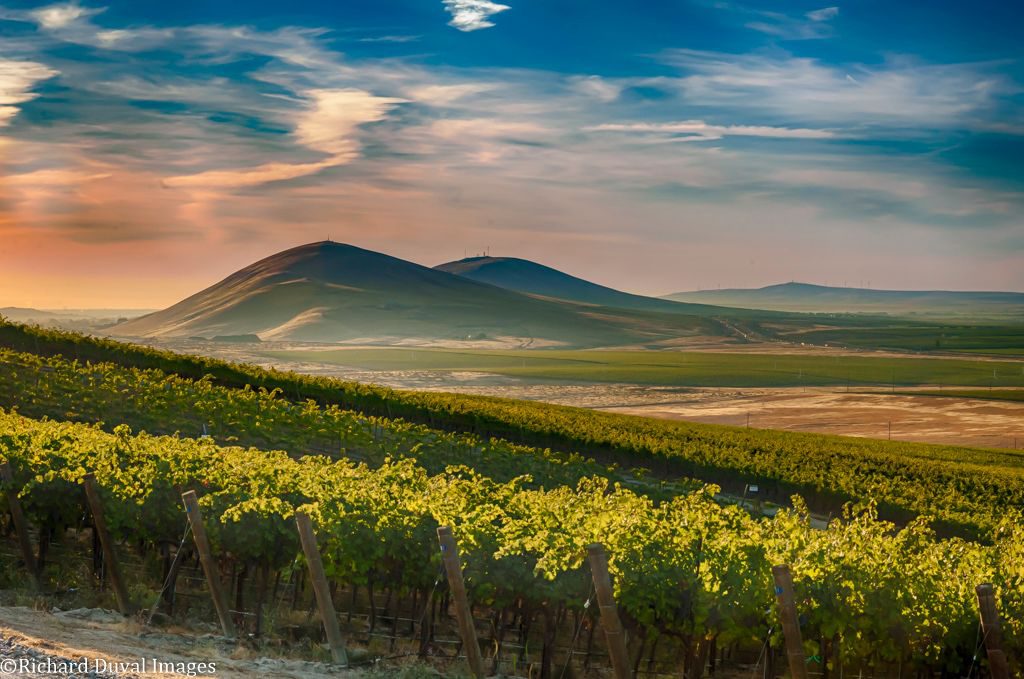 Grapes Available:
Cabernet (Clone 33)
Merlot
*All red grape varieties are available in 36lb cases, in frozen must by request, or in 6 gallon fresh juice pails from Lodi, CA. For more notes on Red Winemaking click here -> from grapes, from juice, from must. For Sterile Juice options that ship year-round without refrigeration click here. 
For more information regarding the Fall Harvest please feel free to contact us at sales@juicegrape.com or give us a call at 877-812-1137. We are looking forward to helping you with your next great wine!
We've got BIG winners from the 2020 Sunset International Wine Competition.  Lanza-Musto Vineyards grapes and Wooden Valley Winery won some big awards!
Double Gold 96 Points~2017 Lanza Family Petite Sirah
Gold 93 points~2018 Lanza Barbera
Gold 92 points~2019 Rosetta Dry Rosé (Sangiovese)
All of these grapes are available for purchase this fall in 36lb cases or in frozen must by request. Who wants to make Suisun Valley Wine this Fall?!
For more information regarding the Fall Harvest please feel free to contact us at sales@juicegrape.com or give us a call at 877-812-1137. We are looking forward to helping you with your next great wine!
Congratulations to Cry Baby Vineyards on winning medals in the 2020 San Joaquin Wine Competition!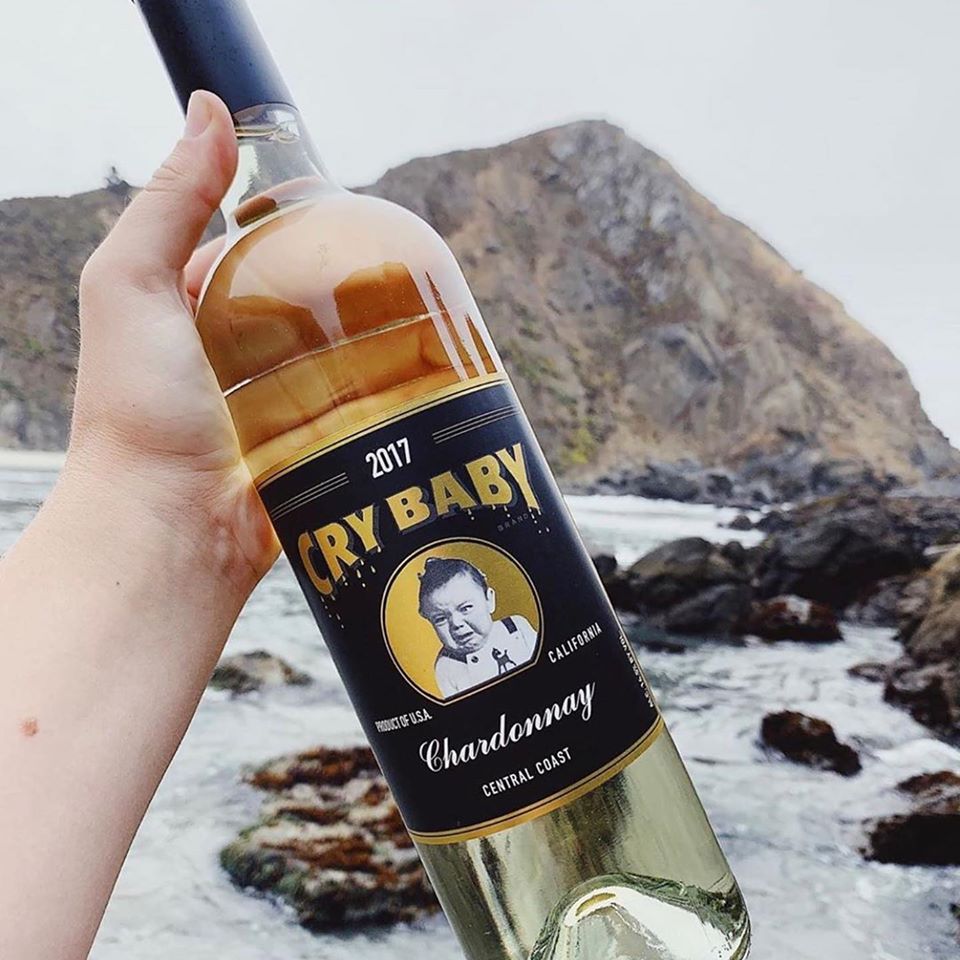 Gold Medal – 2018 Dry Rosé
Silver Medal – 2017 Cabernet
Silver Medal – 2017 Chardonnay
Bronze Medal – 2017 Petite Sirah
All of these grapes are available for purchase this fall in 36lb cases or in frozen must by request. Who wants to make Cry Baby Wine this Fall?!
For more information regarding the Fall Harvest please feel free to contact us at sales@juicegrape.com or give us a call at 877-812-1137. We are looking forward to helping you with your next great wine!
King's River Ranch – 2020 Harvest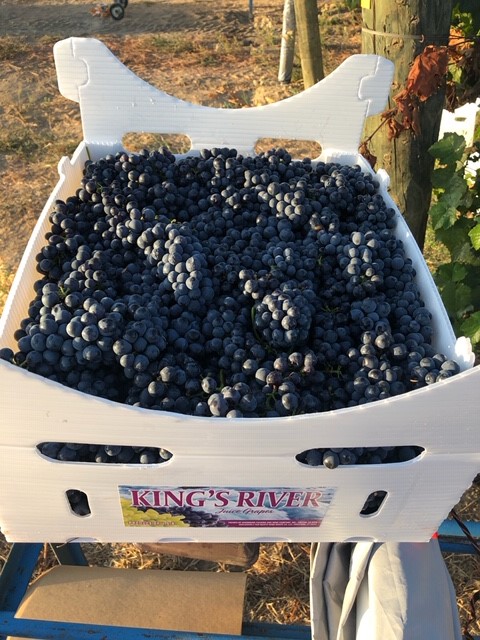 Nestled in Sanger, CA, southeast of Fresno, and on the way to Squaw Valley, Tahoe and the Sierra Foothills; is 40 acres of meticulously manicured vineyards known as King's River Ranch. This season we are hearing that harvest is about 2 weeks earlier than last season coming out of King's River. The grapes are developing well and they are having some great temperature swings in the vineyard.
The vineyard is made up of white ash & sandy loam soil. The vineyard has been in existence since 1954 and the family has grown everything from grapes for wine, raisins, peaches, plums, and apricots on this little piece of paradise. However, they ultimately decided to focus on what they love most – boutique style wines. The vineyard was planted in 2012 and produces Cabernet Sauvignon (Clone 337), Petite Sirah, Syrah, Barbera, Cabernet Franc, Tempranillo, Merlot, Sangiovese, Primitivo, Albariño, Muscat, Teroldego, and Pinot Noir. Each block is diligently managed. They thin leaves, drop fruit to secure intense flavors, and drip irrigate as to not over-water the vines.
Cabernet Franc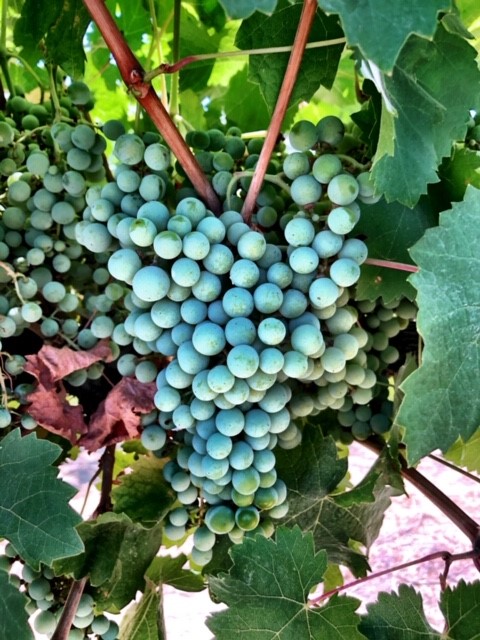 Cabernet Sauvignon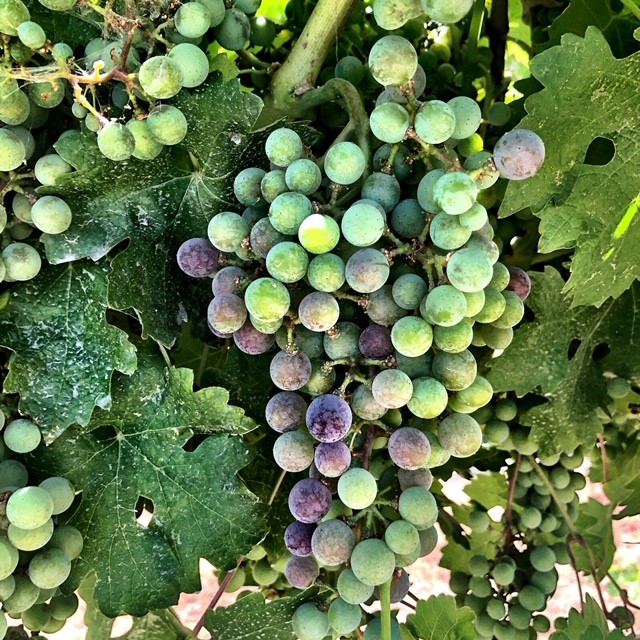 Merlot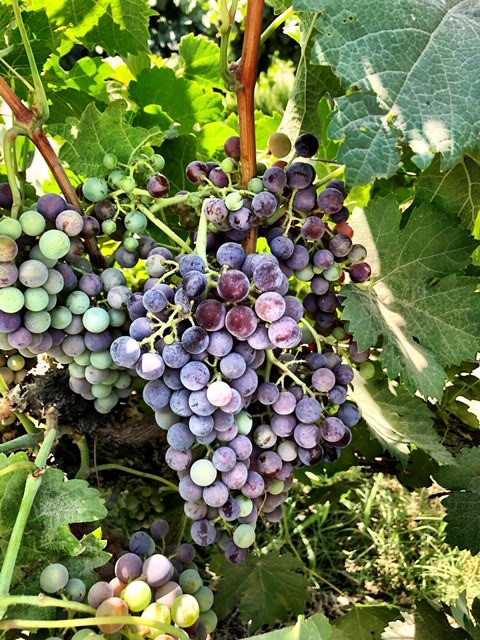 Muscat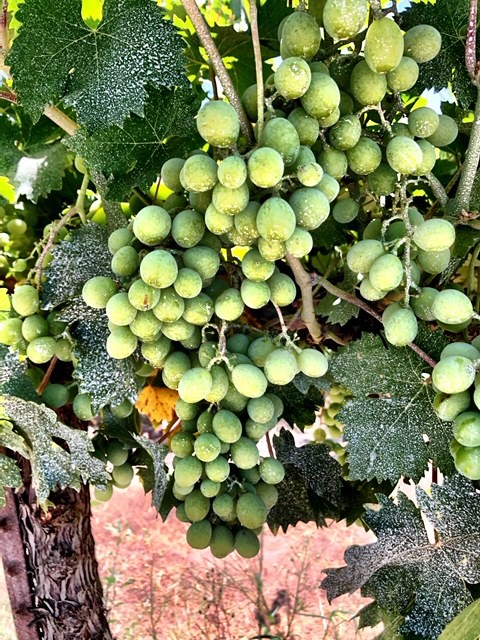 Petite Sirah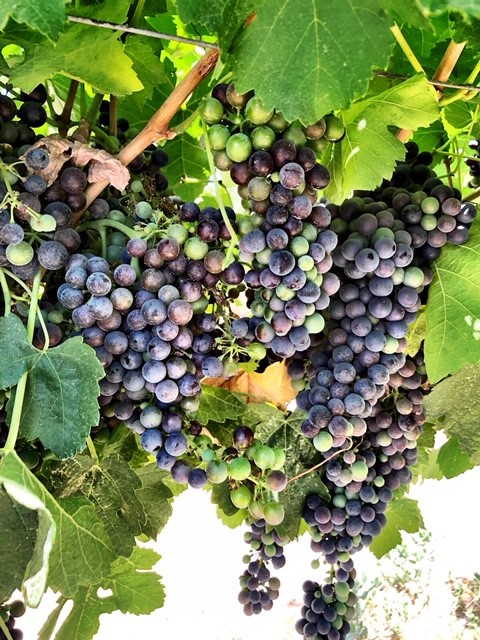 Primitivo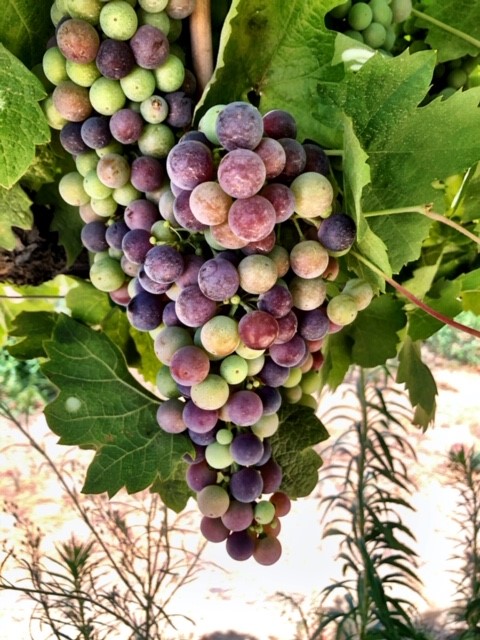 Sangiovese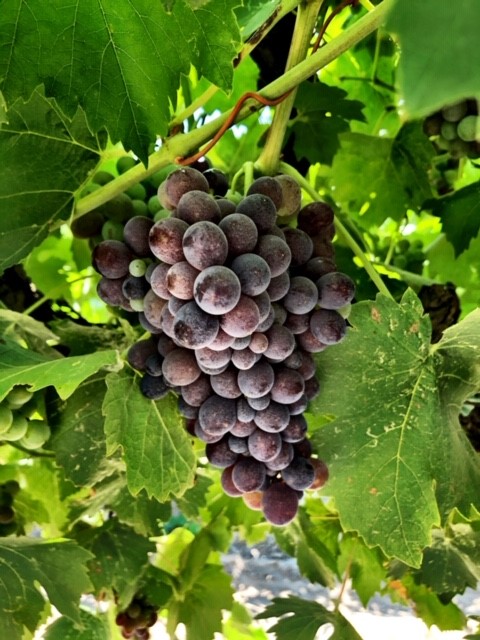 Sauvignon Blanc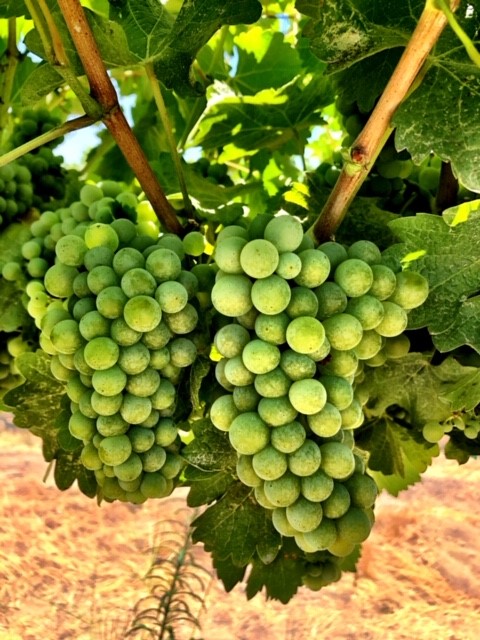 Tempranillo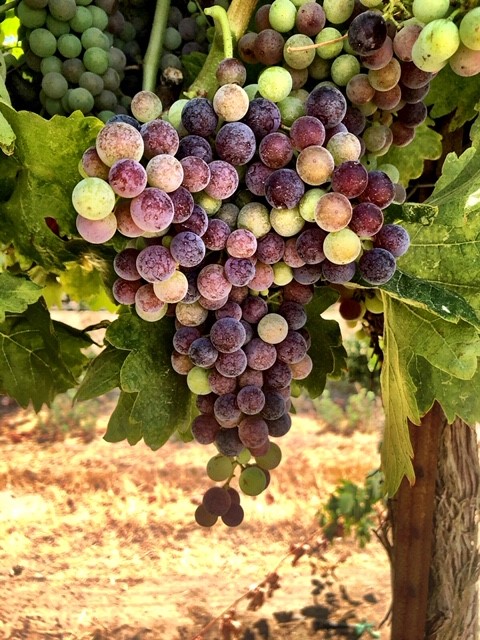 Teroldego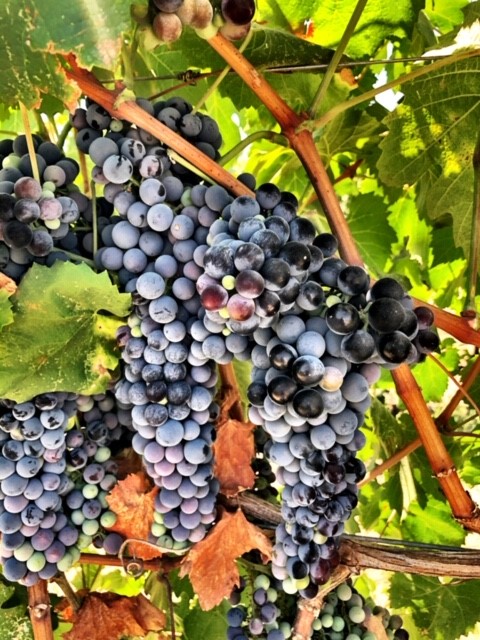 *All grape varieties are available in 36lb cases or in frozen must by request
For more information regarding the Fall Harvest please feel free to contact us at sales@juicegrape.com or give us a call at 877-812-1137. We are looking forward to helping you with your next great wine!
The Mettler Ranch
Musto Wine Grape is excited to announce their newest vineyard addition, the Mettler Ranch. The Mettler family has been farming wine grapes since the 1770's in California. They focused their vineyard growing in Lodi in the 1800's. Their family is now in its eighth generation of wine grape growing, with the 6th and 7th generation both recipients of the Agricultural Hall of Fame. It's safe to say that vineyard farming is in their blood.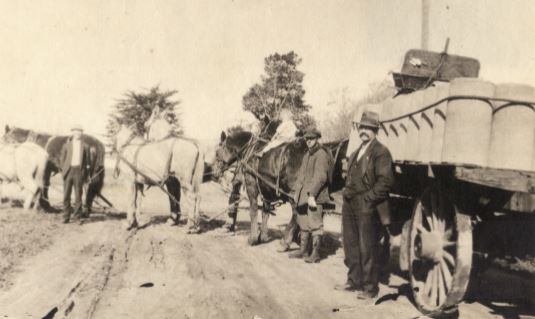 Regardless of their history, the Mettler family is constantly introducing new and progressive practices to create high quality wine grapes. They farm all of their vineyards sustainably (via LODI RULES) and as organically as possible; with certain blocks being certified organic by the CCOF (California Certified Organic Farmers). They use integrated pest management, cover crops, composting; and disease control through trellising, shoot positioning and leaf removal. The Mettler's believe in farming the land for healthy vines and consistent wine quality.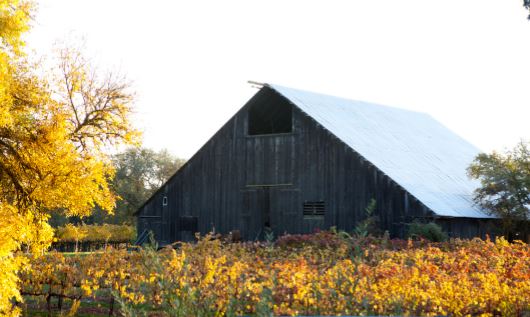 Organic Farming at a Glance:
Soil:
Building organic matter within the soil is key to organic farming. You must feed the soil in order to feed the plant. The balance of the soil structure is critical not only in organic farming but to the overall health of the vine.
Cover crops in vineyards are used to fix nitrogen and soil tilth. They create a habitat for beneficial insects and reduce erosion. Cover crops can also be helpful in weed control, and reduces air pollution by keeping dust down in the vineyards
Use of compost on the vineyards floor if needed.
Disease Control:
Prevention is key
Modern trellising, shoot positioning, and leaf removal allow sunlight penetration and air flow into the vine's canopy, greatly reducing mildew pressure.
Pest Control:
Organic farmers must encourage a healthy ecosystem; to include and encourage predatory insect species, which eat pests
o By not using pesticides, beneficial insects remain in the vineyards.
Owl boxes placed in vineyards create a natural form of pest control
 Weed Control:
Mechanized in-row cultivator
Hand hoeing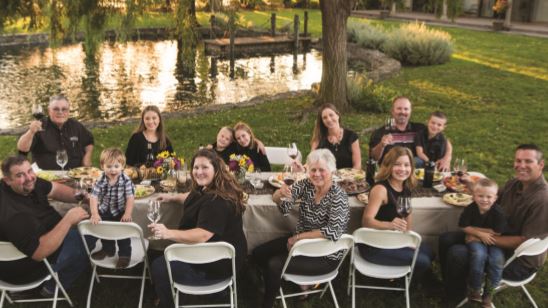 The Mettler family farms over 800 acres in the Lodi Appellation, some of which date back to their family's original properties which are over 100 years old. In keeping with their progressive nature, they were the first to introduce French clones in the Lodi region. The family is very focused on producing wine grapes that make consistent and richly crafted wines.
PS- you might have noticed Berton Costamagna from Delta Packing (another one of our Lodi wine grape providers) in the Mettler family photo. This is because Berton is married to Kelli Mettler (now Costagmagna). Kelli is head of Wine Sales for her family's winery. You might have met Kelli and Berton at our last Winemaker Competition Celebration. As a family run business, we at Musto Wine Grape love being able to work with other growing family businesses. If you visit Mettler Vineyards you'll see their wine dogs and next generation running around in the vineyard, including Berton and Kelli's son Caden.
Wine Grape Varieties Available:
Pinotage
Grenache Noir
Merlot
Petite Sirah
Syrah
Cabernet Sauvignon
Zinfandel
Sangiovese
*All grape varieties are available in 36lb cases or in frozen must by request
The Mettler Vineyards:

The Mettler Vineyards are located in Lodi's Mediterranean Climate. Warm, dry summers, and cool moist winters. The dry warm summer days allow Lodi grapes to develop ripe fruit flavors while the distinctive breezes maintain the natural acidity for structure and complexity in the finished wines.
Mettler's Wines of Distinction:
The Mettler family has their own winery located in Lodi, CA. Their winemaker, Adam Mettler recently won Winemaker of the Year from Wine Enthusiast. He creates award winning wines for many wineries in Lodi, including his family's winery.
Awards Received:
Cabernet Sauvignon: Red, velvety and complex with true varietal characteristics

92 Points – Wine Enthusiast 2019
91 Points – Wine Enthusiast 2020

Petite Sirah: Deep and layered with concentrate flavors and excellent balance

94 Points – Wine Enthusiast 2019
#33 of the Top 100 Wines of 2019 – Wine Enthusiast
92 Points – Wine Enthusiast 2020

Old Vine Zinfandel: Hearty and full bodied with a genuine "zin" personality

91 Points – Wine Enthusiast (Feb. 2020)
92 Points – Wine Enthusiast (April 2020)
For more information regarding the Fall Harvest please feel free to contact us at sales@juicegrape.com or give us a call at 877-812-1137. We are looking forward to helping you with your next great wine!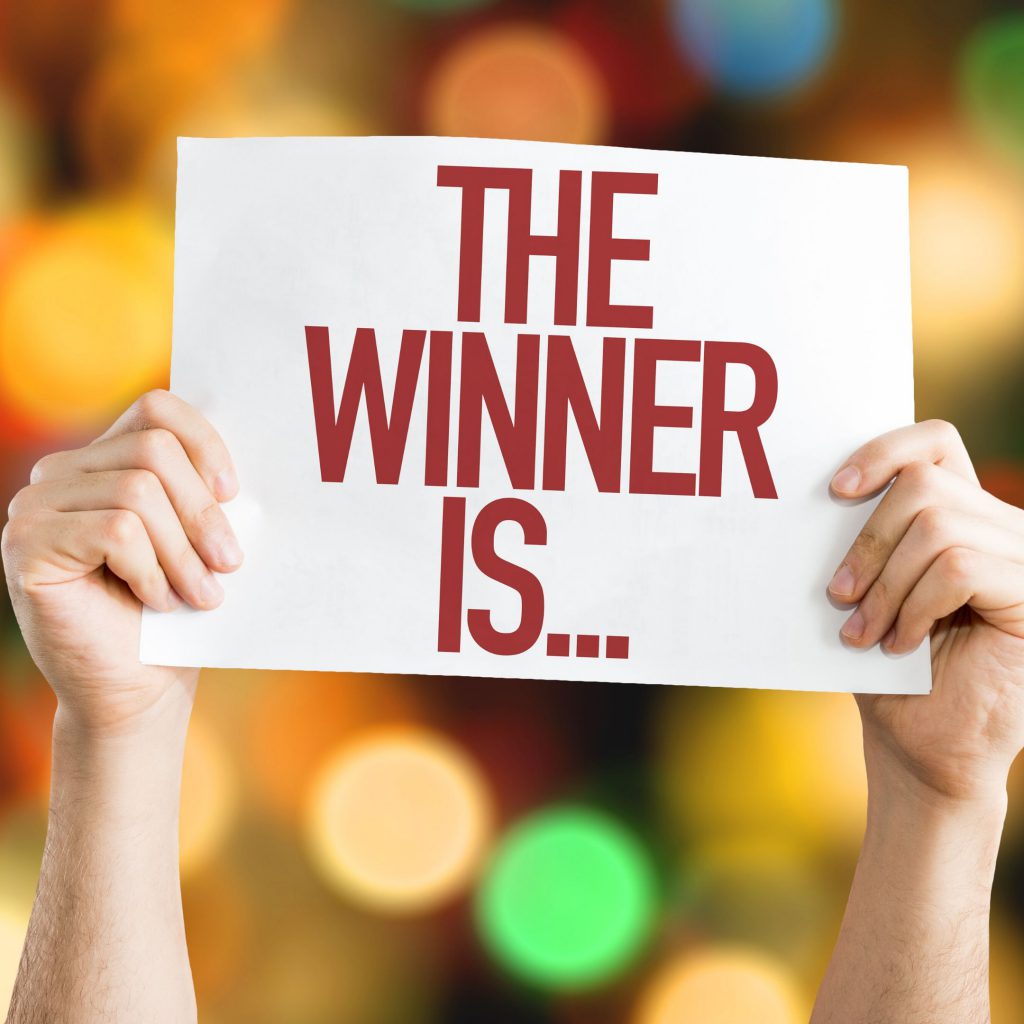 Best in Show – Amateur –  Arnie Schloemann 2017 Primitivo 
Best in Show – Commercial – Hawk Ridge Winery 2018 Cabernet Sauvignon
List of Winners and Medals – 2019 MWG Wine Competition Results
Your paperwork will be mailed out this week. Unfortunately due to Covid-19 the medals are and have been on back order. We are hoping they come in by the time you are picking up your grapes and juices. Thank you for your patience during these difficult times. We will alert you as soon as they arrive.
For this year we have decided to cancel the 2020 competition due to unknowns brought on by Covid-19. We will be offering a "Wine Review Service" ($11.00/bottle). This service will provide you with the feedback you would get as if your wine was being judged in Musto's competition. This service will be available year round and we ask that you allow 1-3 weeks for feedback and judging information. We are happy to still provide the feedback you want and are accustomed to throughout the year.
Since we were not able to celebrate your wines this year due to the pandemic, we are planning to have a Growers & Winemakers Celebration once everything calms down in the future. Musto Wine Grape and our growers are excited to celebrate you and your wines as soon as we can! We appreciate your patience and understanding at this time and look forward to celebrating you and your wines in the future.
If you have any questions about the results or the competition in general please email cmusto@juicegrape.com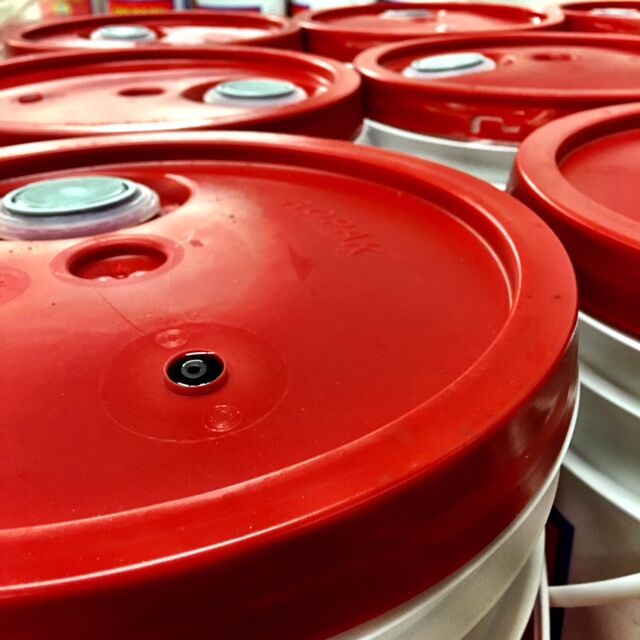 We anticipate that we will have Winemaking Juices the week after Labor Day! It's time to plan this year's vintage and we have a lot of juice options for winemaking this season!
California:
We have many labels of high quality winemaking juices coming in from California this fall. Cry Baby, Bella California, Lodi Gold, California Select, and Colina del Sol, just to name a few. The fresh juices are stored at 35 degrees and arrive as if the juice just came out of your wine press. You can either hit the juice with SO2 and inoculate with your chosen yeast, or you can let the juice warm up and ferment using the native yeast found in the skin of the crushed/pressed grape.
Lanza Vineyard Juices:
The Lanza winemaking juices arrive directly from Lanza-Musto Vineyards in Suisun Valley, CA. Varieties available are – Muscat Cannelli, Rose of Gamay (Pink), Chardonnay, and Sauvignon Blanc. They come in 5.25 gallon pails, are cold settled, with zero adjustments made to the juice. If you want Suisun Valley fruit but don't have a crusher these are a great option.
Fresco Juices:
Mosti Mondiale Fresco is proud to be the only product to offer home winemakers their own vineyard in one unique package. Each pail is carefully pre-balanced, inoculated with the perfect yeast, and infused with liquid enzymes to help create a delicious and palate pleasing wine. The Fresco juices come from California, Australia, and Italy.
Italian Juices:
Our Italian juices will arrive in late October. The Italian juices are always full of flavor and provide palate pleasing, age worthy wines.
Give us a call or shoot us an email to discuss your 2020 vintage!
877-812-1137 – sales@juicegrape.com