Musto Wine Grape is Now Offering Online Winemaking Classes!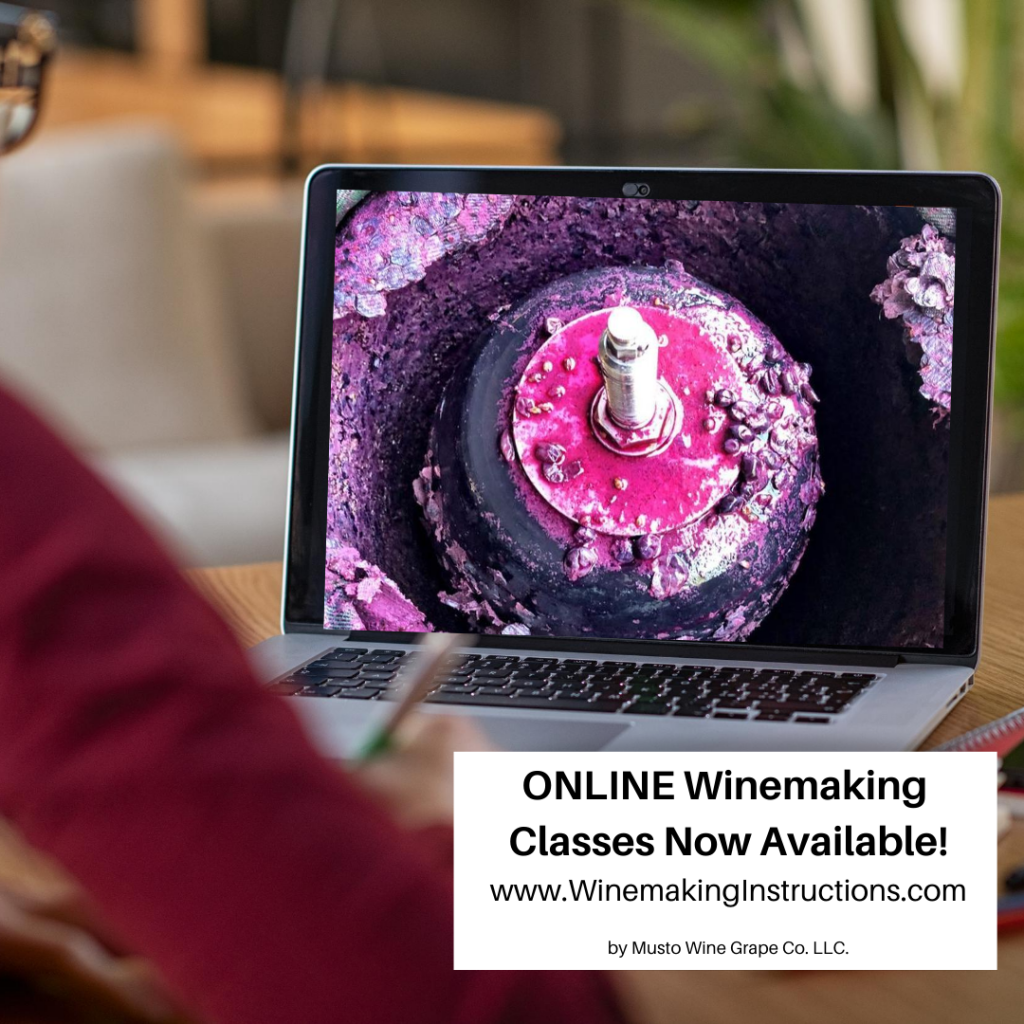 Musto Wine Grape and Winemaking Professor Frank Renaldi are proud to bring you WinemakingInstructions.com. Take our Winemaker Bootcamp Course or take whichever winemaking instructions classes that interest you the most. With over 45 videos to choose from there is something for everyone! Videos range in price from Free to $19.99 depending on the topic. Check out WinemakingInstructions.com today and get prepped for harvest!
Videos Available at www.WinemakingInstructions.com:
Introduction to Winemaking
Cleaning and Sanitizing
Fermentation Protocol Descriptions
Storage Vessels
Washing and Using Used Bottles
Wines to Blend
Winemaker's Bootcamp Bundle
Corking Wine Bottles
Degassing Wine
Electrodes
Sodium Hydroxide
Testing for Pectin
Adding Oak Powder
Adding Yeast
Bench Testing
Blending Wines
Bottles, Corks, and Foils
Cold Soaking and Enzymes
Handling High Brix
Measuring and Adjusting SO2
Oaking Your Wine
pH and TA in Your Wine
Racking Your Wine
Stuck Fermentation
Wine Faults
Yeast and Nutrients
Addressing Sulfur Issues
Back Sweetening
Bentonite
Bottling Wine
Filtering Wine
Making Port
Malolactic Fermentation
Measuring Alcohol
Post Fermentation Adjustments
How to Make Rose
Tannins
Wine Stability
Working with Barrels
YAN
Crushing and Destemming
Making Wine from Juice
Measuring and Adjusting Must
Pressing
Interested in Making Your Own Wine? Give us a call (877-812-1137) or email us (sales@juicegrape.com) and we will help you get started!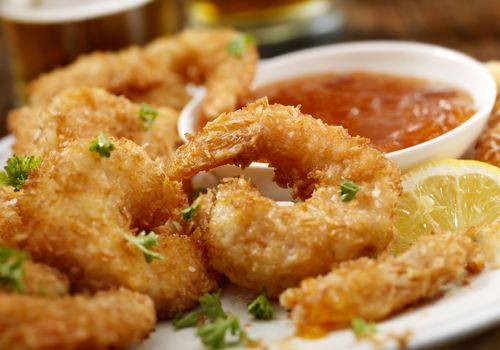 Calling all shrimp lovers! We've got a recipe ready to knock your tastebuds out of the park. Air Fryer Coconut Shrimp. Oh yeah – we went there. Pair with Pinot Grigio, Riesling, Sauvignon Blanc, or Pinot Noir.
How to make it:
If you don't have an air fryer then what are you doing? Go get one and hop on this recipe ASAP! Air frying allows you to have the experience of oh-so-good friend seafood without all the grease and deep frying. Shrimp can be delicate and you may be skeptical about using your air fryer to cook them, but we haven't had any issues with it cooking them to anything less than perfect.
We personally love crunchy shrimp, so this recipe will call for these to yield crunchy shrimp. You can reduce the amount of ingredients to your discretion if you prefer them less crunchy! We'll be using flour, eggs, panko breadcrumbs, and shredded coconut to bread the shrimp.
Firstly, preheat your air fryer to 390 degrees Fahrenheit and set up your ingredients in multiple bowls. You should have a bowl for your flour, beaten eggs, and panko flour mixed with shredded coconut.  We also use fresh, raw shrimp because there's no need to wait for defrosting and we also believe it cooks better than if you were using already cooked shrimp. Using already cooked shrimp could cause them to shrink and dehydrate.
Secondly, dip each piece of shrimp in your bowls in the following order: First the flour, then the egg, and then the panko and shredded coconut mixture.
Now, lightly spray the basket with non-stick cooking spray or line with parchment paper to prevent sticking. Line up your shrimp in the basket in a single layer, they will cook evenly this way opposed to on top of each other. Spray a small amount of oil on the shrimp and cook for 4 minutes. After 4 minutes, reopen the air fryer and flip the shrimp, spraying another small amount of oil on the flipped side of the shrimp to ensure even cooking. Close the air fryer and continue to cook for about 4-5 more minutes. Once finished, serve with sweet chili sauce for the ultimate flavorbomb! This Panda Express Chili Sauce you can find at Target is pretty good!
Interested in Making Your Own Wine? Give us a call (877-812-1137) or email us (sales@juicegrape.com) and we will help you get started!
Different Clones of Cabernet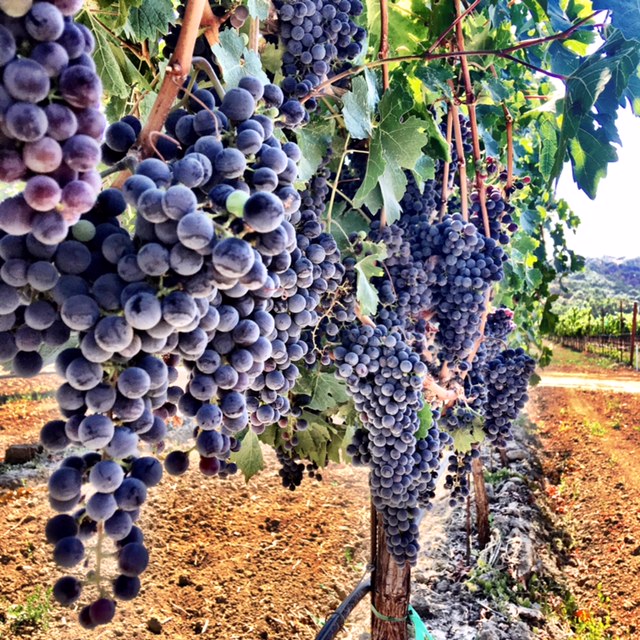 Many winemakers use clones of grapes like painters use different pigments of color, as a way to make things more interesting. There are many different clones of Cabernet Sauvignon and everyone is trying to create a Cabernet that is delicious and surprising all at the same time. Below I've outlined our most requested and popular clones of Cabernet Sauvignon that MWG currently sells. I hope this helps shine some light on the differences between Cabernet clones and why we source them for you.
Cabernet 169:
Cabernet 169 is a French clone that came to the US and was planted by UC Davis in 2003. Since then, it has been gaining popularity in all the major Cabernet growing regions, especially on Mount Veeder. It has good berry size, high vigor, and a well-balanced acid to sugar ratio. The wine can be higher in alcohol depending on the winemaking style. It was created to produce a big and bold Cabernet with intense complexity. The color is a vibrant, deep red. The mouth feel tends to be bold and linger. This grape is definitely for the adventurous winemaker.
Available in Grapes or Frozen Must by request from Suisun Valley, CA and Candy Mountain, WA. *limited supply – please pre-order
Koch Cabernet:
The Koch ranch Cabernet is farmed on incredibly rocky soil. The soil absorbs most of the moisture therefore producing a more intense fruit. This ranch is only 8 acres and produces a wine that is lush but does require at least 2 years of aging. Please reserve your cases as soon as possible. MWG always sells out of the Koch Cabernet.
Available in Grapes or Frozen Must by request from Suisun Valley, CA *limited supply – please pre-order
Cabernet 15:
This Cabernet Clone originates from Aquitcuine, France (South East France, Bordeaux, largest grape region in France). It is known for its high yield, high levels of Anthocyanins (attributes to aging and color), and high tannins. The wines are described as having raspberry, cherry, plum, and cocoa notes. It has an intense body and is structurally solid. Definitely an age worthy Cabernet.
Available in Grapes or Frozen Must by request from Suisun Valley, CA *limited supply – please pre-order
Clone 8:
The Clone 8 Clone was one of the most popular plantings in France and then the US in the 1990's. From our research, it has been said that it was one of the plantings that came to California in a suitcase. Clone 8 is a strong Cabernet producer that yields about 6 tons to the acre. The wines have great fruit characteristics, deep color, good sugar to acid ratio, strong tannins, and are structurally sound. Cabernet from this clone can be created to drink young or age.
Available in Grapes or Frozen Must by request from Suisun Valley, Lodi, Central Valley, Sonoma, and Paso Robles.
Available in Juice from California.
Clone 337:
Clone 337 is best known as one of the premier French clones. It is similar to the Dijon clones and gives good yield, small intense berries, and very fruit forward flavors. These wines create a lush mouthfeel, have deep color, and intense dark fruit, chocolate, and intense tannins. Age in French or Hungarian Oak for an extra shot of intensity and depth.
Available in Grapes or Frozen Must by request from Lodi, Central Valley, and Paso Robles.
Clone 33:
The Clone 33 Cabernet is an early ripening Cabernet Sauvignon. It loves sandy soils and thrives in Washington State. Similar to Clone 169 it produces good sized and well balanced berries. Wines created from Clone 33 are usually robust and bold like Cabernet 169 wines.
Available in Grapes or Frozen Must by request from Washington State
For more information regarding the Fall Harvest please feel free to contact us at sales@juicegrape.com or give us a call at 877-812-1137. We are looking forward to helping you with your next great wine!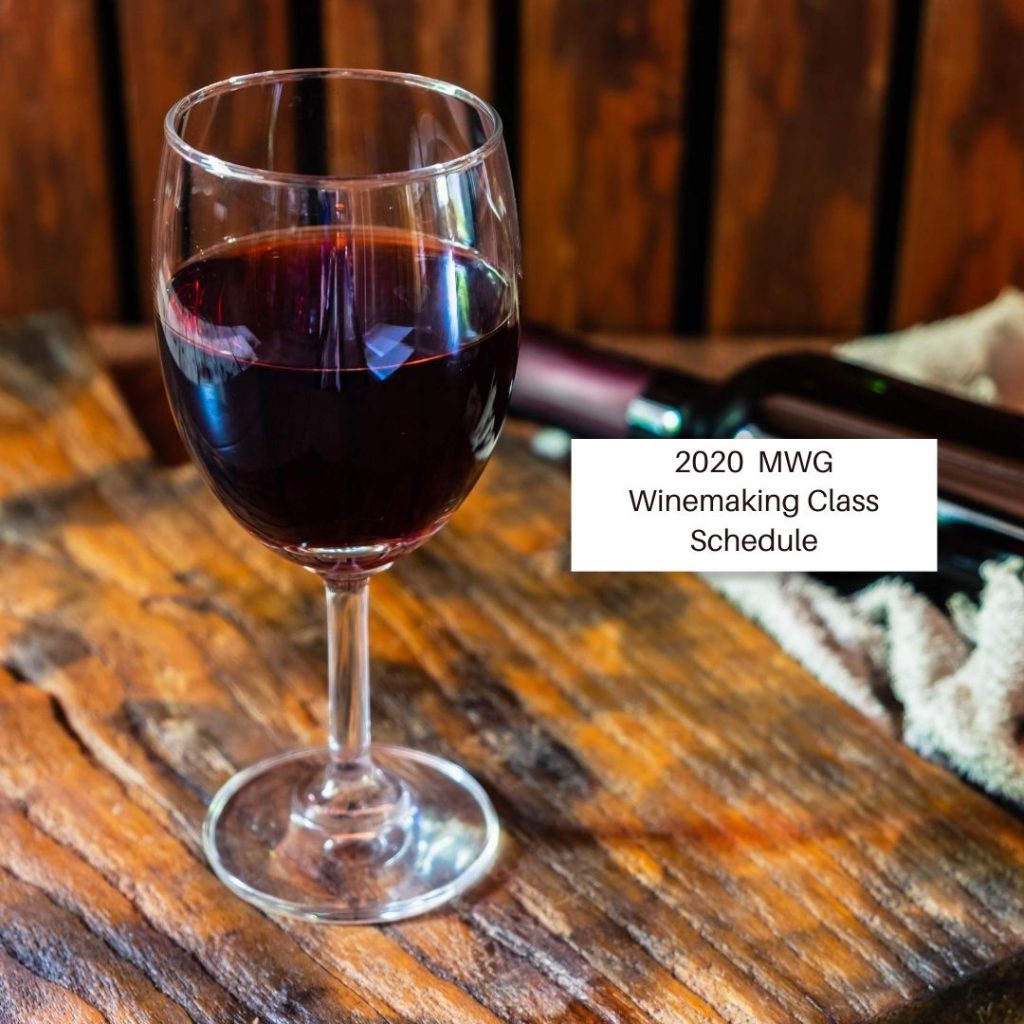 Due to COVID-19 we are limiting our classes to 8 people per class.
Winemaker Bootcamp:
We will be offering 2 classes this season. The first class starts in September and the seconds starting in October. Please see below for the start dates. You can sign up HERE.
 Session 1 Starts Saturday September 19th at 9:00AM
Session 2 Starts Saturday October 10th at 1:00PM
Introduction to Winemaking:
We will be holding an Introduction to Winemaking Course on August 29th at 9:00AM. Space is limited so sign up soon! You can sign up HERE.
A Triple Scale Hydrometer is a winemaking instrument used to measure the progress of fermentation and determine the alcohol percentage it will yield.
How does it work?
The Triple Scale Hydrometer measures the density of a liquid in relation to water. In winemaking, you are measuring how much sugar is in the wine. The more sugar that is in the wine, the high the hydrometer will float. As fermentation proceeds and sugar turns in to alcohol, the hydrometer will slowly sink. When fermentation is complete the hydrometer will stop sinking.
How do I read it?
Triple Scale Hydrometers have their name because they indeed have 3 scales. The 3 scales are Specific Gravity, Brix, and Potential Alcohol.
Specific Gravity – is the ratio of the density of a liquid to the density of water. In winemaking, as you add sugar, the specific gravity increases. It indicates the amount of fermentable sugar or potential alcohol in the wine.
Brix – the measurement of the sugar content in grapes, must, and wine. This indicates the ripeness of the grapes at harvest. To get an alcohol conversion, multiple your Brix by .55.
Potential Alcohol – the total measurement of the alcohol that wine may contain, once fermentation is complete. This includes the levels of glucose and fructose. The levels of each will enable the winemaker to determine the conversion rate of sugar into alcohol.
How do I use it?
Place a sample of your wine into a test tube. You can use a wine thief to retrieve the wine from your vessel easily. Place the hydrometer into the test tube filled with wine. It will take a moment for it to stop spinning and moving around. Once it becomes still, record the data from each scale. It is a good idea to do this when you receive your must or juice so that you have your starting numbers. It is always a great idea to track your process for any future possible issues, or if your wine comes out amazing and you'd like to repeat the steps again for your next batch of wine.
Where can I buy one? 
You can buy your Triple Scale Hydrometer here. Musto Wine Grape is here for you and all of your winemaking needs. From equipment to customer support, we're here to help you make the wine of your dreams. For any questions email sales@juicegrape.com or call (877) 812 – 1137 to speak with someone to get you started!
Setting up your home winery
There are two factors to consider when you decide to build your home winery.
How much money are you willing to spend to buy more equipment, build rooms, or add air conditioning?
The second factor is how much room do you have to create your winery?
I converted my entire basement into a winery. But, I did it slowly, one room at a time. Let me walk you through that and see if what I have done could apply to your place for a home winery.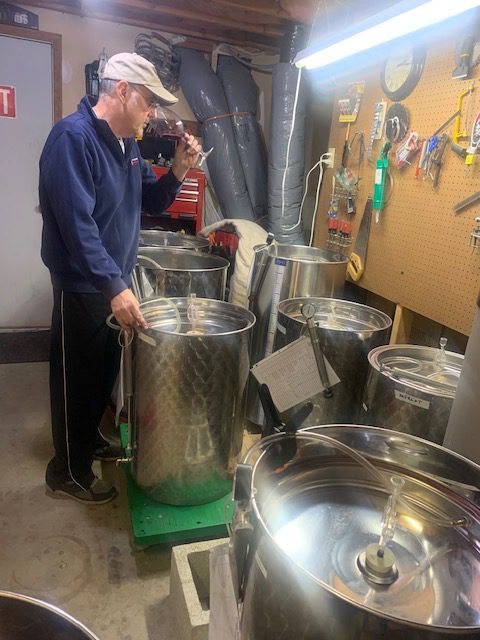 I have a room which holds my variable capacity tanks and carboys. This wine is aging and waiting to be moved into barrels. This room is air conditioned due to poor cellar temperatures at my home. I also have a sink in this room for cleaning and washing. I added a five foot counter to do all my lab work. Wine racks were added to the walls above the tanks to store all my 375ml bottles of port.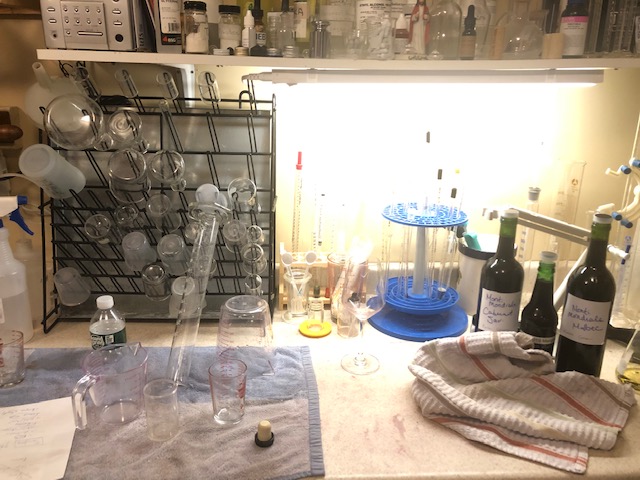 The next room I built was a barrel room. I finally took the step to barrel age my reds and have never looked back. The barrel aging makes the wine so soft and complex. I have seven barrels ranging from 15 gallons to 30 gallons. I suggest you stay in this range as a home winemaker. They are easier to handle and clean. You must also remember, you will need wine on "standby" to place into the barrel once you remove the existing wine to bottle. Plan well.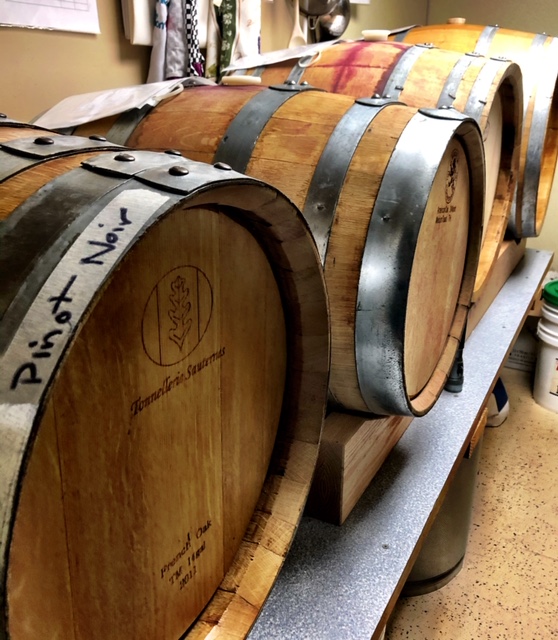 My final room was needed to store all the wine moving out of the other rooms – a bottles storage room. I bought wooden wine rack kits online, and after assembly I bolted them to the walls. I then put down a floor, nice lighting and a bit of decorating to tie it all together. The most critical thing I added was air conditioning, because bottle storage needs four things – cool constant temperature, darkness, proper humidity and no vibration. All the bottles are lying horizontally and peacefully aging.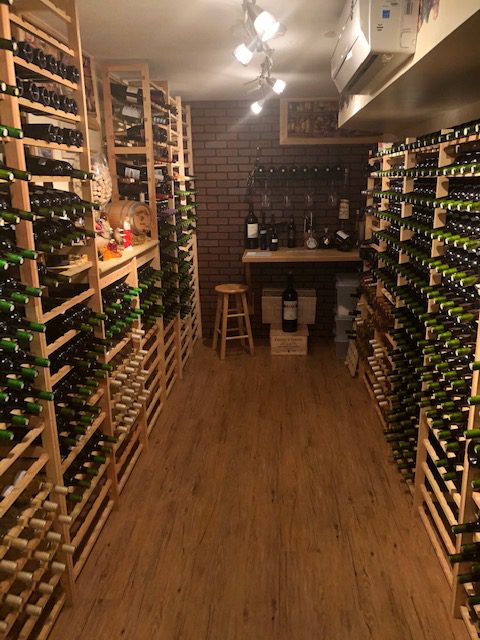 Besides proper areas to process your wine, you also need the tools to take care of this wine. Some of the "must have" tools are hydrometers, pH meters, pipettes, burrette, stir plate and an SO2 meter. These tools are needed to balance your grapes perfectly before pitching the yeast. They are also needed to adjust and protect your wine as it is aging.
Be sure to have other supplies on hand such as tartaric acid, potassium metabisulfite, fructose, tannins and oak. You will build your supplies and equipment as time goes on. Everything I talked about above will take you a level where you can become a dedicated, creative and proud winemaker!
Written by Winemaker Frank Renaldi
This crunchy, refreshing apple broccoli salad is a perfect summer barbecue side. Not only does it go great with virtually any barbecue food, ranging from chicken to steak and even burgers – it's also healthy without compromising tasty! I know you can't wait for this one so let's get started!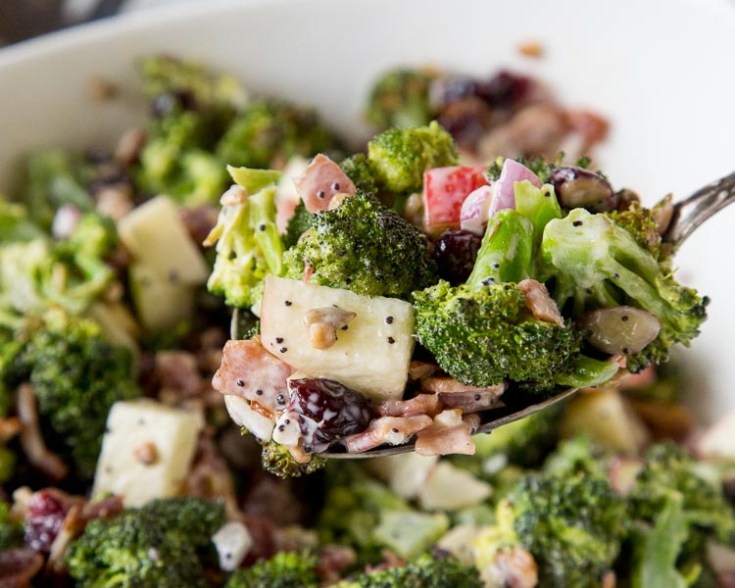 What you'll need:
2 medium heads of broccoli, chop into small florets
1/2 cup of shredded carrots
1/4 cup diced red onions
2 large apples, chopped into small pieces
1/3 cup nuts of choice. I love roasted almonds and sunflower seeds
1/3 cup dried cranberries. Ocean spray's pomegranate infused dried cranberries are delicious!
1 cup of plain greek yogurt
2 tablespoons apple cider vinegar
1 tablespoon sweetener of choice, I personally love using honey.
1/4 teaspoon salt
1/8 teaspoon pepper
What you need to do:
Combine broccoli, carrots, red onions, apples, nuts of choice, and dried cranberries in a bowl.
In a separate small bowl, combine greek yogurt, apple cider vinegar, honey, sale and pepper and whisk together.
Coat salad in dressing and toss, then serve chilled!
Wait, what about some wine to go with it?
You didn't think we'd leave you hanging on that, did you? We would never! In general, crisp white wines are a go-to when serving raw vegetables, so try a zesty Pinot Grigio with this salad. The smooth flavors and crisp acidity allows this kind of wine to be served with lighter dishes without being too overwhelming, perfect for this salad!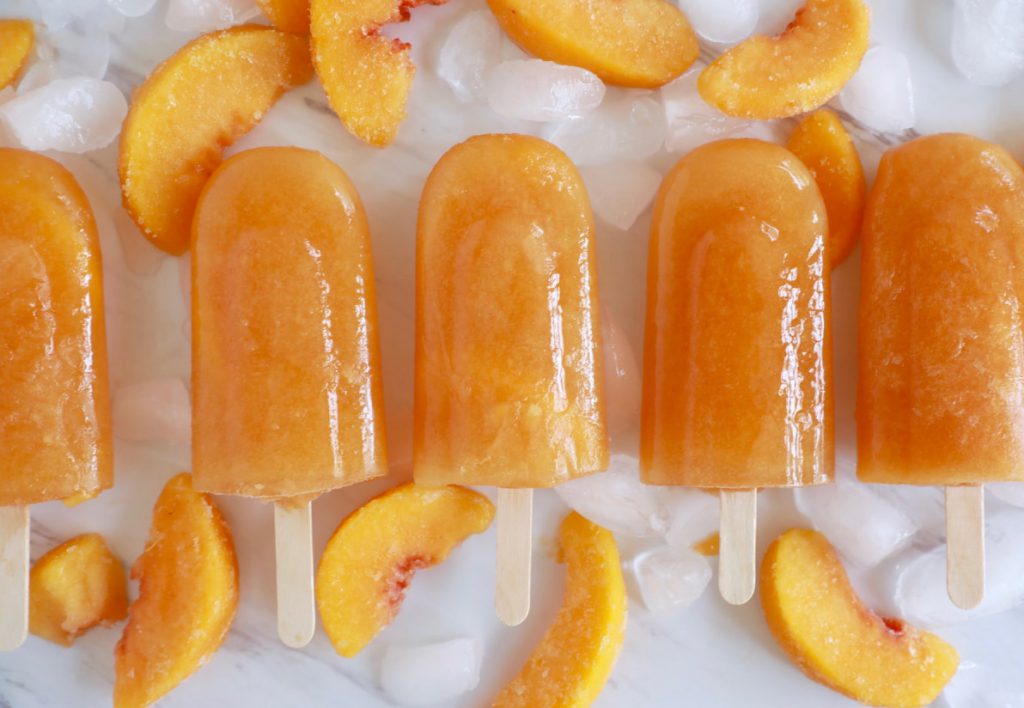 Peach Prosecco Popsicles
One of our all-time favorite summer treats is popsicles. You can make popsicles from pretty much anything, and they are perfect to cool down on a hot summer night! Not to mention, throwing in some fresh fruit and wine into a popsicle is one of the most genius inventions. We've got an easy peach prosecco popsicle recipe waiting for you, so keep reading!
Peach bellinis are a favorite cocktail! If you like them as well, you're in luck because these popsicles are basically peach bellinis on a stick.
What you need and what to do:
You'll need to buy some peach puree or make some yourself, which isn't difficult at all. To make your own, grab 3 ripe peaches. Bring a pot of water to a boil, and place the peaches inside for about 1 minute. After about a minute, immediately remove the peaches from the boiling water and place into a bowl of ice water. Let the peaches sit in the cold water for about a minute or so, and you'll be able to peel the skins off with your fingers. You can also use a knife if that's your thing. Once you have removed the skins, you can begin to slice the peaches and remove the flesh off of the pits. Next, you'll place the peach slices into a food processer or blender and blend until smooth. An easy alternative would also be to buy a bag of frozen sliced peaches if you want to skip the boiling and peeling. If your peaches are not sweet to your standards, feel free to add some sweetener to give it a boost. Mix your puree with Prosecco and pour it into popsicle molds. You can freeze overnight, or if you prep in the morning they can be ready for the late-afternoon.
Enjoy with family, friends, or a good quarantine movie night.
Want to make your own wine?
Musto Wine Grape Company is here to provide everything you need to make the wine of your dreams, and the support along the way to ensure your success! Give us a call at (877) 812 – 1137 to speak with a member of Musto's crush crew to get you started!
Strawberry Moscato Lemonade
Summer is in full blaze and our delicious and boozy Strawberry Moscato Lemonade is the perfect summer cool down drink, and it's too good to not share!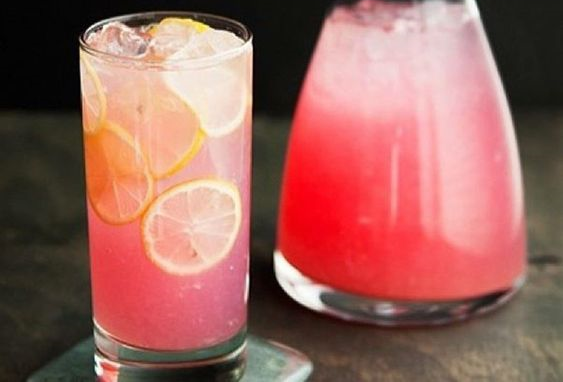 What you'll need:
1 Bottle of Strawberry Moscato, 750mL (this one has great reviews or use your homemade Muscat!)
6 Cups of Lemonade
1/4 cup of Strawberry Vodka (this one scores an 87 at the Beverage Testing Institute)
Frozen strawberries, chopped or sliced
Lemons, sliced
What to do:
Combine your Strawberry Moscato, strawberry vodka and lemonade into a pitcher.
Add your strawberry pieces into the mixture
Garnish with lemon slices
Serve chilled and enjoy!
If you're looking to really cool down, throw everything except the lemon slices into a blender with ice to make this yummy drink into a slushie!
Want to make your own wine?
 Musto Wine Grape Company is here to provide everything you need to make the wine of your dreams, and the support along the way to ensure your success! Give us a call at (877) 812 – 1137 to speak with a member of Musto's crush crew to get you started!