What kind of wine should you pair with your salmon, and why?
It mainly comes down to how you prepare the salmon that really determines what wine to pair with it. Salmon is a fatty fish, so it needs a stronger wine to stand up to it. It has rich fats, making a bitter and acidic wine a good general match. Salmon itself is not acidic, but those rich fats work well in place of acidity, and if you add a citrus glaze it would make the acidity in the wine harmonize better. Salmon is naturally mild but also vibrant, its actually able to work well with many different kinds of flavors.
Deciding on a wine to go with your Salmon can be complex because of all the different options in the types of salmon and how it's prepared, so we decided to include various types of combinations because everyone has a different taste and preference!
Pairing Wine with Salmon and how it varies with various preparation methods
It's not usual to pair a sweet wine with salmon, though a sweet glaze can call for a semi-dry wine. Reach for a rose or even a semi-dry Riesling, as both have enough lift to help enhance the sweet glaze but also pair the sweeter elements to the glazed salmon.
Reds, whites and even a rose can work as long as they are low in tannins and higher in acidity. A fuller white wine works well with pan fried salmon which becomes heavier and firmed when prepared this way.
Heavier salmon dishes like smoked salmon or ones with creamy and buttery sauces can call for a sparkling wine. Sparkling wines have the ability to lift up those heavier flavors and textures. For smoked or grilled salmon, try a prosecco. Because the acidity will pull the rich flavors of the salmon, it will also lift the heavier smokey flavors too. For a cream sauced salmon dish, grab some Pinot Grigio. This is a dry wine with a smooth finish and has the perfect amount of structure to complement but also add a textured layer to the creamy dish.
For baked or poached salmon, a classic dry wine with medium body and high acidity like a Cabernet Sauvignon from Sonoma would be an excellent pick. This is a medium bodied red wine with heavier levels of acidity but also a smooth, fruity finish making it a great option. Also, wine aged in barrels can have a real punch of flavor which would further enrich the already rich, natural fats and fresh flavors of the salmon.
Want to make your own wine to go with your next pairing?
Musto Wine Grape Company is here to help. Give us a call at (877) 812-1137 to speak with one of our Crush Crew members to get you on track to making the wine of your dreams!
Not all wine labels are the same. Once you understand how to interpret what you see on the bottle's label, the easier it will be to select a wine.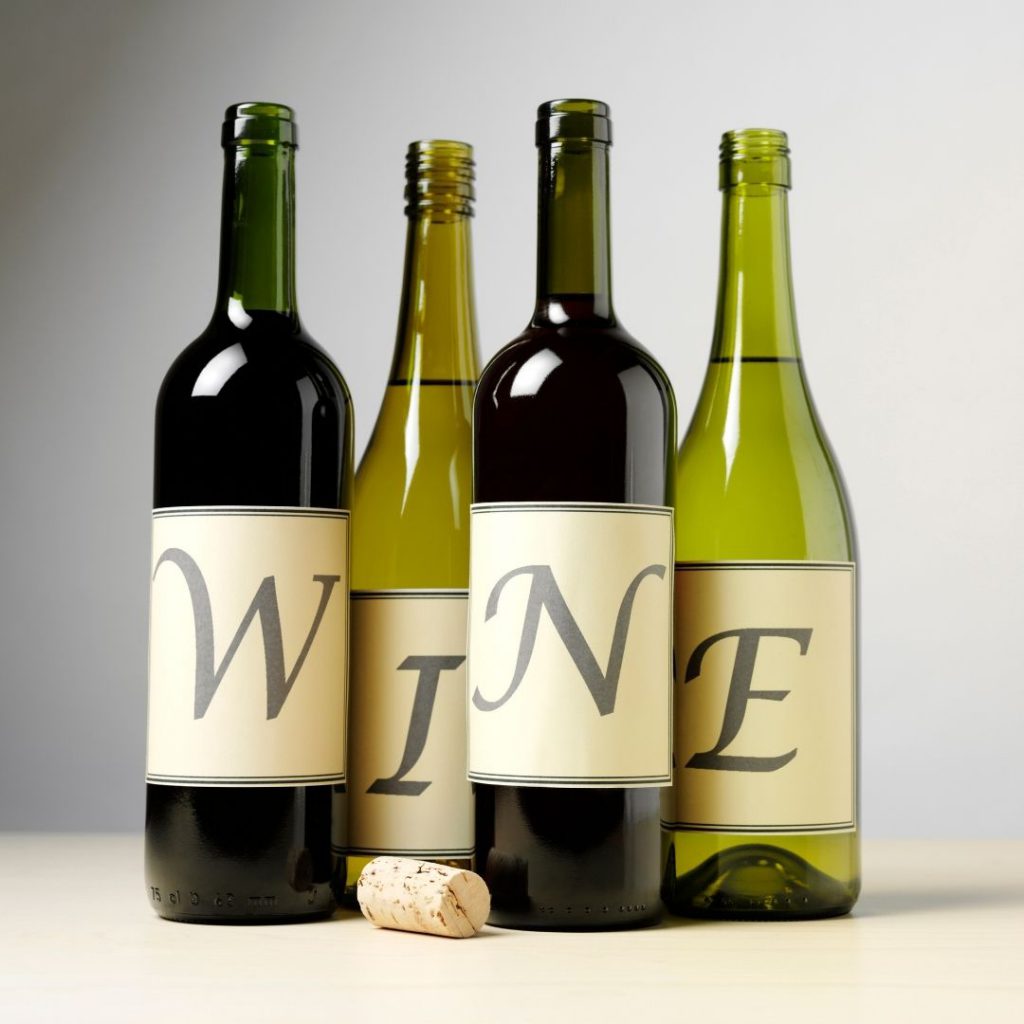 According to Wine Folly, wines are typically labeled by grape variety, region, or made-up name, in other words a name the winery has given to the wine. Examples of a made-up name might be "Crush" or "Apothic Red" for instance.
Grape Variety Labeling
Every country has their own minimum requirements for the percentage of a variety of wine in their bottles so you may not be getting a 100% bottle of any particular variety. Here are the requirements currently:
75% USA (except for Oregon which requires 90%)
80% Argentina
85% Italy, France, Germany, Austria, Portugal, New Zealand, South Africa, Australia, United Kingdom
Grape Region Labeling
When a wine is labeled by its region this means by the terrior it was grown in, such as Rioja, Bordeaux, Chianti, Chablis or Sancerre. Usually the labeling by region applies to wine from old world countries such as France, Portugal, Spain, and Italy. The reason for this is due to how the varieties of wine were grown together in vineyards which then were used to blend together to make the wine.
Some Wines are Labeled by Name
Typically when a wine is named in a unique way it is made up or thought up by the winery itself and may be an unusual blend that the wine producer invented. Often times these wines do not fit into the rules of a region and to learn more about this wine blend you will need to visit the winery's website to get the specifics.
These general things to look for will hopefully help you to begin to see the wine bottles you are buying a little more closely and take into consideration details you may have overlooked in the past. And, as always, if you have any questions, don't hesitate to ask us. We are here to help.
How to Read a California Wine Label
Things to look for when reading a California wine label:
The top of the label will list the winery or producer of that wine
The next thing will be listed is the name of the wine, often times a name that is made up to help you remember the wine or have it stand out
The year or vintage the wine was produced
Then if there is a special designation for this wine, it will list it here, such as Estate which means that 100% of the grapes were grown, crushed, fermented and bottled on the property
Next is the vineyard and only appears if 95% of the grapes came from a single vineyard
Then you'll see the wine type such as Cabernet Sauvignon
The last two items typically on a California wine label are the appellation or region where the grapes came from (it has to be 85% of the grapes have to come from that region) example, Napa Valley, and the alcohol level such as 14.5%. Alcohol levels percentages can vary within as much as 1.5%
Hopefully this information will help you the next time you are reaching for a bottle of California wine for your enjoyment. As always, reach out to us if you have any further questions as we are eager to help you on your journey to understand and appreciate wine.
Sources: 1, 2
How to Read a French Wine Label
One thing to note about wine labels on French wine is they are categorized by region vs. grape variety. What you will need to pay close attention to when you first look at the label is the name of the region where the wine originates.
French wine has 3 primary classification tiers are:
AOP (Appellation d'Origine Protégée)
IGP (Indication Geographique Protégée) VDP (Vin de Pays)
Vin de France
AOP = French wine from a regulated region with its own rules for the grapes, conditions and quality of those grapes, think Bordeaux. Translated to English it means Protected Destination of Origin. Generally speaking, the more specific the region is, the higher the rank in the wine.
IGP or VDP = A larger area with less regulations than a wine from the AOP. For reference, IGP is the same as PGI (Protected Geographical Indication).
Vin de France = Wine can originate from anywhere in France or be a blend of regions. Often, wines that are of this classification are labeled by grape variety.
Simply put here are some items you will find on a French wine label:
The label of how the wine is classified – example; winery's best wine
Information on bottling such as bottled at the winery
Winery name or address
The wine appellation (region where grapes are from in this wine)
The year it was made (vintage)
Owner of the winery
Alcohol content and volume
Producer of wine
We hope this information will help you to have a better understanding of what to look for and some terminology to help you determine what you are purchasing when selecting a French wine.
Sources: 1, 2
How to Read an Italian Wine Label
Here is some information to help you when reading an Italian wine label.
Wines from Italy are labeled in one of three ways:
Variety as in "Montepulciano d'Abruzzo" or "Sagrantino di Montefalco"
Region or sub-region, such as "Chianti"
Name such as "Sassicaia" (sass-ah-ki-yah)
At first glance, you will look to see what the name of the wine is, what region it's from such as Tuscany, as well as the classification and producer.
Variety
To make it easy, most of the time, if you see a di or a d' it is probably a grape. Since there are more than 350 official grape varieties in Italy it's hard to know all of them.
Region
A classification will be listed after the region's name on an Italian wine label. This means if the wine is Chianti, for instance, after the word Chianti you will see the region or sub-region listed right next to it.
Name
A good reminder to know if an Italian wine is labeled by its name is that the name is never next to the wine classification. This is usually due to producers of that wine using both Italian and non-Italian origin grapes in that wine.
Categories of Italian Wine
Vino da Tavola (VdT) – generic table wine; no specifications required
Vino a Indicazione Geografica (IGT) – accommodates growers with more flexibility; higher quality than VdT category wine
Vino a Denominazione di Origine Controllata (DOC)
Vino a Denominazione di Origine Controllata e Garantita (DOCG)
The two you may see most often are DOC or DOCG. To put it simply, DOC means controlled area of designation and DOCG, controlled area of designation, guaranteed.  DOC wines are specific to an area they are grown in and follow certain standards. DOCG wines follow more stringent standards. DOCG wines have a paper band along the neck of a bottle with a serial number for authenticity; some DOC wines have this paper band as well.
Hopefully this helps you feel more prepared when you head to the wine shop to pick out an Italian wine. If you need more clarification, please let us know. We're here to help you.
Sourcess: 1, 2, 3
Written by Michelle Griffis aka the Nutmeg Nose for MWG
Air Fryer Buffalo Cauliflower Bites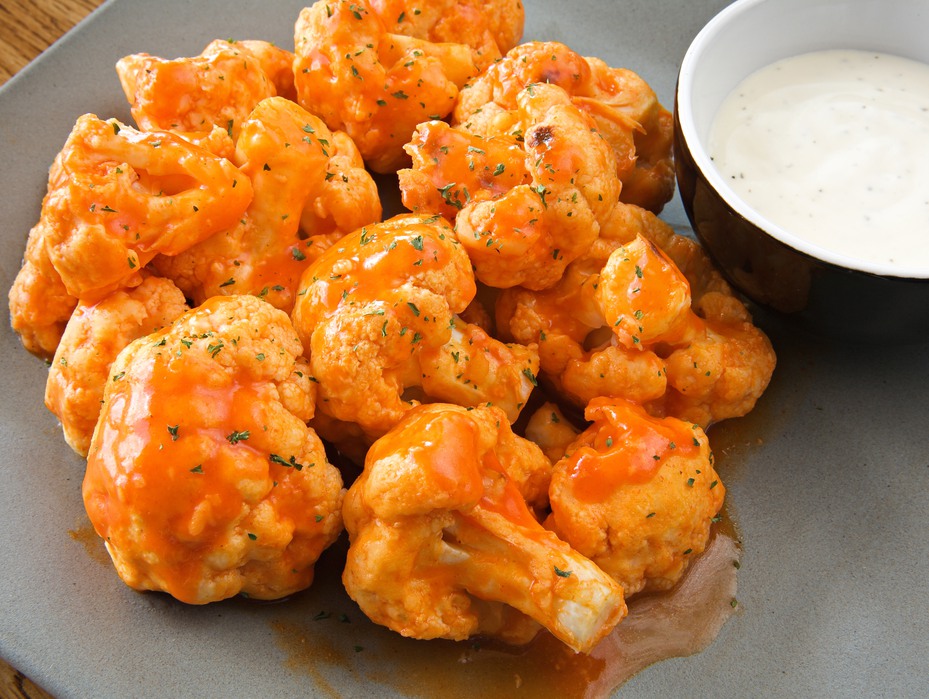 If you're obsessed with wings like I am, but are looking for a healthier alternative, try these air fryer buffalo cauliflower bites! Cauliflower has a similar texture to potatoes, but without all the carbs. There are a few way you can prepare these, but I've been obsessed with my air fryer lately so that's what I'll be using for this recipe.
What you'll need:
About 5 cups of cauliflower, chopped into florets
Buffalo Sauce – Frank's Mild Buffalo sauce is my all time favorite!
Unsalted butter
How you'll do it:
Spray the cooking basket in the air fryer with some non stick cooking spray
Add the cauliflower and cook at 375 degrees for 15 minutes. Toss the cauliflower and add back in for about 5 minutes if they aren't crispy yet. (Try cooking the cauliflower in smaller batches if they come out soggy – I've noticed if you over pack the air fryer they tend to not crisp evenly.)
Add cold butter to the warmed buffalo sauce and add to a large bowl, and pour the sauce mixture on stop and toss to fully coat.
Serve with blue cheese dressing for dipping and carrots and celery sticks to serve on the side.
The impossible pairing:
Yes, you can pair a wine (actually, quite a few!) to go with your buffalo dishes. A slightly sweet white wine will compliment the buffalo sauce the best. Reach for a Champagne, Moscato D'Asti or a Riesling. The fruity flavors and the low level of tannins really works with the buttery spice and they also help with the heat!
Thanksgiving Wine Pairings
Harvest has come to a close, and now it's time for everyone to wine down 😉 and enjoy great food and wine with our families during the holiday season.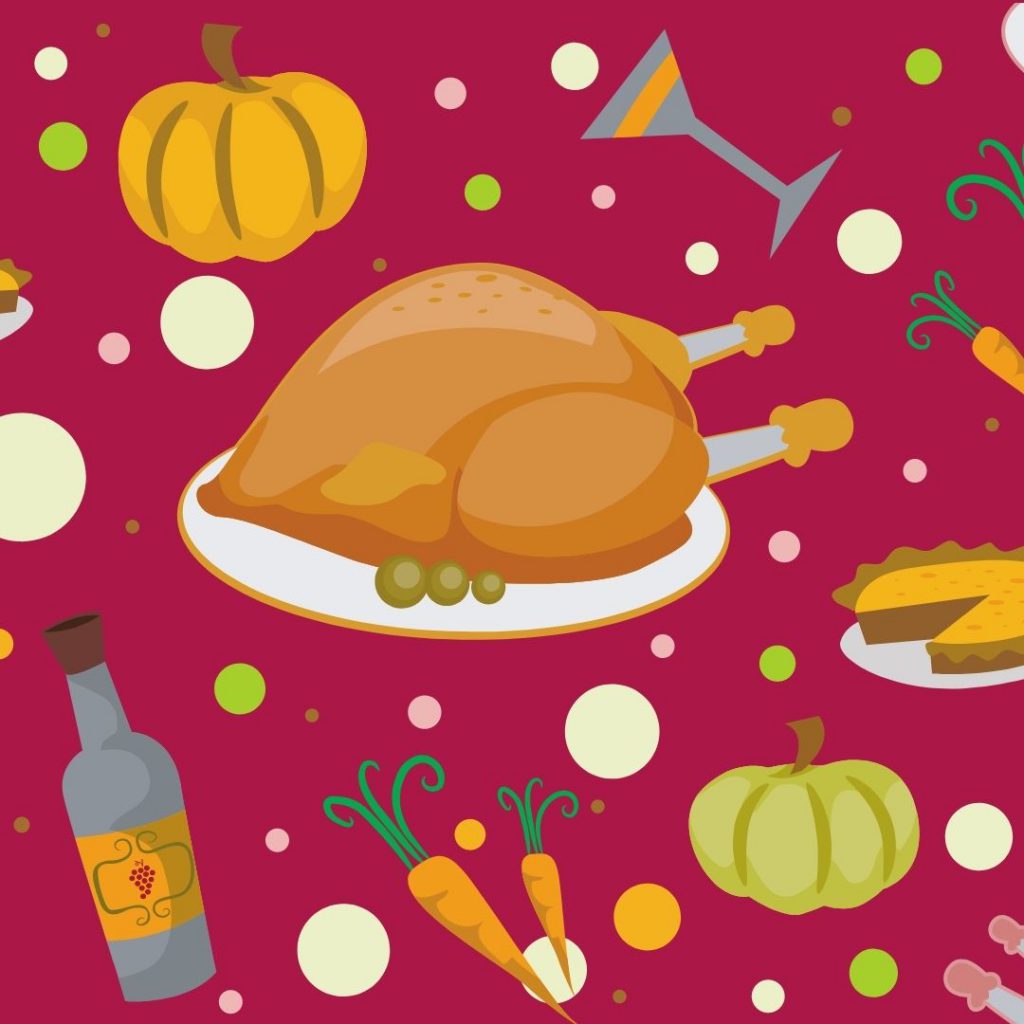 To make things simple and easy, we're providing you with our favorite thanksgiving wine pairings to help you spend less time roaming the aisles of the liquor store and more time laughing and making memories with your family.
Sauvignon Blanc:
A perfect Thanksgiving wine! Goes great with appetizers like salads and veggie platters. The flavors of apple and melon would be a great starter wine, while being both refreshing and not overly heavy before your Thanksgiving meal.
Riesling:
Same goes for Riesling, depending on if it is more on the sweet or dry side. The fruity flavors will go well with the other fruit flavors like cranberry sauce, and the crispness will also go well with the salads and veggies platters.
Pinot Noir:
A Pinot Noir is wine that can pair with most of the Thanksgiving dishes being passed around, from turkey to sweet potatoes and cranberry sauce. The smooth flavors of plum, cherries and berries accompany these dishes perfectly.
Zinfandel:
Another wine that can pair with most of the Thanksgiving dishes being served. It provides more of a sweet plum or berry jam flavor with the added bonus of some notes of pepper. This is great for the heavier dishes where the sweet and spicy will balance out the richness of a casserole or creamy mashed potatoes.
We hope everyone has a yummy and safe Thanksgiving!
Musto Wine Grape Company is here to help! We are New England's largest supplier for home winemaking products and services. We can get you set up with all of your juice, grape and equipment needs and have you on track to making your own perfect pairing for next fall! Visit juicegrape.com or give us a call at (877) 812 – 1137 to learn more. We look forward to hearing from you!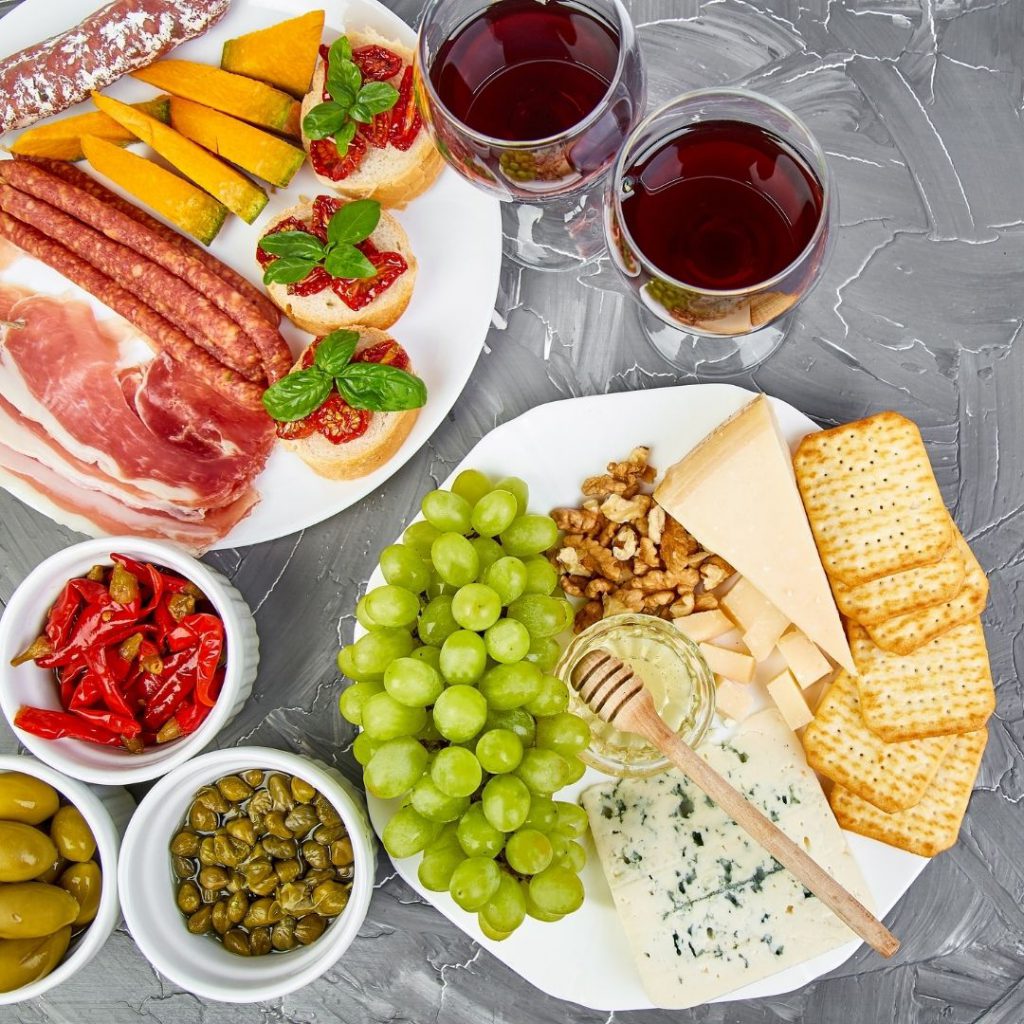 You have worked hard to produce a wonderful Cabernet Sauvignon and you can't wait to share it with your friends!  You make the invite list, get the bottles ready, but then you wonder, how best can I present the wine to my audience?
Why not create a charcuterie board? They are all the rage right now and easy to put together.
Here are a few tips to make one for your next gathering.
Items for your board:
Board itself
Cheeses
Crackers and Bread
Nuts
Meats
Fruits or Veggies
Other items – such as chocolate, spreads or flower garnishes
Consider how many people will be in attendance and then buy accordingly. A medium sized board – whether it's a cutting board or a food safe tray – should work just fine. If you have a larger audience, you may want a larger board or include smaller plates with items to complement the main board itself.
Arrange the board with a variety of cheeses – 2 or 3 – one that is soft, one that is a little harder will work. You can always buy pre sliced cheeses too.
Having a few crackers – 1 to 3 types is a good idea – and helps if someone doesn't eat cheese or would prefer to enjoy some salty eats while sipping on wine. Be sure to add some bread, like a baguette, sliced on the board as well.
Nuts are good to include – another salty option in addition to crackers. Or even olives or an olive tapenade can supplement the crackers or nuts.
Add in some meats such as salami, pepperoni, prosciutto or turkey slices as well as fruit such as table grapes or strawberries, or other berries like blackberries or raspberries.
In addition to these staples, other items to consider are a sweet element such as some dark chocolate or some spreads like a Dijon mustard. You can also include flowers to make the board pretty; make sure you let your attendees know that they are not edible!
Don't over think the board or the items on it. Pick a few from each area and have fun with it!
Don't have enough time to make one? Check out local charcuterie extrodinaire Make Food Lovely.
Written by Michelle Griffis aka the Nutmeg Nose for MWG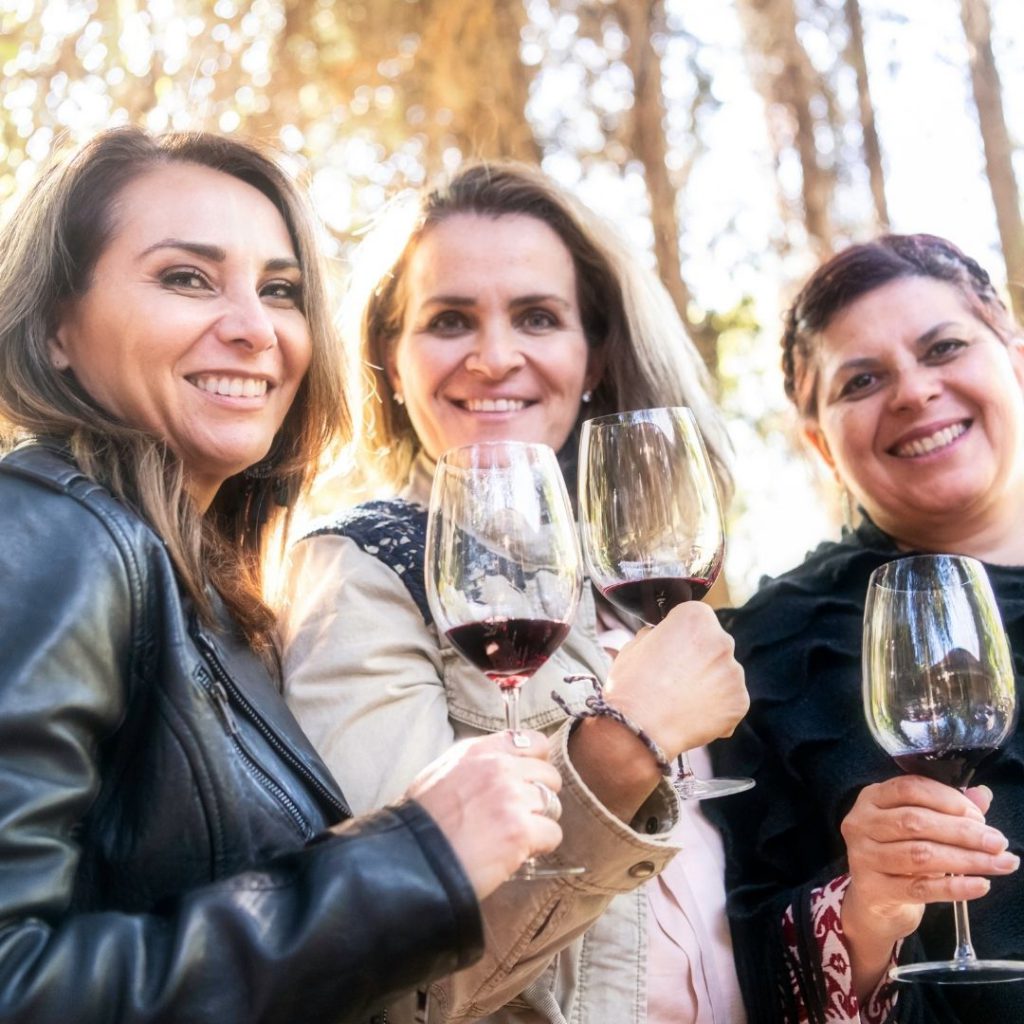 Have you ever wanted to do an at home or virtual wine tasting? It's fun and easy. Here are a few steps to help you plan your next tasting either in person or virtually.
1) First — Get Your Supplies:
• Wine – at least two different ones
• Glasses for all who are attending in person
• Notepads and pens to write down tasting observations
• Water
• Snacks – think cheese and crackers
• Plenty of spaces for people to sit
2) Practice Tasting Wine:
Spend about 20 minutes looking, smelling, seeing and tasting wine. Take a look at this video to help you understand the steps to tasting wine that you can share when leading your own tasting.
3) Do a Comparative Tasting
Here are a few different choices for such a tasting:
• Same Wine / Different Region – i.e. A Cabernet Sauvignon from France and one from California
• Same Wine / Different Winemaking Method – Chardonnay; one that is oaked and one that is unoaked
• Same Wine / Different Price Point – Does price matter? Try one under an agreed upon price point and one above that number for the same wine
• Different Wine / Same Style – Pick a wine style (see all 9 wine styles here) and find a varietal wine within that style to learn what you might like
• Different Wine / Same Region – Pick a region like Napa or Tuscany and choose two wines that are from that area but made differently
4) Zoom/Virtual Tasting
If you can't host one in person, make sure you let your audience know what comparative tasting type you are doing and what wines they will need to follow along online. Do advise them of having glassware available, water, snacks and a comfy place to sit to try the wines as well as having a pen and paper handy to write down notes that they have as they taste. And make sure people turn on their cameras and microphones or have access to the chat feature so you can all interact and discuss your experiences as you taste the wines.
5) Make it fun
You can purchase wine tasting notepads from a source such as Wine Folly or create your own by searching Google for wine tasting and seeing what samples are out there that you can make at home.
It's all about the adventure to learn more about wine! What kind of wine tasting will you host? Or, if you've hosted a home wine tasting, how did it go? Do you have tips for others? Did you know Musto Wine Grape has Virtual Winemaking Classes? Head over to WinemakingInstructions.com to check out our virutal classes on wine making, wine blending, and more!
Written by Michelle Griffis aka the Nutmeg Nose for MWG
Winemaking is an investment in most winemakers' eyes. One of your most tedious but worthwhile investments will be a wine barrel. They are expensive to produce and challenging to maintain, but the impact it can have on the quality of your wine makes it worthwhile. This article will cover the anatomy of the barrel, how to clean it, and the maintenance you should familiarize yourself with if you plan on owning one.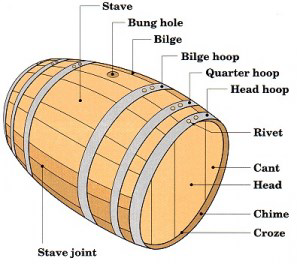 Inspecting your barrel
The first thing you should do as soon as you receive your new (or used) wine barrel is to inspect it. You should start by visually examining the barrel's exterior. Keep an eye out for broken chimes, dented or displaced heads, and misaligned staves. Also look for scrapes, gouges, and any torn or burred hoops. Next, you'll need to inspect the inside of the barrel. The inside should be completely dry and free of mold. The area where the head meets the staves can be a breeding ground for mold, which usually occurs from a combination of standing water and exposure to starch used in the construction of the barrel. Lastly, observe the aroma of the barrel. The barrel should smell clean, fresh, oaky, and/or toasty. Other than sulfur, there should be no chemical odors and certainly no aroma of spoilage.
Prepping your barrel for wine
This will include one last inspection of your barrel, which is testing your barrel for leakage first. You need to rehydrate your barrel, or "swell" it to prepare it for wine, but it'll kill two birds with one stone allowing you to inspect for any possible leaks. There are two ways to swell your barrel, the first option being the hot water/quick soak method. The second option is a coldwater/high volume soak. The only main difference is the speed of which the soaking gets done.
Hot water/quick soaking consists of filling the barrel with 3-5 gallons of filtered, chlorine-free, hot water. The ideal temperature for this would be about 180 degrees Fahrenheit. Use caution when using water hotter than this, or using high-temperature steam as this can degrade and damage the barrel. Once you've filled your barrel, place your stopper in the bunghole. Rotate the barrel from side to side, completely wetting the barrel's interior. Stand the barrel upright on its side (one head facing down, the other up) and let stand for about 4 hours to rehydrate the head. Repeat with the opposite side for an additional 4 hours. During these processes, make sure to continuously check for any leakage. If there are no leaks, turn the barrel so it's bunghole is facing toward and allow to drain and dry completely.
Coldwater/high volume soaking calls for filling he barreling completely with filtered, chlorine-free, cold water. Once you've filled the barrel completely, place your stopper in the bunghole and let the barrel stand for about 24 and 48 hours. Once no leaks are present, empty the barrel and allow it to drain and dry completely.
If your barrel continues to leak after multiple swelling attempts
If after either of these methods are complete the barrels still exhibit leaks, repeat the swelling process as it's possible it just needed more time to swell. There are some additional methods of swelling you can attempt that are more aggressive but can possibly help seal any leaks.
The submerging method:
We have found that sometimes soaking the interior and exterior of the barrel simultaneously can help to get it swelled. Start by placing the barrel upright on one head in a large container. Fermentation tubs work great for this. Next, fill the barrel halfway until water is seeping from the bunghole, then fill the container it's in up to the same bunghole. Let the barrel sit overnight, then remove all water from the barrel and container, flip the barrel onto its other head and repeat the process. Once emptied, use the cold water method and check for any leaks.
The hoop tightening method: 
The hoops on a barrel can become loose when it becomes dry. Using a hoop driver, or if no hoop driver is available, a cold chisel to hammer the hoops toward the center of the barrel. Workaround the barrel, hammering firmly at around one-quarter increments of the circumference. It may be necessary to remove the hoop nails to allow the hoop to slide tighter onto the barrel.
The Barrel Sealing Wax method: 
Beeswax can be used to seal small leaks. The first step is to mark any leaks with a pencil or chalk. To properly apply sealing wax, first make sure the barrel is dry. Next, gently sand leaking areas with rough sandpaper. Knead a small piece of beeswax in your hand and work the wax into the area using a putty knife. Beeswax will not change the flavor of your wine and is completely safe to use.
After several attempts, if your barrel continues to leak, it is important to call your sales rep immediately. Empty the barrel, allow it to drain, and completely dry. Next, you have to treat each barrel with 10-20 grams of sulfur sticks (or the equivalent gas form) and re-insert the stopper. This will ensure that you are still maintaining the integrity of the interior of the barrel.
Storing your barrels
Ideally, barrels should always have wine in them. If you are in between winemaking projects though, or you're waiting for harvest, there are a few guidelines you should follow when storing your barrels. If you are storing a new barrel, store in a cool, humid environment. Some new barrels arrive with their plastic film still on them – if yours does, keep that film on if you plan to store them for a significant amount of time. The process of storing a used barrel requires a bit more work.
If you are ready to empty your barrel, empty it and wash the barrel out with hot water until all of the deposits and tartaric crystals have been dissolved and emptied. Repeat if necessary. If you have access to larger volumes of hot water, fill the barrel completely and let sit overnight. Once emptied, rinse the barrel with cold water and let it dry with the bunghole facing down. Allow to completely dry, and then burn sulfur sticks or discs in the barrel and place stopper in the bunghole. This burning treatment should be repeated every six weeks or so until you are ready to use the barrel again. Finally, store your barrels in a cool, humid environment.
Other tips and tricks for maintaining your barrel
Never leave water in a barrel for more than two days. If the swelling process takes longer, empty, and refill the barrel with fresh water to avoid mold and spoilage micro-organism growth.
A full barrel is a happy barrel! If possible, try to refill your barrel immediately after it has been emptied and cleaned. This way you will never have to re-swell it and there is much less opportunity for bacteria and other spoilage organisms to get into the barrel.
Never use chlorine in or around a barrel, or any winemaking equipment for that matter. TCA, also known as cork taint, can infect much more than just corks. A barrel is a vulnerable place for TCA to be absorbed into due to the spores, molds, and natural phenolics of the wood.
When in doubt, throw it out – or repurpose your barrel for something other than winemaking. If you suspect that there are spoilage organisms in your barrel even after you have tried ozone/steam/proxycarb, (you can find info on these here) err on the side of caution and retire it. You can ruin any future wine you put into such a barrel and it can possibly infect the rest of your winemaking equipment if they are stored near them. Barrels can be repurposed into planters, furniture, and more!
Where can I purchase wine barrels?
Musto Wine Grape Company carries a few categories of wine barrels including new and used American and French wine barrels! Email sales@juicegrape.com or call (877) 812 – 1137 to speak with one of our Musto Crush Crew members to get your order placed, or if you need any assistance in using, maintaining, or storing your barrel. We also offer ozoning treatments if you are dealing with a problem barrel. We are here to provide everything you need to make the wine of your dreams, including the customer support to ensure your success!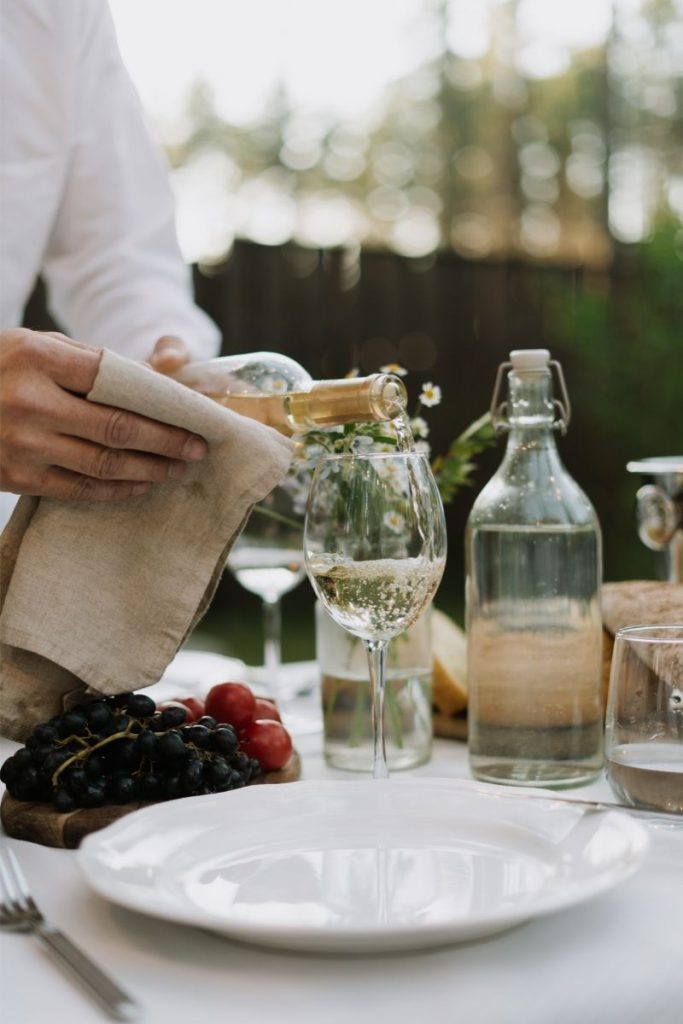 As the air gets crisper, the leaves start changing color and you add layers to your wardrobe, you start to think of your seasonal favorites such as pumpkin EVERYTHING, apples and apple pie, turkey, roasted veggies and sweet potatoes.
But when it comes to pairing your wine with those delicious autumnal treats, where to begin?
Here are a few things to keep in mind when deciding which white wine to try with your fall favorites.
You might automatically think red wines when you think fall, but there are many white wines to choose from that really complement some great hearty dishes.
Choose Chardonnay or Viognier to have with your meats like chicken or turkey and a nice rich soup or bisque. Viognier also pairs well with butternut squash or carrot dishes. These wines also pair well with pumpkin flavors too such as pumpkin pie. Are you preparing some pumpkin bread? Choose a bubbly Moscato to pair with this fall treat.
And don't forget the sweet potato fries! Pair them with that Chardonnay again; make it a un-oaked Chardonnay, so it doesn't overwhelm the sweetness of those crispy treats!
Consider a Gewürztraminer or Vouvray when selecting an apple dish. The Gewürztraminer will be a nice addition to a plate of apple slices and add some cheese, while if you are looking to find a wine to have with a slice of apple pie, then you might prefer to pair with the sweeter Vouvray. Or if you are having an apple cobbler or baked apples, try serving it with a Riesling.
And you either love them or hate them, but Brussels sprouts are fresh in the fall and if prepared with just a bit of char, they pair really nicely with a good crisp Sauvignon Blanc.
No matter what fits your fall fancy when it comes to foods you enjoy as the days get shorter and the skies get darker earlier, but there is sure to be a wine to pair with it. Hopefully these pairings will give you ideas of what wine to purchase to complement your own autumnal specialties.
Written by Michelle Griffis aka the Nutmeg Nose for MWG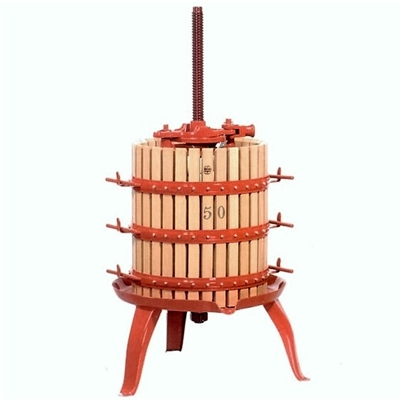 When deciding on what size press you need, ask yourself the following questions.
How much do I have to press?
How much can I press at once with the given size of the wine press?
How long will each press cycle take?
As with the crushing/destemming part of winemaking (and pretty much every other part of winemaking for that matter), the setup and cleanup will represent a significant portion of the day, so you don't want to plan on spending 8 hours presssing unless you feel like working a 12 hour day. In general you want to be able to get through the entire lot of wine or grapes in about 5 hours.
Keep in mind that when you're pressing must it will be between 30% and 35% solids. As you fill the press most of the liquid will flow right through and out referred to as free run wine/juice. So the volume of the press is going to correspond to the volume of solids that need to be pressed. For example, if you have 100 gal of fermented must to press, that only corresponds to about 35 gals worth of solids. To press 35 gals of solids through the 40L bladder press (10.6 gal) you would need to run about 3 press cycles in order to get the job done. If you can run a full press cycle on the 40L bladder press in about 45 minutes – which, as it happens, you can – then this press will totally do the trick.
Now seems like a good time to define what we mean by "press cycle." A full press cycle consists of filling the press, pressing, emptying the press and cleaning and sanitizing it for the next run. Now that you understand the press cycle, its time to figure out which press is right for you.
Keep in mind that times for running press cycles do vary based on the your equipment set up, amount of helpers you have, practice, preparation, and level of expertise. The two most time consuming parts of the process are 1) filling the press, and 2) actually pressing. With the bladder press this essentially consists of waiting for the bladder to fill…
Whole Grape To Must
It can vary but for most reds, we can expect that a ton of fresh grapes (2,000 lbs) will yield about 210-240 gallons of must which in turn yields about 120-130 gallons of finished wine. The variation comes from cluster size, stem size and ratio, amount of shatter, open vs. closed clusters, berry size, skin thickness, number of seeds, press pressure, etc.
Cage Size To Cage In Liters To Cage In Gallons
| Cage Size | Cage in Liters | Cage in Gallons |
| --- | --- | --- |
| 15 | 5 | 1.3 |
| 20 | 10 | 2.6 |
| 25 | 20 | 5.28 |
| 30 | 30 | 7.92 |
| 35 | 50 | 13.20 |
| 40 | 70 | 18.5 |
| 45 | 85 | 22.45 |
| 50 | 130 | 34.34 |
| 55 | 170 | 44.90 |
| 60 | 220 | 58 |
| 70 | 330 | 87 |
| 80 | 550 | 145 |
Using these estimates:
2,000 lbs of whole grape times .1125 = 225 lbs of must and juice times .35 = 78.75 lbs of solid must
So for example, a 70 liter press will press 87 pounds of solid must in one press so it could do around 2,000 lbs of whole grape that was 225 lbs of must and juice.
Now that you know how to size up your press, check out our posts about choosing your style of wine press, using rice hulls at press, and our wine pressing video.
How to Pick Your Style of Press
Using Rice Hulls While Pressing Your Wine
For more information and pricing on wine presses offered at MWG please emal sales@juicegrape.com