This crunchy, refreshing apple broccoli salad is a perfect summer barbecue side. Not only does it go great with virtually any barbecue food, ranging from chicken to steak and even burgers – it's also healthy without compromising tasty! I know you can't wait for this one so let's get started!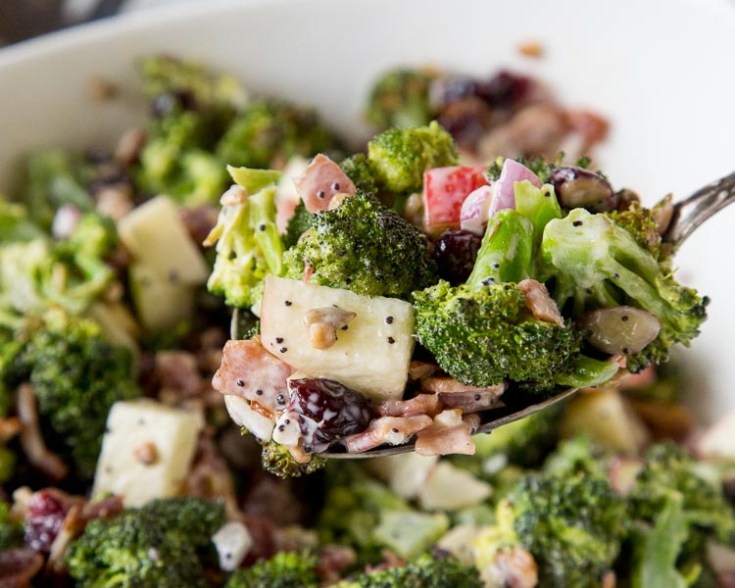 What you'll need:
2 medium heads of broccoli, chop into small florets
1/2 cup of shredded carrots
1/4 cup diced red onions
2 large apples, chopped into small pieces
1/3 cup nuts of choice. I love roasted almonds and sunflower seeds
1/3 cup dried cranberries. Ocean spray's pomegranate infused dried cranberries are delicious!
1 cup of plain greek yogurt
2 tablespoons apple cider vinegar
1 tablespoon sweetener of choice, I personally love using honey.
1/4 teaspoon salt
1/8 teaspoon pepper
What you need to do:
Combine broccoli, carrots, red onions, apples, nuts of choice, and dried cranberries in a bowl.
In a separate small bowl, combine greek yogurt, apple cider vinegar, honey, sale and pepper and whisk together.
Coat salad in dressing and toss, then serve chilled!
Wait, what about some wine to go with it?
You didn't think we'd leave you hanging on that, did you? We would never! In general, crisp white wines are a go-to when serving raw vegetables, so try a zesty Pinot Grigio with this salad. The smooth flavors and crisp acidity allows this kind of wine to be served with lighter dishes without being too overwhelming, perfect for this salad!
There has to be some sort of Barbecue chicken at your super bowl party, or it's really not a super bowl party. Instead of going the traditional route of chicken wings, try these Bourbon Bacon Barbecue Chicken Skewers instead. Your guest will really enjoy the mess free convenience of these Barbecue chicken skewers.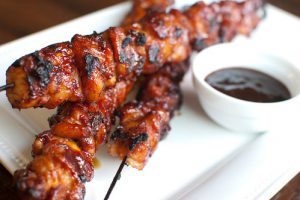 What you'll need
8 ounces of Barbecue Sauce – We use Sweet Baby Ray's Original Barbecue Sauce!
1/8 cup of bourbon
2 pounds of chicken breast
6 Slices of uncooked bacon
½ teaspoon garlic Powder
½ teaspoon onion powder
2 Tablespoons smoked paprika
3 Tablespoons brown sugar
2 teaspoons of salt & 1 teaspoon of pepper
What you'll do
Heat your grill to medium-high.
In a small bowl, combine the BBQ sauce and bourbon and mix well.
In a food processor, combine your salt, pepper, onion powder, paprika, garlic powder, brown sugar, and bacon. Pulse until completely smooth, forming a paste.
Put the pieces of chicken in a bowl and rub with the paste. Once well coated, thread the chicken pieces onto skewers.
Place on the preheated grill, and cook for about 5 minutes per side or until cooked through.
Brush with the bourbon BBQ sauce mixture and cook for an additional minute on each side.
Pairing
We think you can go in 2 directions with a beer pairing with this one. Something crisp but also a bit smoky can complement the BBQ tastes of this dish like schwarzbiers, rachbiers, etc. You can also go with a smooth, slightly creamy, more delicate IPA that won't overpower the great flavors of this dish. Try Fox Farm Brewery's "The Camp" Smoked Lager or New Park Brewery's "Cloudscape" IPA.
For wine, try Hawk Ridge Winery's Mad Hawk Spanish style blend – Bold, bright fruit and smooth tannins make this Spanish style wine a delicious accompaniment to BBQ! The fruitiness of the wine will compliment the sweet flavors in the BBQ and the smoother tannins will not over power the chicken. A very fun new wine to try.