Our Ancient Vine Wine Grapes come from one of the oldest grape growing regions, Madera County, CA. The grapes were planted close to 80-100 years ago and are being farmed by the 3rd and 4th generations. These are low production and low yield vineyards. They yield 2-4 tons/acre depending on the variety. These berries are small clusters with high concentration of phenols and color. Incredibly concentrated grapes which create a very concentrated and complex wine.
To see a video of our Ancient Alicante Vineyard click the play button below.
Our Suggested Ancient Vine Blend:
60% Alicante, 20% Muscat, 20% Grenache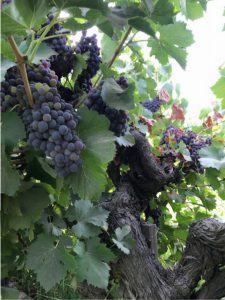 pictured above – ancient vine Grenache
Yeast Suggestions: 71B, VRB, and D254.
If you want to make a more fruit forward wine:

71B is a great yeast for fruit forward wines such as Grenache and Alicante. It helps bring out the fruity aromas Grenache and Alicante are known for.
If you want to make a make a wine with a more balanced ratio of tannin to fruit: VRB yeast is a consistent fermenter that helps bring out the tannins while enhancing varietal characteristics.
If want a wine with a balance of fruit and earth:

D254

is a yeast that helps develops ripe fruit together with mild spiciness while increasing mouthfeel.
*Please note that we always suggest using nutrients and putting your red wines through malo. Click the links below for more information on Musto Wine Grape's Fermentation Protocols.
Ancient Grapes Available:
– Alicante
– Carignane
– Grenache
– Barbera
– Muscat
Fun Fact: For a grape to be considered an Ancient Vine it must be 75+ years old. To be considered an Old Vine it must be 35+ years old.
For more information on purchasing ancient vines grapes please give us a call at 877-812-1137 or sales@juicegrape.com.
Rose´ has become an important part of the wine market. What originally started out as White Zinfandel has transformed into a large and growing wine category made from a lot of different wine grapes. One of the most important grapes used in the production of Rose´ is Grenache.
The Grenache grape is part of the original "Rhone Rangers" crew and one of the most widely planted red wine grape varieties in the world (over 500,000 acres planted so far..). It ripens late so it needs hot, dry conditions such as those found in Spain, where the grape most likely originated. Grenache flourishes in the AVA's such as Central Valley, Fresno County, Lodi, and other Mediterranean–style climates.
Usually a brilliant ruby pink hue with notes of ripe strawberry, orange, hibiscus and sometimes with a hint of ripe peach. You'll find Rose´of Grenache wines to have moderately high acidity, but most have quite a bit of color and body. Perfect pairing with this wine would be a summer evening and takeout Greek Gyros with dill tzatziki.
Below are some photos of our beautiful Grenache Noir from our newest vineyard- King's River. They will be arriving in early September. Make sure to put in your pre-order for this Rose´worthy grape!