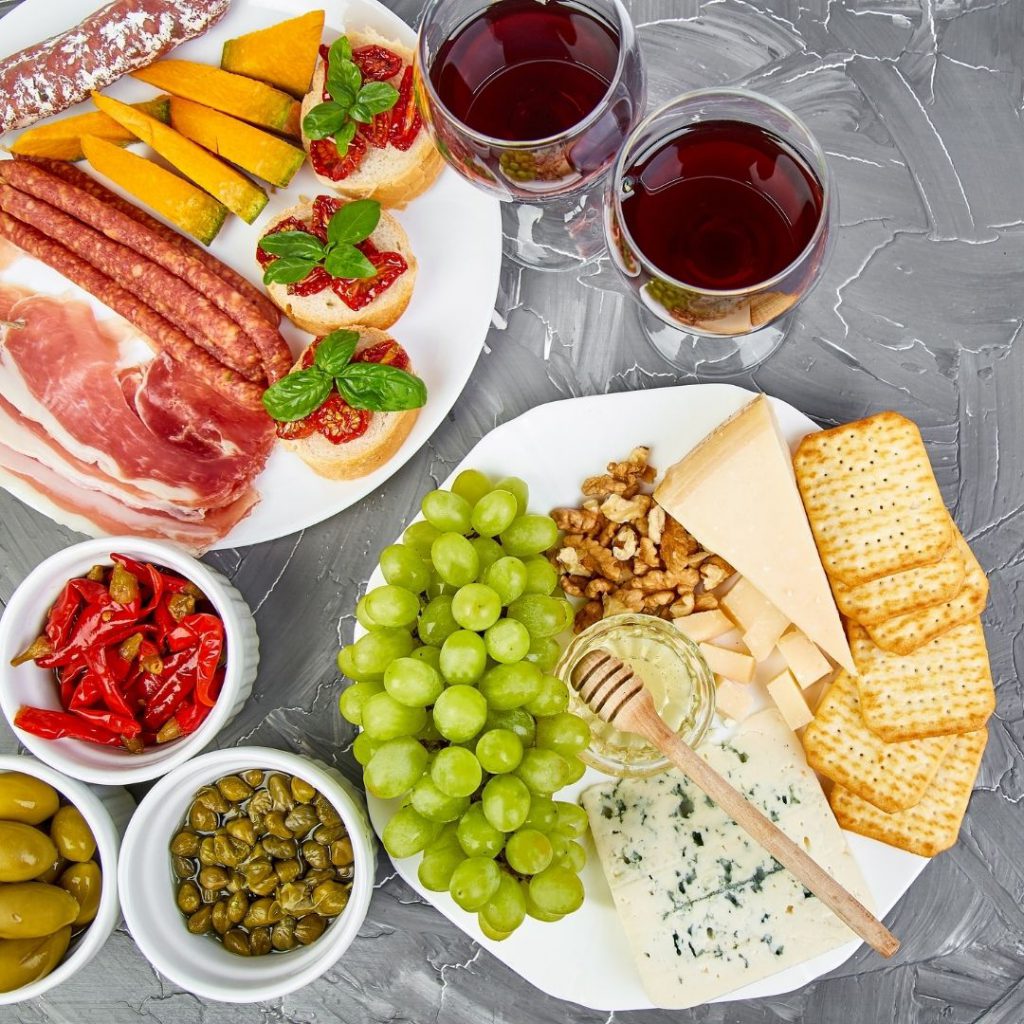 You have worked hard to produce a wonderful Cabernet Sauvignon and you can't wait to share it with your friends!  You make the invite list, get the bottles ready, but then you wonder, how best can I present the wine to my audience?
Why not create a charcuterie board? They are all the rage right now and easy to put together.
Here are a few tips to make one for your next gathering.
Items for your board:
Board itself
Cheeses
Crackers and Bread
Nuts
Meats
Fruits or Veggies
Other items – such as chocolate, spreads or flower garnishes
Consider how many people will be in attendance and then buy accordingly. A medium sized board – whether it's a cutting board or a food safe tray – should work just fine. If you have a larger audience, you may want a larger board or include smaller plates with items to complement the main board itself.
Arrange the board with a variety of cheeses – 2 or 3 – one that is soft, one that is a little harder will work. You can always buy pre sliced cheeses too.
Having a few crackers – 1 to 3 types is a good idea – and helps if someone doesn't eat cheese or would prefer to enjoy some salty eats while sipping on wine. Be sure to add some bread, like a baguette, sliced on the board as well.
Nuts are good to include – another salty option in addition to crackers. Or even olives or an olive tapenade can supplement the crackers or nuts.
Add in some meats such as salami, pepperoni, prosciutto or turkey slices as well as fruit such as table grapes or strawberries, or other berries like blackberries or raspberries.
In addition to these staples, other items to consider are a sweet element such as some dark chocolate or some spreads like a Dijon mustard. You can also include flowers to make the board pretty; make sure you let your attendees know that they are not edible!
Don't over think the board or the items on it. Pick a few from each area and have fun with it!
Don't have enough time to make one? Check out local charcuterie extrodinaire Make Food Lovely.
Written by Michelle Griffis aka the Nutmeg Nose for MWG
So how can you start making your own wine from Chilean juices? Follow these 10 Easy Steps (for fresh juice) and you'll be on your way!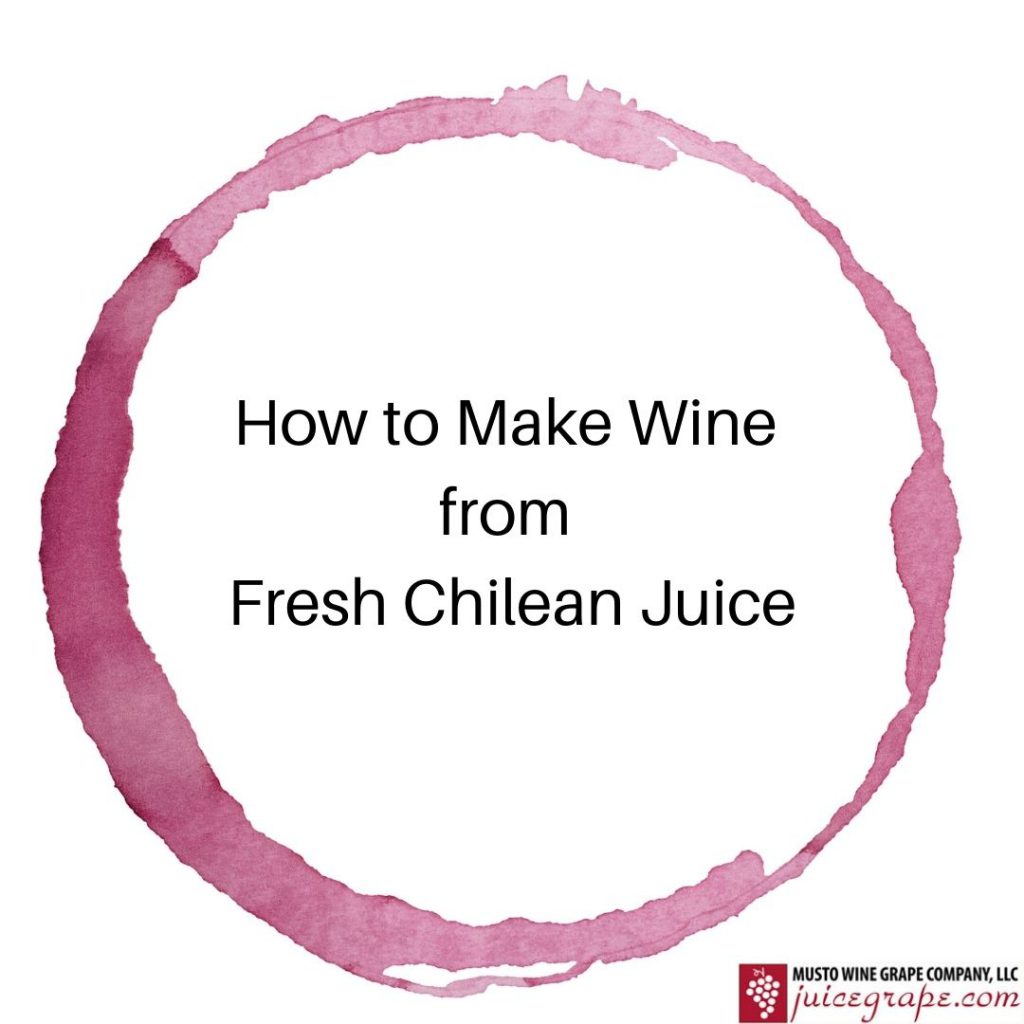 Choose a

Chilean

variety that speaks to you.
Come to Musto Wine Grape and pick up your pail of juice.
Bring it home, pop open that lid, and add 1/4 tsp potassium metabisulfite to it. Add

pectic enzyme

if you're going to (5 drops per gallon of juice). Give it a stir.

Allow it to come up to room temperature – we're talking 60 degrees or so.
Choose your fermentation vessel: will you keep it in pails or ferment in a

carboy

or

demijohn

? Make sure everything is clean and sanitized. *Be sure there is enough room to account for fermentation foaming*
If you are going to add fermentation tannins or additives (like oak dust,

Booster Rouge

,

Booster Blanc

) you can add that now. *Note: do not add tannins such as

FT Rouge

within 8 hours of adding enzyme*
Pitch the yeast once the temperature has reached at least 60F. Yeast strain choices will vary depending on the juice you choose – ask a winemaker at Musto Wine Grape for a strain recommendation for the varietal you're making. Follow the yeast starter directions explicitly. Be very careful of temperatures, never adding yeast if there is more than a 18 degree difference between the yeast starter liquid and the juice.
Carefully monitor the fermentation by checking

Brix

levels daily. Add yeast nutrients as needed if you choose to do so.
If you are adding

malolactic cultures

to your wine, you may also chose to do this at 1/3 Brix depletion. If using a malolactic nutrient (

Opti-Malo Plus

) with the bacterial culture, hydrate the nutrient in a separate container from the bacteria and add to the must directly before the addition of the bacteria. Follow all directions on the bacteria and nutrient packets explicitly.
When the fermentation is complete, rack off the lees and continue aging. Many Chilean wines are aged with oak – if you choose to do this, you can do so in oak barrels or with

oak alternatives

(such as

chips

or staves).
Want to read more about making wine from Fresh Juice? Check out this blog post.
Can I make my own? Musto Wine Grape Company is here to help you make the wine of your dreams! The Spring Chilean winemaking season starts in late April, early May. Secure your winemaking grapes or juices and give us a call at (877) 812-1137 to speak with one of our Musto Crush Crew members. We can get you set up with everything you need and provide customer support along the way to ensure your success!