Carmenere is a grape with a very "peppered" history. It has its roots in Bordeaux as it was widely planted in the Medoc region of France by the Ancient Romans. It was often times used as a blender, like Petit Verdot, and is considered one of the original six Bordeaux grape varieties. There is a legend that says Carmenere is actually a clone of Cabernet Sauvignon as both grapes share a similar lineage. In 1855 Carmenere cuttings were brought over to Chile, and for a long time Chilean Carmenere was mistaken for Merlot vines! It wasn't until the 19th century that they were able to distinguish between the two. Both grapes are now used in 50/50 blends, producing delicious fruit forward wines.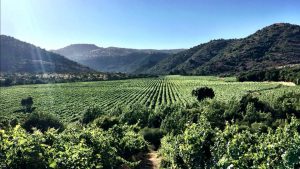 Now Carmenere is considered a bold standalone grape and wine. Deep crimson in color, with bold dark berries on the palate, this wine is made for the adventurous. Chile has become one of the top Carmenere producing regions. This is because Chile has minimal rainfall, and soils composed of volcanic-alluvial, sand, clay, and decomposed granite. Carmenere flourish's here. MWG's Carmenere grapes and juices are sourced from the

Colchagua and Curico Valleys

in the heart of Chile. The micro-climates throughout these valleys allow Carmenere to mature to its full potential.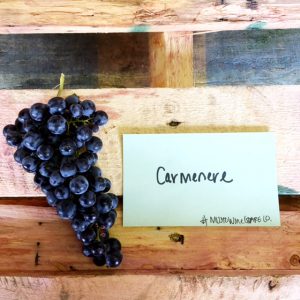 Flavor Profile:
Blackberry jam, ripe raspberry, baking spices, plum, and at times – vanilla, licorice, green pepper, and black pepper.
Yeast Suggestions:
CSM

: Reduces vegetal aromas, brings out intense complex flavors of berries, spice, and licorice.

D254: Brings out fruit flavors such as berry, plum, and mild spice

BDX: Promotes soft tannins, secures color, and ferments at low temperatures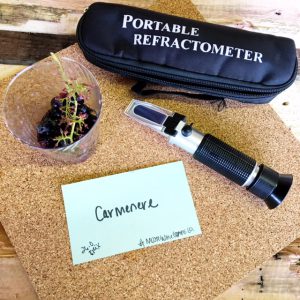 Making Chilean Carmenere:
Crush your grapes into your fermentation vessel.

Add your pectic enzyme or

color pro

and let the must warm up overnight.

Please Note: we DO NOT suggest doing a cold soak on the Chilean grapes.  They have traveled very far already, and it is better for your flavor profile if they do not sit on the skins for extra contact time. This can cause further extraction of methoxypyrazine (green bell pepper).

Once your must has hit the temperature required by your selected yeast, you can pitch your yeast.

Fermentation tannins can be added at this point. We suggest adding Tannin FT Rouge and Opti-Red when making Carmenere.

After you have made your adjustments and added your yeast, cover you fermentation vessel with a sheet or cheese cloth. This will allow gases to release during fermentation, but protect the must for outside microbes and fruit flies.

Every day during fermentation punch down your must at least three times a day, take your Brix measurement, and temperature measurements. It is recommended to record these values each day.

You want to make sure your Brix levels are dropping and are having a healthy fermentation. You also want to monitor your temperature levels. If your temperature levels get too high you might "burn off" some aromas, and if your temperature levels get too low you might get a stuck fermentation.

When your hydrometer reaches 0.90 you are at dryness

We suggest adding

Malolactic culture

to your Carmenere. It will help convert the harsh "green apple like" acid to "creamy like" acid, producing a more supple mouthfeel.

There are three time periods you can add Malo. We suggest adding your Malo 24-48 hours after fermentation has started. You can purchase a Chromatography test to check that Malo has completed.

When you hydrometer reaches a brix of -2 – 0 (SG of .990 to 1.000) your are at dryness and can press your must.

Once your juice has been transferred into your aging vessel make sure to check your wine and airlock weekly. Be sure it is topped off.

Rack

every 1-2 months.

Bottle

after 8-12 months or transfer into oak for more aging.
Recipe by Winemaker Christina Musto
For more information on making wine, please visit our website at

www.juicegrape.com

and our

Facebook Page

for real time harvest updates. Our Chilean wine grapes arrive in late-April and early-May. If you are interested in making an order please email

sales@juicegrape.com

or give us a call at 877-812-1137 to discuss this season's harvest.
PS- Check out MWG's trip to Chile from 2018. Lots of great history information about the region! Click

here

to read more..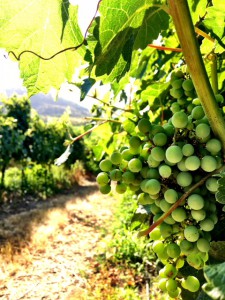 The Chilean harvest is starting soon. Verasion, or as the Chileans call it, "Enverno," began in some wine grape varieties around January 25th and most of the grapes are currently around 15 Brix. We should be seeing white grapes start to arrive around the last week in April, and red grapes start to arrive around the second or third week in May. We will be sourcing grapes from Curcio and Colchagua valleys this year.
The Curico Valley, known as the "Heart of the Chilean wine industry," and will produce some intense grapes this year. One of the steps that were put into place when cultivating this year's crop was the pruning the vines later in order to delay the plants from maturing. Our growers started pruning Chardonnay around
October 1st
and Cabernet Sauvignon around
September 20th
. This was done to help reduce the risks associated with seasonal frosts and this tactic definitely paid off as the grapes look excellent.  The Colchagua Valley is known for hearty red wines, such as Carménère, Cabernet Sauvignon, Cabernet Franc, and Syrah. It is located 100 miles south of Santiago, and is an ideal growing region for bold grapes. A little cooler than Curico Valley, but it still remains a Mediterranean climate. A great place for growing intense wine grapes that make complex and palate pleasing wines.
The crop this year looks to be of normal tonnage, but with a tighter marketplace developing around Chilean wines, grapes are tighter than previous years. Additionally, the growing season was a bit cooler than normal and harvest is expected to be about 10 days behind last year. This year's growing season should produce some intense and complex wines.