A few years ago at a Musto Grape Company Competition awards banquet, the keynote speaker started his presentation by asking
"So where's this guy that makes tomato wine?"
I was taken by surprise, but stood up and took my bow. I had brought several bottles of Sangiovese, which was Best of Show that year, but only one bottle of tomato, which was quickly sampled up.

Why tomato wine?
My wife Jan grows many fruits and vegetables on our property, most of which I have made wine from. The idea for tomato wine was not mine, however, as I use Jack Keller's website for most of my fruit wine recipes. One year, we had a plethora of tomatoes and had enough sauce, so I found a recipe and decided to try it.
The first few years I made it, you really couldn't taste the tomato, and while we really liked it, it never faired well in competition. So we added a few more tomatoes for the "big tomato taste," as one judged said it was lacking. Since then the wine has won several medals and is a favorite of many of our friends.
When I was asked to write about this wine, it was suggested that I don't have to give away any secrets. There are only a few that I will divulge now…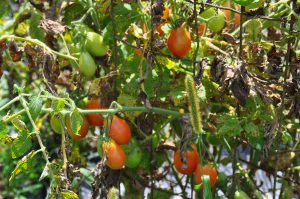 First, I use a large variety of tomatoes, cherry, plum, beefsteak, etc. This adds to the complexity of the wine. Second, freeze the fruit. This accomplishes two things. First, it helps to break down the fruit making it easier to work with, and second, you don't have to pick it all at once. As they ripen, pick, clean and freeze. When you are ready to make wine, thaw for a day or so and you are ready to go.
Enough talk. Here is the recipe I use for 6 gallons of wine (I have made up to thirty gallons at one time)
After the tomatoes have thawed, I squeeze them in a hydraulic press to get the juice (save the skins).
That way I can better control the amount of must I will end up with. Now, for the sugar, you need to creep up on this. Add water to less than the volume you want and check the specific gravity.
Then add ½ the sugar from the recipe and check again. I have chaptalization formulas I use to help here, but you need to be careful at this point. I typically want a S.G of around 1.090 for my fruit wines. Once you have the right volume and S.G, put the skins back in, along with the chips and the oak dust, and the remaining additives. I use EC-1118 as it is dependable. I have tried K1V-1116 but the formation is way too vigorous (tomato volcano).
Now treat it like any other wine, ferment to completion, squeeze the skins, let it settle, clarify, filter and bottle. You can back sweeten it, but we like ours dry.
You will end up with a light golden wine with that "big tomato taste." Enjoy.
By Guest Blogger & Winemaker – Eric Albetski