So how can you start making your own wine from Chilean juices? Follow these 10 Easy Steps (for fresh juice) and you'll be on your way!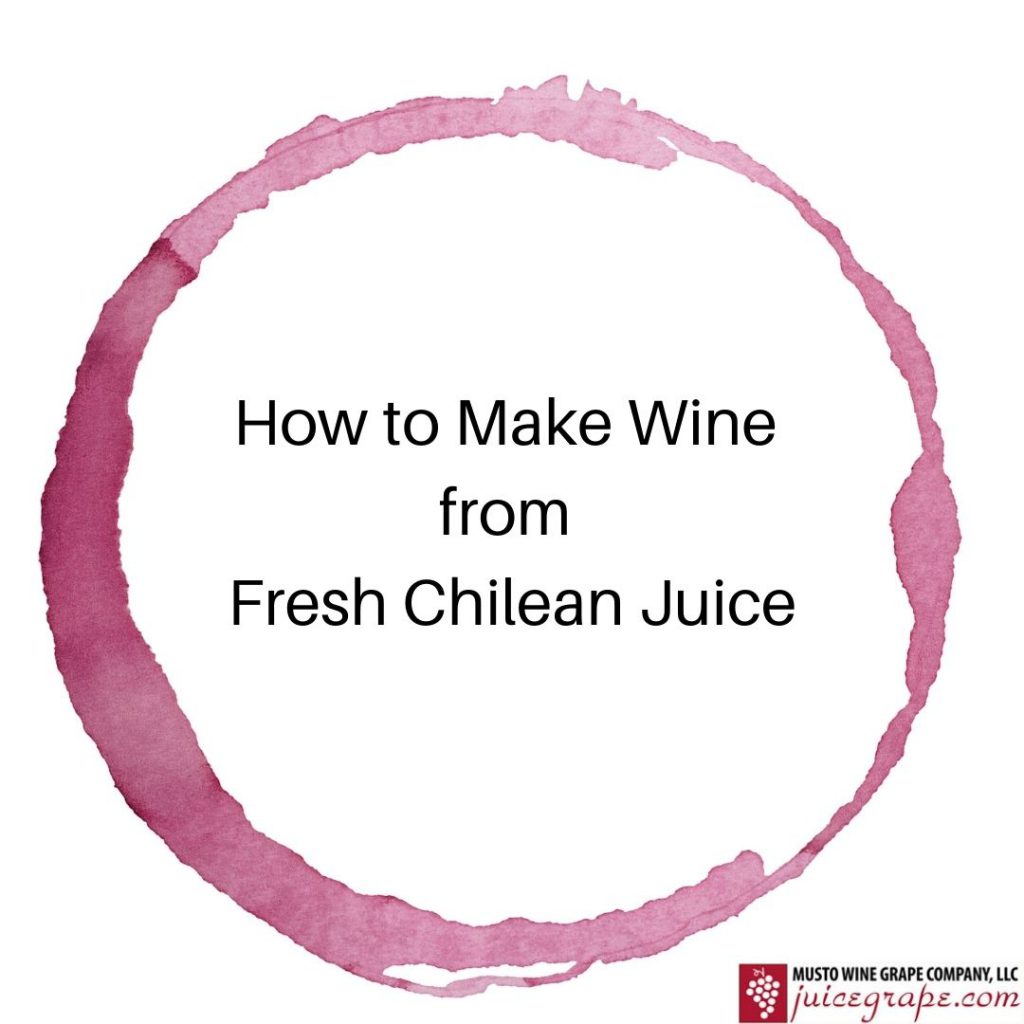 Choose a

Chilean

variety that speaks to you.
Come to Musto Wine Grape and pick up your pail of juice.
Bring it home, pop open that lid, and add 1/4 tsp potassium metabisulfite to it. Add

pectic enzyme

if you're going to (5 drops per gallon of juice). Give it a stir.

Allow it to come up to room temperature – we're talking 60 degrees or so.
Choose your fermentation vessel: will you keep it in pails or ferment in a

carboy

or

demijohn

? Make sure everything is clean and sanitized. *Be sure there is enough room to account for fermentation foaming*
If you are going to add fermentation tannins or additives (like oak dust,

Booster Rouge

,

Booster Blanc

) you can add that now. *Note: do not add tannins such as

FT Rouge

within 8 hours of adding enzyme*
Pitch the yeast once the temperature has reached at least 60F. Yeast strain choices will vary depending on the juice you choose – ask a winemaker at Musto Wine Grape for a strain recommendation for the varietal you're making. Follow the yeast starter directions explicitly. Be very careful of temperatures, never adding yeast if there is more than a 18 degree difference between the yeast starter liquid and the juice.
Carefully monitor the fermentation by checking

Brix

levels daily. Add yeast nutrients as needed if you choose to do so.
If you are adding

malolactic cultures

to your wine, you may also chose to do this at 1/3 Brix depletion. If using a malolactic nutrient (

Opti-Malo Plus

) with the bacterial culture, hydrate the nutrient in a separate container from the bacteria and add to the must directly before the addition of the bacteria. Follow all directions on the bacteria and nutrient packets explicitly.
When the fermentation is complete, rack off the lees and continue aging. Many Chilean wines are aged with oak – if you choose to do this, you can do so in oak barrels or with

oak alternatives

(such as

chips

or staves).
Want to read more about making wine from Fresh Juice? Check out this blog post.
Can I make my own? Musto Wine Grape Company is here to help you make the wine of your dreams! The Spring Chilean winemaking season starts in late April, early May. Secure your winemaking grapes or juices and give us a call at (877) 812-1137 to speak with one of our Musto Crush Crew members. We can get you set up with everything you need and provide customer support along the way to ensure your success!

Pectic enzyme at a glance
AKA pectinase
A protein that breaks down pectin within fruit
Added to juice or must pre-fermentation
No notable downside of using this additive
Available in powder or liquid form
Right… but why is it important?
Using pectic enzyme increases juice, tannin, flavor, and color extraction
Aids in clearing wine by eliminating potential "pectic haze"
Who should use pectic enzyme?
If you're making wine of any kind, whether from grapes or any other fruit, adding pectic enzyme will be a positive influence on the end result. Both home and commercial winemakers use pectic enzyme as a means of extracting the most they possibly can from their fruit.
When should I add it?
Since it works more slowly after fermentation has completed, add it beforehand. Add at the beginning of fermentation after temperatures have begun creeping up. It works best at around 80F; lower temperatures.
How much do I add?
For white juice/wine, 1-2g/hL. For red must/wine, 2-4g/hL. It comes in either powder or liquid form; depending on the producer the recommended dosage may be different so always be sure to double check the label before making an add.
What happens if I don't add it?
Simply put, there's no reason to not add it. Not adding it runs you the risk of having a pectic haze develop. This can be very tricky if not borderline impossible to fix later on; adding pectinase post-fermentation will also not work as well, if at all.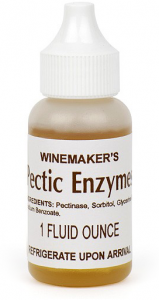 OK, I think I've got it now. But can we go over this one more time?
Adding enzyme post-crush/pre-fermentation increases free run juice, color and tannin extraction in both reds and whites, increases filterability and clarification, and lowers chances of pectic haze development. There are many options you can choose from for your pectic enzyme needs, either powder or liquid form.
So, you want to learn more about Lodi wine region?
Are you are interested in California wine? If so, chances are you've been on the up and up with what's happening in Lodi. A fantastic climate, strong traditional roots, and multiple generations of winegrowers are paving the way for sustainability measures. This has led to the creation of the LODI RULES seal, a green stamp appearing on the back labels of certified wines much as you would find a "USDA Organic" sticker. Click here to see which of our Lodi wine grapes are LODI RULES certified –> LODI RULES – Musto Wine Grape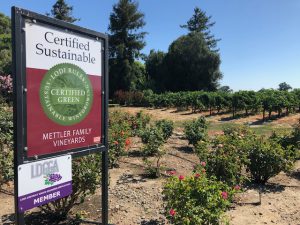 As California's original sustainable viticulture certification program, this seal is representative of a producer's commitment to stewardship and respect for the land. It is a symbol of transparency in all things related to sustainable viticulture. The certification does not approve only one aspect of winemaking. It looks at the whole of the process, from farm to vine to bottle. While over 150 wines bear the LODI RULES seal, not just any winery can use this seal on their labels. The wines must have 85% certified sustainable grapes and be able to prove this. This then gets confirmed through third party accreditation and auditing.
There are two layers to the accreditation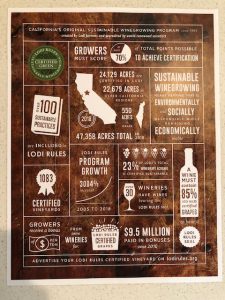 1. Wineries must agree to "The Standards" of the certification, which include 100+ sustainability measures, in addition to following a unique pesticide risk model. The Standards are comprised of sustainability related to
business
human resources
ecosystems
soil
water
pests
2. Wineries must follow the Pesticide Environmental Assessment System (PEAS), used to gain an understanding of the impact of pesticide use within the vineyard. This is then used to generate a quantifiable environmental impact unit through which the effects and range of pesticide application can best be understood within the local ecosystem.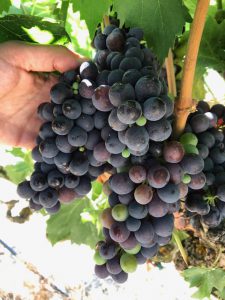 The Lodi AVA is setting a fantastic example by supporting the land that retains some of this country's oldest vines. Lodi Rules is imparting a new standard in its meticulous regulations, leading other wine regions following suit after realizing how successful this certification has been for the region. Keep up to date with the progressive measures this winemaking region is taking to best care for their land, and be sure to look for the LODI RULES label on your next Lodi bottle. And this fall, be sure to find your very own Lodi wine grapes here at Musto Wine Grape Co.
Our Ancient Vine Wine Grapes come from one of the oldest grape growing regions, Madera County, CA. The grapes were planted close to 80-100 years ago and are being farmed by the 3rd and 4th generations. These are low production and low yield vineyards. They yield 2-4 tons/acre depending on the variety. These berries are small clusters with high concentration of phenols and color. Incredibly concentrated grapes which create a very concentrated and complex wine.
To see a video of our Ancient Alicante Vineyard click the play button below.
Our Suggested Ancient Vine Blend:
60% Alicante, 20% Muscat, 20% Grenache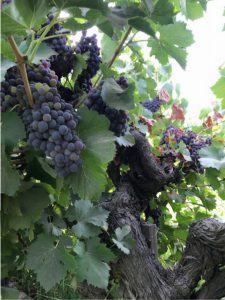 pictured above – ancient vine Grenache
Yeast Suggestions: 71B, VRB, and D254.
If you want to make a more fruit forward wine:

71B is a great yeast for fruit forward wines such as Grenache and Alicante. It helps bring out the fruity aromas Grenache and Alicante are known for.
If you want to make a make a wine with a more balanced ratio of tannin to fruit: VRB yeast is a consistent fermenter that helps bring out the tannins while enhancing varietal characteristics.
If want a wine with a balance of fruit and earth:

D254

is a yeast that helps develops ripe fruit together with mild spiciness while increasing mouthfeel.
*Please note that we always suggest using nutrients and putting your red wines through malo. Click the links below for more information on Musto Wine Grape's Fermentation Protocols.
Ancient Grapes Available:
– Alicante
– Carignane
– Grenache
– Barbera
– Muscat
Fun Fact: For a grape to be considered an Ancient Vine it must be 75+ years old. To be considered an Old Vine it must be 35+ years old.
For more information on purchasing ancient vines grapes please give us a call at 877-812-1137 or sales@juicegrape.com.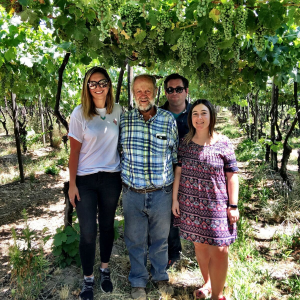 Winemaker Spotlight Interview with Manuela Astaburuaga
How did you get started winemaking? 
I'm the 5th generation viticulturist in my family so I was born between tanks and vineyards. When we were kids we played hide and seek in the tanks of the winery and we rode a bicycle among the vineyards.
When I finished the school, I decided to study Agriculture because I love the nature and live in the countryside, then in my last year of university I went to Australia to do my first vintage and I loved it. After I started to work with my family and I decided to go to France to do a Master in viticulture and Oenology.
What I love the most about Oenology is that most of the time there is a family tradition behind it. In my case my father founded the company Viña Correa Albano in 1991 but my grandfather, great grandfather, … also had their own winery Viña Astaburuaga.
Who were your wine mentors? 
My mentors where my father and grandfather. My grandfather was one of the first to broker of wine in Chile and one of the first to export wines. We also have photos of the first exportation where you can see the boats with tanks full of wines.
I really don't pay attention to the winemakers. I love to taste different wines from different wineries, valleys and countries, but I never pay attention who was the winemaker, for me is a team job.
What do you look for when you make wine? What is your general winemaking philosophy?
The most important thing is have good quality grapes. A healthy grape, free of disease, means we can start making a good wine.
In white wines the expression of aromas and acidity is really important, so we try to have long fermentations at low temperature.
In reds, the wine aging is the most important for me. It is necessary to have the micro oxygenation to soften the tannins and it is very important to limit the oxidation to preserve the fruity aromas that come from the grape.
What is the most difficult aspect of making wine? What's your biggest challenge as a winemaker?
The first thing is to have good quality grapes, for that we have to work all year.
In viticulture/oenology we say that we never have two equal years so for me the biggest challenge is to know how to react quickly in different situations as a rain or excessive heat for example can cause challenges.
What bottles of wine in your cellar are you most excited about? 
A few weeks ago, we were sorting out and we found samples of our first exportation of wine. We opened a bottle and it was really good so now that we found the bottles we take care of them the most. Also, I have a box of 12 bottles of my grandfather's wine from my year of birth that he gave to my parents at my baptism and I'm waiting for a special occasion to open it.
I don't have any favorite wines but for me the history behind the wine is very important, we cannot compare a big Chateau of Bordeaux with unlimited means with a small producer with all the adversities of nature.
In general, I enjoy more a wine from a small producer with a tradition behind them, than a wine from a big winery.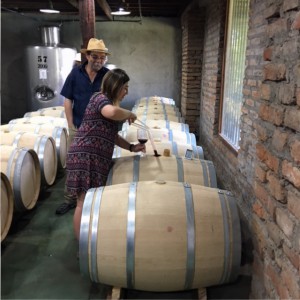 What's your philosophy on Oak and Wine?
For me the most important is oxygen in aging the wine, the barrels have porosity so they give a micro-oxygenation to the wine which is very important to the complexity and the maturation of tannins.
I use barrels, but I always try to not exaggerate because I prefer to preserve the fruity aromas over those gave from the oak.
Are you filtering your wines?
Yes and no. We have a tangential filter which is very good in preserving the quality. For our premium line, which has a minimum of 8 months in the barrel we will not filter.
Are there any new winemaking techniques or tools you'd like to experiment with?
We are thinking about implementing the pulsair system in our winery, so we don't have to us the remontage method and limit the oxidation.
What's been your greatest challenge as a winemaker?
The generational change.
Any advice for a new home winemaker? 
Have patience. We cannot rush the aging and to have complexity, sucrosity and soft tannins are important and take time.
Also, you have to have in mind that the oxygen can be the best friend or the worst enemy in the aging. Is important to have micro-oxygenation to help the maturity of wine but if it is not controlled, he can oxidize some components and be harmful to the final quality.
If you had to pick one wine to drink for the rest of your life what would it be?
I cannot pick only one wine, for me the wine depends the occasion and is important to change and try different wines.
What's your favorite wine region?
I don't have a favorite region but I loved the whites of Alsace and the Cabernet Franc of Saumur Champigny.
What would people be surprised to know about you?
I am shy and I have a very bad memory, that's why I can never remember the names of the winemakers and wineries I have tasted (that's why I always write my tasting notes).
If you weren't making wine what would you be doing?
I really have no idea!
We have a bunch of classes coming up! Make sure to RSVP via Facebook or Sign Up via the website!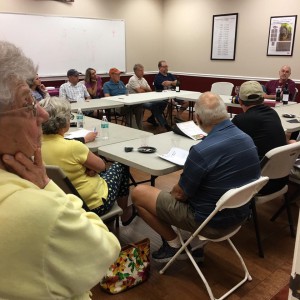 Saturday September 23rd: Common Winemaking Mistakes (FREE) at 10:00AM – RSVP by clicking HERE
Saturday September 30th: Winemaking 201 – Winemaker Lab Skills ($75.00) at 10:00AM – sign up by clicking HERE
Saturday October 7th: Winemaker Bootcamp ($150.00) at 9:00AM – sign up by clicking HERE
What's the Winemaker's Think Tank?
Every Thursday we will post about a few frequently asked questions that our winemaker has answered. If you have a winemaking question you would like to have answered, please email us at support@juicegrape.com and we will try to get into next week's post. Cheers! 🙂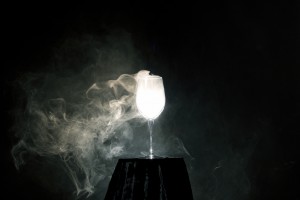 Why is my wine evaporating?
Just like water or any other liquid, with prolonged exposure to air, wine can evaporate. When aging wine in an enclosed container such as a tank, carboy, or demijohn, the container should have an airtight seal via an inflatable gasket or an airlock and bung. This will help prevent against oxidation and will reduce the amount of evaporation dramatically. If you still see some evaporation happening in one of these closed containers, evaluate your bungs and seals as they may not be working properly.
The main source of evaporation in winemaking is through barrel aging. Barrels are a porous environment that allows the wine to "breathe" over time. This "breathing" process is essentially evaporation. The wine is exposed to air through the porous staves and small portions of the wine evaporate into the atmosphere. This has positive effects on the wine as it creates a creamier mouthfeel, can reduce the perception of acidity, and imparts oak flavor. The barrel must be filled monthly with additional wine to reduce the head space and replace the evaporated product. This will prevent the wine in the barrel from oxidizing. While the breathing process may be a source of frustration, as you witness your wine evaporating into thin air, it will help you to create a fuller, heavier, more lush wine.
We hope this information helps with your winemaking. If you have any follow up questions or winemaking questions in general, please email us at support@juicegrape.com.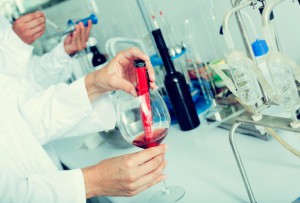 What's the Winemaker's Think Tank?
Every Thursday we will post about a few frequently asked questions that our winemaker has answered. If you have a winemaking question you would like to have answered, please email us at support@juicegrape.com and we will try to get into next week's post. Cheers! 🙂
How do I test for Acid?
When testing for acidity in wine, you are looking for the Total Acidity value, or the amount of acids in grams per liter of wine. While this may sound complex, it will help you in achieving a proper balanced flavor in your end product. You will need a few basic lab supplies:  a test tube, a small 10ml graduated syringe, phenalthalein, sodium hydroxide. Draw a 15ml sample of the wine to be tested into the test tube. Add three drops of the phenalthalein. Swirl the drops around in the wine to mix it in thoroughly. (Note: When using sodium hydroxide, be very careful. It is a strong base that can cause burns. We suggest wearing eye and skin protection.) Using the 10 ml graduated syringe, slowly drop in the sodium hydroxide by .5ml at a time. Every drop, swirl the test tube contents to mix and observe any color reactions. Upon adding the drop, you will see an immediate color change, that will then dissipate. For white wines, you will observe a pink color and for red wines you will observe a grey color.  Keep repeating the process of adding a drop, swirling and observing until the color change is permanent. The amount of sodium hydroxide used, when the color change is permanent, will give you the Total Acidity. If 6ml of Sodium Hydroxide are used, then the wine contains .6% or 6g/L of TA.
We hope this information helps with your winemaking. If you have any follow up questions or winemaking questions in general, please email us at support@juicegrape.com.
What's the Winemaker's Think Tank?
Every Thursday we will post about a few frequently asked questions that our winemaker has answered. If you have a winemaking question you would like to have answered, please email us at support@juicegrape.com and we will try to get into next week's post. Cheers! 🙂
Seven Most Common Winemaking Mistakes
1. Headspace – When making wine, it is imperative that any vessel being used is filled completely. Filling carboys, demijohns, or fixed capacity tanks to the highest level possible, minimizing any air space it very important to prevent oxidation. If using a barrel, the barrel will allow for some evaporation as the wine ages. It is critical to top of the barrel with additional wine as this will prevent the oxidation of the wine in the barrel. Barrels do promote a small amount of oxidation, referred to as micro-oxidation, which is helpful at creating a creamier mouthfeel and promoting the expression of fruit flavors and aromas. If a large headspace develops due to evaporation, this can cause severe oxidation in the wine.
2. Degassing– Carbon dioxide gas is a byproduct of the yeast during alcoholic fermentation. Often times the bubbles of SO₂ are so small, they get trapped by the weight of the wine. If the wine is not purposefully degassed, the bubbles may come out of solution in the bottle, resulting in a fizzy wine for the drinker. The degassing process is relatively simple. One may purchase a degassing tool that is attached to a cordless power drill and stirs the wine at a high speed, agitating it and releasing the trapped bubbles. The winemaker can also splash the wine while racking, agitating the wine and releasing the trapped bubbles of gas. As long as the wine has been stirred vigorously, the gas should dislodge and escape, ensuring that it will not be fizzy in the bottle.
3. Sanitation – This may be the most important step in all of winemaking. While cleaning and sanitizing may be a tedious and time consuming process, it is critical to ensure a healthy, long lasting wine. There are an assortment of cleaning agents (B-Brite, Soda Ash, Sterox) that are excellent at cleaning wine making equipment and removing stains. These products need to be rinsed off thoroughly and should be thought of as "soap" rather than sanitizer. After the equipment has been washed and well rinsed, it must then be sanitized with potassium metabisulfite. A solution of 2 ounces of sulfite powder, dissolved into one gallon of water, will yield a strong sanitizing solution that will kill off any microbes that could spoil the wine. This will ensure the longevity of the wine in the aging vessel or bottle.
4. Bench Trials – When using a fining agent or oak additive to your wine, it is very important to first conduct a small trial of the product, before adding it to the entire batch. Assess the addition rate for the compound you would like to add to the wine. Using that as a guide for your ratio, pull out a small amount of the wine and add the compound, making sure that the ratio is accurate for that size sample. Allow the sample to sit for a few days and try it. If the results are what you were striving for, then you can apply the compound to the entire batch. This will help save you time and money if you are not satisfied with the results of the bench trial and will help you most effectively improve your wine.
5. Sulfites – Sulfites are a naturally occurring compound within wine. While sulfites do exist naturally, they are at a low level, not sufficient for helping to preserve the wine as an antioxidant. Additional potassium metabisulfite must be added to help prevent oxidation as well as prevent any advantageous microbes from growing in the wine. If the winemaker neglects to add sulfites to the wine, it will easily oxidize and could also be susceptible to bacterial contamination.
6. Record keeping – Often times with winemaking, "the devil is in the details". The smallest change in yeast strain, nutrition, and grape acid and sugar content, can have dramatic effects on the resulting wine. The best winemakers, on the home or professional level, take meticulous notes on all of their activities and observations. By keeping track of each step of their process, they are able to reproduce their very best wines and also do research on what went wrong with their failures.
7. Timing – It is said that timing is everything. This is particularly true for winemaking. Many folks assume after fermentation, they can just leave the wine alone to age and it will come out beautifully if untouched. This is not the case. The wine needs to be maintained with racking and sulfites to ensure its longevity. Sometimes in winemaking, a fault may develop, Rather than researching a way to fix the fault or seek some professional advice, some winemakers elect to do nothing and hope the fault goes away. Often times, these faults progress and get worse. If caught early, they can be easier to fix.
We hope this information helps with your winemaking. If you have any follow up questions or winemaking questions in general, please email us at support@juicegrape.com.