Let's make wine from Italian juice… at home!
Many winemakers wait all year for their annual Italian juice pickup at Musto. Despite the fact that they may be able to find some of these juices from California, they look forward to knowing that they will be able to make wine that hails from Italy itself.
There's so many juices to choose from:
Amarone- cooked cherries, dark plums, cherry liqueur
Barolo- tannic, rose aroma
Brunello- cherry, blackberry, tannic
Chianti- red fruit, dried herbs, herbaceous
Dolcetto- plum, blackberry, cocoa
Lambrusco- fruity, blackberry, bright red fruits
Montepulciano- red plum, thyme, baking spices
Moscato- sweet, fruity, aromatic
Nebbiolo- rose, cherry, leather
Nero D'Avola- cherry, plum, licorice, tobacco
Pinot Grigio- lemon, lime green apple, bright and crisp
Sangiovese- tart cherry, strawberry, plum
Trebbiano- peach, lemon, apple
Valpolicella- cherry, cinnamon, chocolate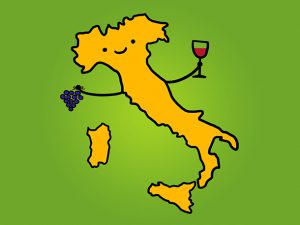 For winemakers who don't have access to a crusher, destemmer, or press, making wine from Italian juices is a great way to get the joy of making your own wine with less steps and less mess.
So how can you start making your own wine from Italian juices? Follow these steps and you'll be on your way!
Choose an Italian variety that speaks to you.
Come to Musto Wine Grape and pick up your pail of juice.
Bring it home, pop open that lid, and add 1/4 tsp potassium metabisulfite to it. Add

pectic enzyme

if you're going to (5 drops per gallon of juice). Give it a stir.
Allow it to come up to room temperature – we're talking 60 degrees or so.
Choose your fermentation vessel: will you keep it in pails or ferment in a carboy or demijohn? Make sure everything is clean and sanitized. *Be sure there is enough room to account for fermentation foaming*
If you are going to add fermentation tannins or additives (like oak dust,

Booster Rouge

,

Booster Blanc

) you can add that now. *Note: do not add tannins such as

FT Rouge

within 8 hours of adding enzyme*
Pitch the yeast once the temperature has reached at least 60F. Yeast strain choices will vary depending on the juice you choose – ask a winemaker at Musto Wine Grape for a strain recommendation for the varietal you're making. Follow the yeast starter directions explicitly. Be very careful of temperatures, never adding yeast if there is more than a 18 degree difference between the yeast starter liquid and the juice.
Carefully monitor the fermentation by checking Brix levels daily. Add yeast nutrients as needed if you choose to do so.
If you are adding

malolactic cultures

to your wine, you may also chose to do this at 1/3 Brix depletion. If using a malolactic nutrient (

Opti-Malo Plus

) with the bacterial culture, hydrate the nutrient in a separate container from the bacteria and add to the must directly before the addition of the bacteria. Follow all directions on the bacteria and nutrient packets explicitly.
When the fermentation is complete, rack off the lees and continue aging. Many Italian wines are aged with oak – if you choose to do this, you can do so in oak barrels or with

oak alternatives

(such as

chips

or staves).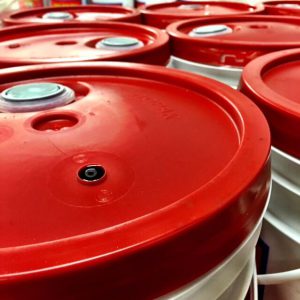 And there you have it! Delicious Italian wine that you made in your own home. There's nothing more rewarding than having a glass of wine you made with juice from a reliable source.
Feeling inspired? Come down to Musto Wine Grape and pick up some Italian juice. But don't wait too long – we are fast approaching the end of harvest time. Pick up everything you need and and be on your way to kicking back as you sip on a glass of homemade Italian wine. Who knows, maybe you'll even make Frank's Chicken Fettuccini Alfredo to accompany it!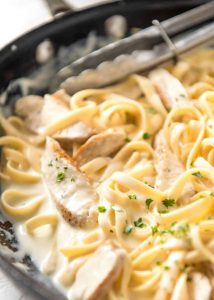 A Little About Amarone:
The Italian Amarone wine is famous for its strong, tannic character and full bodied flavors of dried fruit. Rich and complex, it is a benchmark Italian wine, often challenging to recreate until now. Amarone develops its rich and complex character from partially drying the grapes, then fermenting them, decreasing the fruit to skin ratio. The higher levels of skin contact will give the intense tannins and dried fruit character that the style is known for.
How to Make Amarone/Amorosso from Fresh Juice:
When making Amarone with fresh juice, there are certain ingredients that you may add as the winemaker to help replicate the classic style and methods. To increase the skin contact for the juice, you can purchase an All-Grape add pack to add into your bucket of juice. The All-Grape pack is simply just that, wine grape skins and juice, designed to add more tannins and complex flavors to juice. The tannins found in the grape skins will become soluble in the juice and add more of the traditional Amarone character to it.
Juice Options:
Winemaking Kit Options:
A way to increase the tannin content at fermentation and mimic the classic style is by adding supplemental tannins. Yeast naturally consume some tannins throughout their metabolic process of fermentation. Without adding additional tannins, they will consume some of the grape tannins that give Amarone its unique style. By adding some very cost effective fermentation tannins such as oak dust or FT Rouge, additional tannins will be available to the yeast for their process, therefore preserving the grape tannins for the consumer. FT Rouge is a natural oak derived tannin that will not only provide stronger tannic character, but will also help to enhance and secure color. Apply FT Rouge at 1gram/gallon. Oak dust will also supply some "sacrificial tannins" to the yeast fermentation process. The yeast will consume these tannins, leaving the more favorable, smother grape tannins for the consumer.
Winemaking Add Ons:
Another way to enhance your process of making Amarone from juice will be in your yeast and bacterial selection. Some yeasts that will enhance the rich fruit character of the Amarone juice are BM 4×4 and RP15. Both yeasts have a higher temperature tolerance and will help to secure the rich color. To recreate a traditional Amarone closely, the perception of acidity will need to be reduced. Using malo-lactic bacteria to metabolize the harsher malic acid, and turn it into lactic acid, which has a smoother, creamier mouthfeel, is a vital step in creating a traditionally styled Amarone. This bacterial fermentation can take place at the same time as the primary yeast fermentation, so that the bacteria will benefit from the available nutrients and heat generated via the yeast fermentation. For an individual bucket, we sell a pouch of bacteria that are very easy to use. Simply wipe the pack with sanitizer and stir it into the wine. The bacteria will finish up their fermentation shortly after the yeast finish their fermentation; approximately 2-3 weeks after it is inoculated.
Yeast Suggestions:
To round out the full bodied flavor and profile of Amarone, the winemaker will have to add oak to create a balanced bouquet. After fermentation, the winemaker should consider the addition of oak via a traditional barrel or a supplement, such as oak chips or staves. These will add additional tannic character, creating the Amarone most closely to its traditional style.
Aging Additions:
by the Winemakers at Musto Wine Grape
If you are interested in sourcing Italian Juices for winemaking please contact us at sales@juicegrape.com or 877-812-1137.
Fresco Juices and Other Italian Juices will start to arrive the Week of 10/10
Please give us a call at 877.812.1137 or email us at sales@juicegrape.com to schedule your pick up. 
Mosti Mondiale's flagship refrigerated fresh grape juice product, Mondiale Fresco, has served the home winemaking community since 1989. Sourced from both Italy and California, Mondiale Fresco marks the beginning of a new winemaking season based on traditional practices that have crafted wines of significant character. With over 30 fresh varieties to choose from, Mondiale Fresco is proud to be the only product to offer home winemakers their own vineyard in one unique package. 
Mosti Fresco Juices are PRE ORDER ONLY.  If you have not pre-ordered yet please give us a call at 877.812.1137 or email us at sales@juicegrape.com.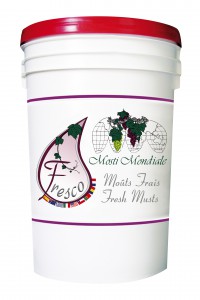 Mosti Fresco Fresh Juice Instructions
Mosti Fresco Varieties:
ALICANTE (CALIFORNIA)

AMARONE (ITALY)

BARBERA (CALIFORNIA)

BAROLO (ITALY)

BOURG ROYAL (CALIFORNIA)

CABERNET FRANC (CALI)

CABERNET SAUVIGNON (CALIFORNIA)

CASTEL DEL PAPA (ITALY)

CHIANTI (ITALY)

LAMBRUSCO (ITALY)

MERLOT (ITALY)

MONTELPULCIANO (ITALY)

NEBBIOLO (ITALY)

NERO D'AVOLA (ITALY)

PETITE SIRAH (CALIFORNIA)

PINOT NOIR (CALIFORNIA)

RUBY CABERNET (CALIFORNIA)

SANGIOVESE (ITALY)

SHIRAZ (CALIFORNIA)

VALPOLICELLA (ITALY)

ZINFANDEL (CALIFORNIA)

GRENACHE ROSE (CALIFORNIA)

ZINFANDEL ROSE (CALIFORNIA)

CHENIN BLANC (CALIFORNIA)

GEWÜRZTRAMINER (CALIFORNIA)

MOSCATO (CALIFORNIA)

PINOT CHARDONNAY (CALIFORNIA)

PINOT GRIGIO (ITALY)

RIESLING (CALIFORNIA)

SAUVIGNON BLANC (CALIFORNIA)

SOAVE (ITALY)

TOACAI (ITALY)

TREBBIANO (ITALY)

VINHO VERDE (CALIFORNIA)

MALVASIA AROMATICA (ITALY)

MOSCATO ITALIANO (ITALY)
Our Italian juices are prepared in multiple ways for multiple winemaking opportunities. We have our Italian Fresh Juices, Mosti Fresco Juices, and Original All Juice Sterile Juices. All of our juices are handled with utmost quality and care.
Other Italian Juice Opportunities:
Fresh Italian Juices: Our Mosto Imperatore Italian juices have arrived! Create the best wines Italy has to offer. We have all the specialty varietals and blends – Amarone, Barolo, Brunello, Chianti, Dolchetto, Lambrusco, Montelpulciano, Moscato, Nebbiolo, Nero D'Avola, Pinot Grigio, Sangiovese, Trebbiano, and Valpolicella.
Sterile Italian Juices: Mosti Mondiale's 23L Original AllJuice is a true 100% pasteurized fresh grape must product. Experienced winemakers looking to complement their skills and patience will become instantly rewarded with the introduction of fresh grape must. Italian Varieties: Castel del Papa, Lambrusco, Montelpulciano, Nero D'Avola, Trebbiano, Moscato, and Il Toscano (Chianti)
Please give us a call at 877.812.1137 or email us at sales@juicegrape.com to schedule your pick up.