What is Cabernet Sauvignon?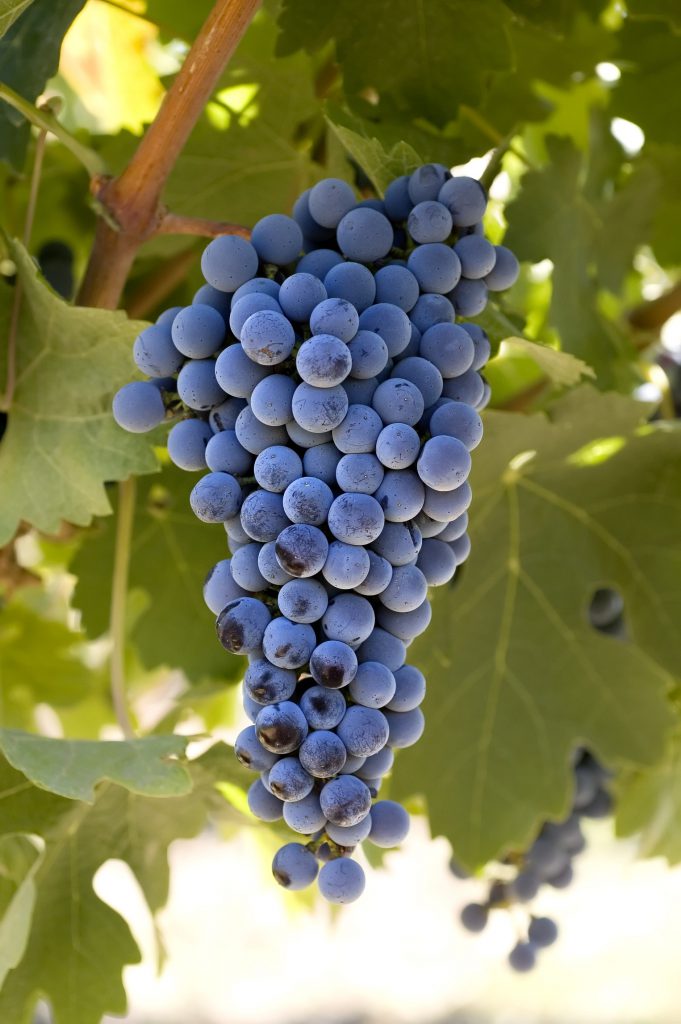 Known as the king of red grapes, Cabernet Sauvignon enjoys the same regal status in California as it does in its native home of Bordeaux, France. Californian Cabernet Sauvignon tends to be more fruit-forward and mellow, with rich dark fruit notes. The most common aromatic and flavor components found in this varietal are plum, black cherry, blueberry as well as warm spice, vanilla, black pepper, and tobacco. Aside from being known for its dark color and full body, it's known for often being over 13.5% in alcohol content. The average alcohol content of a Cab from California floats around 14.5%. At Musto Wine Grape we carry a variety of Cabernet Sauvignon grapes from multiple AVAs in California, as well as all of the yeasts, nutrients, and equipment you'll need.
What kind of yeast should I use when making Cabernet Sauvignon?
*Note that full expression of the desired characteristics for any of the following yeast strains is based on proper care and feeding if the yeasts, along with using quality fruit and good winemaking practices. It is also strongly recommended that Go-Ferm and Fermaid-K are used as well as temperature management throughout the entire fermentation. As always, if you need assistance with any part of your winemaking process, do not hesitate to reach out to us at sales@juicegrape.com or give us a call at (877) 812-1137 to speak with someone who can assist with any product recommendations, procedures, or problems.
BM45 yields a big mouthfeel, notes of cherry liquor, rose petal, jam, plum, berry as well as earthy and spicy elements. It offers color stability and helps to minimize vegetative characteristics.
BDX is an all-around great choice for berry, plum, and jam characteristics. It has a moderate fermenting rate and offers good color retention. By re-enforcing existing tannins, it develops structure in the wine. Because of this, we advise to not use with unripe fruit.
RP15 emphasizes the berry aspects of the fruit, along with color stability, increased mouthfeel, and agreeable tannins.
D254 yields a big mouthfeel and rounds tannins as well as intense fruit. It has a focus on berry and jam characteristics, but more so of dried fruit than fresh. It's also great for color stability and adds body to blends.
D80 offers big volume and fine grain tannins. It is great for encouraging more positive tannin intensity to a blend.
Where do you source your Cabernet Sauvignon from?
We offer Cabernet Sauvignon from multiple AVA's within California and Washington:
Lanza-Musto Vineyards in Suisun Valley, CA (Valley, 169, 15, and Koch)
Mettler Family Ranch in Lodi, CA
Napa Valley, CA
Washington State (Clone 33)
Sonoma County, CA (Chalk Hill)
Amador, CA
King's River, CA
Paso Robles, CA
Central Valley, CA
Is there a certain winemaking procedure specific to Cabernet Sauvignon?
You can follow our Red Wine Grape Procedure which you can find here, if you are using juice you can find the procedure here and if you are using frozen must, here. The procedure is standard for making red wines, but using the proper yeasts and nutrients specific for Cabernet Sauvignon and consistent monitoring will have the biggest impact on your final wine.
Where can I buy grapes, juice, or must?
At Musto Wine Grape Company, all red grape varieties are available in 36lb cases, in frozen must by request, or in 6-gallon fresh juice pails. For Sterile Juice options that can be shipped year-round and without refrigeration click here.
Finally, if you need the best options and equipment suited for you and your winemaking goals, email sales@juicegrape.com or call (877) 812 – 1137 to speak with one of our Musto Crush Crew members who can help. We are here to provide all of the winemaking products you need to make the wine of your dreams, as well as the customer support to ensure your success!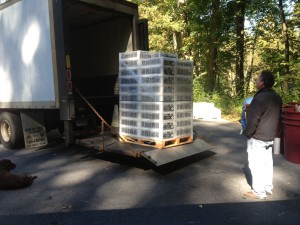 My wine passion started 17 years ago when my father officially started to teach me to make wine. He had tried unofficially in the early 70's but I was a reluctant 7 year old with other things on my mind. I began making wine from grapes with a friend and we started with a single 30 gallon barrel. We picked up grapes from a local distributor and worked out of my friends single car garage (half full of lawn tools).
We spent the next 9 years trying to source better grapes, each year looking to step up in quality. And then the Musto team contracted with the Lanza family which made a tremendous improvement in the quality of our wines. I still search for higher quality grapes but have come to the realization that we are now working with the best possible fruit available.
Our coop now consists of 7 families and we have outgrown the single car garage. We moved production to my double car garage which has been converted to our crush pad and fermentation room. The garage has been insulated, painted and new lighting and an exhaust system installed. The Musto family now ships us over 5 tons of grapes each fall.
We receive grapes and clean all our equipment on day 1 and crush the grapes on day 2. Crush day is filled with music, great food, wine, more food then more wine. It's truly Christmas, New Years and the Super Bowl all rolled into one! With a lot of hands to help, we run a sorting table to clean the grapes and then load the crusher destemmer. We ferment in 15- 500 liter tubs and produce around 350 cases of wine. The tubs completely fill the garage and after a short cold soak they ferment for about 10 days. We usually order 6-7 varieties with each family making their own blends we end up with 10-15 wines styles.
Mid day the 30 of us stop working and sit down for lunch. It's always at a single long table and we eat as one big family. This has become an important tradition with family and friends and includes toasts and short speeches and plenty of laughter. It's a very special day and it actually gets me emotional even to write about it.
Pressing two weeks later is another story. It's takes us two full days to press and then deliver the wine to each of the seven homes. Using pickup trucks, food grade drums, pumps and long hoses, we deliver wine to each house in the same way oil deliveries are made. We pump the wine down into each cellar and fill the barrels at each house. It's more of a working weekend than crush day but we still mange to fit in great food and great wine. After making delivery runs we assemble back at the crush pad/garage for clean up. The day always ends up with a post event review. With more food and wine, we talk about how things went this year and suggestions for improvements to our process that we might make next year. Usually there is robust conversation about who stood out as an MVP and they receive an ovation.
The Musto and Lanza families are fantastic partners and we consider them part of our family.
Want to be featured in the "Winemaker Spotlight" series? Send Christina an email with a description about your harvest traditions and photos of your winemaking cellar to cmusto@juicegrape.com to be featured! 
As harvest begins we chatted quickly with some of our growers about these harvest traditions. Some of them might surprise you….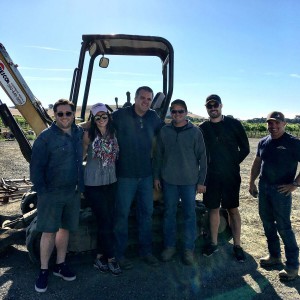 Ron Lanza of Lanza-Musto Vineyards in Suisun Valley Shared His Harvest Rituals:
Which grapes do you harvest first? Sauvignon Blanc
Do you have any traditional harvest meals or snacks? McDonalds is our harvest snack of choice
Any other fun harvest traditions? We have a relaxing family dinner before the craziness starts!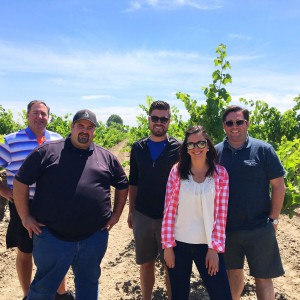 Paul Poutre of Delta Packing in Lodi Shared His Harvest Rituals:
Which grapes do you harvest first? Viognier, Chardonnay, and Pinot Grigio
Do you have any traditional harvest meals or snacks? Taco Trucks are our meal of choice during harvest
Any other fun harvest traditions? We watch the God Father series to kick the off season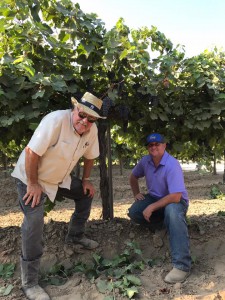 Tony Guerriero of Guerriero Packing in Madera Shared His Harvest Rituals:
Which grapes do you harvest first? Syrah, Thompson, Zinfandel
Do you have any traditional harvest meals or snacks? I eat a lot of beef jerky.. and have been known to have a pizza box on the forklift with me
Any other fun harvest traditions? My Dad firing me about once a week, lol!
What are your harvest traditions? Want to write a blog post about your harvest traditions? Email cmusto@juicegrape.com for more details.