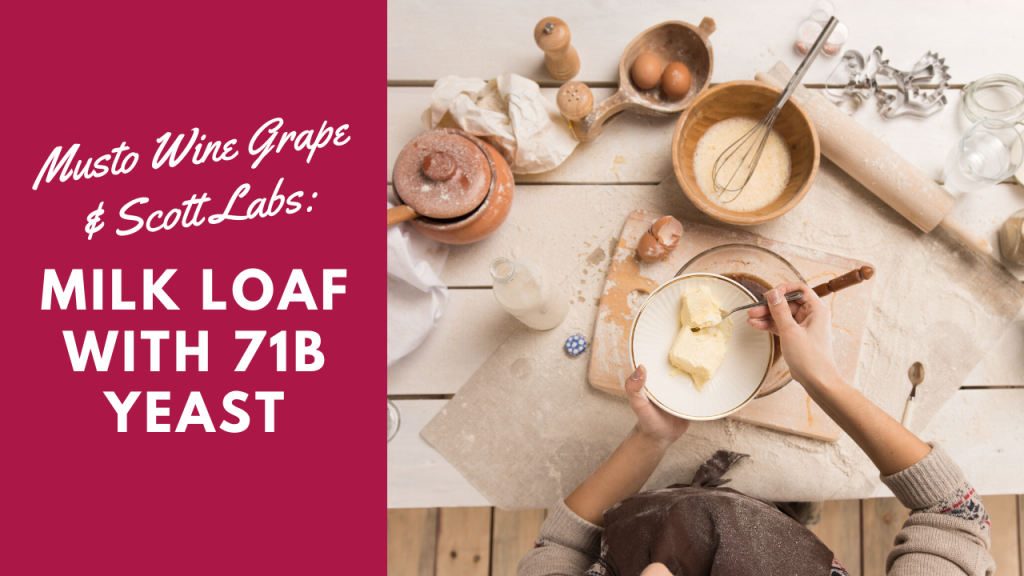 Have you run out of ideas for what to keep yourself busy with during quarantine? We've decided to experiment and the results were delicious. Using 71B yeast and Scott Lab's recipe for milk loaf, we put our baking skills to the test and had a whole bunch of fun doing it!
Prep time runs just about two and a half hours, and bake time is about 25 minutes so this will surely keep you busy!
Here's what you'll need (for a yield of 2 loaves. If you'd like more increase ingredients as needed):
4 cups of bread flour
2 teaspoons of salt
1 tablespoon of sugar
2 sachets (9 grams) of Lalvin 71B Yeast (Don't have this on hand? No worries! We have it in stock. Give us a call/visit and we'll get you what you need!)
2 tablespoons of butter
1 cup warm whole milk
1 cup tap water
Here's what you've got to do:
Mix all dry ingredients together in a bowl. Then, add butter, milk and water. Mix everything together with a spatula.
Once the wet ingredients have been absorbed, remove dough from bowl and transfer to a counter or workspace.
Extensively knead the dough by stretching and folding it repeatedly. Once the dough is smooth and slightly shiny, divide it into two pieces. Cover each with plastic and let rise for 40 minutes.
Flatten each piece of dough and roll into the shape of a football. Let the dough rise again for another 40 minutes.
Place the dough into a bread pan (about 6"-7" long, 3.5" deep) and cover with plastic and allow to rise for another 60 minutes.
Bake in a pre-heated oven at 420 degrees F for approximately 25 minutes.
Let cool and enjoy!
Show us your finished loaves on Instagram and Facebook by commenting or tagging us @mustowinegrapeco and using the hashtag #mustocrushcrew