Who doesn't love a good piece of baklava with a nice wine pairing?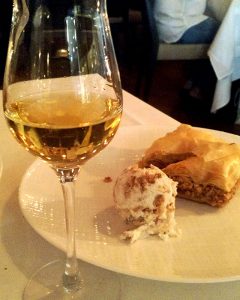 What's that? You've never eaten baklava while drinking wine? Looks like you're in for a treat! (Literally.)
Especially around this time of year when we get to enjoy so much delicious cooking, a sweet, honey-laden piece of baklava is arguably the perfect way to conclude a meal.
Interested in making your own? While there are a million ways to make it, this is one of the most straight forward recipes to follow. You can always mix and match with other recipes as well. For example, some Turkish recipes call for including pistachios, and some Greek recipes include finely ground almonds to be included within the walnut mixture to aid in binding the nut mixture together (it works like a charm)!
Because baklava is so sweet and has an intense honey flavor, try finding a wine that will meet it at this point of heavy sweetness, but able to stand up to the dessert through cutting through with the wine's natural acidity. This could be:
Sauternes from the Bordeaux region of France. This is one of the most important and famous sweet wine regions.

Ice wine. You can find producers from Germany, Austria, the northern USA and Canada who make wine in this interesting and unique method.

Muscat from Samos, Greece. These rich-hued orange-amber colored wines are like drinking a liquid form of baklava. Apple, pear, apricot, honey, and sweet spice flavors are to thank for this delicious wine.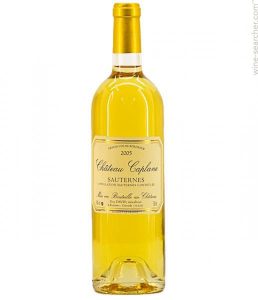 Or go another route and choose a dry style wine if you don't have a big enough sweet tooth for a sweet wine and a sweet dessert at the same time. These options could be:
Chardonnay. Whether you choose new world or old world

Chardonnay

for this pairing, make sure it's been aged in oak, notably American oak (most commonly associated with new world Chardonnays). This added layer of associated creaminess will lend to smooth, approachable drinking with such a sweet after-dinner treat.

Champagne. The holidays are a time for celebrating and finally opening up that wine you've been saving. So pop open that bubbly and get partying!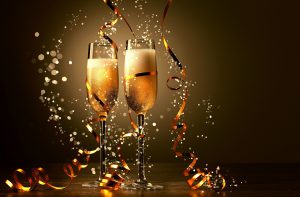 Fruity. Floral. Aromatic. Golden. Perfumey. Unique.
Meet Muscat.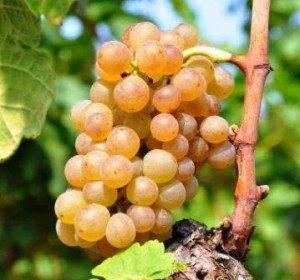 What's so great about this grape? With tons of variations and seemingly even more names, it's known all over the world for producing an absolutely delicious wine.
It can be made dry, sweet, or even fizzy. With its beautiful floral aromatics (think orange blossom, white flower, honeysuckle) you're bound to make a wine that impresses!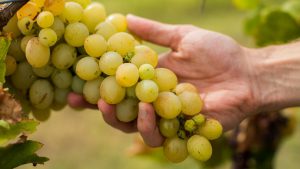 Muscat Winemaking Recipe
Crush/destem and press your Muscat into your fermentation vessel
Add potassium metabisulfite to kill off any native yeast present on the grapes
Let sit for 12 hours.
Add Cinn Free and stir well.
Add Booster Blanc and Opti-White to the juice.
When the juice reaches about 65 degrees, pitch your yeast. QA23, Vin13 and Alchemy I are good options for keeping the aroma in this wine alive and bright.
When you see the Brix drop by 2-3, add Fermaid O and mix well.
Check Brix daily – when Brix drops by 1/3 of the starting number, add Fermaid K
Rack off gross lees when alcoholic fermentation is complete and add potassium metabisulfite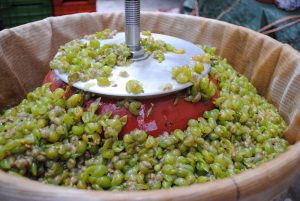 Helpful tips:
Don't lose out on Muscat's incredible aromatics by exposing it to excessive oxygen. Be sure that as soon as alcoholic fermentation has completed that it's not sitting out without an airlock.
Focus on yeasts with the most aromatic potential
Since this is low acid grape, you'll want to retain any acidity or semblance of freshness present within the finished wine. Do this by preventing malolactic fermentation from occurring (which can drop the acid) by being sure to add potassium metabisulfite as soon as fermentation ends.
Consider sweetening your muscat if you're looking to try making a wine style different than fermenting to dryness.
Our Ancient Vine Wine Grapes come from one of the oldest grape growing regions, Madera County, CA. The grapes were planted close to 80-100 years ago and are being farmed by the 3rd and 4th generations. These are low production and low yield vineyards. They yield 2-4 tons/acre depending on the variety. These berries are small clusters with high concentration of phenols and color. Incredibly concentrated grapes which create a very concentrated and complex wine.
To see a video of our Ancient Alicante Vineyard click the play button below.
Our Suggested Ancient Vine Blend:
60% Alicante, 20% Muscat, 20% Grenache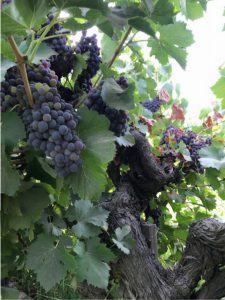 pictured above – ancient vine Grenache
Yeast Suggestions: 71B, VRB, and D254.
If you want to make a more fruit forward wine:

71B is a great yeast for fruit forward wines such as Grenache and Alicante. It helps bring out the fruity aromas Grenache and Alicante are known for.
If you want to make a make a wine with a more balanced ratio of tannin to fruit: VRB yeast is a consistent fermenter that helps bring out the tannins while enhancing varietal characteristics.
If want a wine with a balance of fruit and earth:

D254

is a yeast that helps develops ripe fruit together with mild spiciness while increasing mouthfeel.
*Please note that we always suggest using nutrients and putting your red wines through malo. Click the links below for more information on Musto Wine Grape's Fermentation Protocols.
Ancient Grapes Available:
– Alicante
– Carignane
– Grenache
– Barbera
– Muscat
Fun Fact: For a grape to be considered an Ancient Vine it must be 75+ years old. To be considered an Old Vine it must be 35+ years old.
For more information on purchasing ancient vines grapes please give us a call at 877-812-1137 or sales@juicegrape.com.