Cold soaking, also known as pre-fermentation maceration, is a winemaking technique that is widely used in the production of red wines. It involves holding crushed red grapes at a low temperature and takes place before fermentation.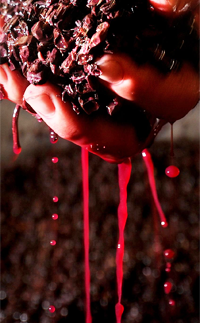 Why should I be cold soaking?
Cold soaking red grapes such as Pinot Noir, Cabernet Sauvignon, Merlot, and more has many benefits. The aim of a cold soak is to extract more aromas, aroma intensity, and color from the skins of the grapes. In red wines, it makes for a more intensely fruity and deeper-colored wine; but it also makes for a fuller wine with increased palate weight. For example, in Pinot Noir, cold-soaking extracts the softer, more supple tannins to help produce a silky mouthfeel. It also helps emphasize the lush fruit notes like dark cherry and plum. Yum!
But wait; there's more: Firstly, time in a cold soak, even a brief one, lets a winemaker get a much better handle on the fruit at hand, enough time to get a tank thoroughly mixed, time for any raisins in the fruit to reveal their sugars, time to get more trustworthy readings on basic wine chemistry than the numbers grabbed in the rush of fruit delivery. And second, extracting some goodies early in the cycle leaves open the option of pressing slightly early and working off the last few Brix in barrel, again minimizing the influence of nasty seed tannin.
How do I do it?
It is important to maintain a chilled temperature because if the must gets too warm it can begin fermenting. To properly cold soak, you need to maintain a temperature of about 35-45 degrees Fahrenheit. This could be difficult for home winemakers without a chiller system. Try using dry ice or ice tubes ser in the wine to the wine as cold as you can. Remember, the point of the low temperature is to be sure the yeast cannot get started.
This is usually done for about 5 days, though the length of time varies according to the winemaker's goals and the grape variety. You should add enzymes to help the extraction move along, and sulfur dioxide to inhibit unwanted microbial activity. Using inert gas to prevent oxidation is also a great idea. Inert gases, known as carbon dioxide, nitrogen, and argon are necessary for winemaking. They are used to supplant air in places where air could come into contact with the wine.
Need help with cold soaking your grapes?
Musto Wine Grape Company is here to help. Give us a call at (877) 812-1137 to speak with one of Musto's Crush Crew members. We're here to provide you with the best quality wine grapes, juices, and equipment, as well as the support to ensure you are successful in making the wine of your dreams!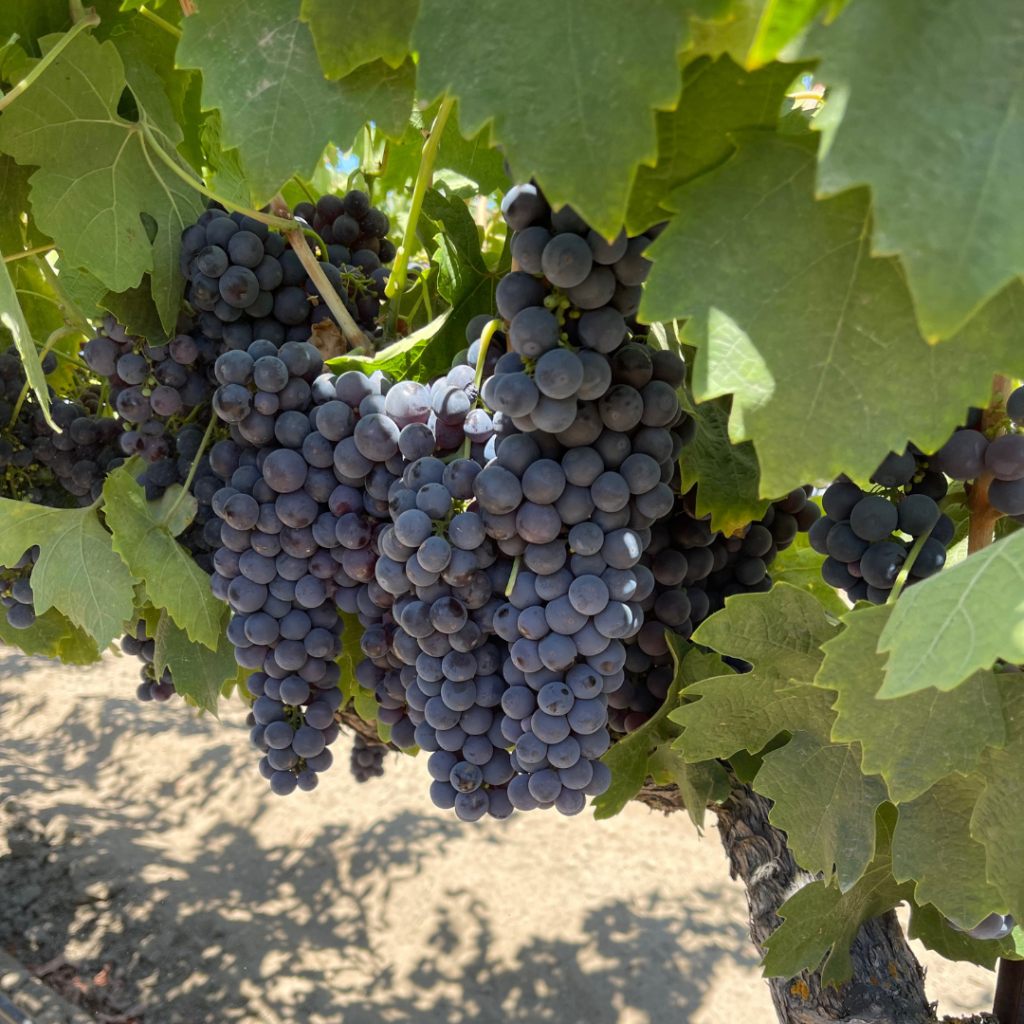 Special Primitivo coming from fifth generation farmer Berton Costamagna
There is something very special about walking through this Primitivo vineyard for fifth generation farmer Berton Costamagna. "Since 1902 my family has been here in Lodi farming these wine grapes", says Berton. "To think that my Nono (Great, Great, Great Grandfather) had the foresight to start a farming adventure back then, by planting his first vineyard of Primitivo here, and to see where it is now, is so inspiring to me." With its sandy loams, and ideal climate, farmers back then quickly saw the potential for growing wine grapes in Lodi, in the heart of California. Fast forward 120 years, and Lodi California has come to be known as the Zinfandel Capital of the World, and is now one of the top producing AVA's in the world. The Costamagna family has continued farming their family's clone of Primitivo for all these years for wineries and home winemakers to enjoy with their families. "These grapes make for a great wine, but what is truly special, is these grapes connect us to the hard work, traditions, and memories of my family before me. My hope is that folks can make as many memories drinking the wine from these grapes as our family has made farming them." 🍇🍷 We can't wait to receive these grapes from the Costamagna Family!
How to Order
We are an old school company. Give us a call at 877-812-1137 or email us at sales@juicegrape.com to get the ball rolling on your pre-order. Don't forget, we can create custom fermentation templates for you if you would like!
If you aren't local to New England and need your product shipped, please email sales@juicegrape.com for a freight quote. We will be shipping out of our Bronx, NY location – D'Arrigo. If you live in the Metro NY area and are interested in a freight quote please reach out to sales@juicegrape.com
Unfortunately, we cannot ship fresh juice. We can ship our sterile juices (Original All Juice (juicegrape.com)), they ship year-round without refrigeration. This is the best option for home winemakers who cannot pick up the fresh product from MWG's facilities.
If you have a large fresh product order (2,000lbs and up), please contact sales@juicegrape.com for a freight quote.
For more information regarding the Fall Harvest please feel free to contact us at sales@juicegrape.com  or give us a call at 877-812-1137. We are looking forward to helping you with your next great wine!
Sincerely,
Christina Musto
Musto Wine Grape Co.
What kind of wine should you pair with your salmon, and why?
It mainly comes down to how you prepare the salmon that really determines what wine to pair with it. Salmon is a fatty fish, so it needs a stronger wine to stand up to it. It has rich fats, making a bitter and acidic wine a good general match. Salmon itself is not acidic, but those rich fats work well in place of acidity, and if you add a citrus glaze it would make the acidity in the wine harmonize better. Salmon is naturally mild but also vibrant, its actually able to work well with many different kinds of flavors.
Deciding on a wine to go with your Salmon can be complex because of all the different options in the types of salmon and how it's prepared, so we decided to include various types of combinations because everyone has a different taste and preference!
Pairing Wine with Salmon and how it varies with various preparation methods
It's not usual to pair a sweet wine with salmon, though a sweet glaze can call for a semi-dry wine. Reach for a rose or even a semi-dry Riesling, as both have enough lift to help enhance the sweet glaze but also pair the sweeter elements to the glazed salmon.
Reds, whites and even a rose can work as long as they are low in tannins and higher in acidity. A fuller white wine works well with pan fried salmon which becomes heavier and firmed when prepared this way.
Heavier salmon dishes like smoked salmon or ones with creamy and buttery sauces can call for a sparkling wine. Sparkling wines have the ability to lift up those heavier flavors and textures. For smoked or grilled salmon, try a prosecco. Because the acidity will pull the rich flavors of the salmon, it will also lift the heavier smokey flavors too. For a cream sauced salmon dish, grab some Pinot Grigio. This is a dry wine with a smooth finish and has the perfect amount of structure to complement but also add a textured layer to the creamy dish.
For baked or poached salmon, a classic dry wine with medium body and high acidity like a Cabernet Sauvignon from Sonoma would be an excellent pick. This is a medium bodied red wine with heavier levels of acidity but also a smooth, fruity finish making it a great option. Also, wine aged in barrels can have a real punch of flavor which would further enrich the already rich, natural fats and fresh flavors of the salmon.
Want to make your own wine to go with your next pairing?
Musto Wine Grape Company is here to help. Give us a call at (877) 812-1137 to speak with one of our Crush Crew members to get you on track to making the wine of your dreams!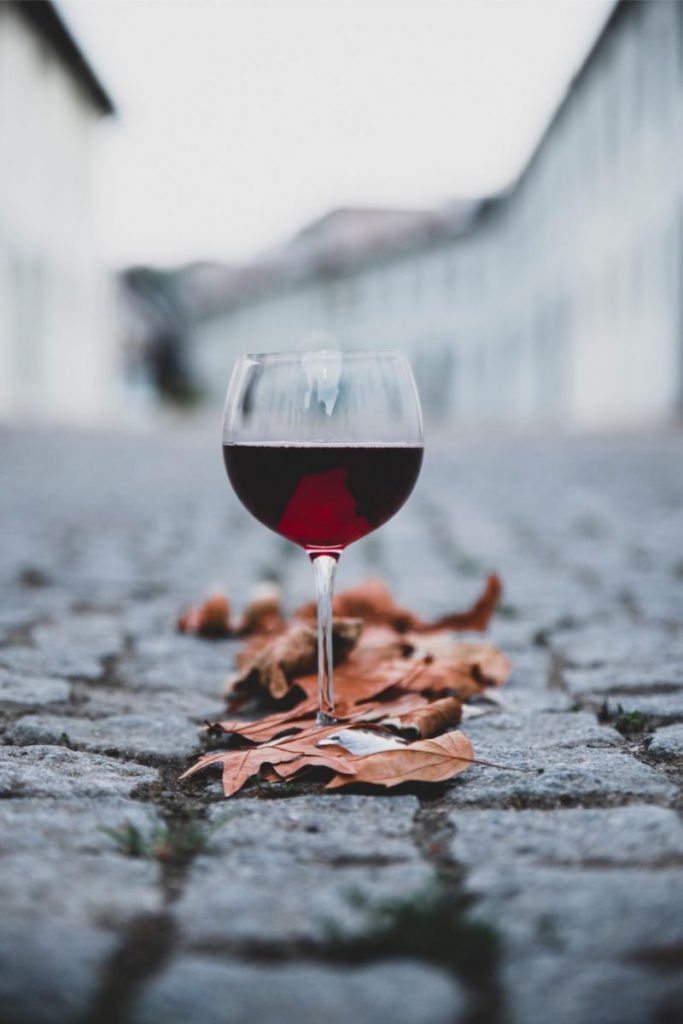 It's that season! The air is getting crisper, the leaves are starting to change color and your mind is turning to those seasonal favorites such as pumpkin EVERYTHING, apples and apple pie, turkey, roasted veggies and sweet potatoes.
But when it comes to pairing your wine with those delicious autumnal treats, where to begin?
Here are a few things to keep in mind when deciding which red wine to try with your fall favorites.
Venison, lamb or beef stew pair nicely with a Red Bordeaux, Barbaresco, or Barolo. Another favorite dish in the autumn season is sweet potatoes. Pair yours with a rich red Zinfandel or if you are having more of a mashed version, enjoy it with a red blend or a lighter Pinot Noir.
Choosing a hearty vegetable stew with mushrooms or fig and goat cheese on almost anything, especially a pizza, also taste better when they are paired with a Pinot Noir. As it is so versatile, Pinot Noir also goes well when had with pork as well.
When considering meals during colder temperatures, comforting side dishes such as butternut squash risotto go nicely with a lighter Italian Dolcetto. Or a great bowl of Sausage Bolognese goes well with Sangiovese or Barbera.
Another favorite dish to indulge in even more so when the temperatures drop is a hearty chili. Serve it with a nice Malbec that will hold up well against all the flavors of the chili.
If you make a short ribs dish braised with vegetables that are cooked in red wine or something such as cheddar mashed potatoes, you can pair these with a Pinot Noir or Merlot. These red wines are medium-bodied and will add to the earthy flavors of these items.
And don't forget desserts in the fall. That slice of pumpkin pie would be even sweeter with a glass of barrel-aged Port. Something to keep in mind, you typically want your wine to be sweeter than the dessert you are pairing it with. If a wine is too dry it will not taste as well with an overly sweet dessert.
No matter what you make in your lineup of fall favorite dishes, there is certainly a red wine to pair with it. Hopefully these gave you some ideas as you plan your autumn menu and go shopping for your wine; or better yet, see what you have in your own cellar.
Written by Michelle Griffis aka the Nutmeg Nose for MWG
 Malolactic Fermentation, also known as Secondary Fermentation or "Malo", is the process in which Malic Acid in the wine converts to Lactic Acid.
What is Malolactic Fermentation?
As stated above, it is the process in which Malic Acid in the wine converts to Lactic Acid. The primary role of Malolactic Fermentation is to deacidify the wine which affects the sensory aspects of wine, making the mouthfeel smoother and it adds complexity to the flavor and aroma of the wine. The deacidification of the wine happens by converting the harsh diprotic malic acid into the softer monoprotic lactic acid. Nearly all red wines go through Malo while only a few whites, like Chardonnay and Viognier, do. One way to recognize if a wine has gone through Malo is if it has a creamy, buttery mid-palate texture. The buttery flavor comes from diacetyl, a by-product of the reaction.
What is Diacetyl?
Diacetyl is a flavor metabolite produced by lactic acid bacteria known as Oenococcus Oeni. Oenococcus Oeni is the main bacteria responsible for conducting Malo, due to its ability to survive the harsh conditions of wine. It is responsible for the production of the sensory aspects noted above. Malo can happen naturally, though often inoculated with the bacteria culture to jumpstart the process.
When does Malo take place?
Malolactic Fermentation can happen in two different ways, during primary fermentation or after. Amid fermentation, it is Co-Inoculation. After fermentation, it is Post-Fermentation Inoculation. Inoculation that takes place after alcoholic fermentation is the most common practice. When you add bacteria cultures like MBR31 after fermentation is complete, it jumpstarts the Malo process. Co-inoculation takes place at the start of alcoholic fermentation, which allows winemakers to focus on other things such as the improvement of flavor development.
What are the signs that Malo is in progress, and how do I know if it is finished?
The best way to identify malo in progress is bubbles! The malolactic activity can be detected by the presence of tiny carbon-dioxide bubbles. When the bubbles stop, Malolactic Fermentation is complete. This can take anywhere between one and three months.
What are the benefits of each method?
Firstly, the benefits of post-fermentation inoculation include better control of the start time duration of Malo. Lessened biogenic amine production leaves the wine unprotected by sulfite for a limited amount of time. This allows less potential for spoilage by other organisms. It reduces the incidence of excessive volatile acidity and enhances flavor profiles and complexity. The benefits of co-inoculation include lower levels of the inhibitory alcohol that are present at the start of Malo, and no need to apply external heating to the ferment due to the heat generated by the yeast fermentation. This results in faster completion of Malo. This means the wine can have sulfite added earlier and reduces the potential for the growth of spoilage organisms. Finally, a bonus is that bacteria added at the start of the yeast fermentation encounter a nutrient-rich environment.
Need assistance with your winemaking process?
Musto Wine Grape Company is here to help. We offer a wide variety of products and services to help you at any stage in your winemaking journey. Email winemaker@juicegrape.com or call us at (877) 812-1137 to speak with someone who can assist you.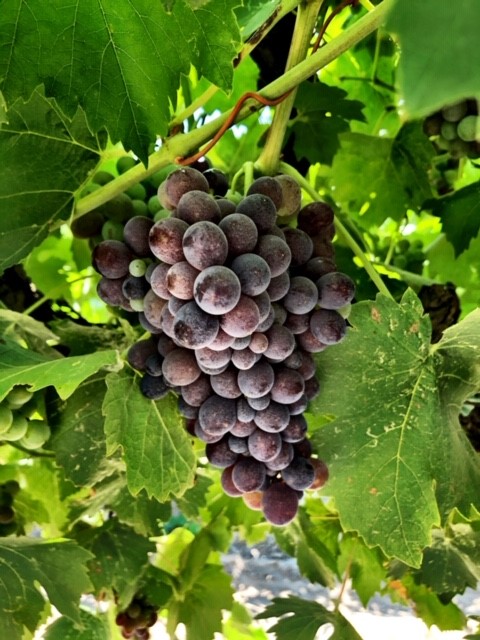 Ever wonder what the most popular red wine grapes are to use when making red wine at home? Well, wonder no more. Here is the list you've been looking for.
Try using these four popular red wine grapes as you begin your home wine making journey:
Cabernet
Merlot
Old Vine Zinfandel
Petite Sirah
Why these grapes you ask? Well, here are a few things to consider:
Cabernet – This is age worthy wine; cellar for 10+ years, produces a dry and full bodied wine with medium to high tannins, medium acidity and has 5–15% ABV
Merlot –This wine can be aged in your cellar for 10+ years and has flavors of cherry, plum, chocolate, bay leaf and vanilla with a tasting profile that makes it a bone-dry wine, with medium to full body, medium to high tannins, medium acidity and 13.5–15% ABV
Old Vine Zinfandel – Ages for 5-10 years, it is a bold, fruit forward red that's loved for its jammy fruit and smoky, exotic spice notes; it makes a dry red with medium to full bodied flavor, medium to high tannins, medium to low acidity and has over 15% ABV
Petite Sirah – Another 10+ years of aging and is loved for its deeply colored wines with rich black fruit flavors including sugarplum, blueberry, dark chocolate, black pepper and black tea and makes a dry, full bodied wine with high tannins, low acidity and over 15% ABV
What red grape will you start with today? Let us know what popular red wine you are excited to start making this season.
Email sales@juicegrape.com or call  877-812-1137 to order or discus making wine from home!
Written by Michelle Griffis aka the Nutmeg Nose from MWG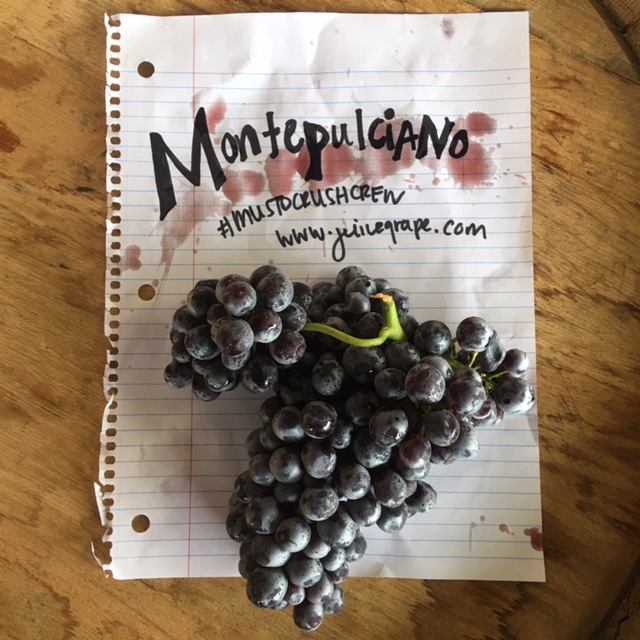 Montepulciano 2020 By Joseph A. Picone, DMD
I had the pleasure to obtain 10 (36lbs) cases of Montepulciano grapes from Musto Grapes (Frank Musto) on October 10, 2020. Making wine using the many varieties of first class Musto sourced grapes has been an Annual fall event for the Picone family and our friends for the past 30 years or so. Over the years, I have made Cabernet Sauvignon, Merlot, Old Vine Zinfandel, Sangiovese, Malbec, Reisling, Chardonnay, Sauvignon Blanc, Moscato, and White Zinfandel to name a few. Each having their own unique qualities to enjoy. Frank and his crew are great in providing all the resources and guidance needed for the first-time wine maker all the way to the seasoned-pro. I was fortunate to have taken a one semester class years ago at Naugatuck Community College on Wine Making given by Bob Herold which together with Frank's support team has allowed me to create some delicious wines over the years.
I would like to share my experience with you on making this year's Montepulciano 2020.
The grapes were outstanding. The Brix reading on the refractometer was 25. The clusters were full and the berries were a beautiful deep purple. The boxes were well packed with few if any leaves. We crushed the 360lbs of grapes and immediately added some potassium metabisulphite to kill any wild yeasts. My crusher is also a destemmer, so all the stems were separated from the must during this process. The pH of the must started at 3.70 which wasn't surprising due to the high Brix reading. I added an appropriate amount of Tartaric acid to bring the pH to a more desirable 3.41 the day of crush. 25 ml of Color Pro enzyme was added at this time as well.
At approximately 24 hours post crush, the Must was inoculated with 35 grams of yeast BM 4X4 in a solution containing GoFerm yeast nutrient. The temperature of the Must at the time of inoculation was 60 degrees F. The yeast solution was well constituted throughout the must. Periodic punching down of the "cap' was done every 6-8 hours throughout the primary fermentation time.
At 48 hours post crush, the Must temp was 66 degrees F at the Brix reading was 23.5. Fermaid O was added.
At 72 hours post crush, the Must temp was 75 degrees F and the Brix reading was 20. Fermaid K was added.
At 96 hours post crush, the Must temp was 82 degrees F and the Brix reading was 16. I added oak chips to the vat.
At 120 hours post crush, the Must temp was 78 degrees F and the Brix reading was 8.
At 144 hours post crush, the Must temp was 72 degrees F and the Brix reading was 4. 0.9mg of Malolactic culture VP41 was added to the Must and thoroughly mixed in.
At 168 hours(7 days) post crush, the Must temp was 70 degrees F and the Brix reading was 3. The Must and remnant skins were carefully pressed using a bladder press. The raw yield was approximately 27.5 gallons. The Must was placed in cleaned and sanitized demijohns utilizing airlocks to allow CO2 to escape while fermentation progresses, albeit very slowly. The residual skins were heavily consumed during the fermentation leaving behind very little structure. The color extraction was excellent and provided a deep rich purple wine. More Oak chips were added to each of the glass carboys/demijohns.
The slow fermentation in the demijohns went uneventfully and at 2 months, careful racking was accomplished and an appropriate amount of Potassium Metabisulphite was added to help kill off any more yeast cells(30ppm).
At 6 months post pressing, another racking was accomplished without the addition of any sulphites.
At 9 months, I have just begun bottling and I am very pleased with the wine. It is a crystal clear, deep purple, medium to full body, somewhat fruity flavored wine. I expect it to pair well most any dish but have enjoyed it with pasta, pork, veal, and chicken thus far.
Sincerely,
Joseph A. Picone, DMD
Thank you Joseph for sharing your Montepulciano winemaking experience! If you would like to make Montelpuciano emails sales@juicegrape.com or call 877-812-1137.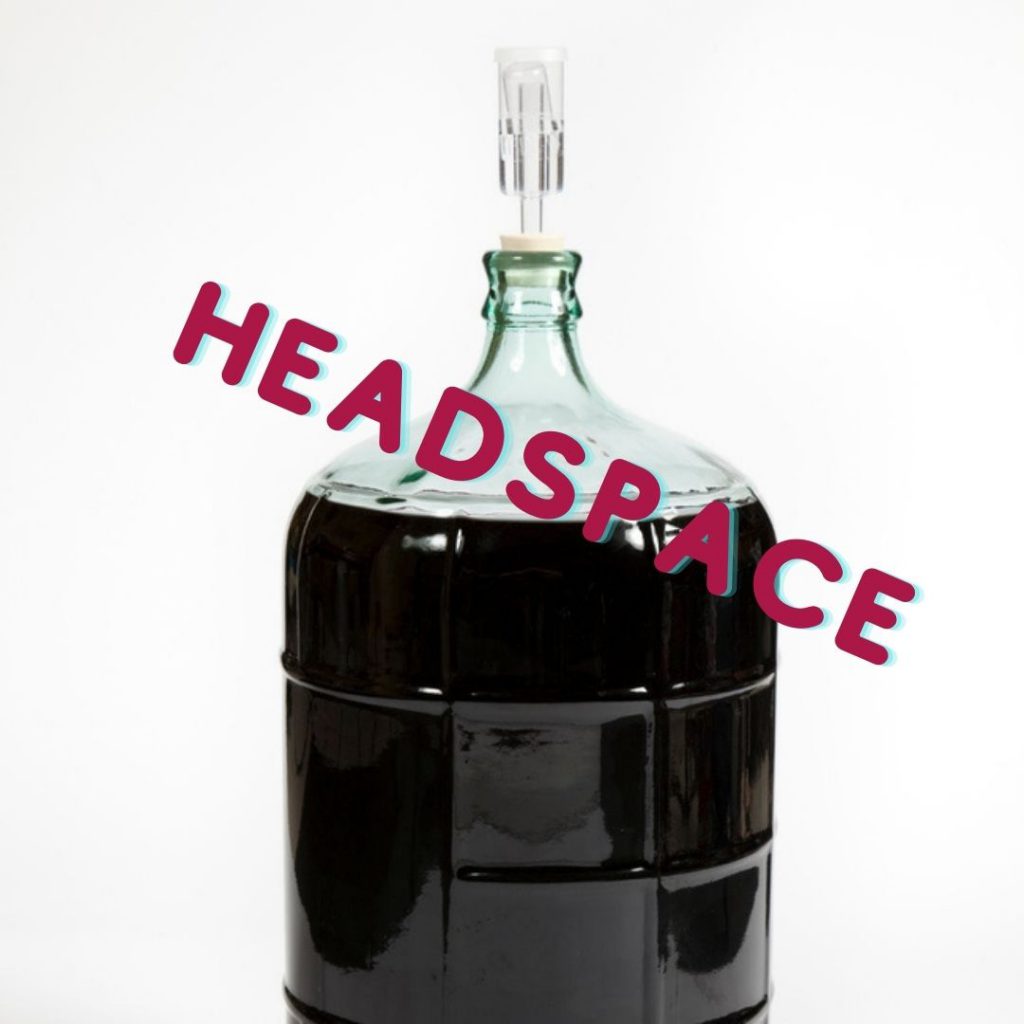 Let's talk about headspace. Extra headspace in your wine storage vessel leads to oxidation. Oxidation leads to wine faults such as – disappearance of fruit flavors, characteristics like bruised-apple take over, the color starts to brown, and brettanomyces or volatile acidity can start to develop.
However, not all oxidation is bad. If done carefully a little micro-oxidation can give help soften your red wine wine and give it complexity. Also, some wine styles require excessive oxidation like Madera.
But for most wines we want to avoid any excessive oxidation. So how to we do that? Below are a few tips to help avoid oxidation in your wine.
1. Consistently check your aging vessels and make sure they have no headspace and are topped off
2. Limit how much air you wine is exposed to during racking, pump overs, and bottling
3. Keep track of and update your SO2 levels regularly
4. Double check tank gaskets for any leaks before use
5. Use quality corks when bottling wine
We hope these tips help! 🍇🍷🥂 Looking forward to working with you all this Spring Winemaking Season. Have you ordered your Spring Winemaking Supplies yet? Email us at sales@juicegrape.com for more details.
For more on Winemaking Faults visit our sister site WinemakingInstructions.com
The world of wine is a big one. Whether you are a newbie winemaker or drinker, or one of the pro's that just needs a refresher.
We put together a printable pocket guide for identifying the 9 styles of wine.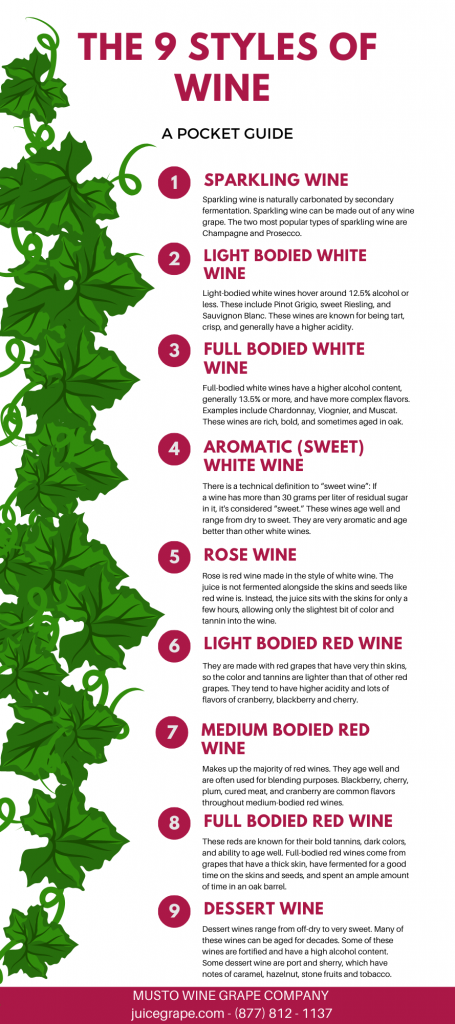 This printable pocket guide provides a simple overview of each of the 9 styles of wine and what characteristics to look for. Its a great idea to keep handy in your wine tasting notebook so as you write your tasting notes you can easily identify each wine!
Once you are able to taste the 9 styles of wine, it will give you a better understanding of wine as a whole. Once you have a good understanding for wine, you'll be able to fully understand tasting wine and even making it! Obviously wine tasting and winemaking can be complex but with dedication for learning, and having the support (us!) it can ensure your success.
Other types of reference guides that are good to keep handy are things like a wine tasting wheel and color chart that allows you to identify more colors, aromas and flavors!
Want to make your own wine? Musto Wine Grape Company is here to help. Give us a call at (877) 812-1137 to speak with one of our Crush Crew members to get you on track to making the wine of your dreams!
So how can you start making your own wine from Chilean juices? Follow these 10 Easy Steps (for fresh juice) and you'll be on your way!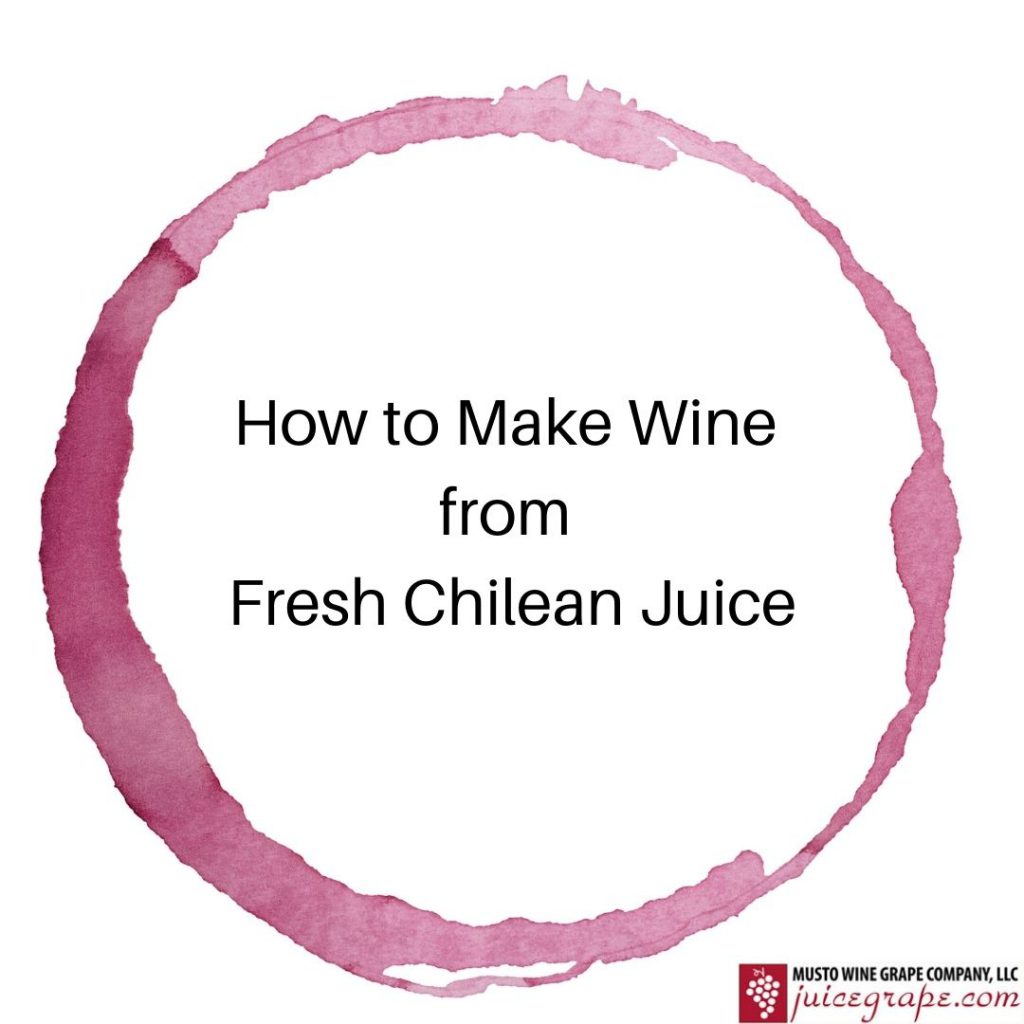 Choose a

Chilean

variety that speaks to you.
Come to Musto Wine Grape and pick up your pail of juice.
Bring it home, pop open that lid, and add 1/4 tsp potassium metabisulfite to it. Add

pectic enzyme

if you're going to (5 drops per gallon of juice). Give it a stir.

Allow it to come up to room temperature – we're talking 60 degrees or so.
Choose your fermentation vessel: will you keep it in pails or ferment in a

carboy

or

demijohn

? Make sure everything is clean and sanitized. *Be sure there is enough room to account for fermentation foaming*
If you are going to add fermentation tannins or additives (like oak dust,

Booster Rouge

,

Booster Blanc

) you can add that now. *Note: do not add tannins such as

FT Rouge

within 8 hours of adding enzyme*
Pitch the yeast once the temperature has reached at least 60F. Yeast strain choices will vary depending on the juice you choose – ask a winemaker at Musto Wine Grape for a strain recommendation for the varietal you're making. Follow the yeast starter directions explicitly. Be very careful of temperatures, never adding yeast if there is more than a 18 degree difference between the yeast starter liquid and the juice.
Carefully monitor the fermentation by checking

Brix

levels daily. Add yeast nutrients as needed if you choose to do so.
If you are adding

malolactic cultures

to your wine, you may also chose to do this at 1/3 Brix depletion. If using a malolactic nutrient (

Opti-Malo Plus

) with the bacterial culture, hydrate the nutrient in a separate container from the bacteria and add to the must directly before the addition of the bacteria. Follow all directions on the bacteria and nutrient packets explicitly.
When the fermentation is complete, rack off the lees and continue aging. Many Chilean wines are aged with oak – if you choose to do this, you can do so in oak barrels or with

oak alternatives

(such as

chips

or staves).
Want to read more about making wine from Fresh Juice? Check out this blog post.
Can I make my own? Musto Wine Grape Company is here to help you make the wine of your dreams! The Spring Chilean winemaking season starts in late April, early May. Secure your winemaking grapes or juices and give us a call at (877) 812-1137 to speak with one of our Musto Crush Crew members. We can get you set up with everything you need and provide customer support along the way to ensure your success!