Red Hot Chicken Mini Pizzas & Riesling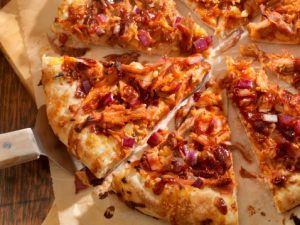 Heat things up with these Red Hot Chicken Mini Pizzas!
Whether you're munching on it while binge watching your favorite TV show, or serving at your next party – it's perfect for virtually any time and place!
Ingredients:
2 tablespoons Frank's original red hot sauce
2 8" pre-made pizza crusts
¼ lb Colby jack cheese (shredded or sliced)
2 tomatoes, diced
½ red onion, diced
¼ lb rotisserie chicken (pulled apart and marinated in Frank's hot sauce)
Blue cheese salad dressing
Celery and carrot sticks
Instructions:
Heat oven to 425 degrees
Spread 1 table spoon of Frank's hot sauce over each crust, leaving ½ for the edge.
Top with chicken, tomatoes, onion and cheese.
Place pizzas directly on an oven rack. Bake 8-10 minutes.
Cheese should be melted and crust should be golden brown.
Slice and serve, alongside blue cheese dressing and celery sticks.
Don't forget the Riesling! The combination of sweet and acidic is what makes Riesling a great match for spicier foods, taming the intense heat with a honeyed splash.