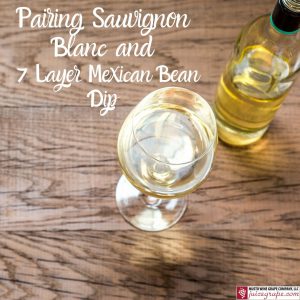 Who doesn't love a good Sauvignon Blanc? Whether it's from California, France, Chile, South Africa, or New Zealand you can always count on it being fresh and crisp. The perfect pairing with Ashley's favorite 7 layer bean dip recipe. It's the ultimate combination of Mexican flavors including refried beans, guacamole, sour cream, cheese, tomatoes, green onions and black olives. It's super easy to make and can be made ahead of time, stored in the refrigerator and served cold or at room temperature.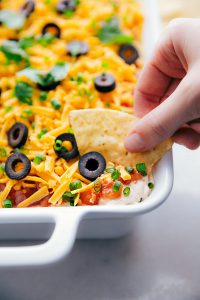 What you'll need:
Refried beans
Taco seasoning
Guacamole
Sour cream
Shredded cheddar cheese
Tomatoes
Black olives
Green onions
Lime
Salt & Pepper
How to do it:
In a bowl, mix the refried beans and taco seasoning together.
Spread the refried beans onto a casserole dish.
On top of the bean spread, add your layer of guacamole. Add some salt & pepper and squeeze a lime over to get the extra flavor packed in.
Add a layer of sour cream.
Add a layer of diced tomatoes.
Add a layer of sour cream.
Top with your sliced olives and green onions.
If you'd like the extra kick, add some chopped jalapeños.
Cover and pop in the fridge! Easy peasy.
When it comes to serving, it can be served chilled or at room temperature with a bowl of tortilla corn chips.
As always, adding wine make everything 10 times better – A gutsy, grassy white wine like Sauvignon Blanc will go with the crunchy corn tortillas, while the melted cheddar cheese will harmonize with an easy going wine like Grenache.