Pectic enzyme at a glance
AKA pectinase
A protein that breaks down pectin within fruit
Added to juice or must pre-fermentation
No notable downside of using this additive
Available in powder or liquid form
Right… but why is it important?
Using pectic enzyme increases juice, tannin, flavor, and color extraction
Aids in clearing wine by eliminating potential "pectic haze"
Who should use pectic enzyme?
If you're making wine of any kind, whether from grapes or any other fruit, adding pectic enzyme will be a positive influence on the end result. Both home and commercial winemakers use pectic enzyme as a means of extracting the most they possibly can from their fruit.
When should I add it?
Since it works more slowly after fermentation has completed, add it beforehand. Add at the beginning of fermentation after temperatures have begun creeping up. It works best at around 80F; lower temperatures.
How much do I add?
For white juice/wine, 1-2g/hL. For red must/wine, 2-4g/hL. It comes in either powder or liquid form; depending on the producer the recommended dosage may be different so always be sure to double check the label before making an add.
What happens if I don't add it?
Simply put, there's no reason to not add it. Not adding it runs you the risk of having a pectic haze develop. This can be very tricky if not borderline impossible to fix later on; adding pectinase post-fermentation will also not work as well, if at all.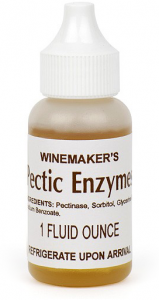 OK, I think I've got it now. But can we go over this one more time?
Adding enzyme post-crush/pre-fermentation increases free run juice, color and tannin extraction in both reds and whites, increases filterability and clarification, and lowers chances of pectic haze development. There are many options you can choose from for your pectic enzyme needs, either powder or liquid form.