Published
December 18, 2019
|
By
cmusto
Shirley's White Chocolate Chip Cookies with Moscato d'Asti pairing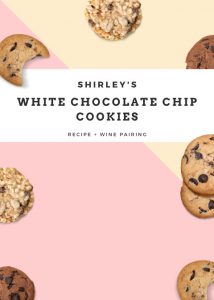 White chocolate is delicate and goes well with tangy fruit, so the perfect pairing would be Moscato d'Asti. Moscato d'Asti's fruity sweetness and the white chocolate's buttery smoothness pair well due to the bubbles and acidity of the wine cutting through the richness of the chocolate. Drink Moscato d'Asti chilled for optimum experience.
Shirley's White Chocolate Chip Cookie Recipe
Ingredients:
White chocolate chips
Bread flour (bread flour yields a chewier cookie. Use all purpose flour if you'd like a firmer cookie)
Eggs
Brown sugar
Butter
Salt
Vanilla extract
Baking soda
Instructions:
Use a bowl for dry ingredients, mixing the flour, salt, sugar, baking soda and white chocolate chips and set aside.
In a separate bowl, mix melted butter, eggs and vanilla until fully combined.
Combine wet and dry ingredients together and stir until batter is formed.
Preheat oven to 350 degrees.
Cover your cookie sheet with parchment paper and place drops of dough using a scoop, tablespoon or teaspoon – depending on the desired size of your cookies.
Bake at 350 for approximately 10-12 minutes, adding or subtracting 2 minutes for smaller and larger cookies.
Let cool for 5 or so minutes before removing from cookie sheet and placing on plate or cooling rack.
Once cooled, eat and enjoy with your chilled Moscato d'Asti!
Want to make your own Moscato d'Asti? Musto Wine Grape Company is New England's largest supplier for home winemaking products and services. We'll get you set up with all of your juice, grape and equipment needs and have you on track to making your own perfect pairing. Visit juicegrape.com or give us a call at (877) 812 – 1137 to learn more. We look forward to hearing from you!