Have you ever wanted to drink your wine and eat it too?
Well here's your chance!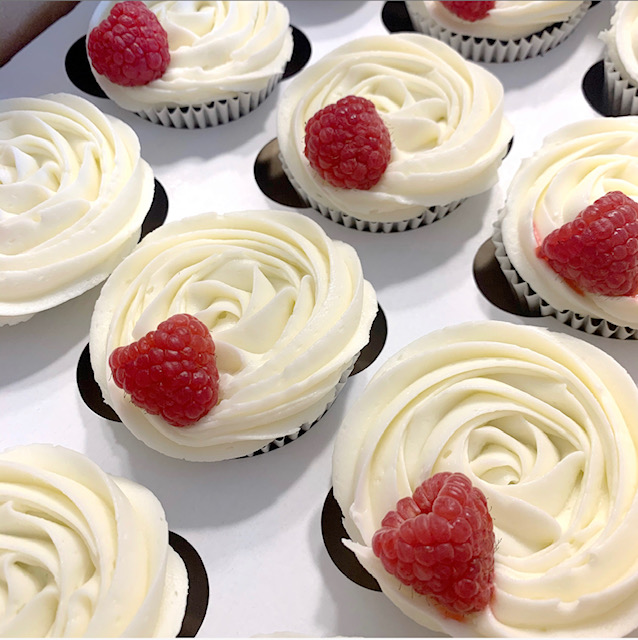 We teamed up with local baker The Mixing Bowl by Jules to create this recipe. These chocolate cupcakes are infused with our homemade red wine, filled with a raspberry and wine chocolate ganache, and topped with cream cheese frosting.
Decadent? Yes! But sometimes you just need to treat yourself!
Here is what you need:
Cupcakes
2 cups of sugar
2 eggs
1 teaspoon of vanilla
1 ¾ cups of all-purpose flour
¾ cup chocolate cocoa
½ cup of vegetable oil
1 cup of red wine
¼ teaspoon of salt
1 ½ teaspoons of baking powder
1 ½ teaspoons of baking soda
1 cup of water (boil)
Ganache
½ cup of cream
½ cup of fresh raspberries
½ cup of red wine
1 ½ cups of semi-sweet chocolate chips
Frosting
2 sticks of salted butter
8 oz of cream cheese
6 cups of powdered sugar
Pre-heat your oven to 350 degrees and yields approx. 24 cupcakes.
Bring one cup of water to a boil on your stove top. Once it starts boiling turn the heat off and let it cool down.
Next you're going to start making the batter. Pour the sugar, eggs, and vanilla into your mixer and blend.
Once the ingredients are fully incorporated, add the flour and cocoa, one cup at a time.
Next you'll add in the vegetable oil and slowly pour in the red wine while mixer is on.
After that, add the salt, baking soda, and baking powder and mix until everything is blended. Don't over mix!
Turn the mixer back on and slowly pour the water into the batter. The batter will be thin.
Next place your cupcake liners in your pans. You'll want to fill each about ½ way full. Tip: If you have a cookie scooper, use that to pour batter otherwise a spoon will work!
Bake for 15-17 minutes or until the top is domed and sturdy. Once they are done let them cool for at least 30 minutes before filling and frosting.
Raspberry wine ganache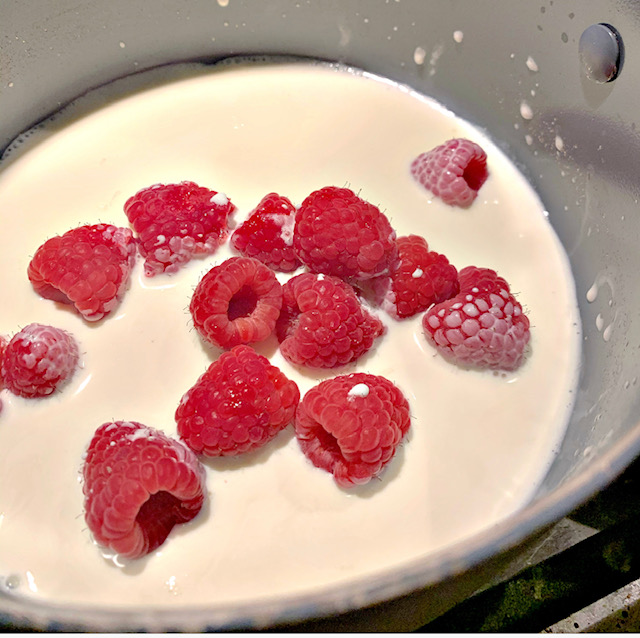 Pour your cream and raspberries into a sauce pan on medium heat. Use a spoon to break down the raspberries while they are heating up.
Pour in the red wine and continue to stir and let mixture come to a boil. Once it starts bubbling, turn off the heat.
Add the chocolate chips and whisk until incorporated.
Wait at least an hour for the ganache to thicken up or refrigerate overnight.
Cream Cheese frosting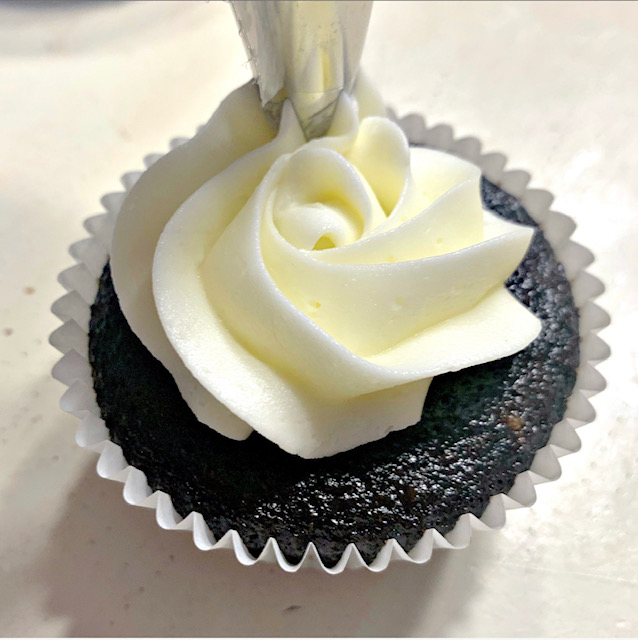 Add both butter and cream cheese to mixer and mix on the lowest setting for 1-2 minutes.
Add each cup of powdered sugar one at a time and blend until frosting is smooth and fluffy.
Now the fun part…building your cupcake
Once your cupcakes are cool and your ganache is thicker, you can either fill your cupcakes with ganache or dip the top – it's up to you!
Take a knife and cut out the centers of your cupcake and save the top of it!
Using a spoon or a piping bag if you have one, fill the centers with the chocolate ganache. If you refrigerate it overnight, you'll want to heat it up for 30 seconds to 1 minute before adding.
Put the top back on and cover the ganache!
Next you can, either frost with a knife or use your favorite piping tip and swirl! For the finishing touch, add a raspberry for garnish!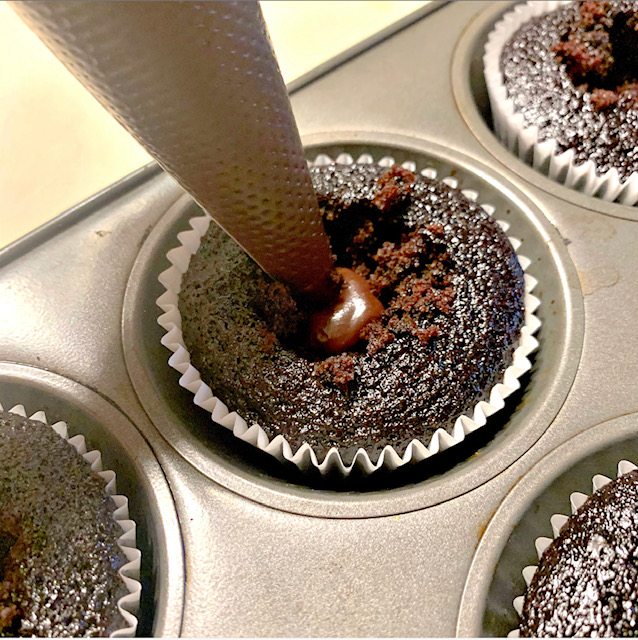 And finally ENJOY your cupcakes with your home made wine!
The Musto Crush Crew certainly enjoyed these cupcakes! 🙂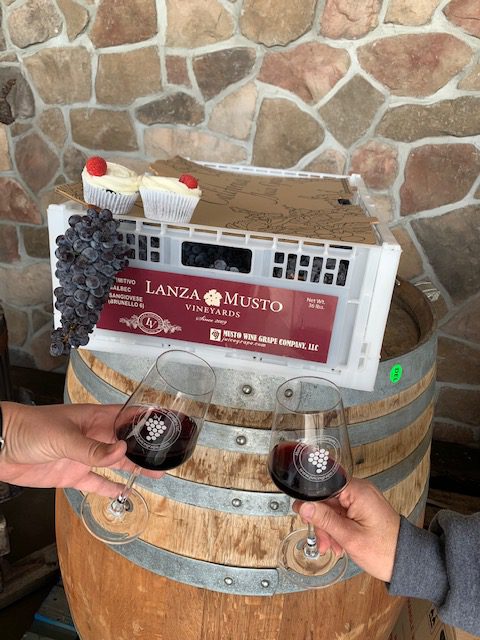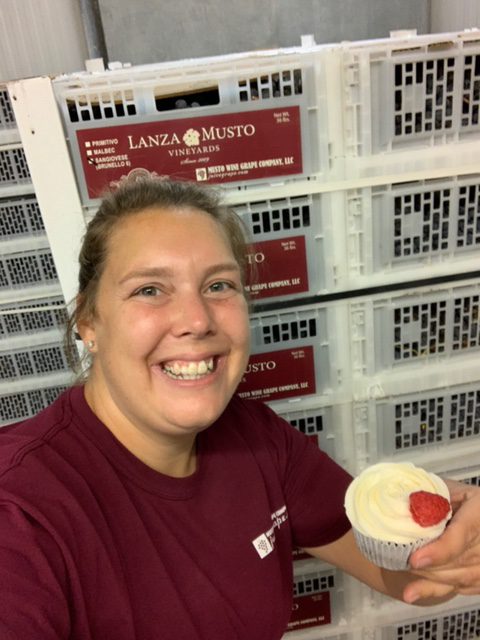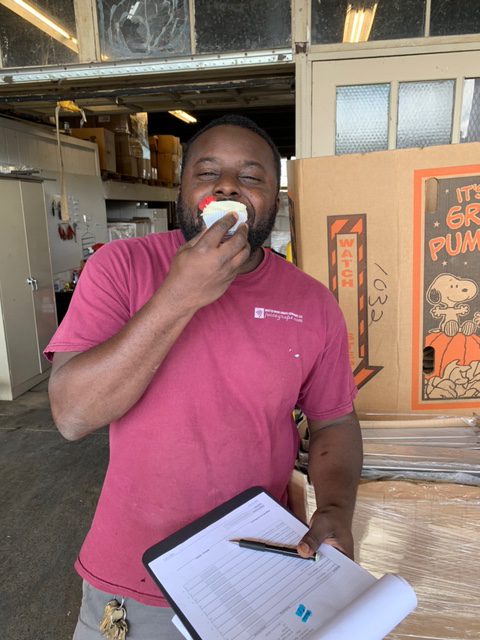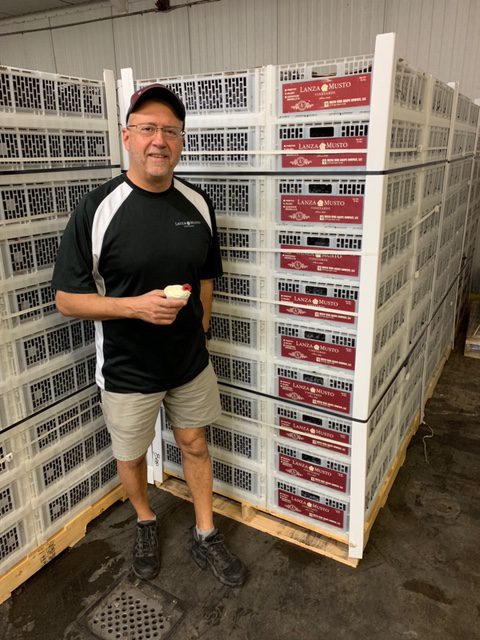 Ready to make your own Wine? Musto Wine Grape is here to supply you with everything you need to make the wine of your dreams. Email us at sales@juicegrape.com or call (877) 812-1137 to speak with someone who can get you started!
Discovering an "Old World" Wine — Teroldego
By Winemakers Julie and Richard Chalifoux
By now, many of you are probably familiar with "Old World" wines such as Barbera, Gamay, and Nebbiolo.  A wine which you may be less familiar with is Teroldego [teh-rawl-DEH-goh].  Teroldego is a red wine grape that is grown in the Trentino-Alto Adige region in northeast Italy.  While it has been in Italy since the 15th century, it is not grown widely elsewhere.   However, this grape has been receiving increased attention from California grape growers, primarily near Lodi in the Central Valley, because of its prolific growth, heavy yields, and consistent quality.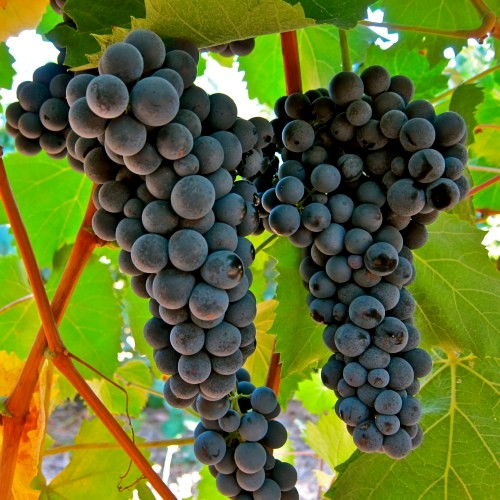 Teroldego is a sibling of Dureza, one of the parents of Syrah.  You can easily see the connection to Syrah with its dark-skinned berry, fruity flavor, and medium to bold tannins.  It is a wine worth making, since it can be drunk either young or well-aged.
Grape Selection
In 2018, Musto added Teroldego to their grape varietal selection.  Hope you didn't miss them this past season; these grapes were a must-see! They were exquisitely packaged and bigger than your hand – 36 grape clusters/36 lbs.  What a presentation!
Teroldego is similar in nature to other wines we have made, so my husband and I decided to test our winemaking skills and try something new.  We planned on making a small batch in a 5 gallon carboy, so there was not much room for experimenting.  Through further research, we found it is an Italian grape that produces reasonable tannins, is easy drinking, and possesses intense fruity flavors with dark thick skins.
Balancing and Yeast Selection
The grapes were clean with huge clusters — we ran the pH and acid numbers, the acid was a bit low so adjustments were needed.  Note: this will be an easy grape to blend with hybrid grapes that are typically higher in acid.  It will enhance fruit characteristics, add tannins, improve acid, and bring a nice rich color to your wine.
There were a few yeasts that would be a good choice – ones that will enhance the fruit characteristics, keep the "Old World" Italian style wine, and work well with the tannins.  We used BRL97, but any one of these would work.  We have used this yeast on other wines we make with great success.  We also use BRL 97 on our Tannat wine.
| | | |
| --- | --- | --- |
| Yeast Strain | Alc. Tolerance | Flavor Profile |
| D254 | 16% | Big mouth feel and rounding of tannins. Intense fruit: more dried than fresh with a focus on berry and jam characteristics. Helps with color stability and is useful for adding body to blends. |
| D80 | 16% | Big volume and fine grain tannin flavors of plum and spice. Great for bringing more positive tannin intensity to a blend. |
| BRL97 | 16% | Mainly used in Pinot Noir, Zinfandel, and Italian Wines.  Enhances color stability, maintains structure and is favored when long aging is planned. |
Cold Soaking
This grape has thick skins, and experience has taught us that the thicker the skin, the longer the cold soak.  Some of our hybrids have thicker skins like Teroldego and don't like to release tannins easily.  We treated this grape the same way: cold soak for 6 days, and be sure to add enzymes.  Note: when cold soaking for a longer period of time (i.e. 6 days), watch the room temp.  You really want it to be cold (below 40° F).  Wild yeast will take over if your must is too warm.
Winemaking process
We do not alter the winemaking process, however, there are a couple things that we do faithfully.
Feed your yeast – when pitching the yeast be sure to add the proper nutrients – around 3 days later or approximately 1/3 lower brix, feed your must, we use Fermaid O. Important to keep your grapes and yeast happy, happy, happy – no stuck fermentations.  We also at this time, co-Inoculate with VP41 Malo, it does really well with BRL 97.
Rack off the gross lees – when fermentation is done, don't wait to rack off your wine! This is important to get good wine off of stinky lees.
Wine Recipe for Teroldego
| | |
| --- | --- |
| Wine Produced: | @ 5 gallons of wine (with 3 cases/36 lbs-case) |
| Finished pH: | 4.1% |
| Finished Acid: | .7g/liter |
| Brix at crush: | 25 (14% alc) |
| Cold Soak: | 6 days |
| Yeast used: | BRL97 |
| Malo: | VP41 |
| Lightly Oaked: | Medium French stick used 2 ½ spirals |
| Tasting Notes: | On the nose; butterscotch, vanilla, and black raspberry.  This wine has nice acid, soft tannins, medium body – very easy drinking wine with tastes of mulberry, boysenberry and hints of herbs, cedar, and mocha on the finish. |
| Lessons Learned: | When the wine is young it takes on fruit characteristics, but it loves oak – as the wine ages more of the oak characteristics will come through.  If you prefer lightly oaked wines use less oak sticks. |
Stay with me…I promise there is a recipe for you to try!  This wine is food-friendly and very approachable.  We recently opened a bottle after 2 years of aging it has really come into its own, with nicely-blended oak and a fruity flavor.  The tannins we were able to release during cold soaking also mean that this wine will still be wonderful for a few years to come.  Try it with smoky foods like wood fired pizza, burgers, stews, or any Italian cuisine with either red or white sauces.  I encourage you to try something new, something bold – try making a lovely wine like Teroldego.  Alla salute!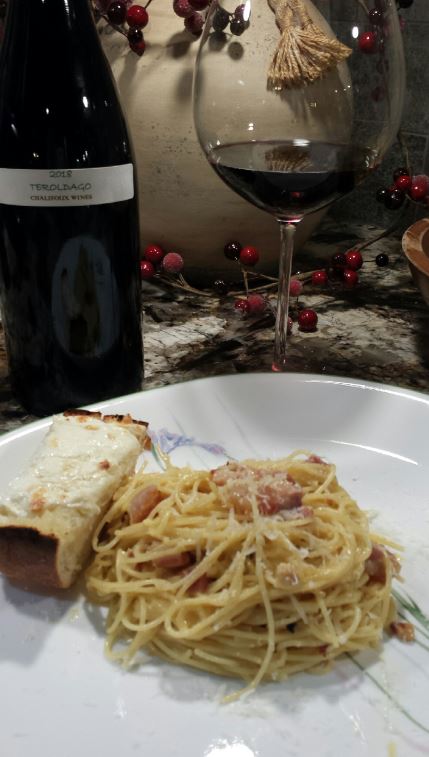 Spaghetti Carbonara
Teroldago is really yummy with Spaghetti Carbonara.  For this wine, serve it in a Pinot Noir glass and it is recommended to open the wine 1 hour before serving.  Recipe follows:
Salt for pasta water
2 large eggs and 2 large yolks, room temperature
1 ounce (about 1/3 packed cup) grated Romano, plus additional for serving
1 ounce (about 1/3 packed cup) grated Parmesan
Coarsely ground black pepper
1 tablespoon olive oil
3 ½ ounces of pancetta or bacon, sliced into pieces about 1/4 inch thick by 1/3 inch square
12 ounces spaghetti (about 3/4 box)
Place a large pot of lightly salted water (no more than 1 tablespoon salt) over high heat, and bring to a boil. Fill a large bowl with hot water for serving, and set aside.
In a mixing bowl, whisk together the eggs, yolks and Romano and Parmesan. Season with a pinch of salt and generous black pepper.
Set the water to boil. Meanwhile, heat oil in a large skillet over medium heat, add the pork, and sauté until the fat just renders, on the edge of crispness but not hard. Drain fat and remove from heat to set aside.
Add pasta to the water and boil until a bit firmer than al dente. Just before pasta is ready, reheat pork in skillet, if needed. Reserve 1 cup of pasta water, then drain pasta and add to the skillet over low heat. Stir for a minute or so.
Empty serving bowl of hot water. Dry it and add hot pasta mixture. Slowly stir in the egg and cheese mixture adding some reserved pasta water if needed for creaminess. Serve immediately, dressing it with a bit of additional grated pecorino and pepper.
Ready to make your own Teroldego? Musto Wine Grape is here to supply you with everything you need to make the wine of your dreams. Email us at sales@juicegrape.com or call (877) 812-1137 to speak with someone who can get you started!
Happy Taco Tuesday! Today we've got a quick and easy taco dinner board recipe and wine pairing for you to share with your friends and family.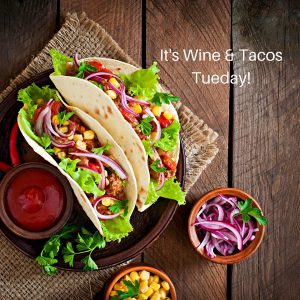 What you'll need:
Soft/Crunchy tortilla's (we love Old El Paso's Stand N Stuff tortillas for easy building and serving!)

Onions

Meat of choice

Taco seasoning

Cheese

Lettuce

Tomatoes

Salsa

Sour cream

Guacamole

Cilantro

Limes

Jalapeño peppers

Tortilla chips
Serving board, preferably one that is round with raised sides. This one is beautiful, durable and budget friendly!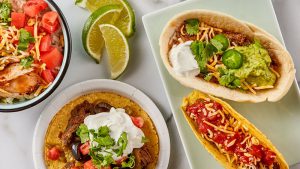 How you'll do it:
Start with your serving board – lay down some parchment paper and place a bowl with shredded lettuce and tomatoes in the center.
Place smaller bowls around the center bowl and fill them with salsa, guac, jalapeño's and sour cream. Make sure to leave room for your tortilla shells around the outside.
Take your taco meat of choice and cook with a medium onion and add your favorite seasoning. Fill the taco shells with meat and cheese and bake for 5 minutes.
Place your tacos around the outside of the board around the bowls placed in the center.
Place tortilla chips to fill in any empty spaces (and have an extra bowl to the side with more chips, because who only has a few?)
Last but certainly not least – serving some wine with your taco board. This will depend on the kind of meat you used for your tacos, so we came prepared with pairings for a few different kinds!
If you're doing fish tacos: citrusy whites tend to be best, but depending on the taco, you might be able to try a red. If you prefer wines with a touch more body and fruit, try some Sauvignon Blanc. It tends to have a mix of citrus and tropical flavors and a zippy herbal quality that's tasty with cilantro. If you're going for a grilled fish, like salmon, the red cherry fruit in lighter styles of California Pinot Noir works well. A hint if spicy oak can pair nicely with the char.
If you're doing pork tacos: try Zinfandel or a new world Pinot Noir. Spicy, seasoned pork screams for a fruit forward red to accompany the meat's robust flavors, yet one with enough acidity to cut through the taco's richness. The acidity of a new world Pinot Noir will give the pairing a lighter, more on-it's-feet feel, where as Zinfandel's signature spice and juicy mouthfeel create a lush, succulent pairing for the pork.
If you're doing steak tacos: Malbec! Malbec's rich, fruit-forward palate and robust tannins pair gorgeously with the fat and spice of grilled steak.
If you're doing ground beef tacos: Grab a bottle of Grenache for this one. The blend's spicy, dark fruit flavors and medium tannins are a perfect match for seasoned ground beef.
Interested in making your own wine? Give us a call at 877-812-1137 to discuss how to make your very own wine at home!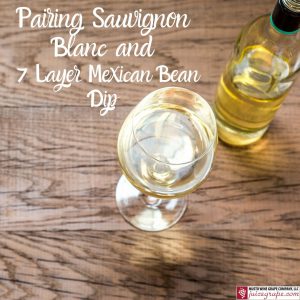 Who doesn't love a good Sauvignon Blanc? Whether it's from California, France, Chile, South Africa, or New Zealand you can always count on it being fresh and crisp. The perfect pairing with Ashley's favorite 7 layer bean dip recipe. It's the ultimate combination of Mexican flavors including refried beans, guacamole, sour cream, cheese, tomatoes, green onions and black olives. It's super easy to make and can be made ahead of time, stored in the refrigerator and served cold or at room temperature.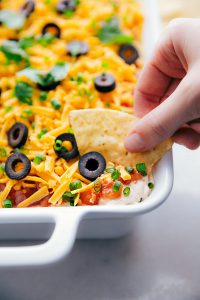 What you'll need:
Refried beans
Taco seasoning
Guacamole
Sour cream
Shredded cheddar cheese
Tomatoes
Black olives
Green onions
Lime
Salt & Pepper
How to do it:
In a bowl, mix the refried beans and taco seasoning together.
Spread the refried beans onto a casserole dish.
On top of the bean spread, add your layer of guacamole. Add some salt & pepper and squeeze a lime over to get the extra flavor packed in.
Add a layer of sour cream.
Add a layer of diced tomatoes.
Add a layer of sour cream.
Top with your sliced olives and green onions.
If you'd like the extra kick, add some chopped jalapeños.
Cover and pop in the fridge! Easy peasy.
When it comes to serving, it can be served chilled or at room temperature with a bowl of tortilla corn chips.
As always, adding wine make everything 10 times better – A gutsy, grassy white wine like Sauvignon Blanc will go with the crunchy corn tortillas, while the melted cheddar cheese will harmonize with an easy going wine like Grenache.
A delightful treat for you and your sweet heart on Valentine's Day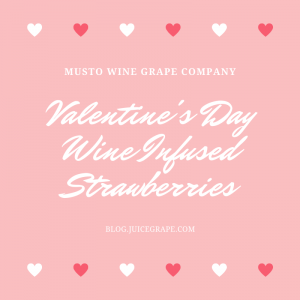 What you'll need:
– One Container of Strawberries (16 oz)
– One cup of white chocolate chips
– One cup of strawberry Moscato
– Pipette tubes

How it's made:
– Start by melting your white chocolate chips. You can do this by boiling water in a double boiling pot. You only need about 1 inch of water, giving some space between the water and the top half of the boiler. If you do not have a double boiler, try using any pot and metal bowl combo that fit together securely. Once the water is boiling, reduce the heat to low, and add your chocolate chips to the top bowl.
– Remove the melted white chocolate from the heat after a majority of it has melted. If there are still clumps, no worries, the chocolate will continue to melt as you stir it around. Stir until smooth.
(Optional) Add a few drops of red food coloring to bring your white chocolate to a sweet pink or a romantic red! Next, dip the strawberry ends into the melted white chocolate and twist the strawberry around to get all sides covered.
(Optional) Before the white chocolate hardens on the strawberries, quickly roll through some heart-shaped sprinkles. How cute!
– Now for the fun part – fill the pipettes with your strawberry Moscato, insert into the strawberries and enjoy!
Like Moscato?
Check out Shirley's White Chocolate Chip Cookie and Moscato recipe and paring.
Want to make your own Moscato d'Asti? Musto Wine Grape Company is New England's largest supplier for home winemaking products and services. We'll get you set up with all of your juice, grape and equipment needs and have you on track to making your own perfect pairing. Visit juicegrape.com or give us a call at (877) 812 – 1137 to learn more. We look forward to hearing from you!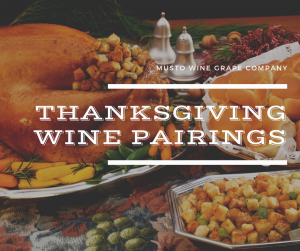 We can't believe it's almost Thanksgiving!
This year, harvest season flew right past us. Now it's time for everyone to wine down 😉 and enjoy great food and wine with our families during the holiday season. To make things simple and easy, we're providing you with our favorite wine pairings for your thanksgiving meals to help you spend less time roaming the aisles of the liquor store and more time laughing and making memories with your families.
Sauvignon Blanc:
Goes perfect with appetizers like salads and veggie platters. The flavors of apple and melon would be a great starter wine, while being both refreshing and not overly heavy before your Thanksgiving meal.
Riesling:
Same goes for Riesling, depending on if it is more on the sweet or dry side. The fruity flavors will go well with the other fruit flavors like cranberry sauce, and the crispness will also go well with the salads and veggies platters.
Pinot Noir:
A wine that can pair with most of the Thanksgiving dishes being passed around, from turkey to sweet potatoes and cranberry sauce. The smooth flavors of plum, cherries and berries accompany these dishes perfectly.
Zinfandel:
Another wine that can pair with most of the Thanksgiving dishes being served. It provides more of a sweet plum or berry jam flavor with the added bonus of some notes of pepper. This is great for the heavier dishes where the sweet and spicy will balance out the richness of a casserole or creamy mashed potatoes.
We hope everyone has a yummy and safe Thanksgiving!
Musto Wine Grape Company is here to help! We are New England's largest supplier for home winemaking products and services. We can get you set up with all of your juice, grape and equipment needs and have you on track to making your own perfect pairing for next fall! Visit juicegrape.com or give us a call at (877) 812 – 1137 to learn more. We look forward to hearing from you!
We tried Empathy's Rosé Autumn Sangria recipe and it was too good not to share!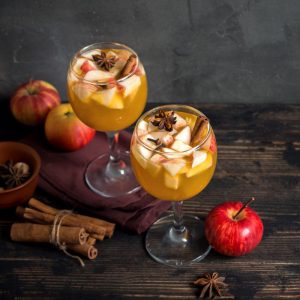 While Empathy's Rosé is a crowd pleaser pairing just by itself, there's nothing wrong with spicing things up! We've included Empathy's recipe for their Rosé Autumn Sangria, and we've included some tasty parings to go along with it.
Empathy's Rosé Autumn Sangria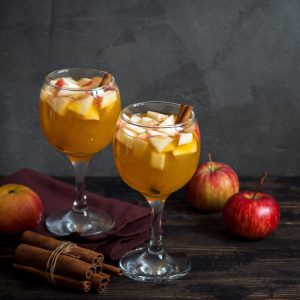 Let's start with what you'll need for ingredients
1 Red Apple
1 Green Apple
2 Oranges
1 Lemon
1 lime
2 Pomegranate
3-4 Cinnamon Sticks for garnish
2 Cups Apple Cider
1 Bottle of Empathy Rose
How to Make It
Slice up all of the fruit, dicing the apples into sticks.
Pour all of the fruit into a pitcher
Add bottle of Empathy Rosé and Apple Cider
Stir and serve over ice. Garnish with cinnamon sticks and orange peel.
Musto Wine Grape's Rosé Autumn Sangria Pairings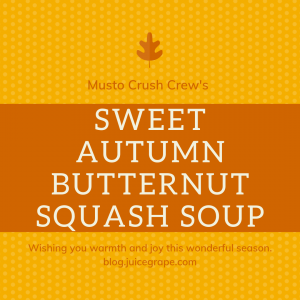 Butternut Squash Soup. The cinnamon and apple cider will go especially well with this savory autumn soup, which often times has apples and cinnamon blended in. Try Musto Crush Crew's Autumn Butternut Squash Soup!
Pear, Blue Cheese and Candied Pecan Salad. The crisp pear, the creamy and salty blue cheese, and the sweet nutty pecan flavors perfectly compliment this sangria recipe.
Shaved Brussels Sprouts Salad with Lemon and Pecorino. Brussels sprouts, like most brassica, can be a difficult food to pair with. Using this autumn sangria recipe, with all of its spicy and fresh fruit additions, is an excellent route to go.
Want to try this with your own Rosé? Musto Wine Grape Company is here to help! We are New England's largest supplier for home winemaking products and services. We can get you set up with all of your juice, grape and equipment needs and have you on track to making your own perfect pairing for next fall! Visit juicegrape.com or give us a call at (877) 812 – 1137 to learn more. We look forward to hearing from you!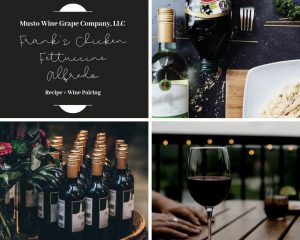 GRILLED CHICKEN FETTUCCINE ALFREDO
For the chicken marinade
¼ cup extra virgin olive oil
2 tablespoons white balsamic vinegar or fresh lemon juice
2 table spoons fresh chopped herbs (basil, oregano, thyme, parsley)
1 large garlic clove, minced
¼ teaspoon salt
½ teaspoon fresh ground black pepper
¼ teaspoon crushed red pepper flakes
2 boneless, skinless chicken breasts
Vegetable oil for oiling the grill plate
For the fettuccine and Alfredo sauce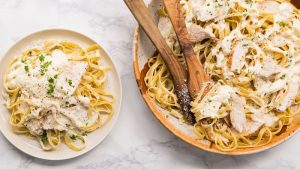 8 ounces fettuccine pasta
1 cup heavy cream
1 cup whole milk, or half and half
3 tablespoons unsalted butter
½ teaspoon salt
1 teaspoon fresh ground black pepper
1 cup fresh grated parmesan cheese
2 tablespoons fresh chopped parsley, for garnish
Instructions
To prepare the marinated chicken:
Mix all the marinade ingredients together (olive oil, vinegar, herbs, garlic, salt and pepper) in a gallon-size zipper-lock plastic bag. Add the chicken breasts and turn to coat. Refrigerate, turning a few times, for at least 3 hours up to 24 hours.
To grill the chicken (can be made ahead):
Preheat gas grill on high with the lid closed for 15 minutes or until very hot. Clean the grill grate with a brush. Using tongs and paper towels soaked in vegetable oil, wipe the grates with the oil to prevent sticking.
Turn the heat to medium and grill the chicken for about 6-8 minutes, then turn and continue cooking for another 5 minutes or until clear juices are visible and the chicken is cooked through.
Tent the chicken with foil and allow it to rest for 15 minutes. Slice and keep warm while preparing the Alfredo sauce. The chicken can also be made ahead of time and refrigerated until needed. If refrigerated, bring the chicken to room temperature for 30-minutes before adding to the sauce. There is no need to rewarm as it will be added to the hot noodles and sauce in the end.
To prepare the sauce:
Heat a large pot of water on the stove to cook the fettuccine while preparing the Alfredo sauce
Pour 1 cup of milk, ½ cup of heavy cream and the butter in a medium sauce pan. Cook over medium heat until the mixture simmers. Reduce the heat to medium –low and simmer gently until the mixture is reduce to about ¾ cup, about 20 minutes. Off heat, stir in the remaining ½ cup of cream, salt and pepper.
Meanwhile, add the pasta to the boiling water and cook until done (according to package instructions.) Reserve ¼ cup of the pasta cooking water then drain the pasta. Return the fettuccine back to the large pot and add 2 tablespoons of the reserved pasta water. Toss to coat and cover to keep warm.
Return the cream mixture to simmer over medium-high heat, and then reduce to low and add the parmesan cheese. Cook over low heat until the parmesan is melted, about 2 minutes. Add the remaining 2 tablespoons of pasta water to the Alfredo sauce and pour over the cooked fettuccine. Toss the pasta and Alfredo sauce using tongs to mix. The sauce may seem a little thin but will thicken as it cools.
Divide the fettuccine between 4 warm bowls and top with ½ a sliced chicken breast on each serving. Serve immediately garnished with chopped parsley leaves, fresh ground pepper and more parmesan if desired.
Notes
Alfredo sauce does not heat well in the microwave. If reheating Alfredo sauce on its own, allow for it to come to room temperature and then add hot pasta or vegetables to the sauce. That should warm it enough. If necessary, you can reheat in the microwave on low power. Do not overheat.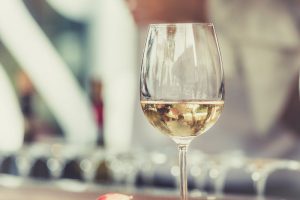 Wines that pair well with Chicken Alfredo
What you eat impacts the flavor of the wine you are drinking with it, and some wines might even overpower the food you are eating. When pairing your wine with your food, it's important to balance the flavors of each. Chicken Alfredo is a heavy, creamy and cheesy dish, so you'll want a heavy, full bodied wine to match.
Pinot Grigio
Pinot grigio from Italy's Friuli region tends to be acidic and crisp with a pronounced minerality, which pairs well with the creamy, buttery Alfredo sauce. Lanza Pinot Grigio from Suisun Valley California is light and refreshing, with notes of floral, fresh lemon and pear. Its great mouth feel makes it food friendly, and since pinot grigio has a decent amount of acid, it can stand up to the savory personality of the Alfredo sauce without it losing its refreshing flavor.
Barbera
There is no rule book that states you have to pair a white wine with your creamy chicken Alfredo. Red wine definitely has its place next to this dish, and an Italian Barbera is the perfect wine to step outside the box. Since parmesan cheese is prominent in the Alfredo sauce, it can be rather strong on the pallet and Barbera has the high acid content to compliment this savory, cheesy dish.
Chardonnay
As long as it hasn't been aged in oak, Chardonnay will pair nicely with Chicken Alfredo. Creamy pasta dishes and oaked wine just do not mix. A chardonnay with more restraint is a much better choice. Most Chardonnays have a buttery characteristic which goes perfectly with the buttery flavor of the Alfredo sauce. A great choice would be an unoaked Chardonnay from the Burgundy region of France. For a tasty restrained Chardonnay, try some Mettler Ranch Chardonnay from Lodi or the Wooden Valley Winery Chardonnay from Suisun Valley.
Viognier
An appealing wine partner for chicken Alfredo is a dry Viognier. It tends to be bone dry and high in alcohol, which allows the wine to hold its own when paired with a strong Alfredo based dish. Violet, apricot and spice are a few characteristics of Viognier's flavors that give it its full body feel. California produces a delicious Viognier, but some of the best comes from the Northern Rhone region of France.
Making your own wine to pair with your homemade
Chicken Fettuccine Alfredo
Musto Wine Grape Company, LLC is New England's largest supplier of home winemaking products and services. Come visit us at 101 Reserve Road in Hartford, Connecticut to shop for all your wine grape, juice and equipment needs! Select your grapes from our fine variety, and we will help you every step of the way – from crush to bottle. Never made wine before? No problem! Sign up for our Winemaker's Bootcamp, where you can learn all the ins and outs to winemaking. Call us at (860) 278 – 7703 or email us at sales@juicegrape.com to get started. We look forward to hearing from you!
Pairing your homemade wines with your Thanksgiving meal can be tricky. Check out some of our wine and food pairing suggestions to help you show off your delicious wine!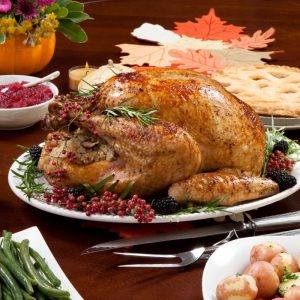 Turkey:
Light Reds, Medium Reds, and Rich White Wines pair well with Chicken and other White Meats like Thanksgiving Turkey. Your Pinot Noir, Gamay, Grenache, Chardonnay, or GSM Blend would be a great compliment to the meal.
Beef:
Beef, Cured Meats, and Smoked Meats pair best with Medium or Full Bodied Reds. Try your Zinfandel, Cabernet Sauvignon, Castel del Papa, or Italian Blend.
Fish:
Yes, red wine CAN be paired with fish! Try a Light Red or a Light Dry White such as your Gamay or Pinot Grigio.
Carbs:
Most Carbohydrates can pair with most wines. It really depends on the sauce. Try your Cabernet-Merlot Blend or Il Toscano to balance and enhance the flavors of a tomato sauce.
Vegetables:
A Light White or Med-Light Red will compliment most vegetables – whether they are roasted or dressed. Try your Viognier or Grenache.
We want to wish you and your family a very Happy Thanksgiving. We hope it is a wonderful day filled with family, friends, and great homemade wine!
Cheers Winemakers!