There are two main steps to Adjusting and Balancing Must, which consist of adjusting your Brix and adjusting your pH/TA. We'll cover what they are, what they mean, and how to do both.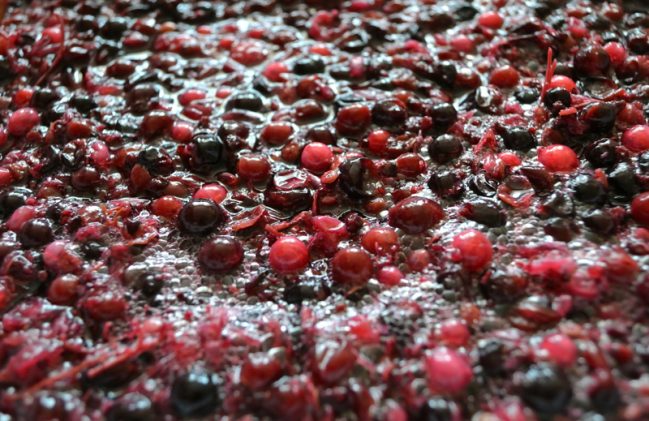 Where to start when Adjusting and Balancing Must
Firstly, you'll need your starting numbers. You'll have to measure your Brix, pH, and TA. To measure your Brix, you can use a Triple Scale Hydrometer. To measure your pH and TA, you'll need a titration setup or an acid test kit, and some mathematical skills. If I lost you at math skills, don't fret – Musto Wine Grape Company offers a wide variety of testing including pH and TA testing!
What are Brix, pH, and TA?
Brix is a measurement of the sugar content within your must. This indicates the degree of the grapes' ripeness at harvest. The higher the Brix, the higher the alcohol content in the finished wine. To get an alcohol conversion level, simply multiply your Brix by .55. pH is the measurement of the ripeness in relation to acidity. A low pH wine is crisp and tart, while higher pH wines are more prone to bacteria growth and spoilage (3.9 pH and higher). Wine generally falls between 3 or 4 on the pH scale, with 3 – 3.4 being the average for white wines and about 3.3 – 3.6 for reds. Finally, TA is measuring acidity by volume. TA stands for Total Acidity. Usually, the higher the pH the lower the TA and vise-versa. This is not always the case though, and you may need to make adjustments to your must. Hold tight, how to do that is next!
How to Adjust and Balance Must
If you need to lower your TA, we recommend using Potassium Bicarbonate. Adding Potassium Bicarbonate to your must will reduce acidity. Make sure to add slowly, as it foams significantly. It is also recommended to add to water first, then add the mixture to your must.  Under typical conditions and normal use, Potassium Bicarbonate neutralizes Tartaric Acid. It's best used when the TA is high and pH is low, due to the fact it causes an increase in pH. It also adds potassium to the must and that requires cold stabilization. Potassium Bicarbonate can contribute to tartrate instability in wine, which is also why cold stabilization is recommended. It is also good to note that the addition of Potassium Bicarbonate will cause a reaction in the wine which will vary from wine to wine and the pH will not shift in a predictable manner. Bench trials should always be done first when attempting to adjust pH.
To lower pH, the most effective method is to add Tartaric Acid. If both TA and pH are too high, tackle the pH. The pH is more critical to the wine chemistry. This addition also requires bench testing to find the best addition.
To raise the brix, we can add table sugar to the must, be sure to dilute the sugar first with hot spring water before adding it to the must or juice. There are good formulas available to calculate sugar required based on the brix you are trying to achieve.
To lower the brix, we will add spring water to the must to "dilute" the high sugar content in the must or juice. Just beware there is a limit on how much water you can add to a must or juice before you reduce the wine quality. There are also good formulas for this adjustment too.
For exact measurements and instructions, follow the directions on the manufacturer's packaging, contact a winemaker at Musto Wine Grape Company for assistance, or download our Full Class offering at WinemakingInstructions.com.
We're here to help when you need it
As stated above, Musto Wine Grape offers a variety of products as well as services including testing and support. Email winemaker@juicegrape.com or call (877) 812 – 1137 to speak with someone who can assist you.