What is the difference between Cleaning vs. Sanitizing?
This is a discussion we have with customers constantly. Cleaning your equipment means that you have removed all of the visible dirt and residue on your equipment. Sanitizing means you have treated your equipment with a chemical solution that will eliminate, or prevent the growth of spoilage organisms. You MUST clean your equipment before sanitizing the equipment, since you cannot properly sanitize equipment with visible residue on it.
Below is a video from our online classes – WinemakingInstructions.com that talks about and shows you step by step how to clean and sanitize your equipment.
Interested in making your own wine? Musto Wine Grape Company is here to help! Musto's New England's largest supplier for home winemaking products and services. Visit juicegrape.com or give us a call at (877) 812 – 1137 to learn more.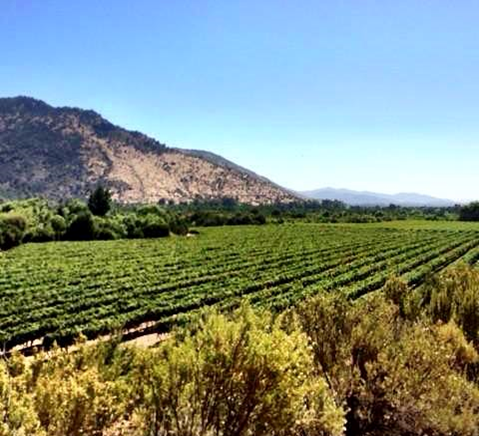 The Spring Harvest is underway! It's time to get yourself set up for your Spring fermentations.
Plan out your batch

What kind of wine do you want to make?
Review your ferementation notes from previous seasons
Taste wines from Chile and South Africa for inspiration

Review how to adjust your must

Adjusting your Brix, TA, and pH
Take an online class if need a referesher

If making wine from juice, decide on

Fresco

vs. Non Fresco Juices

Decide on the type of yeast you want to use

For Chilean grapes we always suggest using the

CSM

yeast
For Pinotage grapes we suggest using

D254

yeast

PRE ORDER

Give us a call at 877-812-1137 or email us at sales@juicegrape.com

Think about the temperatures in your cellar

Do you need extra heat?
Do you need AC?

Keep an eye on the Harvest Tracker for updates on the Spring Harvest
Interested in making your own wine? Musto Wine Grape Company is here to help! Musto's New England's largest supplier for home winemaking products and services. Visit juicegrape.com or give us a call at (877) 812 – 1137 to learn more.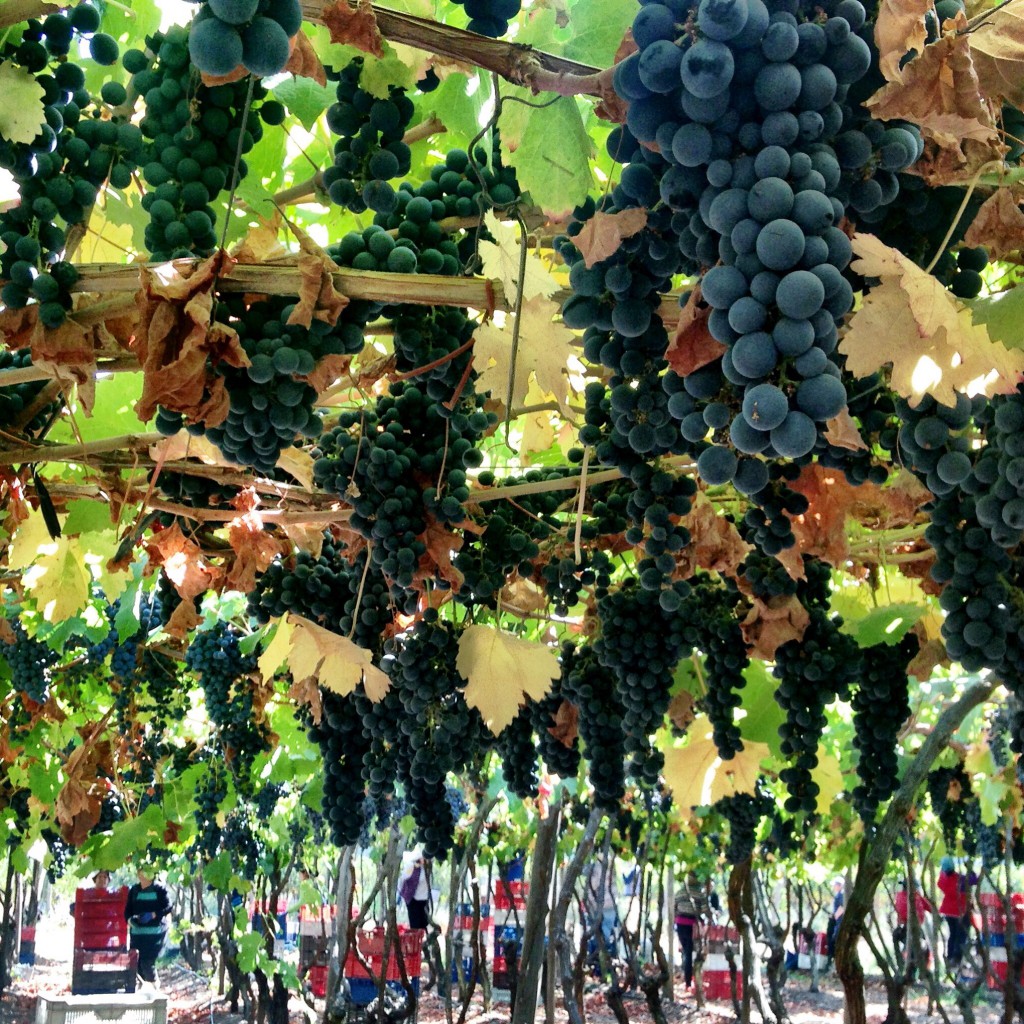 Chilean Syrah from Colchagua Valley has received high praise from publications like Wine Enthusiast, earning 93+pts. It's a wine variety that is often overlooked from Chile and is a wine worth making this season. Chilean Syrah boasts flavors of plum, wild berry, and earth aromas. I highly suggest introducing this wine to oak barrels or an oak infusion. The medium acidity and powerful aromas are complemented by the French Oak flavor profile.
Yeast Suggestion: CSM yeast
Oak Suggestion: French oak barrels or chips
Wine Flavor Profile: Bold, medium tannins, blackberry, plum, wild berry, leather, smoke, chocolate, and oak
How to Make Syrah Wine from Chilean Wine Grapes:
Crush

Syrah

grapes into a sanitized bin or tub. (Each 18lb crate will make 1.25 gals of finished wine).
Apply 50ppm of

Potassium Metabisulfite

and stir well. Allow to sit for 8-12 hours.
Apply .5ml of

Color Pro Pectic

enzyme per box diluted into a 10% solution with water to the must and stir. Allow to sit for another 8-12 hours.
Mix

Booster Rouge

,

FT Rouge

, and

Opti-Red

, with spring water until it is the consistency of pancake batter and pour over top of crushed grapes. Mix in well.
Add rehydrate

CSM yeast

(1g/gal) with

Go Ferm

rehydration nutrient and warm water. Allow to sit for 15 minutes and pour over top of crushed grapes.
Punch down grapes 3 times per day throughout the duration of fermentation and monitor temperature and Brix levels daily. Use a

hydrometer

to test sugar content in a strained juice sample. Make sure the temperature does not exceed 85F.
One day after adding the yeast, add

Fermaid O

, mixed with spring water into the pancake batter style slurry. Dump into grapes during a punch down.
After the depletion of 1/3 of the Brix (when the Brix level is between 16-11), add Fermaid O that is mixed with spring water into the pancake batter style slurry. Dump into to grapes at a punch down.
Add

Malo-lactic bacteria

the same day as the

Fermaid K

. If you are using liquid cultures, just pour over the grape must and mix. If you use the dry cultures, rehydrate them in warm spring water according to their specific directions, utilizing any rehydration nutrients recommended.
When the Brix have dropped below zero, press the wine into a sanitized tank, carboy, or demijohn. Make sure the vessel is topped up all the way to the top of the neck and sealed properly with a bung and airlock.
Rack after 48 hours and then again in a week. Allow MLF to complete before adding sulfites.
Allow the wine to age and rack it every 2 months and add sulfites when racking.
Add oak infusion after 2nd or 3rd racking. Taste test along the way until the oak profile is where you want it to be.
Interested in making your own wine? Musto Wine Grape Company is here to help! Musto's New England's largest supplier for home winemaking products and services. Visit juicegrape.com or give us a call at (877) 812 – 1137 to learn more.
Happy first day of Spring Winemakers!
Our California grapes are starting to go through bud break.
Here is a nice view of our Cry Baby Thompson Seedless and Grenache grapes "waking up" 🍇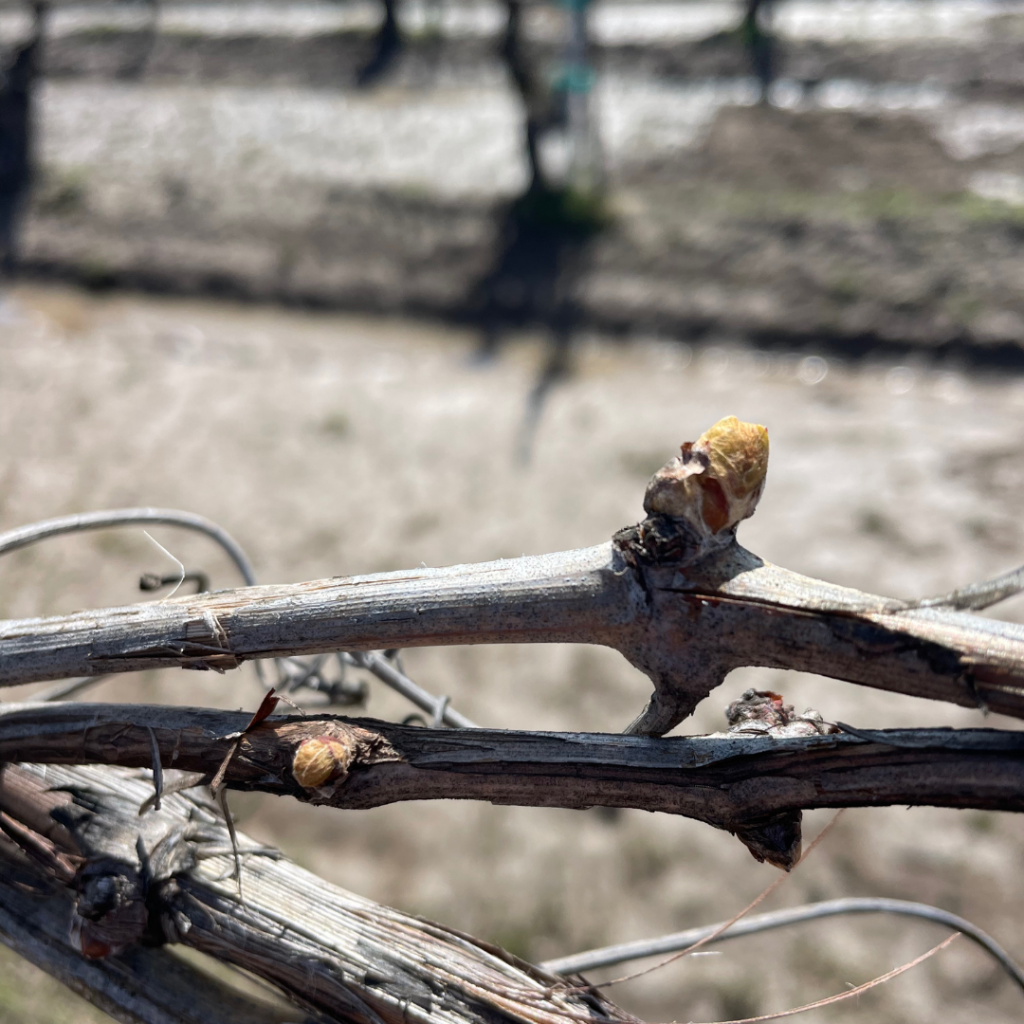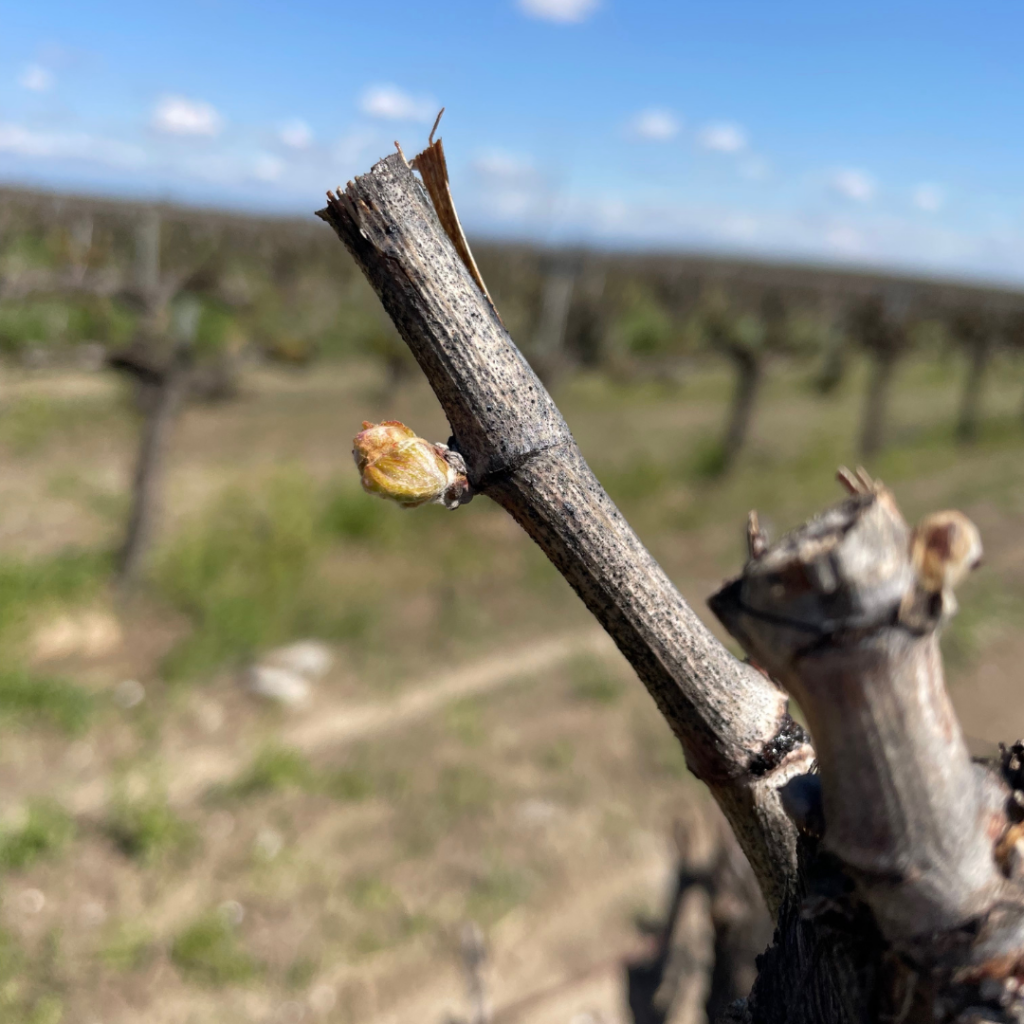 Bud break is the start of the grape vine's annual cycle. It is a relaxing time in the vine's life as long as they don't experience any intense weather occurrences, such as frost. Frost can kill the buds or delay their growth.
Interested in making your own wine? Musto Wine Grape Company is here to help! Musto's New England's largest supplier for home winemaking products and services. Visit juicegrape.com or give us a call at (877) 812 – 1137 to learn more.

Product Spotlight: CSM Yeast
CSM yeast was derived from Bordeaux and helps create a vibrant aromatic profile. CSM aids in adding complexity to the palate and pairs well with malolactic fermentation.
Why you want to use it:
It's the perfect yeast for the Chilean fruit. It reduces vegetal aromas, adds complexity, stabilizes color, and helps increase the aromatic profiles of berries and spices.
Use Tips:
Fermentation starts quickly with this yeast. Be prepared to see Brix drop 24 hours after inoculation. It can stand up 14% ABV and can handle temperatures from 59–90°F. However, I highly suggest keeping your fermentation temps lower than 75°F. Once you hit 80°F you lose aromas and "burn off" flavors. Keeping your wine between 59–75°F during fermentation is a best practice.
You also want to use nutrients when using CSM; nutrients such as Fermaid-O and Fermaid-K. CSM tends to produce H2S (rotten egg smell) if there aren't enough nutrients during fermentation.
Avoid cold shocking the yeast at inoculation. You'll want to get the must and the yeast starter within a few degrees of each other before pitching the yeast starter. But without temperatures falling lower than 55°F. Temps below 55°F could stall fermentation and/or kill the yeast.
Goes best with:
CSM was cultivated to help ferment Cabernet Sauvignon, Cabernet Franc, Grenache, Merlot, Sangiovese, Petit Verdot. However, we have seen it used on Carmenere, Malbec, and Syrah from Chile with great results.
Dosage:
6gm/gals
Flavor Profile:
Cherry pit, raspberry, blackberry, spice, violet, bark, and sweet pepper
Ready to make wine? Musto Wine Grape Company is here to help you make the wine of your dreams! The Spring South African & Chilean winemaking season starts soon! Secure your winemaking grapes or juices and give us a call at (877) 812-1137 to speak with one of our Musto Crush Crew members. We can get you set up with everything you need and provide customer support along the way to ensure your success!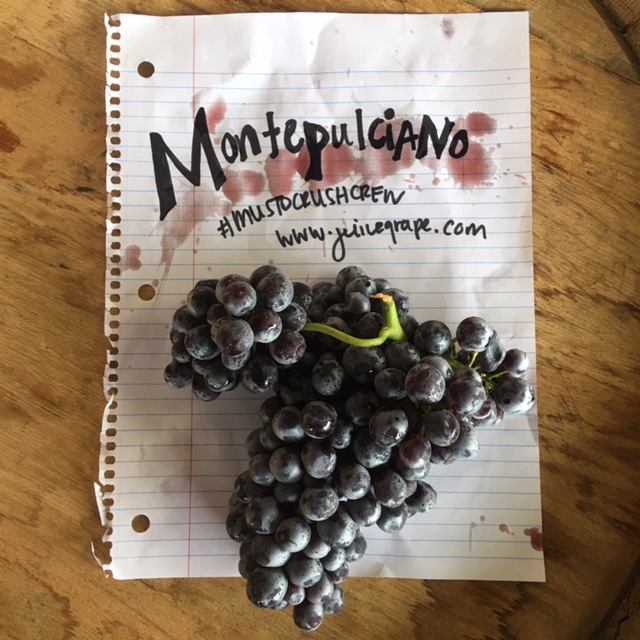 Montepulciano 2020 By Joseph A. Picone, DMD
I had the pleasure to obtain 10 (36lbs) cases of Montepulciano grapes from Musto Grapes (Frank Musto) on October 10, 2020. Making wine using the many varieties of first class Musto sourced grapes has been an Annual fall event for the Picone family and our friends for the past 30 years or so. Over the years, I have made Cabernet Sauvignon, Merlot, Old Vine Zinfandel, Sangiovese, Malbec, Reisling, Chardonnay, Sauvignon Blanc, Moscato, and White Zinfandel to name a few. Each having their own unique qualities to enjoy. Frank and his crew are great in providing all the resources and guidance needed for the first-time wine maker all the way to the seasoned-pro. I was fortunate to have taken a one semester class years ago at Naugatuck Community College on Wine Making given by Bob Herold which together with Frank's support team has allowed me to create some delicious wines over the years.
I would like to share my experience with you on making this year's Montepulciano 2020.
The grapes were outstanding. The Brix reading on the refractometer was 25. The clusters were full and the berries were a beautiful deep purple. The boxes were well packed with few if any leaves. We crushed the 360lbs of grapes and immediately added some potassium metabisulphite to kill any wild yeasts. My crusher is also a destemmer, so all the stems were separated from the must during this process. The pH of the must started at 3.70 which wasn't surprising due to the high Brix reading. I added an appropriate amount of Tartaric acid to bring the pH to a more desirable 3.41 the day of crush. 25 ml of Color Pro enzyme was added at this time as well.
At approximately 24 hours post crush, the Must was inoculated with 35 grams of yeast BM 4X4 in a solution containing GoFerm yeast nutrient. The temperature of the Must at the time of inoculation was 60 degrees F. The yeast solution was well constituted throughout the must. Periodic punching down of the "cap' was done every 6-8 hours throughout the primary fermentation time.
At 48 hours post crush, the Must temp was 66 degrees F at the Brix reading was 23.5. Fermaid O was added.
At 72 hours post crush, the Must temp was 75 degrees F and the Brix reading was 20. Fermaid K was added.
At 96 hours post crush, the Must temp was 82 degrees F and the Brix reading was 16. I added oak chips to the vat.
At 120 hours post crush, the Must temp was 78 degrees F and the Brix reading was 8.
At 144 hours post crush, the Must temp was 72 degrees F and the Brix reading was 4. 0.9mg of Malolactic culture VP41 was added to the Must and thoroughly mixed in.
At 168 hours(7 days) post crush, the Must temp was 70 degrees F and the Brix reading was 3. The Must and remnant skins were carefully pressed using a bladder press. The raw yield was approximately 27.5 gallons. The Must was placed in cleaned and sanitized demijohns utilizing airlocks to allow CO2 to escape while fermentation progresses, albeit very slowly. The residual skins were heavily consumed during the fermentation leaving behind very little structure. The color extraction was excellent and provided a deep rich purple wine. More Oak chips were added to each of the glass carboys/demijohns.
The slow fermentation in the demijohns went uneventfully and at 2 months, careful racking was accomplished and an appropriate amount of Potassium Metabisulphite was added to help kill off any more yeast cells(30ppm).
At 6 months post pressing, another racking was accomplished without the addition of any sulphites.
At 9 months, I have just begun bottling and I am very pleased with the wine. It is a crystal clear, deep purple, medium to full body, somewhat fruity flavored wine. I expect it to pair well most any dish but have enjoyed it with pasta, pork, veal, and chicken thus far.
Sincerely,
Joseph A. Picone, DMD
Thank you Joseph for sharing your Montepulciano winemaking experience! If you would like to make Montelpuciano emails sales@juicegrape.com or call 877-812-1137.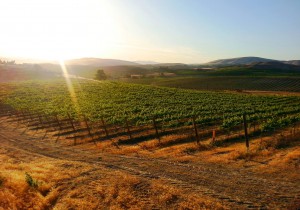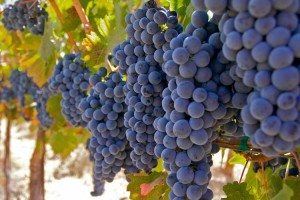 Extra, extra, read all about it – we will have Washington Wine Grapes This Year!
Specifically Own-Rooted Merlot from the Rattlesnakes Hills in Yakima Valley.
About the Soil:
The surface layers of vineyard soils are based primarily in loess, which is mostly wind-deposited silt and fine sand derived from the sediments of the 'Missoula' ice age floods. The content of the soils consists of a mixture of minerals derived from both the local basalt bedrock and the granite and limestone of northern Idaho and Montana.
Most of the soils are classified as silt loams (mostly Harwood-Burke, but also Weihl and Scoon), which are low in clay. The low clay content creates well-drained soils, encouraging the vines to root more deeply, a factor generally associated with high quality grapes and wines. It also creates an inhospitable environment for phylloxera, an aphid-like pest that feeds on the roots of grapevines. Due in large part to the clay-poor soils, the Yakima Valley is one of the few places on earth where European wine grapes (such as Cabernet Sauvignon, Merlot, and Pinot Noir) can still be grown on their own roots, also a factor generally associated with high quality.
The shallow soil profile contains large chunks of calcium-caked gravel and calcium carbonate horizons called "Caliche". In most areas, the caliche forms a conspicuous white layer under the topsoil that adds mineral complexity. The deep roots of the vines penetrate through the surface layer of loess, which averages 18 inches in thickness throughout most of the vineyard, and into the underlying calcium-rich substrate. This gravelly, high pH substrate forces the vines to struggle, an additional factor associated with high quality grapes and wine.
About Being Own-Rooted:
An Own-Rooted vine is a vine that has no rootstock. This is not common in most wine regions around the world. The rootstock & vine grafting was necessary at one point to protect from specific diseases such as Phylloxera. The Washington soil type is made up of a fine silt loam which Phylloxera hates – this is why they can plant Own-Rooted vines.
It is said that there are differences in the wines from Own-Rooted vs. Rootstock Grafted Vines. There is much debate around this issue. It looks like you will have to be the judge! 
About the Merlot:
The Merlot Clone coming from this vineyard has clusters that are small to medium in size. The berries are small and round. This clone produces a high vigor vine that creates a dense canopy. Yield is usually around 3-5 ton acre depending on the growing season.
The clone produces a soft, full-bodied, fruity wine full of many different complexities. A great Merlot that can stand alone and age – or be added to a blend to give the wine that extra punch of structure.
ARRIVING to Hartford, CT Early Next Week: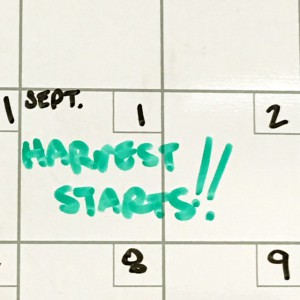 8/29/2016:
LODI
Costamagna Chardonnay
Lodi Gold Grenache
Valley Beauty Barbera
Smiling Baby Merlot
Valley Beauty Zinfandel
9/1/2016:
LANZA – Suisun Valley
CENTRAL VALLEY
Cry Baby Muscat (42lb)
Muscat King (42lb)
Cry Baby Thompson Seedless (42lb)
Lugano Old Vine Zinfandel
Lucerne Old Vine Zinfandel
JUICES from LODI
Call 877.812.1137 or email sales@juicegrape.com for more information
It looks like Mother Nature is excited to get her winemaking on because the grapes are ripening early and fast! Download our E-Book for the ENTIRE list of wine grapes and juices we will be bringing in this fall HERE –> MWG_2016 Harvest Menu E-Book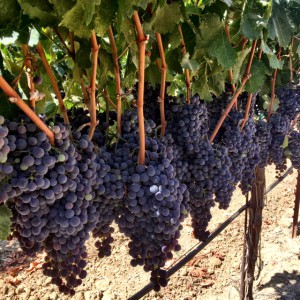 Mini Harvest Report:
Central Valley & Lodi: Brix are in the high teens. We are expecting to have grapes in Hartford, CT as early as September 7th.
Suisun Valley, Paso Robles, Contra Costa, Amador, Sonoma, and Napa: The whites will be harvest on September 1st and should be to Hartford, CT on September 7th. The red grapes are maturing well. The Brix are creeping up there. We think that we are still on track for a September 15th harvest date, with the grapes arriving in Hartford, CT as early as September 20th.
Juices: California juices will start arriving on September 7th. We hope to see the Italian juices sometime in the first week of October.
Prices: The grape and juice prices will be available by August 16th. Please give us a call at the office to secure your order.
We look forward to working with you this fall. If you have any questions please do not hesitate to contact us at 877.812.1137 or sales@juicegrape.com