Annual Winemaker Awards Dinner Update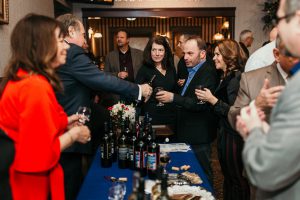 Our Annual Winemaker Awards Dinner tickets are on sale!
Get ready for a night of celebration, dancing, great food, raffles, and of course – wine tasting! We will have more details to follow with which items we will be raffling off. Also, we have a NEW feature to our Winemaker Awards Dinner this year. Every year our growers fly out and pour wine for you. But this year, if you would like, we want to invite you to pour your wines for guests and growers as well! We will have a few tables set up for you to pour your own wines during the tasting portion of the event. Please email cmusto@juicegrape.com and cmulryan@juicegrape.com to reserve your spot to pour your wines. They will set up a special table and materials just for you!
We hope to see you at this year's dinner!