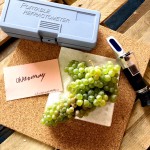 Hello Winemakers!
Below are the Brix numbers for the White Wine Grapes from Chile. We received Chardonnay, Pinot Grigio, Sauvignon Blanc, and Viognier early this morning. We are looking forward to you all picking up and enjoying the white wine grapes of Chile! It looks like it's going to be a great vintage!
Chardonnay: 22.5
Pinot Grigio: 23.5
Sauvignon Blanc: 23.0
Viognier: 22.5
The reds should be arriving in early May, we will keep you updated as soon as the grapes clear customs! Keep an eye on our blog, harvest tracker, and social media platforms.
Brix (°Bx) is a way to measure the potential alcohol content of a wine before it's made by determining the sugar level in grapes. Each gram of sugar that's fermented will turn into about a 1/2 gram of alcohol. (description via Wine Folly)
*Please keep in mind these numbers are only sample of what arrived from Chile. Please make sure to take your own Brix readings when you receive your grapes for the best possible fermentation outcome. 
Thank you and Happy Winemaking! 🙂