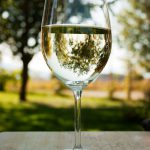 Pectic enzyme at a glance
AKA pectinase
A protein that breaks down pectin within fruit
Added to juice or must pre-fermentation
No notable downside of using this additive
Available in powder or liquid form
Right… but why is it important?
Using pectic enzyme increases juice, tannin, flavor, and color extraction
Aids in clearing wine by eliminating potential "pectic haze"
Who should use pectic enzyme?
If you're making wine of any kind, whether from grapes or any other fruit, adding pectic enzyme will be a positive influence on the end result. Both home and commercial winemakers use pectic enzyme as a means of extracting the most they possibly can from their fruit.
When should I add it?
Since it works more slowly after fermentation has completed, add it beforehand. Add at the beginning of fermentation after temperatures have begun creeping up. It works best at around 80F; lower temperatures.
How much do I add?
For white juice/wine, 1-2g/hL. For red must/wine, 2-4g/hL. It comes in either powder or liquid form; depending on the producer the recommended dosage may be different so always be sure to double check the label before making an add.
What happens if I don't add it?
Simply put, there's no reason to not add it. Not adding it runs you the risk of having a pectic haze develop. This can be very tricky if not borderline impossible to fix later on; adding pectinase post-fermentation will also not work as well, if at all.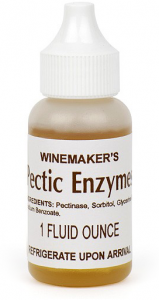 OK, I think I've got it now. But can we go over this one more time?
Adding enzyme post-crush/pre-fermentation increases free run juice, color and tannin extraction in both reds and whites, increases filterability and clarification, and lowers chances of pectic haze development. There are many options you can choose from for your pectic enzyme needs, either powder or liquid form.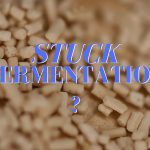 Many a winemaker has lamented the dreaded stuck fermentation. With so much to deal with during harvest time, the last thing you should be worried about is a ferment that has just up and quit. But sometimes it happens – knowing what to do when it does will be a life saver during an otherwise potentially unfortunate moment in a wine's life. We're here to walk you through how to handle this, what to do, and most importantly, how to do it.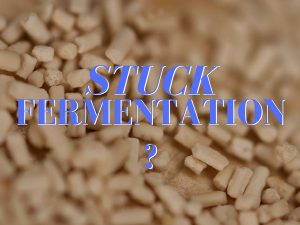 Step 1: Think about why it may have gotten stuck
This is going to help you moving forward, both with this wine and with future ferments. Was there too much sugar in the juice or must to begin with? Was the fermentation temperature too cool or too hot? Did you choose a yeast that doesn't do well with high sugar levels? Were nutrient levels too low?
Considerations before restarting
Adding lysozyme can halt spoilage organisms which are often present in sluggish or stuck fermentations
Resuke can lower toxin levels that have accumulated which will give you a better chance for a healthy restart. If you add this you will rack off of it 1-2 days later.
Incorporate Go-Ferm and Go-Ferm Protect Evolution to ensure health of ensuing restarting fermentation
Carefully choose what yeast you will re-pitch with. 43, 43 Restart, Fermivin Champion, K1 (V1116), Vin 13, BC, and DV10 are great choices.
Step 2. Add a complex yeast nutrient
This is going directly into the stuck wine tank. If you think you may have a spoilage bacteria problem, this is the time you would be adding lysozyme.
Step 3. Combine equal parts stuck wine and water in another vessel
This is known as the "mother restart tank." At this moment it will be totaling 2% of whole volume.
Step 4. Rehydrate yeast nutrient + yeast as you would when pitching yeast the first time
This is the exact same process you did during the initial yeast pitch.
Step 5. Add the yeast to the mother restart tank
As always, there should be a <18F difference between the yeast mixture and the mother restart tank liquid temperature.
Step 6. Add 10% of the stuck wine to the starter culture
Wait 20-30 minutes.
Step 7. Add 20% of the stuck wine to the starter culture
Wait 20-30 minutes.
Step 8. Repeat until the remainder of the stuck wine has been added to the mother restart tank
Don't skimp on waiting the 20-30 minutes at each of the following steps. Give it time to acclimate!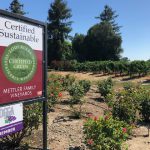 So, you want to learn more about Lodi wine region?
Are you are interested in California wine? If so, chances are you've been on the up and up with what's happening in Lodi. A fantastic climate, strong traditional roots, and multiple generations of winegrowers are paving the way for sustainability measures. This has led to the creation of the LODI RULES seal, a green stamp appearing on the back labels of certified wines much as you would find a "USDA Organic" sticker. Click here to see which of our Lodi wine grapes are LODI RULES certified –> LODI RULES – Musto Wine Grape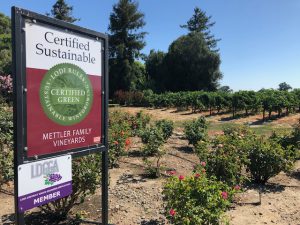 As California's original sustainable viticulture certification program, this seal is representative of a producer's commitment to stewardship and respect for the land. It is a symbol of transparency in all things related to sustainable viticulture. The certification does not approve only one aspect of winemaking. It looks at the whole of the process, from farm to vine to bottle. While over 150 wines bear the LODI RULES seal, not just any winery can use this seal on their labels. The wines must have 85% certified sustainable grapes and be able to prove this. This then gets confirmed through third party accreditation and auditing.
There are two layers to the accreditation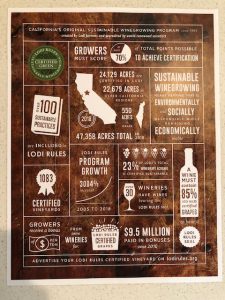 1. Wineries must agree to "The Standards" of the certification, which include 100+ sustainability measures, in addition to following a unique pesticide risk model. The Standards are comprised of sustainability related to
business
human resources
ecosystems
soil
water
pests
2. Wineries must follow the Pesticide Environmental Assessment System (PEAS), used to gain an understanding of the impact of pesticide use within the vineyard. This is then used to generate a quantifiable environmental impact unit through which the effects and range of pesticide application can best be understood within the local ecosystem.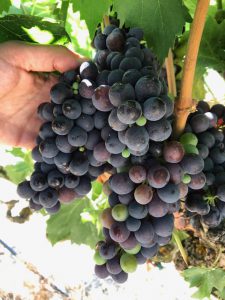 The Lodi AVA is setting a fantastic example by supporting the land that retains some of this country's oldest vines. Lodi Rules is imparting a new standard in its meticulous regulations, leading other wine regions following suit after realizing how successful this certification has been for the region. Keep up to date with the progressive measures this winemaking region is taking to best care for their land, and be sure to look for the LODI RULES label on your next Lodi bottle. And this fall, be sure to find your very own Lodi wine grapes here at Musto Wine Grape Co.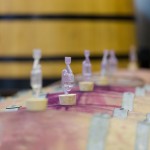 What's the Winemaker's Think Tank?
Every Thursday we will post about a few frequently asked questions that our winemaker has answered. If you have a winemaking question you would like to have answered, please email us at support@juicegrape.com and we will try to get into next week's post. Cheers! 🙂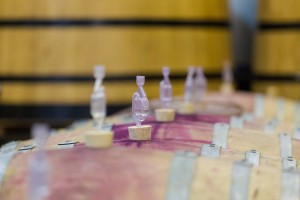 How do I know if fermentation is complete?
It is often easy to see visual signs of fermentation:  from activity in the airlock, bubbles, and the formation of a cap to the aromas of yeast and carbon dioxide, the wonders of fermentation are succinct observation.  But how does the home winemaker know when the fermentation is complete? The simplest way of seeing if fermentation is complete is to taste the wine and observe if there is any sweetness to it. If there is still sugar that you can taste, the yeast have not yet completed their job. The most accurate and scientific way of seeing if fermentation is complete is to take a measurement of the Brix via a hydrometer. A hydrometer is a glass instrument that reads sugar content via the hydrometers buoyancy in wine juice. The juice sample should always be placed into a sanitary, cylindrical shaped vessel. As the wine ferments, yeast consumer sugar and excrete alcohol, making a thinner, less dense liquid. At the beginning of fermentation, the hydrometer will not sink very far into the wine. The sugars within the juice make it thicker and the hydrometer will float on top of the juice. As fermentation progresses the new wine becomes less dense and sugary, allowing the hydrometer to sink down into the liquid. When the fermentation is complete, the hydrometer will sink down into the liquid to the 0 mark, if not farther. When reading the hydrometer, spin it slightly in the cylinder to dislodge any bubbles that may cling to the sides of the hydrometer. Observe where the meniscus of the wine falls on the gradients of the hydrometer. This will give you your sugar level in degrees Brix of the fermenting wine. When the hydrometer sinks to zero or below, the fermentation is complete and you can rack the wine.
We hope this information helps with your winemaking. If you have any follow up questions or winemaking questions in general, please email us at support@juicegrape.com.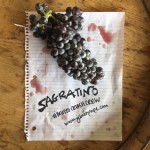 Our Italian Wine Grape Clones has finally arrived from Contra Costa. Located below Suisun Bay and East of the Oakland Hills, Contra Costa is the premier growing area for Italian varietal wine grapes. Many of the vines grown in this area are considered ancient. The Mediterranean climate produces wines with bold features and good color. The soil is deep and sandy, making the grapes fight for their water, only increasing the intensity of the fruit. Think big bold reds, with leathery notes, and supple tannins. Quantities are limited, make sure to call ahead so we can secure your order. Ciao!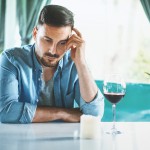 What's the Winemaker's Think Tank?
Every Thursday we will post about a few frequently asked questions that our winemaker has answered. If you have a winemaking question you would like to have answered, please email us at support@juicegrape.com and we will try to get into next week's post. Cheers! 🙂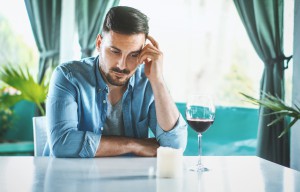 What do I do if I have a stuck fermentation?
                  Sometimes, even though we take great care as winemakers to avoid it, we can get caught with a stuck fermentation. Yeast are incredible creatures, capable of very rapid reproduction, but they do have their limiting factors. It is very important to know the limitations of the certain yeast strain that you are using for your wine. Evaluate your must's pH to ensure that it is above 3.2, the lower pH environmental threshold for most yeast strains. Take into consideration the alcohol tolerance of the yeast that you selected. If you take the initial Brix level and multiply it by .55, you will have a pretty close estimate of your ending alcohol by volume. Make sure that you haven't put in a yeast that is unable to handle the rising alcohol levels of the must. Another important factor to consider is the temperature of the must. All yeast strains have a preferred temperature window in which they like to work and reproduce. Because fermentation is an exothermic reaction, check your temperatures (if making reds always take a measurement under the cap) and be sure they haven't gotten so warm that the yeast may be dying off. The opposite is also true, ensuring that your juice or must have warmed up enough to allow the yeast to begin their processing. Lastly, another important factor to  consider in the health of your fermentation is the nutrition of your yeast. Aside from the sugar that they consume, yeast also need proteins, vitamins, and minerals to complete a healthy fermentation. Using a nutrient, such as Fermaid, will give the yeast the other elements needed to properly process the juice.
                  After the careful evaluation of these factors, you may need to add a small amount of water, nutrients, or heat or cool the must/juice. A winemaker at Musto Wine Grape is happy to help you with the amounts and timing of these additions. If all of these factors have been evaluated and adjusted for, prior to fermentation, and you still have a stuck fermentation, you will need to restart the fermentation. Please contact support@juicegrape.com and a trained winemaker can help you with a restart procedure.
We hope this information helps with your winemaking. If you have any follow up questions or winemaking questions in general, please email us at support@juicegrape.com.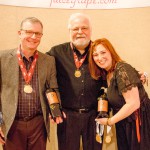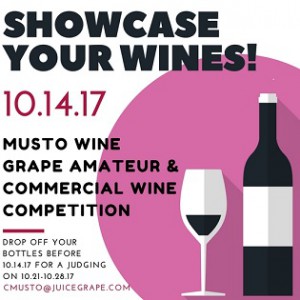 Get excited because our Winemaking Competition is back! We have Certified Sommeliers, Certified American Wine Society Wine Judges, and Professional Winemakers who will be giving you in depth notes about your wines. Our judges are excited to taste your wines and give some awesome tasting notes! We are currently accepting entries and hope to see you soon. If you have any questions about the wine competition please contact Christina at cmusto@juicegrape.com.
The Details: All entries must be delivered to Musto by October 14, 201. The Wine Competition will be held October 21st, 2017.
Download all documents by clicking HERE.
Photos from the last years Awards Ceremony & Dinner….
Dinner Date: TBD – but will be in January in 2018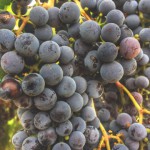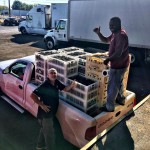 Ever wonder how we prep for harvest?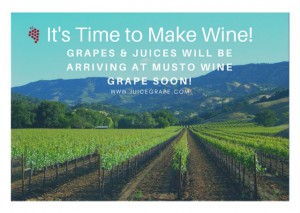 Frank Musto: "I always pick up two new pairs of work shoes in August, make sure I break them in before season. I usually burn through two pairs each season….Food of choice is McDonalds, nothing takes the pressure of a hard day like a Big Mac, large fries, and a diet coke…After Labor day, I kiss my wife good bye, pet the dog behind the ears, and tell them ill see them in late October."
Christina Musto: "I'm usually pestering all of the growers for photos of the vineyards.  Then I get my house into "harvest mode" stocking up on beer, cider, frozen meals, and chocolate. Finally, I treat myself to purchasing a special bottle of Schramsberg Brut Rose as an "in case of emergency" bottle.
Patrick Milio: "I bid farewell to friends and family, stock up on Beer, Bourbon, and Bubbles to enjoy after long days at the shop, and pre-emptively apologize to my digestive system for the terrible nightly takeout meals that are to come."
Colin Mulryan: "I go through all of my old clothes to wear for the season, because it all gets thrown out at the end. And stock the fridge with beer."
Ken Milio:  Our Harvest tradition starts the week before as its time to clean and sanitize last year's Crusher / Destemmer, Fermenting tubs, Must Plungers and other small items. You can tell how much wine was consumed last year by the cleanliness of the equipment this year. On crush day, our tradition is that all involved toast the new season with a shot of " Honey Grappa ". After the crush, we again clean and sanitize the equipment then the drinking and eating begins.
Maureen Macdonald: "Driving to VT to stock up on beer, because nothing is better after a day of processing grapes, than a cold beer. And updating my Peapod account, as who has time for groceries?"
Frank Renaldi: "The first thing I do to prepare for harvest is to think of another way to trick my wife into thinking I am not making a lot of wine. Last year I told her she miscounted the number of cases of grapes on the truck. The year before I told her each case of grapes weighed 10 pounds.
Then I get down to business and take inventory of my supplies and order what I need by July. I also decide on the grapes I want to work with and reserve my order. Then I check all my equipment to make sure it is ready for the big day. I talk to all my wine making friends and we get excited like little kids getting ready for their first day of school – well it does happen at the same time of the year. I think this year I will tell my wife, I had to buy more because the grapes were smaller this year."
Barry St. Pierre:  "First thing is to make and freeze a big pot of chili…for friends who stop by to help or for ourselves when we are too tired to make anything else. Full tanks have to be bottled or moved to free up space for new grapes and wine. Of course we pre-clean all of our equipment, especially our feet…need to be sure to remove all toe jam. By now all supplies are ordered, especially grapes from Musto…I seem to always get yelled at for not ordering early enough. Then sit back, open a bottle of wine, and wait for the grapes to ripen and arrive."
Robert Herold:  "As the harvest/crush/press day approaches, I start fortifying myself with wine several days in advance. For the actual activity day, nothing works as well as beer to make the task go smoothly. To quote a very good winemaker friend of mine, 'it takes a lot of good beer to make a good wine'."