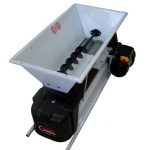 You've got your fresh wine grapes in tow, and now its time to make some wine! If you don't take advantage of our crush and destem service, you'll have to crush and destem your grapes. We offer a variety of crushers, and crusher-destemmers to fit any winemaking project. We'll cover some of our top options to help you determine which one suits you best! The most popular crusher destemmer is the stainless steel electric crusher destemmer. With an electric motor that does all the elbow work featuring an all stainless steel assembly, it is corrosion resistant and will last you for many winemaking seasons to come.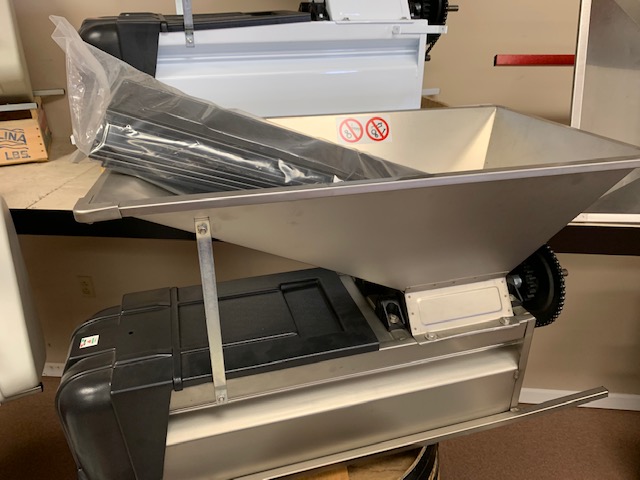 Stainless Steel Electric Crusher Destemmer
This crusher destemmer is motorized, with a stainless steel hopper and body. It has an hourly production rate of 1,500kg (about 3,330lbs). Its electric motor is 100volts/1hp, and it's dimensions are 100 x 550 x 580h mm. The hopper dimensions are 900 x 460 mm and it has a removable protection box. This piece of equipment is a great investment for a winemaker who has plans to crush and destem an average of 50 or more lugs of grapes. With proper cleaning and storage, this machine will last a winemaking lifetime! We also carry the matching stand for our crusher destemmers, in both painted and stainless steel.
If the stainless steel crusher destemmer is a bit out of your winemaking budget, we carry one nearly identical but that is painted: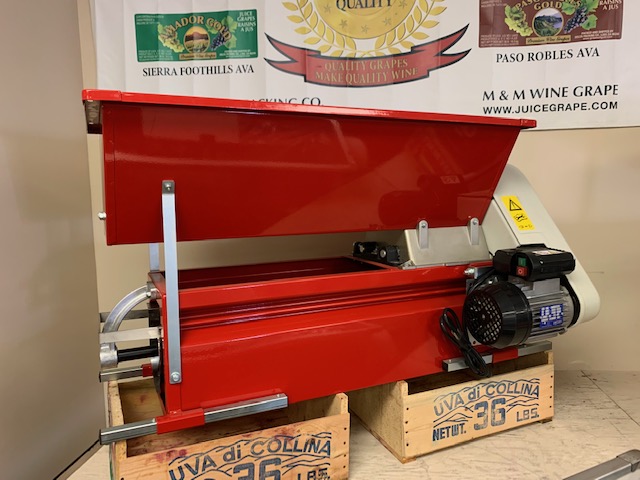 Electric Crusher Destemmer with Painted Hopper and Body
All the specs are identical to the stainless steel crusher destemmer except for the fact that this one is painted steel. The downfall of this machine is that it is susceptible to corrosion if not cleaned and stored properly. With proper cleaning and storage, it will surely last you many years. If you're looking for something in the middle, we have that too!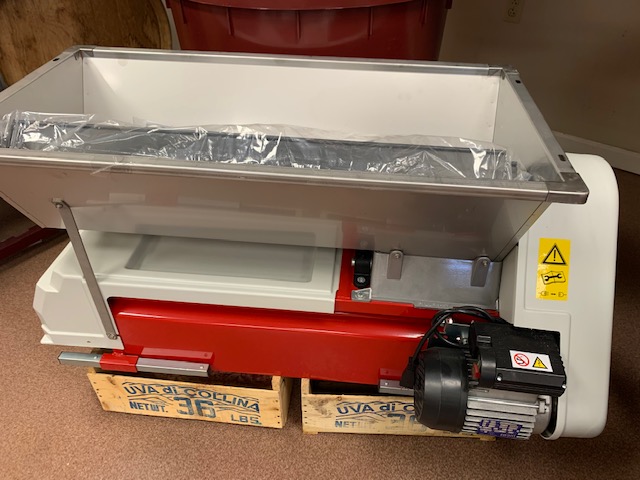 Electric Crusher Destemmer with Stainless Steel Hopper and Painted Body
If you're looking for a slightly more budget-friendly crusher destemmer with that boost of corrosion protection, this stainless steel hopper, painted body crusher destemmer is perfect. Once again you've got identical specs to our other options above, without having to compromise too much on either advantage of corrosion protection or budget.
If you are a home winemaker with less than 50 lugs of grapes on average and a smaller equipment budget, we also carry manual grape crushers and crusher destemmers. They come in the same options as our electric crusher destemmers including fully stainless steel, fully painted, or stainless steel hopper/painted body.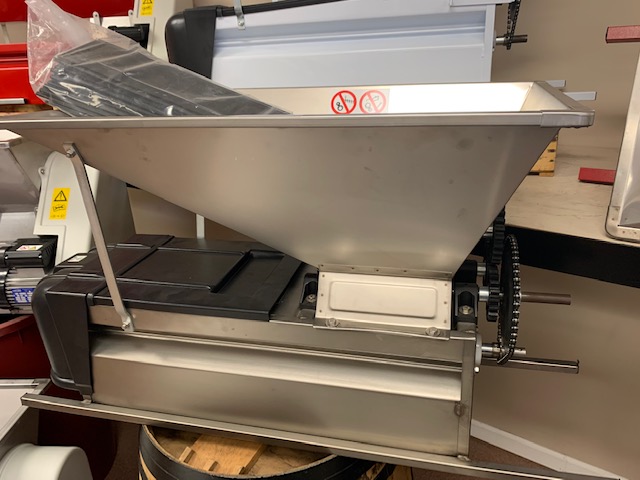 Stainless Steel Manual Crusher Destemmer
The Grifo hand powered crusher destemmer has a hopper size of 900 x 500 mm, and the Aluminum rollers are 220 mm. The hourly production rate is about 700-800kg (1500-1750lbs) and is a great option for a winemaker processing up to about 50 lugs of grapes and is looking for corrosion protection.
Painted and Stainless/Painted Manual Crusher Destemmer
With the same specs as the stainless steel but more wallet friendly, the painted and stainless manual crusher destemmer is a great option.
With lots of options to choose from, Musto Wine Grape has your winemaking needs taken care of.
Interested in making your own wine? Musto Wine Grape Company is here to help! Musto's New England's largest supplier for home winemaking products and services. Visit juicegrape.com or give us a call at (877) 812 – 1137 to learn more.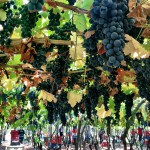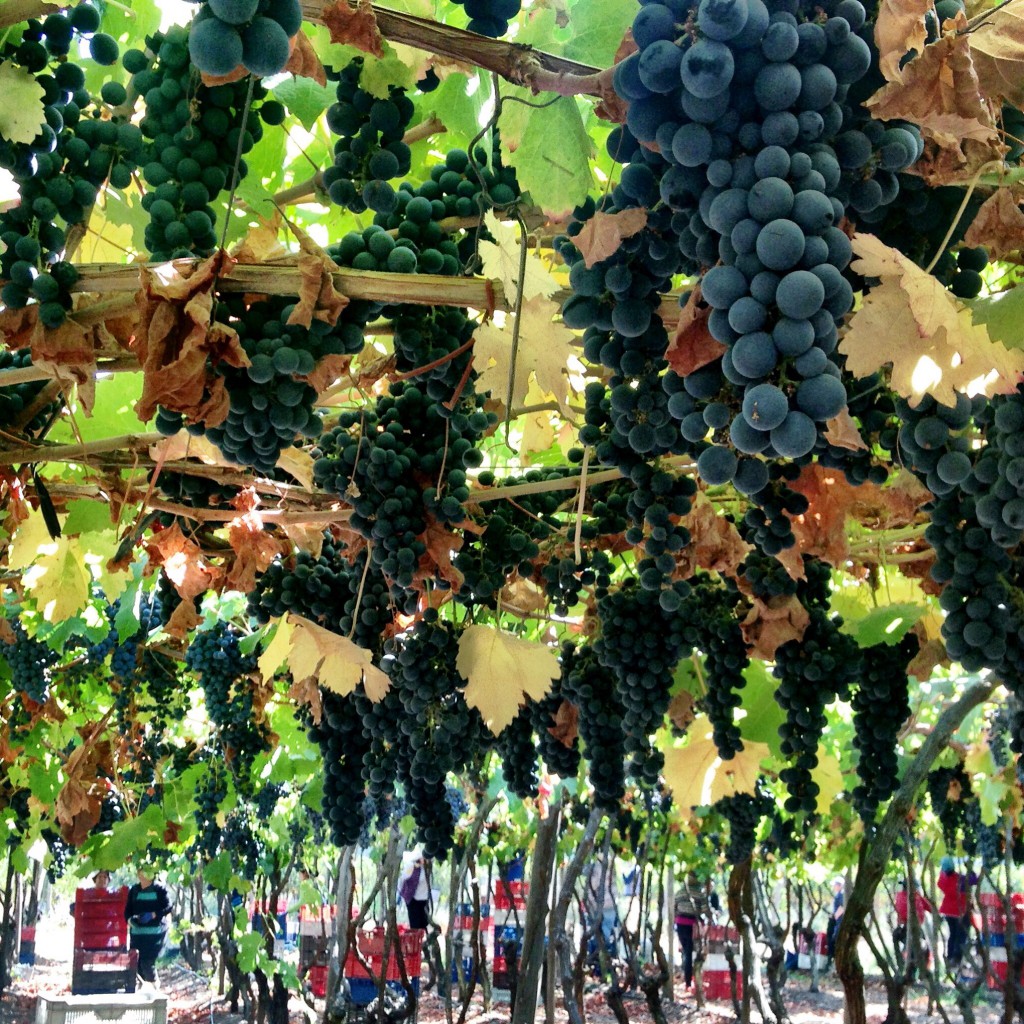 Chilean Syrah from Colchagua Valley has received high praise from publications like Wine Enthusiast, earning 93+pts. It's a wine variety that is often overlooked from Chile and is a wine worth making this season. Chilean Syrah boasts flavors of plum, wild berry, and earth aromas. I highly suggest introducing this wine to oak barrels or an oak infusion. The medium acidity and powerful aromas are complemented by the French Oak flavor profile.
Yeast Suggestion: CSM yeast
Oak Suggestion: French oak barrels or chips
Wine Flavor Profile: Bold, medium tannins, blackberry, plum, wild berry, leather, smoke, chocolate, and oak
How to Make Syrah Wine from Chilean Wine Grapes:
Crush

Syrah

grapes into a sanitized bin or tub. (Each 18lb crate will make 1.25 gals of finished wine).
Apply 50ppm of

Potassium Metabisulfite

and stir well. Allow to sit for 8-12 hours.
Apply .5ml of

Color Pro Pectic

enzyme per box diluted into a 10% solution with water to the must and stir. Allow to sit for another 8-12 hours.
Mix

Booster Rouge

,

FT Rouge

, and

Opti-Red

, with spring water until it is the consistency of pancake batter and pour over top of crushed grapes. Mix in well.
Add rehydrate

CSM yeast

(1g/gal) with

Go Ferm

rehydration nutrient and warm water. Allow to sit for 15 minutes and pour over top of crushed grapes.
Punch down grapes 3 times per day throughout the duration of fermentation and monitor temperature and Brix levels daily. Use a

hydrometer

to test sugar content in a strained juice sample. Make sure the temperature does not exceed 85F.
One day after adding the yeast, add

Fermaid O

, mixed with spring water into the pancake batter style slurry. Dump into grapes during a punch down.
After the depletion of 1/3 of the Brix (when the Brix level is between 16-11), add Fermaid O that is mixed with spring water into the pancake batter style slurry. Dump into to grapes at a punch down.
Add

Malo-lactic bacteria

the same day as the

Fermaid K

. If you are using liquid cultures, just pour over the grape must and mix. If you use the dry cultures, rehydrate them in warm spring water according to their specific directions, utilizing any rehydration nutrients recommended.
When the Brix have dropped below zero, press the wine into a sanitized tank, carboy, or demijohn. Make sure the vessel is topped up all the way to the top of the neck and sealed properly with a bung and airlock.
Rack after 48 hours and then again in a week. Allow MLF to complete before adding sulfites.
Allow the wine to age and rack it every 2 months and add sulfites when racking.
Add oak infusion after 2nd or 3rd racking. Taste test along the way until the oak profile is where you want it to be.
Interested in making your own wine? Musto Wine Grape Company is here to help! Musto's New England's largest supplier for home winemaking products and services. Visit juicegrape.com or give us a call at (877) 812 – 1137 to learn more.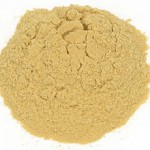 Product Spotlight: CSM Yeast
CSM yeast was derived from Bordeaux and helps create a vibrant aromatic profile. CSM aids in adding complexity to the palate and pairs well with malolactic fermentation.
Why you want to use it:
It's the perfect yeast for the Chilean fruit. It reduces vegetal aromas, adds complexity, stabilizes color, and helps increase the aromatic profiles of berries and spices.
Use Tips:
Fermentation starts quickly with this yeast. Be prepared to see Brix drop 24 hours after inoculation. It can stand up 14% ABV and can handle temperatures from 59–90°F. However, I highly suggest keeping your fermentation temps lower than 75°F. Once you hit 80°F you lose aromas and "burn off" flavors. Keeping your wine between 59–75°F during fermentation is a best practice.
You also want to use nutrients when using CSM; nutrients such as Fermaid-O and Fermaid-K. CSM tends to produce H2S (rotten egg smell) if there aren't enough nutrients during fermentation.
Avoid cold shocking the yeast at inoculation. You'll want to get the must and the yeast starter within a few degrees of each other before pitching the yeast starter. But without temperatures falling lower than 55°F. Temps below 55°F could stall fermentation and/or kill the yeast.
Goes best with:
CSM was cultivated to help ferment Cabernet Sauvignon, Cabernet Franc, Grenache, Merlot, Sangiovese, Petit Verdot. However, we have seen it used on Carmenere, Malbec, and Syrah from Chile with great results.
Dosage:
6gm/gals
Flavor Profile:
Cherry pit, raspberry, blackberry, spice, violet, bark, and sweet pepper
Ready to make wine? Musto Wine Grape Company is here to help you make the wine of your dreams! The Spring South African & Chilean winemaking season starts soon! Secure your winemaking grapes or juices and give us a call at (877) 812-1137 to speak with one of our Musto Crush Crew members. We can get you set up with everything you need and provide customer support along the way to ensure your success!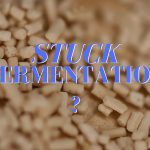 Many a winemaker has lamented the dreaded stuck fermentation. With so much to deal with during harvest time, the last thing you should be worried about is a ferment that has just up and quit. But sometimes it happens – knowing what to do when it does will be a life saver during an otherwise potentially unfortunate moment in a wine's life. We're here to walk you through how to handle this, what to do, and most importantly, how to do it.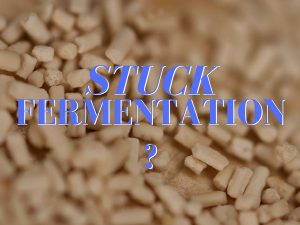 Step 1: Think about why it may have gotten stuck
This is going to help you moving forward, both with this wine and with future ferments. Was there too much sugar in the juice or must to begin with? Was the fermentation temperature too cool or too hot? Did you choose a yeast that doesn't do well with high sugar levels? Were nutrient levels too low?
Considerations before restarting
Adding lysozyme can halt spoilage organisms which are often present in sluggish or stuck fermentations
Resuke can lower toxin levels that have accumulated which will give you a better chance for a healthy restart. If you add this you will rack off of it 1-2 days later.
Incorporate Go-Ferm and Go-Ferm Protect Evolution to ensure health of ensuing restarting fermentation
Carefully choose what yeast you will re-pitch with. 43, 43 Restart, Fermivin Champion, K1 (V1116), Vin 13, BC, and DV10 are great choices.
Step 2. Add a complex yeast nutrient
This is going directly into the stuck wine tank. If you think you may have a spoilage bacteria problem, this is the time you would be adding lysozyme.
Step 3. Combine equal parts stuck wine and water in another vessel
This is known as the "mother restart tank." At this moment it will be totaling 2% of whole volume.
Step 4. Rehydrate yeast nutrient + yeast as you would when pitching yeast the first time
This is the exact same process you did during the initial yeast pitch.
Step 5. Add the yeast to the mother restart tank
As always, there should be a <18F difference between the yeast mixture and the mother restart tank liquid temperature.
Step 6. Add 10% of the stuck wine to the starter culture
Wait 20-30 minutes.
Step 7. Add 20% of the stuck wine to the starter culture
Wait 20-30 minutes.
Step 8. Repeat until the remainder of the stuck wine has been added to the mother restart tank
Don't skimp on waiting the 20-30 minutes at each of the following steps. Give it time to acclimate!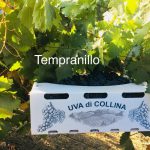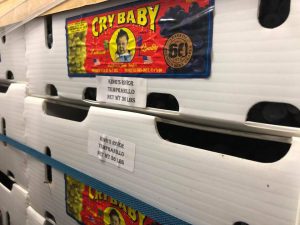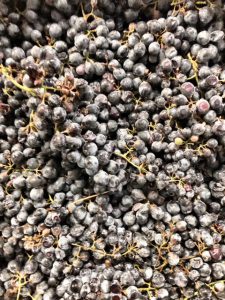 Temperanillo is an incredibly fruity and juicy varietal of wine grape that dates back over 2000 years in Spain. It is the most widely planted varietal in Spain, and the third most widely planted in the entire world (as of 2015). It is one of the oldest genetically traceable grapes in Spain and has been called the Noble Grape of Spain. Its grapes were often used in wine production for the noble class of the country, as well as for religious purposes. The conquistadores brought the grape to South America in their travels, further popularizing the varietal. While the name Temperanillo may sound unfamiliar to some winemakers, it is the primary grape in Rioja blends, a name often more popular to the consumer.
              Temperanillo is famous for its direct and lush strawberry flavors. It has a bit higher level of acidity, really bringing out the bright strawberry and plum flavors. The grape has a thicker blue-black skin with a colorless interior. Limited skin contact at crush can generate a nice rosé, embracing the acidity and berry flavors of the wine. Prolonged skin contact throughout fermentation will generate the traditional, full bodied red. Temperanillo can stand as a full-bodied, fruity red on its own or can work well with other varietals in blends. To create a traditional Rioja blend, Temperanillo should be the largest percentage of the blend, coupled with varietals such as Grenache, Carignane, Merlot, or Cabernet Sauvignon. The wines can either be blended at crush or post fermentation, the latter giving the winemaker more finite control over the blend. Using yeast strains CLOS or VRB, which are isolated from ancient Spanish wineries, will help to enhance the overall structure and mouthfeel of the wine, helping the winemaker to recreate a traditional Rioja blend. The VRB yeast specifically, will also help to promote those lush fruit forward characteristics that the varietal is known for. The use of Opti-Red and Booster Rouge as supplemental yeast nutrients will help to secure color and tannic structure. Oak may be supplemented at fermentation to help preserve the grape tannins and then also added later to add flavor during the wines' maturation process.  We always advise to use a complete nutrition program throughout fermentation, including the use of Go-Ferm, Fermaid O, and Fermaid K. This will help avoid any stuck fermentations and off aromas.  Temperanillo, as most reds, will benefit from malolactic fermentation.
              Temperanillo is a versatile, early ripening varietal with a long history of contributing to great wines. From its origin in Spain, to its travels and proliferation in the New World, its fruity legacy has carried on creating wines fit for royalty or for adventurous winemakers, like us.
Check out these Videos of our Tempranillo being Crushed & Pressed!
IMG_2640_Tempranillo Crush_Musto Wine Grape_Winemaking
IMG_2641_Tempranillo Press_Musto Wine Grape_Winemaking
by the Winemakers at Musto Wine Grape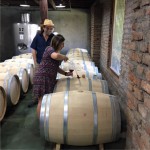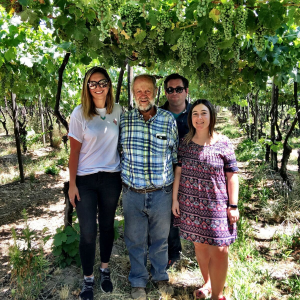 Winemaker Spotlight Interview with Manuela Astaburuaga
How did you get started winemaking? 
I'm the 5th generation viticulturist in my family so I was born between tanks and vineyards. When we were kids we played hide and seek in the tanks of the winery and we rode a bicycle among the vineyards.
When I finished the school, I decided to study Agriculture because I love the nature and live in the countryside, then in my last year of university I went to Australia to do my first vintage and I loved it. After I started to work with my family and I decided to go to France to do a Master in viticulture and Oenology.
What I love the most about Oenology is that most of the time there is a family tradition behind it. In my case my father founded the company Viña Correa Albano in 1991 but my grandfather, great grandfather, … also had their own winery Viña Astaburuaga.
Who were your wine mentors? 
My mentors where my father and grandfather. My grandfather was one of the first to broker of wine in Chile and one of the first to export wines. We also have photos of the first exportation where you can see the boats with tanks full of wines.
I really don't pay attention to the winemakers. I love to taste different wines from different wineries, valleys and countries, but I never pay attention who was the winemaker, for me is a team job.
What do you look for when you make wine? What is your general winemaking philosophy?
The most important thing is have good quality grapes. A healthy grape, free of disease, means we can start making a good wine.
In white wines the expression of aromas and acidity is really important, so we try to have long fermentations at low temperature.
In reds, the wine aging is the most important for me. It is necessary to have the micro oxygenation to soften the tannins and it is very important to limit the oxidation to preserve the fruity aromas that come from the grape.
What is the most difficult aspect of making wine? What's your biggest challenge as a winemaker?
The first thing is to have good quality grapes, for that we have to work all year.
In viticulture/oenology we say that we never have two equal years so for me the biggest challenge is to know how to react quickly in different situations as a rain or excessive heat for example can cause challenges.
What bottles of wine in your cellar are you most excited about? 
A few weeks ago, we were sorting out and we found samples of our first exportation of wine. We opened a bottle and it was really good so now that we found the bottles we take care of them the most. Also, I have a box of 12 bottles of my grandfather's wine from my year of birth that he gave to my parents at my baptism and I'm waiting for a special occasion to open it.
I don't have any favorite wines but for me the history behind the wine is very important, we cannot compare a big Chateau of Bordeaux with unlimited means with a small producer with all the adversities of nature.
In general, I enjoy more a wine from a small producer with a tradition behind them, than a wine from a big winery.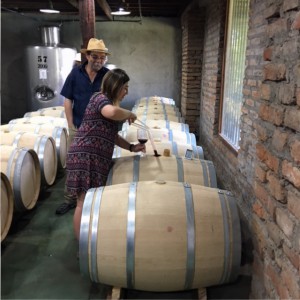 What's your philosophy on Oak and Wine?
For me the most important is oxygen in aging the wine, the barrels have porosity so they give a micro-oxygenation to the wine which is very important to the complexity and the maturation of tannins.
I use barrels, but I always try to not exaggerate because I prefer to preserve the fruity aromas over those gave from the oak.
Are you filtering your wines?
Yes and no. We have a tangential filter which is very good in preserving the quality. For our premium line, which has a minimum of 8 months in the barrel we will not filter.
Are there any new winemaking techniques or tools you'd like to experiment with?
We are thinking about implementing the pulsair system in our winery, so we don't have to us the remontage method and limit the oxidation.
What's been your greatest challenge as a winemaker?
The generational change.
Any advice for a new home winemaker? 
Have patience. We cannot rush the aging and to have complexity, sucrosity and soft tannins are important and take time.
Also, you have to have in mind that the oxygen can be the best friend or the worst enemy in the aging. Is important to have micro-oxygenation to help the maturity of wine but if it is not controlled, he can oxidize some components and be harmful to the final quality.
If you had to pick one wine to drink for the rest of your life what would it be?
I cannot pick only one wine, for me the wine depends the occasion and is important to change and try different wines.
What's your favorite wine region?
I don't have a favorite region but I loved the whites of Alsace and the Cabernet Franc of Saumur Champigny.
What would people be surprised to know about you?
I am shy and I have a very bad memory, that's why I can never remember the names of the winemakers and wineries I have tasted (that's why I always write my tasting notes).
If you weren't making wine what would you be doing?
I really have no idea!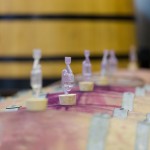 What's the Winemaker's Think Tank?
Every Thursday we will post about a few frequently asked questions that our winemaker has answered. If you have a winemaking question you would like to have answered, please email us at support@juicegrape.com and we will try to get into next week's post. Cheers! 🙂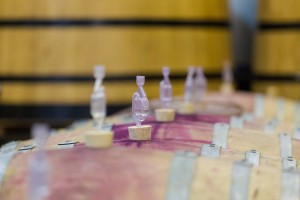 How do I know if fermentation is complete?
It is often easy to see visual signs of fermentation:  from activity in the airlock, bubbles, and the formation of a cap to the aromas of yeast and carbon dioxide, the wonders of fermentation are succinct observation.  But how does the home winemaker know when the fermentation is complete? The simplest way of seeing if fermentation is complete is to taste the wine and observe if there is any sweetness to it. If there is still sugar that you can taste, the yeast have not yet completed their job. The most accurate and scientific way of seeing if fermentation is complete is to take a measurement of the Brix via a hydrometer. A hydrometer is a glass instrument that reads sugar content via the hydrometers buoyancy in wine juice. The juice sample should always be placed into a sanitary, cylindrical shaped vessel. As the wine ferments, yeast consumer sugar and excrete alcohol, making a thinner, less dense liquid. At the beginning of fermentation, the hydrometer will not sink very far into the wine. The sugars within the juice make it thicker and the hydrometer will float on top of the juice. As fermentation progresses the new wine becomes less dense and sugary, allowing the hydrometer to sink down into the liquid. When the fermentation is complete, the hydrometer will sink down into the liquid to the 0 mark, if not farther. When reading the hydrometer, spin it slightly in the cylinder to dislodge any bubbles that may cling to the sides of the hydrometer. Observe where the meniscus of the wine falls on the gradients of the hydrometer. This will give you your sugar level in degrees Brix of the fermenting wine. When the hydrometer sinks to zero or below, the fermentation is complete and you can rack the wine.
We hope this information helps with your winemaking. If you have any follow up questions or winemaking questions in general, please email us at support@juicegrape.com.
We have a bunch of classes coming up! Make sure to RSVP via Facebook or Sign Up via the website!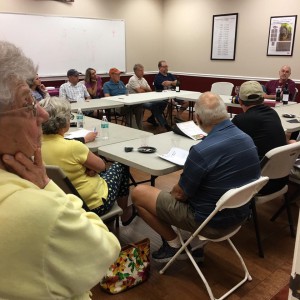 Saturday September 23rd: Common Winemaking Mistakes (FREE) at 10:00AM – RSVP by clicking HERE
Saturday September 30th: Winemaking 201 – Winemaker Lab Skills ($75.00) at 10:00AM – sign up by clicking HERE
Saturday October 7th: Winemaker Bootcamp ($150.00) at 9:00AM – sign up by clicking HERE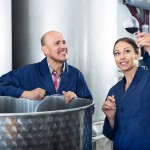 What's the Winemaker's Think Tank?
Every Thursday we will post about a few frequently asked questions that our winemaker has answered. If you have a winemaking question you would like to have answered, please email us at support@juicegrape.com and we will try to get into next week's post. Cheers! 🙂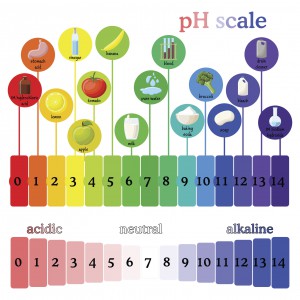 How do I test for pH?
Testing for pH is a reasonably simple process for your wine. Based on your budget, you can obtain a variety of pH measuring implements. There are pH test strips that will give you an approximate level of pH in your wine. They give a color reaction that when compared to a chart, indicates the pH of the wine. The next level up in sophistication as well as price is a basic pH meter. Musto wine grape offers a simple handheld pH meter that can be calibrated in a matter of minutes and gives precise and accurate pH readings. The probe must be stored properly in a storage solution to ensure that it does not dry out. The probe lasts from 12-18 months, depending on its care and must be purged after this time frame. With the most basic model, you throw out the entire unit and buy a new one. With the more sophisticated models of pH meters, the probe is replaced separately from the unit (which should last indefinitely).
We hope this information helps with your winemaking. If you have any follow up questions or winemaking questions in general, please email us at support@juicegrape.com.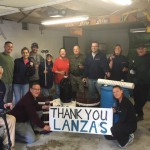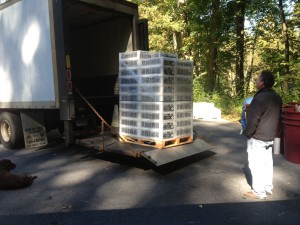 My wine passion started 17 years ago when my father officially started to teach me to make wine. He had tried unofficially in the early 70's but I was a reluctant 7 year old with other things on my mind. I began making wine from grapes with a friend and we started with a single 30 gallon barrel. We picked up grapes from a local distributor and worked out of my friends single car garage (half full of lawn tools).
We spent the next 9 years trying to source better grapes, each year looking to step up in quality. And then the Musto team contracted with the Lanza family which made a tremendous improvement in the quality of our wines. I still search for higher quality grapes but have come to the realization that we are now working with the best possible fruit available.
Our coop now consists of 7 families and we have outgrown the single car garage. We moved production to my double car garage which has been converted to our crush pad and fermentation room. The garage has been insulated, painted and new lighting and an exhaust system installed. The Musto family now ships us over 5 tons of grapes each fall.
We receive grapes and clean all our equipment on day 1 and crush the grapes on day 2. Crush day is filled with music, great food, wine, more food then more wine. It's truly Christmas, New Years and the Super Bowl all rolled into one! With a lot of hands to help, we run a sorting table to clean the grapes and then load the crusher destemmer. We ferment in 15- 500 liter tubs and produce around 350 cases of wine. The tubs completely fill the garage and after a short cold soak they ferment for about 10 days. We usually order 6-7 varieties with each family making their own blends we end up with 10-15 wines styles.
Mid day the 30 of us stop working and sit down for lunch. It's always at a single long table and we eat as one big family. This has become an important tradition with family and friends and includes toasts and short speeches and plenty of laughter. It's a very special day and it actually gets me emotional even to write about it.
Pressing two weeks later is another story. It's takes us two full days to press and then deliver the wine to each of the seven homes. Using pickup trucks, food grade drums, pumps and long hoses, we deliver wine to each house in the same way oil deliveries are made. We pump the wine down into each cellar and fill the barrels at each house. It's more of a working weekend than crush day but we still mange to fit in great food and great wine. After making delivery runs we assemble back at the crush pad/garage for clean up. The day always ends up with a post event review. With more food and wine, we talk about how things went this year and suggestions for improvements to our process that we might make next year. Usually there is robust conversation about who stood out as an MVP and they receive an ovation.
The Musto and Lanza families are fantastic partners and we consider them part of our family.
Want to be featured in the "Winemaker Spotlight" series? Send Christina an email with a description about your harvest traditions and photos of your winemaking cellar to cmusto@juicegrape.com to be featured!