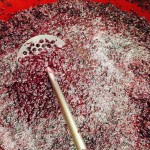 This gallery contains 1 photo.
So 11/6 was a sad day. When we went to punch down the wine, there was an off odor. To be specific it smelled like rotten eggs. This means my yeast is "stressed". UGH!!! I'll admit I panicked a little. Why does this happen?  Well there are multiple reasons. One is in the Vineyard. Sometimes the grapes are sprayed too close to the time of harvest and the copper or sulfur compounds will stay on the grape. Another, is the yeast can get stressed if there aren't  enough nutrients for them. Sometimes the grapes don't have enough nutrients, and as winemakers we fail to properly introduce enough supplemental nutrients for the yeast to complete fermentation.
Thankfully, there are multiple ways to treat this issue.
You can aerate or "rack and splash" the must in order to "blow off" the smell. This will only work if the issue is lack of oxygen.
You can add DAP. DAP stands for Diammonium Phosphate. It is a source of nitrogen (aka food for the yeast). Therefore, when you introduce DAP the yeast has more food to eat and the odor disappears.
After fermentation, you can run the wine over copper. The copper will absorb the sulfite and help eliminate the odor.  However, it will strip the wine of some flavors.
You can add Reduless after fermentation. Reduless will not strip the wine like copper and it will remove the smell if it is a h2s issue.
We chose option 2 and it worked! We introduced 100 grams of DAP to the wine and in 2 days the off odor was gone.
Once we were able to get rid of the odor we added a 1/2lb of French oak dust. This addition helps protect against oxidation and increase color stability. The next time we will introduce oak to our wine will be during the aging process.
Thanks again for stopping by. Next time we will discuss Maloactic Fermentation.
Cheers ~ CM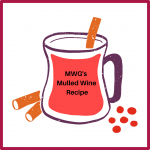 This gallery contains 2 photos.
We hope everyone had a very Happy Thanksgiving. We have so much to be thankful for and it's good to take a step back, reflect, and enjoy each others company.
Now that we are in the holiday spirit we have been experimenting with different winter wine recipes. One of them being Mulled Wine. Below is my recipe. I suggest pairing it with friends by the fireplace and a tasty charcuterie plate.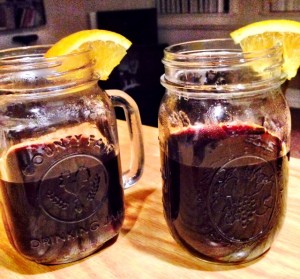 4 cups apple cider (or can use apple juice if you want it a little sweeter)
1 bottle of red wine (suggest cabernet, merlot, or a blend of both)
1 tablespoon – 1/4 cup of honey (depends on your sweet tooth)
2 cinnamon sticks
1 orange – juiced and zested
4 whole cloves
2-3 stars of anise (do to taste)
orange peels/wedges for garnish
Add the apple cider/juice, wine, cinnamon sticks, orange zest, orange juice, and cloves to a saucepan. Bring to a boil. Add stars of anise and honey to taste. Let it simmer for 8-10 minutes. Pour into mugs, add an orange peel/wedge for garnish, and enjoy!