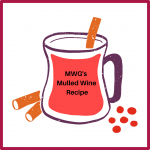 It's the holidays and what better way to to make your home smell like it than with some Mulled Wine!
 Below is Christina's recipe. We suggest pairing it with friends by the fireplace and a tasty charcuterie plate.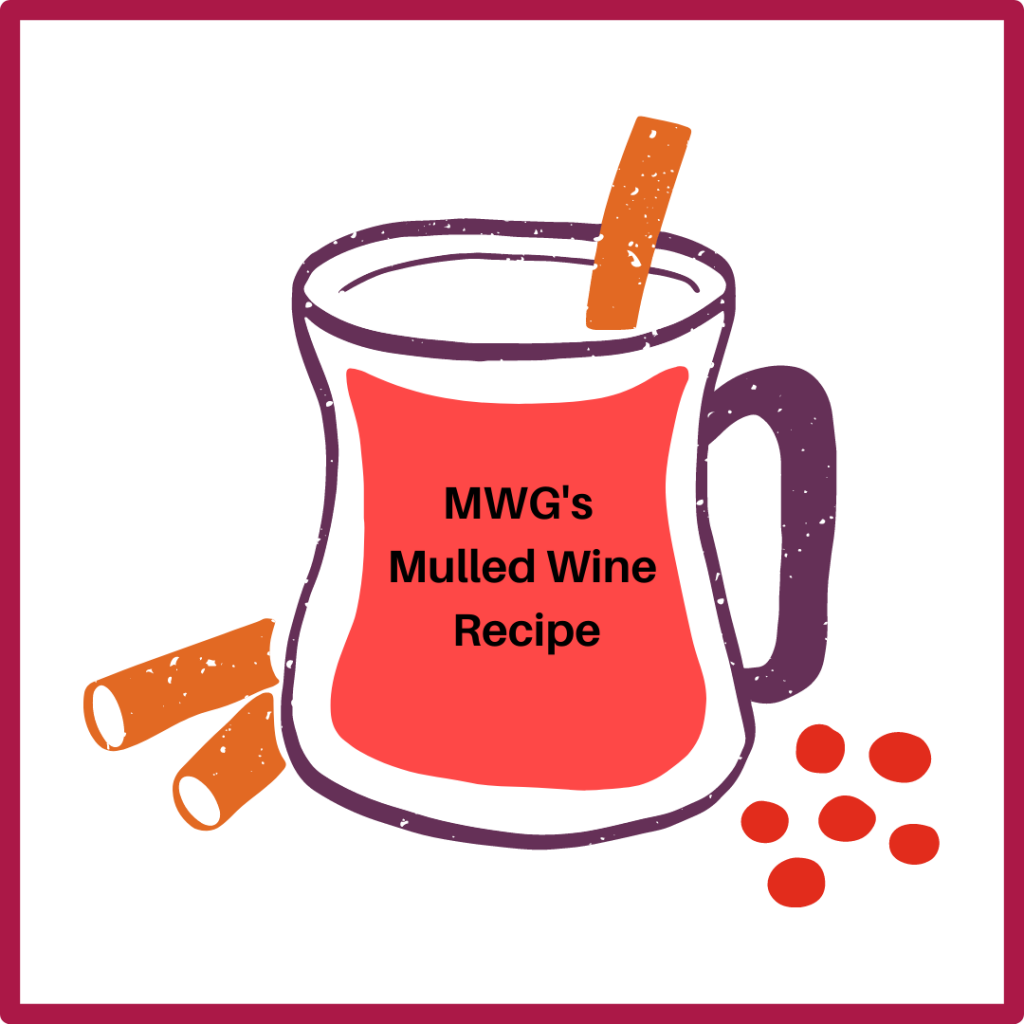 4 cups apple cider (or can use apple juice if you want it a little sweeter)
1 bottle of red wine (suggest cabernet, merlot, or a blend of both)
1 tablespoon – 1/4 cup of honey (depends on your sweet tooth)
2 cinnamon sticks
1 orange – juiced and zested
4 whole cloves
2-3 stars of anise (do to taste)
orange peels/wedges for garnish
Add the apple cider/juice, wine, cinnamon sticks, orange zest, orange juice, and cloves to a saucepan. Bring to a boil. Add stars of anise and honey to taste. Let it simmer for 8-10 minutes. Pour into mugs, add an orange peel/wedge for garnish, and enjoy!
Happy Holidays Winemakers!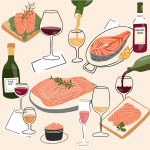 What kind of wine should you pair with your salmon, and why?
It mainly comes down to how you prepare the salmon that really determines what wine to pair with it. Salmon is a fatty fish, so it needs a stronger wine to stand up to it. It has rich fats, making a bitter and acidic wine a good general match. Salmon itself is not acidic, but those rich fats work well in place of acidity, and if you add a citrus glaze it would make the acidity in the wine harmonize better. Salmon is naturally mild but also vibrant, its actually able to work well with many different kinds of flavors.
Deciding on a wine to go with your Salmon can be complex because of all the different options in the types of salmon and how it's prepared, so we decided to include various types of combinations because everyone has a different taste and preference!
Pairing Wine with Salmon and how it varies with various preparation methods
It's not usual to pair a sweet wine with salmon, though a sweet glaze can call for a semi-dry wine. Reach for a rose or even a semi-dry Riesling, as both have enough lift to help enhance the sweet glaze but also pair the sweeter elements to the glazed salmon.
Reds, whites and even a rose can work as long as they are low in tannins and higher in acidity. A fuller white wine works well with pan fried salmon which becomes heavier and firmed when prepared this way.
Heavier salmon dishes like smoked salmon or ones with creamy and buttery sauces can call for a sparkling wine. Sparkling wines have the ability to lift up those heavier flavors and textures. For smoked or grilled salmon, try a prosecco. Because the acidity will pull the rich flavors of the salmon, it will also lift the heavier smokey flavors too. For a cream sauced salmon dish, grab some Pinot Grigio. This is a dry wine with a smooth finish and has the perfect amount of structure to complement but also add a textured layer to the creamy dish.
For baked or poached salmon, a classic dry wine with medium body and high acidity like a Cabernet Sauvignon from Sonoma would be an excellent pick. This is a medium bodied red wine with heavier levels of acidity but also a smooth, fruity finish making it a great option. Also, wine aged in barrels can have a real punch of flavor which would further enrich the already rich, natural fats and fresh flavors of the salmon.
Want to make your own wine to go with your next pairing?
Musto Wine Grape Company is here to help. Give us a call at (877) 812-1137 to speak with one of our Crush Crew members to get you on track to making the wine of your dreams!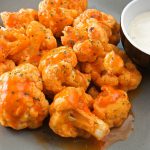 Air Fryer Buffalo Cauliflower Bites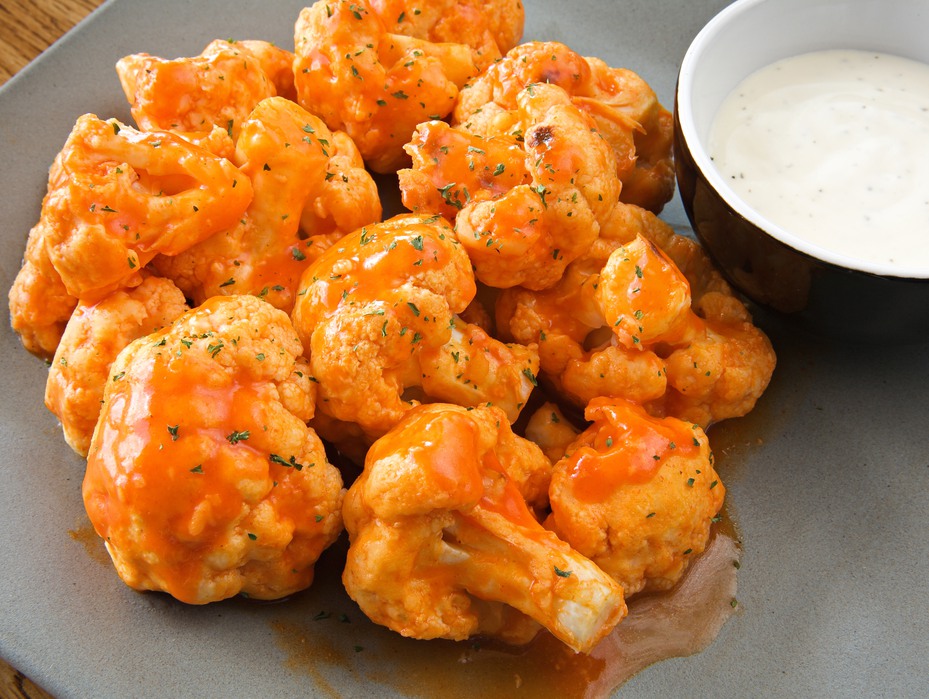 If you're obsessed with wings like I am, but are looking for a healthier alternative, try these air fryer buffalo cauliflower bites! Cauliflower has a similar texture to potatoes, but without all the carbs. There are a few way you can prepare these, but I've been obsessed with my air fryer lately so that's what I'll be using for this recipe.
What you'll need:
About 5 cups of cauliflower, chopped into florets
Buffalo Sauce – Frank's Mild Buffalo sauce is my all time favorite!
Unsalted butter
How you'll do it:
Spray the cooking basket in the air fryer with some non stick cooking spray
Add the cauliflower and cook at 375 degrees for 15 minutes. Toss the cauliflower and add back in for about 5 minutes if they aren't crispy yet. (Try cooking the cauliflower in smaller batches if they come out soggy – I've noticed if you over pack the air fryer they tend to not crisp evenly.)
Add cold butter to the warmed buffalo sauce and add to a large bowl, and pour the sauce mixture on stop and toss to fully coat.
Serve with blue cheese dressing for dipping and carrots and celery sticks to serve on the side.
The impossible pairing:
Yes, you can pair a wine (actually, quite a few!) to go with your buffalo dishes. A slightly sweet white wine will compliment the buffalo sauce the best. Reach for a Champagne, Moscato D'Asti or a Riesling. The fruity flavors and the low level of tannins really works with the buttery spice and they also help with the heat!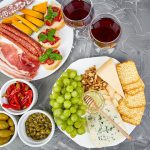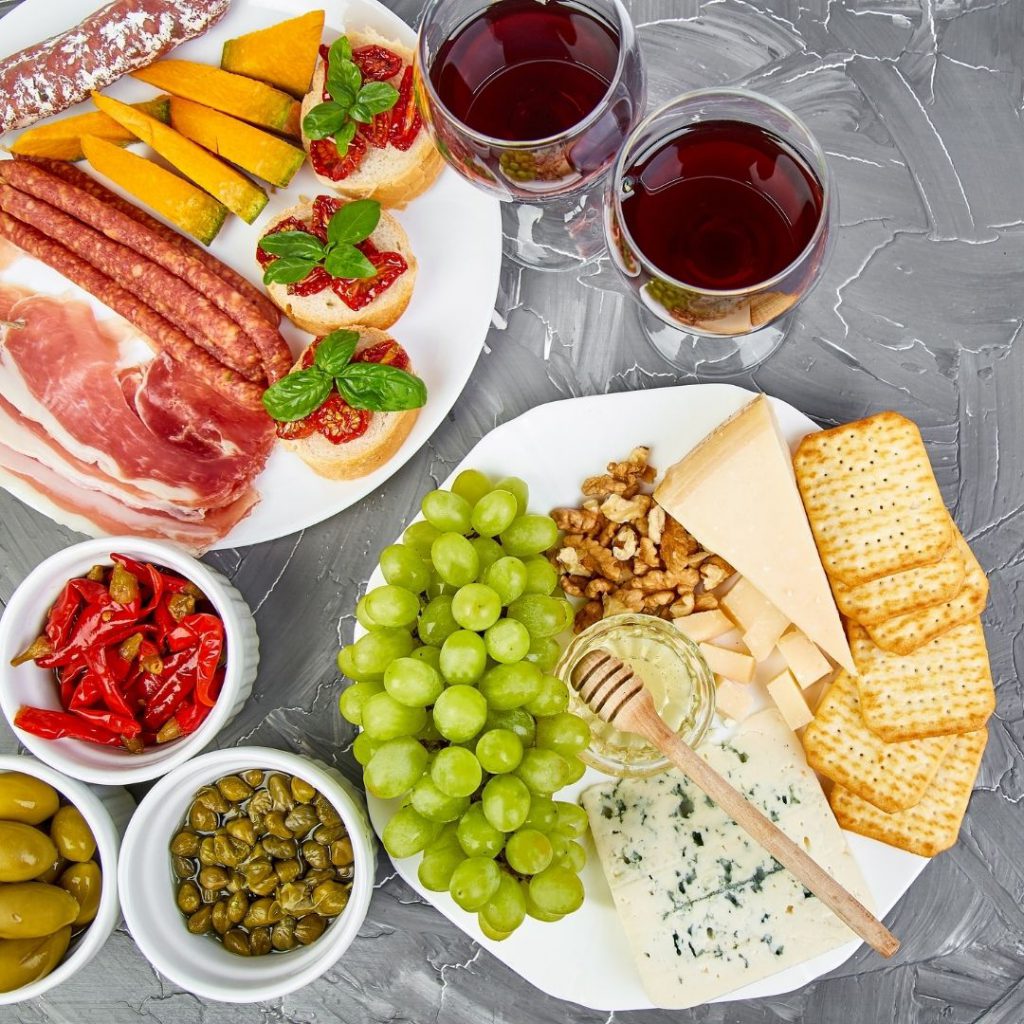 You have worked hard to produce a wonderful Cabernet Sauvignon and you can't wait to share it with your friends!  You make the invite list, get the bottles ready, but then you wonder, how best can I present the wine to my audience?
Why not create a charcuterie board? They are all the rage right now and easy to put together.
Here are a few tips to make one for your next gathering.
Items for your board:
Board itself
Cheeses
Crackers and Bread
Nuts
Meats
Fruits or Veggies
Other items – such as chocolate, spreads or flower garnishes
Consider how many people will be in attendance and then buy accordingly. A medium sized board – whether it's a cutting board or a food safe tray – should work just fine. If you have a larger audience, you may want a larger board or include smaller plates with items to complement the main board itself.
Arrange the board with a variety of cheeses – 2 or 3 – one that is soft, one that is a little harder will work. You can always buy pre sliced cheeses too.
Having a few crackers – 1 to 3 types is a good idea – and helps if someone doesn't eat cheese or would prefer to enjoy some salty eats while sipping on wine. Be sure to add some bread, like a baguette, sliced on the board as well.
Nuts are good to include – another salty option in addition to crackers. Or even olives or an olive tapenade can supplement the crackers or nuts.
Add in some meats such as salami, pepperoni, prosciutto or turkey slices as well as fruit such as table grapes or strawberries, or other berries like blackberries or raspberries.
In addition to these staples, other items to consider are a sweet element such as some dark chocolate or some spreads like a Dijon mustard. You can also include flowers to make the board pretty; make sure you let your attendees know that they are not edible!
Don't over think the board or the items on it. Pick a few from each area and have fun with it!
Don't have enough time to make one? Check out local charcuterie extrodinaire Make Food Lovely.
Written by Michelle Griffis aka the Nutmeg Nose for MWG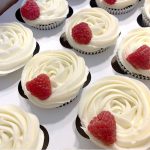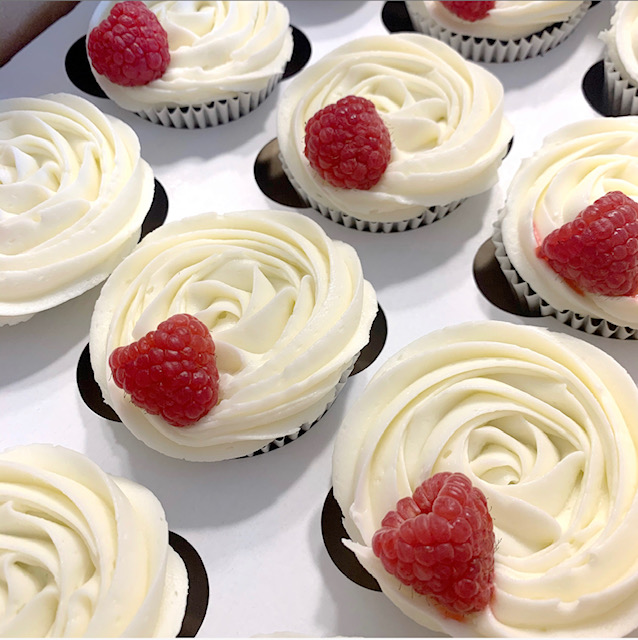 Have you ever wanted to drink your wine and eat it too?
Well here's your chance!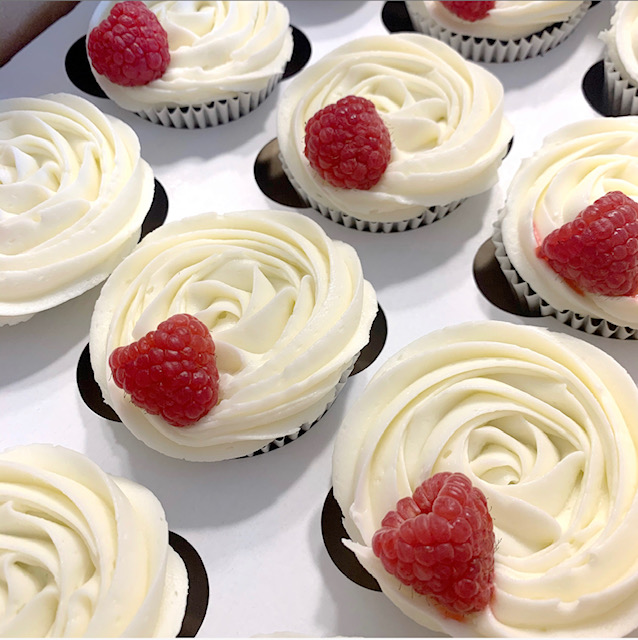 We teamed up with local baker The Mixing Bowl by Jules to create this recipe. These chocolate cupcakes are infused with our homemade red wine, filled with a raspberry and wine chocolate ganache, and topped with cream cheese frosting.
Decadent? Yes! But sometimes you just need to treat yourself!
Here is what you need:
Cupcakes
2 cups of sugar
2 eggs
1 teaspoon of vanilla
1 ¾ cups of all-purpose flour
¾ cup chocolate cocoa
½ cup of vegetable oil
1 cup of red wine
¼ teaspoon of salt
1 ½ teaspoons of baking powder
1 ½ teaspoons of baking soda
1 cup of water (boil)
Ganache
½ cup of cream
½ cup of fresh raspberries
½ cup of red wine
1 ½ cups of semi-sweet chocolate chips
Frosting
2 sticks of salted butter
8 oz of cream cheese
6 cups of powdered sugar
Pre-heat your oven to 350 degrees and yields approx. 24 cupcakes.
Bring one cup of water to a boil on your stove top. Once it starts boiling turn the heat off and let it cool down.
Next you're going to start making the batter. Pour the sugar, eggs, and vanilla into your mixer and blend.
Once the ingredients are fully incorporated, add the flour and cocoa, one cup at a time.
Next you'll add in the vegetable oil and slowly pour in the red wine while mixer is on.
After that, add the salt, baking soda, and baking powder and mix until everything is blended. Don't over mix!
Turn the mixer back on and slowly pour the water into the batter. The batter will be thin.
Next place your cupcake liners in your pans. You'll want to fill each about ½ way full. Tip: If you have a cookie scooper, use that to pour batter otherwise a spoon will work!
Bake for 15-17 minutes or until the top is domed and sturdy. Once they are done let them cool for at least 30 minutes before filling and frosting.
Raspberry wine ganache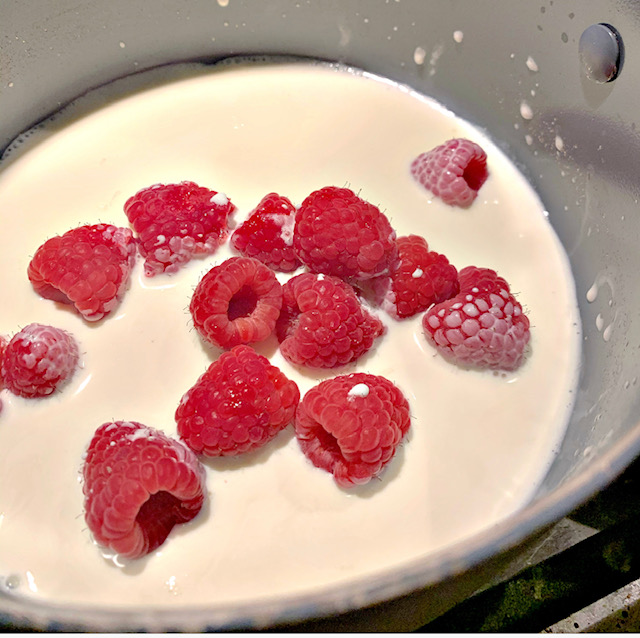 Pour your cream and raspberries into a sauce pan on medium heat. Use a spoon to break down the raspberries while they are heating up.
Pour in the red wine and continue to stir and let mixture come to a boil. Once it starts bubbling, turn off the heat.
Add the chocolate chips and whisk until incorporated.
Wait at least an hour for the ganache to thicken up or refrigerate overnight.
Cream Cheese frosting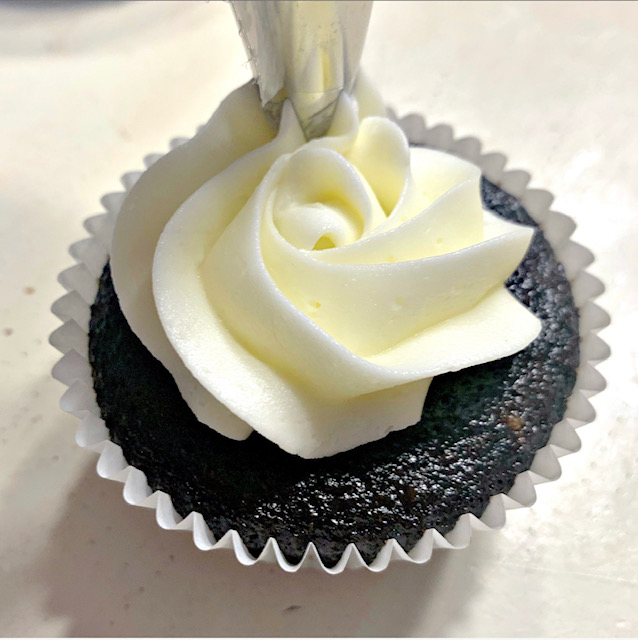 Add both butter and cream cheese to mixer and mix on the lowest setting for 1-2 minutes.
Add each cup of powdered sugar one at a time and blend until frosting is smooth and fluffy.
Now the fun part…building your cupcake
Once your cupcakes are cool and your ganache is thicker, you can either fill your cupcakes with ganache or dip the top – it's up to you!
Take a knife and cut out the centers of your cupcake and save the top of it!
Using a spoon or a piping bag if you have one, fill the centers with the chocolate ganache. If you refrigerate it overnight, you'll want to heat it up for 30 seconds to 1 minute before adding.
Put the top back on and cover the ganache!
Next you can, either frost with a knife or use your favorite piping tip and swirl! For the finishing touch, add a raspberry for garnish!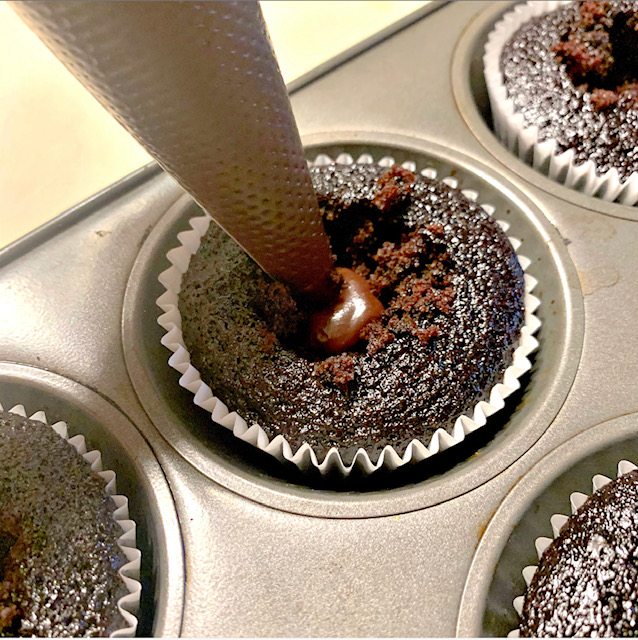 And finally ENJOY your cupcakes with your home made wine!
The Musto Crush Crew certainly enjoyed these cupcakes! 🙂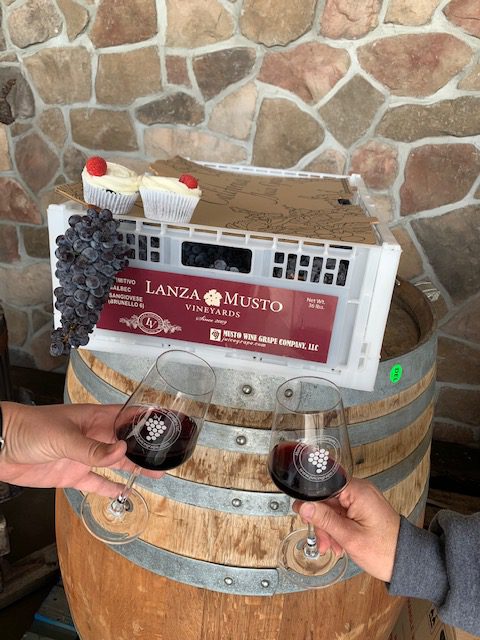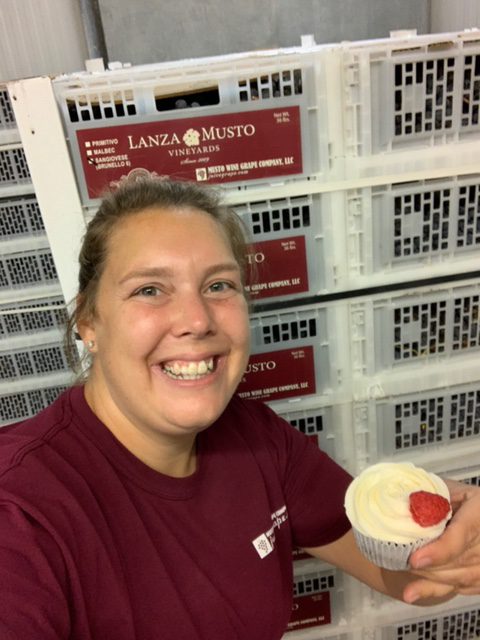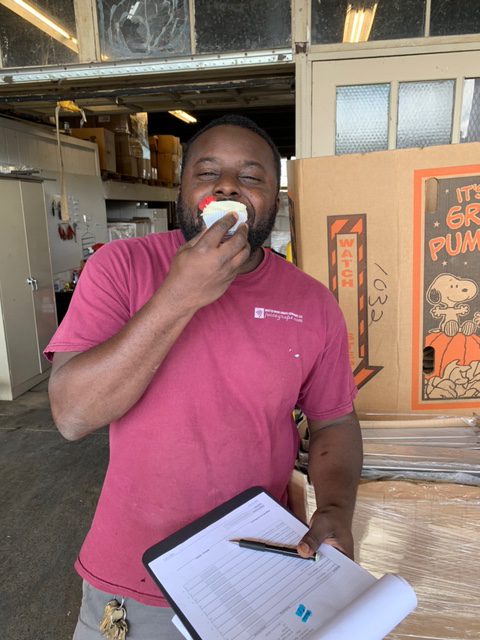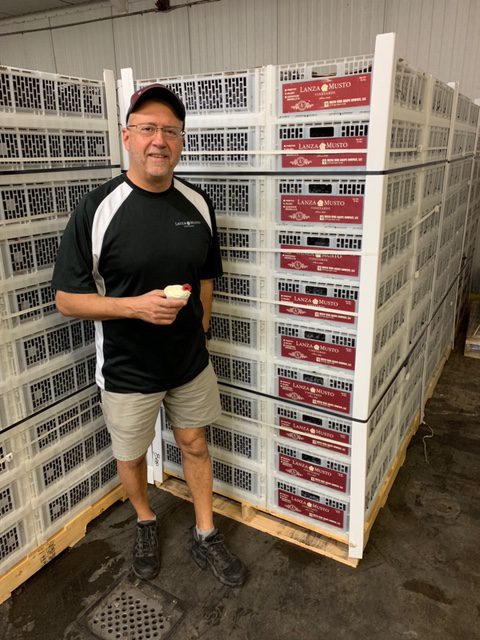 Ready to make your own Wine? Musto Wine Grape is here to supply you with everything you need to make the wine of your dreams. Email us at sales@juicegrape.com or call (877) 812-1137 to speak with someone who can get you started!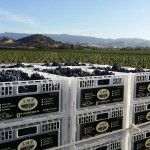 Our Barbera is flourishing in Suisun Valley. The LMV Barbera wine grape produces good yields and is known for its deep color, full-body, low tannins, and high levels of acid. Rolling in at 24.5 Brix we can't wait to get winemaking!  This Italian-style wine should be enjoyed relatively young. LMV Barbera wine gives off notes of dark cherry, plum, and boysenberry. In the past we've used a slight amount of French Oak to enhance the supple tannins and hints of vanilla.
Make sure to pick up a few cases this week to make at home!
Ingredients:
Yeast Suggestions:
VRB

VRB helps bring out ripe fruit, jammy notes, hazelnut, and dried plums. It helps soften harsh tannins, softens high acid, and adds a little extra complexity mid palate. This yeast bodes great color stability and is a great option for your Lanza-Musto Barbera.

BRL97

BRL97 was created for Italian wine grapes. It is a vigorous fermenter with a high alcohol tolerance. It enhances the fruity notes of the grape, while helping balance out the palate. Another great option for your Lanza-Musto Barbera.
Equipment:
Winemaking Steps:
Sanitize and Crush and Destem – Inspect your grapes. Crush and destem into clean and sanitized food grade 50LTR fermenting tub. Always allow an extra 20% of volume for fermentation purposes as the wine will "expand" throughout fermentation. Always rinse your fermentation vessel with a sanitizing strength potassium metabisulfite solution (2oz/gallon or 3tbsp/gallon). Make sure that the sanitizing solution touches all the surfaces of the fermentation vessel and that the vessel is completely emptied out of all sanitizing solution after. Shake free any drops as best you can from the fermentation vessel. Having remaining sulfite liquid in the vessel will prohibit fermentation. Do not rinse the sanitizer off with water after sanitizing as that will reintroduce bacteria to the environment.
Once all of the grapes are crushed, try to accurately measure your quantity of must. Add ¼ tsp of potassium metabisulfite for every 5 gallons of must that you have. Mix up the must thoroughly.
 ALWAYS record the additions you make to your grape must!
Wait for 6-8 hours after the sulfite addition and then add color pro to the must. Always mix it with water to create a 10% solution (if you use 5mls of enzyme, mix it with 45mls of water). The water allows it to better circulate throughout the must. Allow the pectic enzyme to work for 12 hours before yeast set.
Twenty four hours after crushing the grapes, mix the container thoroughly and take and record your measurements. Measure Brix, pH, and TA. If you need to adjust your must at all, this is the time to do it. Ideally your Brix should be between 23-28 degrees, the pH between 3.4-3.7, and the TA between 6-7g/L. Your initial Brix reading, multiplied by .55, will give you a close estimate of your ending alcohol by volume percentage.
If you would like to use fermentation tannins (FT Rouge, oak dust) or fermentation nutrients such as Opti-Red, add them after measurements and adjustments have been made. Mix any of these ingredients in thoroughly.
After measurements have been taken and any adjustments have been made, it is time to set yeast if you are using a cultured yeast strain. Follow the yeast set directions on the packet explicitly.
After you get to temperature and add your yeast, you may cover the vessel lightly with an old sheet or towel or place the lid gently on top of the bucket.
Obtain a must punch tool, a long stainless steel spoon, or your bare hands, and sanitize your tool or hands with sulfite sanitizer. This is what you will use to "punch down" or mix up the must three times a day. Try to mix everything very well, pushing all of the skins back down to the bottom, getting them very wet, and bringing up the piqued from the bottom. This should be done as often as possible, preferably three times a day. [Before work (7am), after work(5pm), and before bed (10pm)] When punching down every evening, take a sample of the liquid and using your hydrometer, track the Brix depletion. You should notice a drop in Brix daily. Always record your additions to your must, your brix depletion, and punch downs.
If you are using additional yeast nutrients to assist in fermentation you will add them after fermentation has started. Fermaid O is added at the beginning of fermentation (1 day after yeast set) and Fermaid K will be added at 1/3 depletion of the Brix (2/3 of the beginning amount of Brix). Follow the directions for the individual yeast nutrient, hydrating with water and mixing thoroughly.
If you are adding malolactic cultures to your wine, you may also chose to do this at 1/3 Brix depletion. Follow all directions on the bacteria and nutrient packets explicitly.
Punch down and take Brix measurements daily. When your hydrometer reads 0.90, you have fermented to dryness. At this point your malolactic fermentation may still continue, but the primary alcoholic fermentation is complete. You may now press the wine. Wash the press and sanitize using potassium metabisulfite. Again, make sure the press does not have any excessive puddles or lingering amounts of sanitizing solution remaining. Sanitize the receiving container carboy and any pumps or tubing that you may use. Anything that comes into contact with the wine should be rinsed with sulfite sanitizing solution. Place a screen (also sanitized) inside of the press to hold back any extra skins or seeds from getting through. Start scooping up the must and placing it in the press. Some of the liquid will immediately flow through, this is the "free run". When the press is full, slowly begin pressing. Do not try and press every last drop out of the must as this can lead to seed cracking and bitterness in the wine. Fill each container to within ½" of the top and secure a bung and airlock in place. Malolactic fermentation will exude a small amount of carbon dioxide and there will be trapped gas within the wine that will need to escape the container.
Allow the wine to sit for 2-3 weeks. You can conduct malolactic chromatography or bring a sample to a winemaker at Musto Wine Grape for analysis to ensure that your secondary fermentation is finished. At this point you should see a nice thick layer of lees in the bottom of the carboy. You will want to place the full vessel onto an elevated surface such as a table and place the new, sanitized, empty vessel on the floor below. Using a sanitized siphon, rack the wine into the new carboy. You may have space at the top which will need to be "topped off" with more wine. You can either use wine from another container, or finished wine to do this. It is very important that there is less than a 1/2" of headspace in each container. At this point you should also add 1/4tsp of potassium metabisulfite per 5 gallons of wine.
Now it is time to let your wine age. You will need to rack it and add additional SO₂ every 3 months. Make sure you sanitize all equipment and containers when racking and keep them topped off within ½". Come visit Musto Wine Grape for bottling advice and supplies.
Want to make a Blend instead? Winemaker Rick Lanza suggests trying a 55% Barbera, 35% Petite Sirah, 10% Cabernet blend. It was one of his most popular Wine Club Cuvee's! 
Awards Won:
2020 Sunset International Wine Competition – 2018 Lanza Barbera – GOLD – 93 Points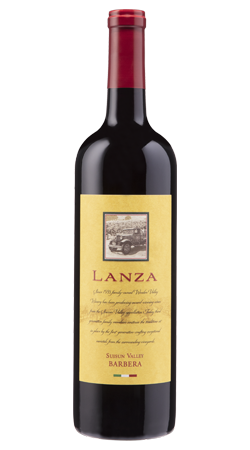 For a delicious food pairing check out our Brasato al Barbera (Beef Braised Barbera) Recipe!
Want to make your own Barbera? Musto Wine Grape Company is New England's largest supplier for winemaking products and services. From home winemakers to wineries, we've got you covered! Give us a call at 877 – 812 – 1137 to speak with someone to get you started.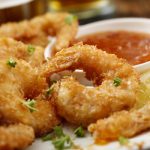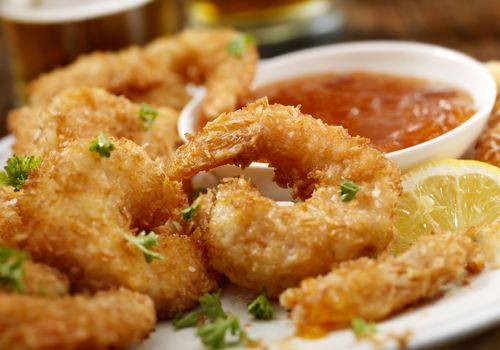 Calling all shrimp lovers! We've got a recipe ready to knock your tastebuds out of the park. Air Fryer Coconut Shrimp. Oh yeah – we went there. Pair with Pinot Grigio, Riesling, Sauvignon Blanc, or Pinot Noir.
How to make it:
If you don't have an air fryer then what are you doing? Go get one and hop on this recipe ASAP! Air frying allows you to have the experience of oh-so-good friend seafood without all the grease and deep frying. Shrimp can be delicate and you may be skeptical about using your air fryer to cook them, but we haven't had any issues with it cooking them to anything less than perfect.
We personally love crunchy shrimp, so this recipe will call for these to yield crunchy shrimp. You can reduce the amount of ingredients to your discretion if you prefer them less crunchy! We'll be using flour, eggs, panko breadcrumbs, and shredded coconut to bread the shrimp.
Firstly, preheat your air fryer to 390 degrees Fahrenheit and set up your ingredients in multiple bowls. You should have a bowl for your flour, beaten eggs, and panko flour mixed with shredded coconut.  We also use fresh, raw shrimp because there's no need to wait for defrosting and we also believe it cooks better than if you were using already cooked shrimp. Using already cooked shrimp could cause them to shrink and dehydrate.
Secondly, dip each piece of shrimp in your bowls in the following order: First the flour, then the egg, and then the panko and shredded coconut mixture.
Now, lightly spray the basket with non-stick cooking spray or line with parchment paper to prevent sticking. Line up your shrimp in the basket in a single layer, they will cook evenly this way opposed to on top of each other. Spray a small amount of oil on the shrimp and cook for 4 minutes. After 4 minutes, reopen the air fryer and flip the shrimp, spraying another small amount of oil on the flipped side of the shrimp to ensure even cooking. Close the air fryer and continue to cook for about 4-5 more minutes. Once finished, serve with sweet chili sauce for the ultimate flavorbomb! This Panda Express Chili Sauce you can find at Target is pretty good!
Interested in Making Your Own Wine? Give us a call (877-812-1137) or email us (sales@juicegrape.com) and we will help you get started!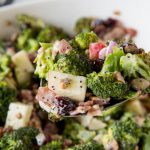 This crunchy, refreshing apple broccoli salad is a perfect summer barbecue side. Not only does it go great with virtually any barbecue food, ranging from chicken to steak and even burgers – it's also healthy without compromising tasty! I know you can't wait for this one so let's get started!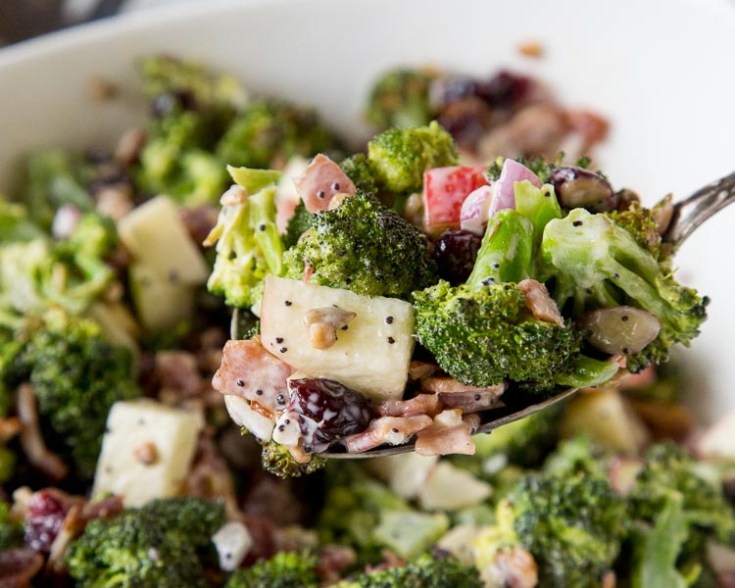 What you'll need:
2 medium heads of broccoli, chop into small florets
1/2 cup of shredded carrots
1/4 cup diced red onions
2 large apples, chopped into small pieces
1/3 cup nuts of choice. I love roasted almonds and sunflower seeds
1/3 cup dried cranberries. Ocean spray's pomegranate infused dried cranberries are delicious!
1 cup of plain greek yogurt
2 tablespoons apple cider vinegar
1 tablespoon sweetener of choice, I personally love using honey.
1/4 teaspoon salt
1/8 teaspoon pepper
What you need to do:
Combine broccoli, carrots, red onions, apples, nuts of choice, and dried cranberries in a bowl.
In a separate small bowl, combine greek yogurt, apple cider vinegar, honey, sale and pepper and whisk together.
Coat salad in dressing and toss, then serve chilled!
Wait, what about some wine to go with it?
You didn't think we'd leave you hanging on that, did you? We would never! In general, crisp white wines are a go-to when serving raw vegetables, so try a zesty Pinot Grigio with this salad. The smooth flavors and crisp acidity allows this kind of wine to be served with lighter dishes without being too overwhelming, perfect for this salad!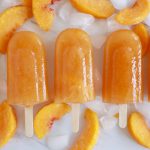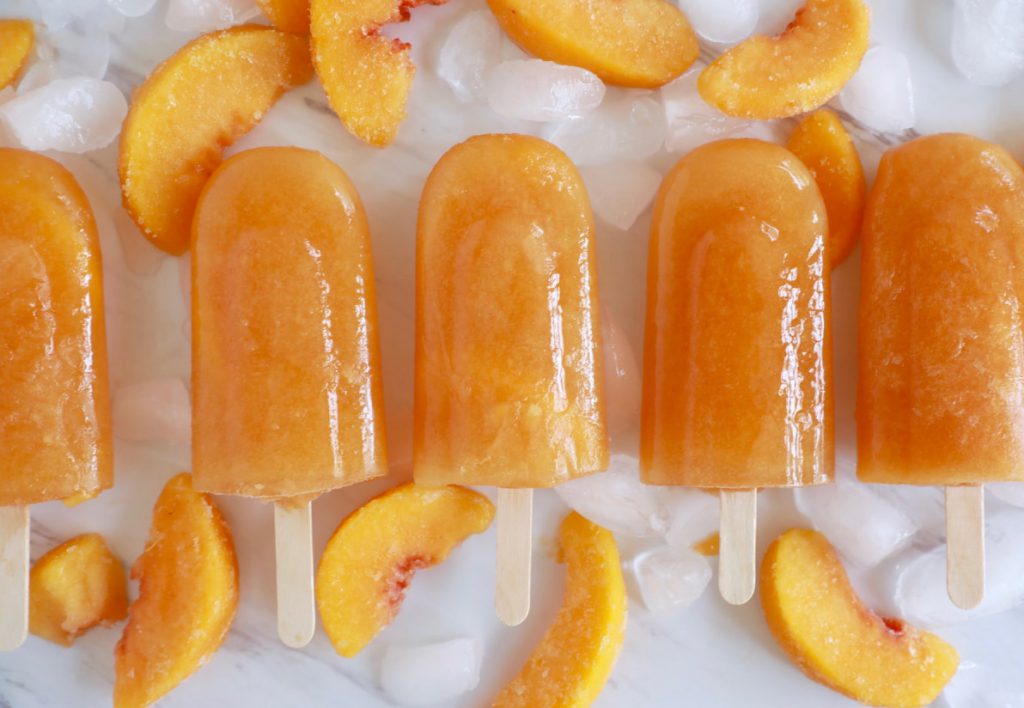 Peach Prosecco Popsicles
One of our all-time favorite summer treats is popsicles. You can make popsicles from pretty much anything, and they are perfect to cool down on a hot summer night! Not to mention, throwing in some fresh fruit and wine into a popsicle is one of the most genius inventions. We've got an easy peach prosecco popsicle recipe waiting for you, so keep reading!
Peach bellinis are a favorite cocktail! If you like them as well, you're in luck because these popsicles are basically peach bellinis on a stick.
What you need and what to do:
You'll need to buy some peach puree or make some yourself, which isn't difficult at all. To make your own, grab 3 ripe peaches. Bring a pot of water to a boil, and place the peaches inside for about 1 minute. After about a minute, immediately remove the peaches from the boiling water and place into a bowl of ice water. Let the peaches sit in the cold water for about a minute or so, and you'll be able to peel the skins off with your fingers. You can also use a knife if that's your thing. Once you have removed the skins, you can begin to slice the peaches and remove the flesh off of the pits. Next, you'll place the peach slices into a food processer or blender and blend until smooth. An easy alternative would also be to buy a bag of frozen sliced peaches if you want to skip the boiling and peeling. If your peaches are not sweet to your standards, feel free to add some sweetener to give it a boost. Mix your puree with Prosecco and pour it into popsicle molds. You can freeze overnight, or if you prep in the morning they can be ready for the late-afternoon.
Enjoy with family, friends, or a good quarantine movie night.
Want to make your own wine?
Musto Wine Grape Company is here to provide everything you need to make the wine of your dreams, and the support along the way to ensure your success! Give us a call at (877) 812 – 1137 to speak with a member of Musto's crush crew to get you started!