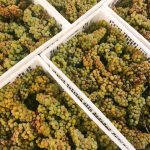 Fruity. Floral. Aromatic. Golden. Perfumey. Unique.
Meet Muscat.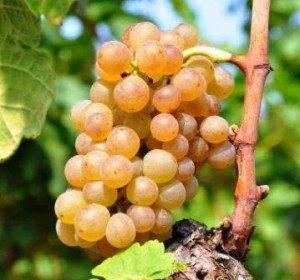 What's so great about this grape? With tons of variations and seemingly even more names, it's known all over the world for producing an absolutely delicious wine.
It can be made dry, sweet, or even fizzy. With its beautiful floral aromatics (think orange blossom, white flower, honeysuckle) you're bound to make a wine that impresses!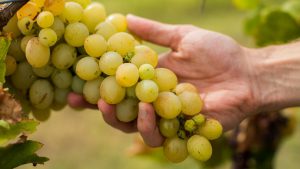 Muscat Winemaking Recipe
Crush/destem and press your Muscat into your fermentation vessel
Add potassium metabisulfite to kill off any native yeast present on the grapes
Let sit for 12 hours.
Add Cinn Free and stir well.
Add Booster Blanc and Opti-White to the juice.
When the juice reaches about 65 degrees, pitch your yeast. QA23, Vin13 and Alchemy I are good options for keeping the aroma in this wine alive and bright.
When you see the Brix drop by 2-3, add Fermaid O and mix well.
Check Brix daily – when Brix drops by 1/3 of the starting number, add Fermaid K
Rack off gross lees when alcoholic fermentation is complete and add potassium metabisulfite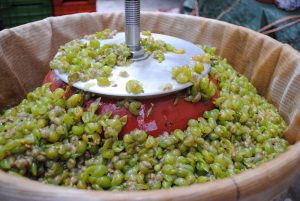 Helpful tips:
Don't lose out on Muscat's incredible aromatics by exposing it to excessive oxygen. Be sure that as soon as alcoholic fermentation has completed that it's not sitting out without an airlock.
Focus on yeasts with the most aromatic potential
Since this is low acid grape, you'll want to retain any acidity or semblance of freshness present within the finished wine. Do this by preventing malolactic fermentation from occurring (which can drop the acid) by being sure to add potassium metabisulfite as soon as fermentation ends.
Consider sweetening your muscat if you're looking to try making a wine style different than fermenting to dryness.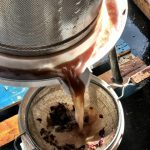 Working with a new grape for the first time can be a little scary. But having a recipe to use a jump off point can help ignite creativity and make the winemaking go a lot smoother. Check out Christina's Black Muscat Rosé Recipe for some Rosé winemaking inspiration.
Black Muscat Winemaking Recipe:
Crush the Black Muscat into vat
Add Potassium Meta to kill native yeast, let sit for 12 hours
Add Cinn Free, stir must, let sit for another 12 hours
Press juice after 24 hours on the skins
Add Booster Blanc and Opti White (dilute in spring water, mix like pancake mix, dump into must, mix up)
Pitch yeast after 24 hrs on skins, make sure juice is at 65 degrees. If not let it warm up. Use VIN13 yeast.
Next Day: Add Fermaid O
Monitor Brix levels daily
At 1/3 of a drop in Brix (10-8 Brix) add Fermaid K
Please Note:
The color might be light. It darkened up over time. And if it doesn't darken up enough to your liking I have some "pixie dust" that will help with the color during the aging process. Also, after fermentation I added Noblesse at my first racking. This is because I thought the acid was a little high and it helped soften the mouthfeel. Every year is different, so you might not need to do this. Taste it after fermentation and then decide.
Wine Tasting Notes:
On the nose there is passion fruit, guava, sweet strawberry, sweet cherry, and papaya. The aromatics continue through the palate with a touch of crisp acidity. As a dry wine this light bodied Rose is full of complexity and flavor. If you're more of a sweet winemaker, adding about 1-2% Residual sugar to this wine would make for a very aromatic and balanced sweet wine.