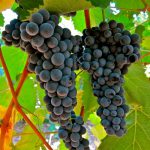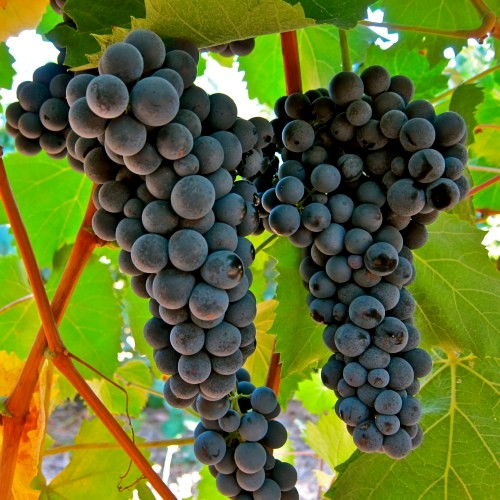 Discovering an "Old World" Wine — Teroldego
By Winemakers Julie and Richard Chalifoux
By now, many of you are probably familiar with "Old World" wines such as Barbera, Gamay, and Nebbiolo.  A wine which you may be less familiar with is Teroldego [teh-rawl-DEH-goh].  Teroldego is a red wine grape that is grown in the Trentino-Alto Adige region in northeast Italy.  While it has been in Italy since the 15th century, it is not grown widely elsewhere.   However, this grape has been receiving increased attention from California grape growers, primarily near Lodi in the Central Valley, because of its prolific growth, heavy yields, and consistent quality.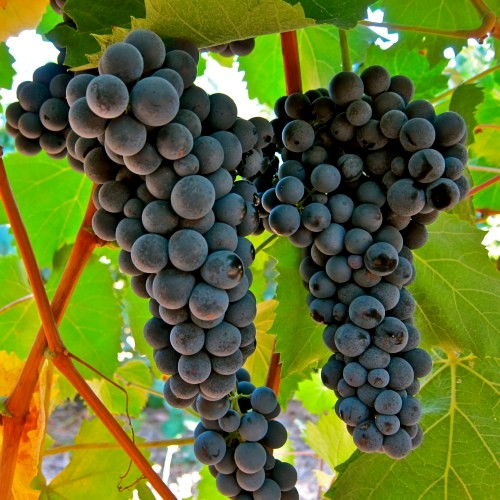 Teroldego is a sibling of Dureza, one of the parents of Syrah.  You can easily see the connection to Syrah with its dark-skinned berry, fruity flavor, and medium to bold tannins.  It is a wine worth making, since it can be drunk either young or well-aged.
Grape Selection
In 2018, Musto added Teroldego to their grape varietal selection.  Hope you didn't miss them this past season; these grapes were a must-see! They were exquisitely packaged and bigger than your hand – 36 grape clusters/36 lbs.  What a presentation!
Teroldego is similar in nature to other wines we have made, so my husband and I decided to test our winemaking skills and try something new.  We planned on making a small batch in a 5 gallon carboy, so there was not much room for experimenting.  Through further research, we found it is an Italian grape that produces reasonable tannins, is easy drinking, and possesses intense fruity flavors with dark thick skins.
Balancing and Yeast Selection
The grapes were clean with huge clusters — we ran the pH and acid numbers, the acid was a bit low so adjustments were needed.  Note: this will be an easy grape to blend with hybrid grapes that are typically higher in acid.  It will enhance fruit characteristics, add tannins, improve acid, and bring a nice rich color to your wine.
There were a few yeasts that would be a good choice – ones that will enhance the fruit characteristics, keep the "Old World" Italian style wine, and work well with the tannins.  We used BRL97, but any one of these would work.  We have used this yeast on other wines we make with great success.  We also use BRL 97 on our Tannat wine.
| | | |
| --- | --- | --- |
| Yeast Strain | Alc. Tolerance | Flavor Profile |
| D254 | 16% | Big mouth feel and rounding of tannins. Intense fruit: more dried than fresh with a focus on berry and jam characteristics. Helps with color stability and is useful for adding body to blends. |
| D80 | 16% | Big volume and fine grain tannin flavors of plum and spice. Great for bringing more positive tannin intensity to a blend. |
| BRL97 | 16% | Mainly used in Pinot Noir, Zinfandel, and Italian Wines.  Enhances color stability, maintains structure and is favored when long aging is planned. |
Cold Soaking
This grape has thick skins, and experience has taught us that the thicker the skin, the longer the cold soak.  Some of our hybrids have thicker skins like Teroldego and don't like to release tannins easily.  We treated this grape the same way: cold soak for 6 days, and be sure to add enzymes.  Note: when cold soaking for a longer period of time (i.e. 6 days), watch the room temp.  You really want it to be cold (below 40° F).  Wild yeast will take over if your must is too warm.
Winemaking process
We do not alter the winemaking process, however, there are a couple things that we do faithfully.
Feed your yeast – when pitching the yeast be sure to add the proper nutrients – around 3 days later or approximately 1/3 lower brix, feed your must, we use Fermaid O. Important to keep your grapes and yeast happy, happy, happy – no stuck fermentations.  We also at this time, co-Inoculate with VP41 Malo, it does really well with BRL 97.
Rack off the gross lees – when fermentation is done, don't wait to rack off your wine! This is important to get good wine off of stinky lees.
Wine Recipe for Teroldego
| | |
| --- | --- |
| Wine Produced: | @ 5 gallons of wine (with 3 cases/36 lbs-case) |
| Finished pH: | 4.1% |
| Finished Acid: | .7g/liter |
| Brix at crush: | 25 (14% alc) |
| Cold Soak: | 6 days |
| Yeast used: | BRL97 |
| Malo: | VP41 |
| Lightly Oaked: | Medium French stick used 2 ½ spirals |
| Tasting Notes: | On the nose; butterscotch, vanilla, and black raspberry.  This wine has nice acid, soft tannins, medium body – very easy drinking wine with tastes of mulberry, boysenberry and hints of herbs, cedar, and mocha on the finish. |
| Lessons Learned: | When the wine is young it takes on fruit characteristics, but it loves oak – as the wine ages more of the oak characteristics will come through.  If you prefer lightly oaked wines use less oak sticks. |
Stay with me…I promise there is a recipe for you to try!  This wine is food-friendly and very approachable.  We recently opened a bottle after 2 years of aging it has really come into its own, with nicely-blended oak and a fruity flavor.  The tannins we were able to release during cold soaking also mean that this wine will still be wonderful for a few years to come.  Try it with smoky foods like wood fired pizza, burgers, stews, or any Italian cuisine with either red or white sauces.  I encourage you to try something new, something bold – try making a lovely wine like Teroldego.  Alla salute!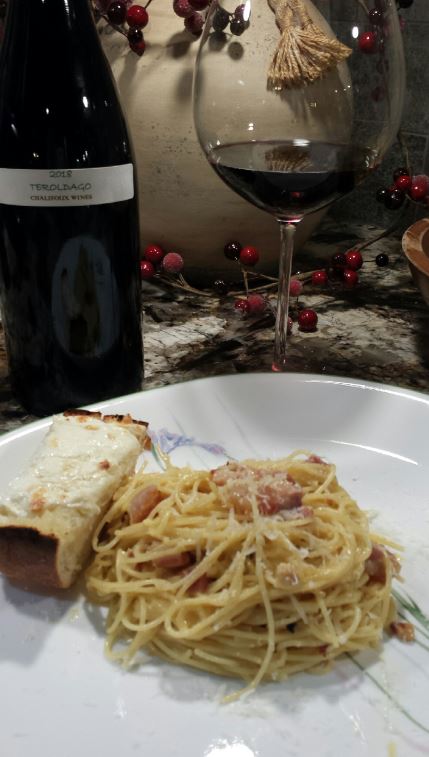 Spaghetti Carbonara
Teroldago is really yummy with Spaghetti Carbonara.  For this wine, serve it in a Pinot Noir glass and it is recommended to open the wine 1 hour before serving.  Recipe follows:
Salt for pasta water
2 large eggs and 2 large yolks, room temperature
1 ounce (about 1/3 packed cup) grated Romano, plus additional for serving
1 ounce (about 1/3 packed cup) grated Parmesan
Coarsely ground black pepper
1 tablespoon olive oil
3 ½ ounces of pancetta or bacon, sliced into pieces about 1/4 inch thick by 1/3 inch square
12 ounces spaghetti (about 3/4 box)
Place a large pot of lightly salted water (no more than 1 tablespoon salt) over high heat, and bring to a boil. Fill a large bowl with hot water for serving, and set aside.
In a mixing bowl, whisk together the eggs, yolks and Romano and Parmesan. Season with a pinch of salt and generous black pepper.
Set the water to boil. Meanwhile, heat oil in a large skillet over medium heat, add the pork, and sauté until the fat just renders, on the edge of crispness but not hard. Drain fat and remove from heat to set aside.
Add pasta to the water and boil until a bit firmer than al dente. Just before pasta is ready, reheat pork in skillet, if needed. Reserve 1 cup of pasta water, then drain pasta and add to the skillet over low heat. Stir for a minute or so.
Empty serving bowl of hot water. Dry it and add hot pasta mixture. Slowly stir in the egg and cheese mixture adding some reserved pasta water if needed for creaminess. Serve immediately, dressing it with a bit of additional grated pecorino and pepper.
Ready to make your own Teroldego? Musto Wine Grape is here to supply you with everything you need to make the wine of your dreams. Email us at sales@juicegrape.com or call (877) 812-1137 to speak with someone who can get you started!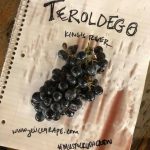 Teroldego is an ancient varietal from the northern mountains of Italy. Originating from Trentino, a mountainous region on the Austrian border, this incredibly dark skinned grape is the genetic parent of Lagrein and Syrah. The grape is a prolific grower, bearing heavy yields while maintaining quality. The thicker skin makes for a more stable grape on the vine and allows for a longer hang time, generating a higher Brix level and more complex phenolics. They often use pergolas to help control the vigor of the vine itself.
The thicker skin of the Teroldego grape lends tremendous tannin content to the finished wine. Upon vinification of the grape, flavors of baking spices, red fruits, and pine are generated. Hints of tar and leather come most directly from the grape skin. This grape will add a tannic punch to any blend and can help to add mouthfeel to a thinner red variety. Some yeasts that will help to amplify the fruit notes and mouthfeel of the Teroldego are D254 and D80. This grape can also help add color and can be integrated at crush in a varietal with color securing problems. While Teroldego can be drunk early, it really starts to shine after 5 years of aging. In the aging process, the tannins will link up and form longer chains that will be perceived as a smoother mouthfeel. If the consumer doesn't mind a more aggressive, bold wine, it can be enjoyed early, a perfect accompaniment to grilled meats.
Teroldego is an ancient variety with a traditional, earthy old-world style. While we may not be able to travel to Italy to create an old-world style wine, we now can bring Italy to us, in the form of this beautiful grape.
Numbers collected on 9/14/18 –
Brix=24.2
pH=3.62
TA=4.26g/L
YAN=276.8
by the Winemakers at Musto Wine Grape