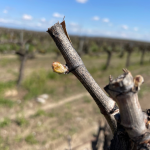 Happy first day of Spring Winemakers!
Our California grapes are starting to go through bud break.
Here is a nice view of our Cry Baby Thompson Seedless and Grenache grapes "waking up" 🍇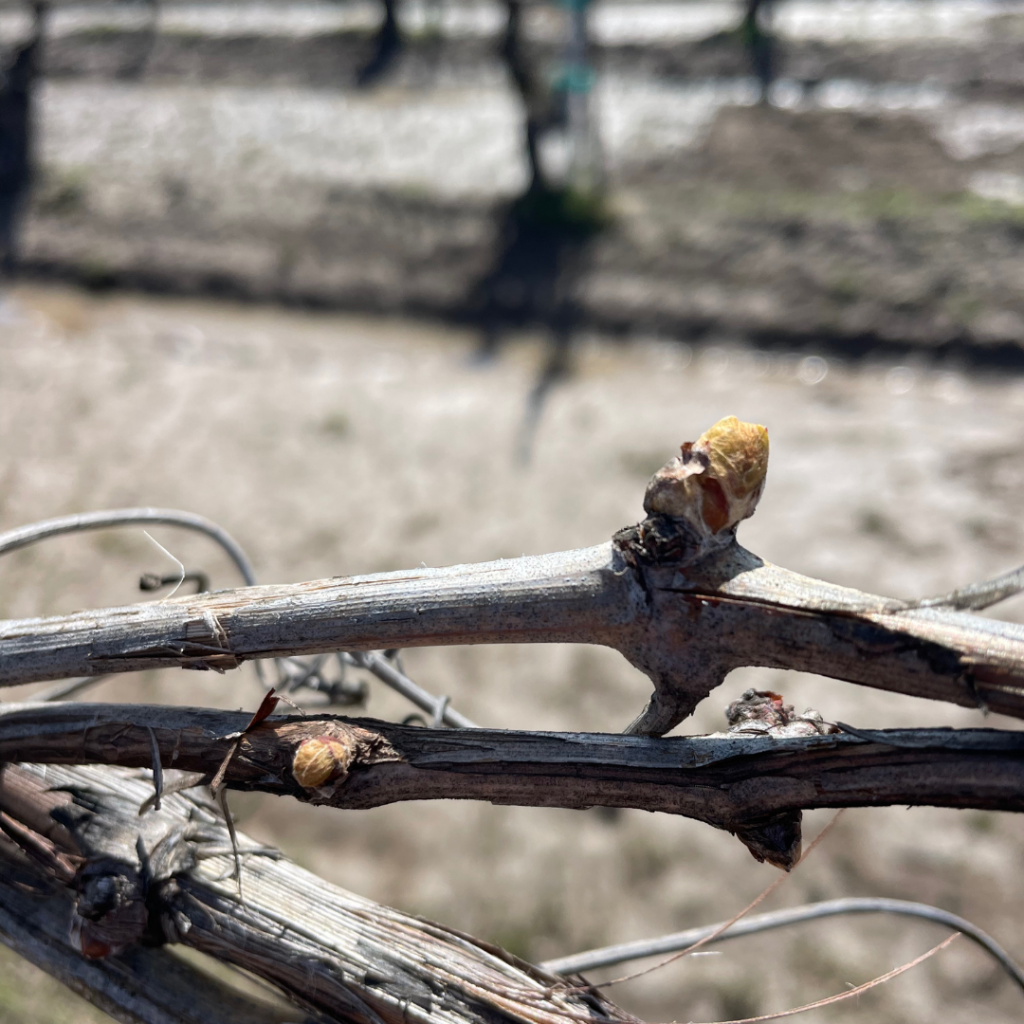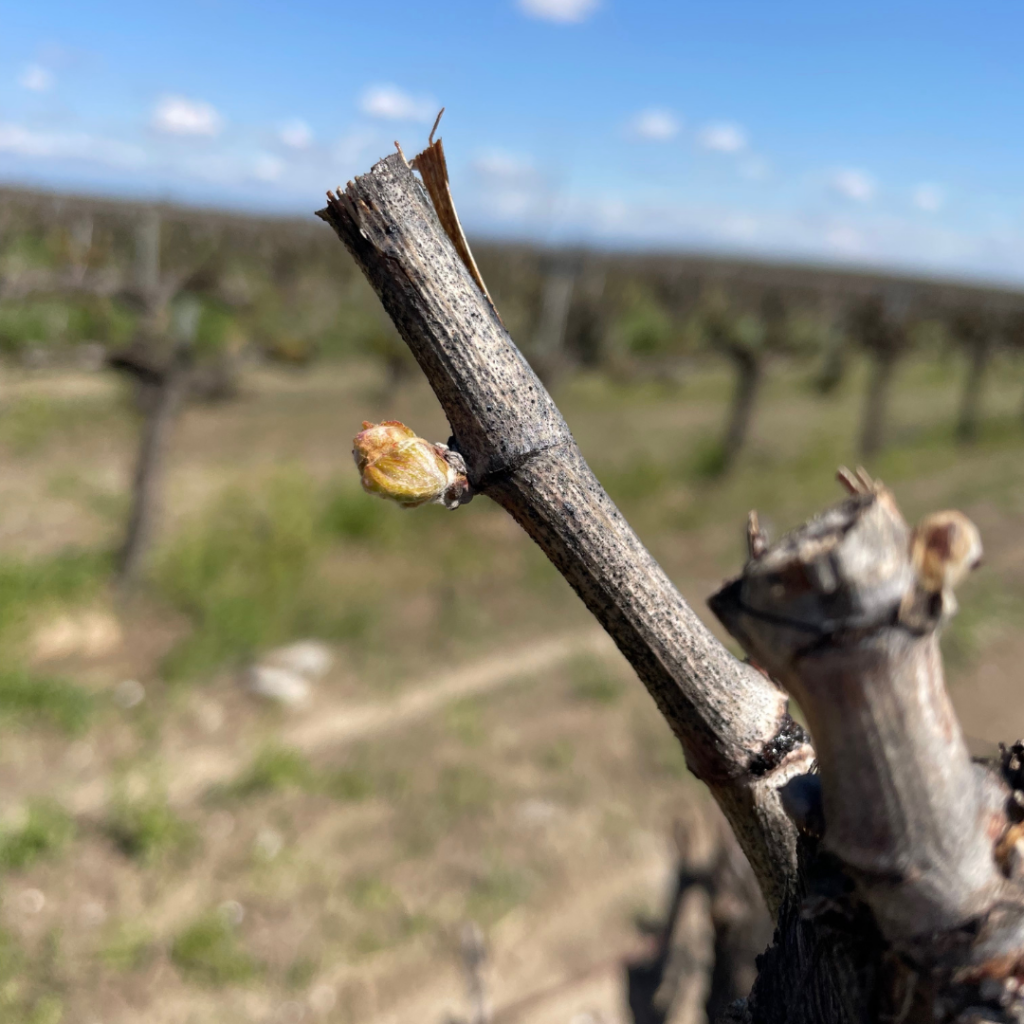 Bud break is the start of the grape vine's annual cycle. It is a relaxing time in the vine's life as long as they don't experience any intense weather occurrences, such as frost. Frost can kill the buds or delay their growth.
Interested in making your own wine? Musto Wine Grape Company is here to help! Musto's New England's largest supplier for home winemaking products and services. Visit juicegrape.com or give us a call at (877) 812 – 1137 to learn more.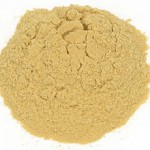 Product Spotlight: CSM Yeast
CSM yeast was derived from Bordeaux and helps create a vibrant aromatic profile. CSM aids in adding complexity to the palate and pairs well with malolactic fermentation.
Why you want to use it:
It's the perfect yeast for the Chilean fruit. It reduces vegetal aromas, adds complexity, stabilizes color, and helps increase the aromatic profiles of berries and spices.
Use Tips:
Fermentation starts quickly with this yeast. Be prepared to see Brix drop 24 hours after inoculation. It can stand up 14% ABV and can handle temperatures from 59–90°F. However, I highly suggest keeping your fermentation temps lower than 75°F. Once you hit 80°F you lose aromas and "burn off" flavors. Keeping your wine between 59–75°F during fermentation is a best practice.
You also want to use nutrients when using CSM; nutrients such as Fermaid-O and Fermaid-K. CSM tends to produce H2S (rotten egg smell) if there aren't enough nutrients during fermentation.
Avoid cold shocking the yeast at inoculation. You'll want to get the must and the yeast starter within a few degrees of each other before pitching the yeast starter. But without temperatures falling lower than 55°F. Temps below 55°F could stall fermentation and/or kill the yeast.
Goes best with:
CSM was cultivated to help ferment Cabernet Sauvignon, Cabernet Franc, Grenache, Merlot, Sangiovese, Petit Verdot. However, we have seen it used on Carmenere, Malbec, and Syrah from Chile with great results.
Dosage:
6gm/gals
Flavor Profile:
Cherry pit, raspberry, blackberry, spice, violet, bark, and sweet pepper
Ready to make wine? Musto Wine Grape Company is here to help you make the wine of your dreams! The Spring South African & Chilean winemaking season starts soon! Secure your winemaking grapes or juices and give us a call at (877) 812-1137 to speak with one of our Musto Crush Crew members. We can get you set up with everything you need and provide customer support along the way to ensure your success!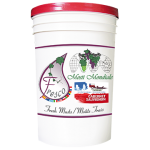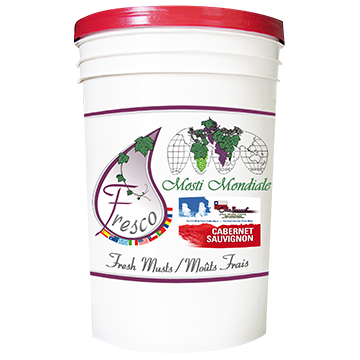 What are Fresco Juices?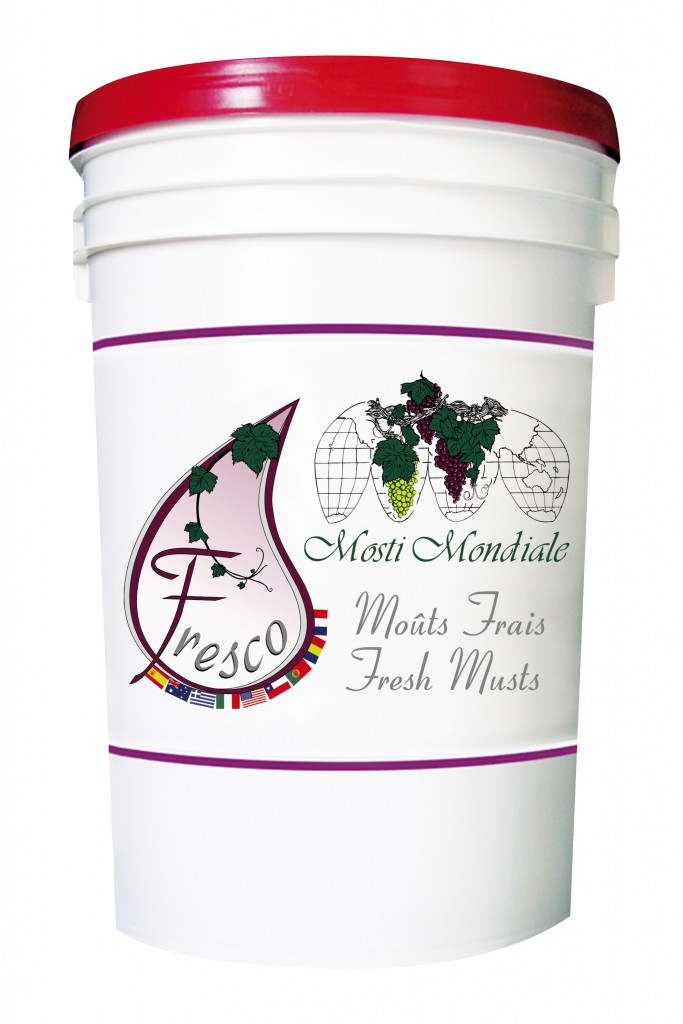 Ever bake a cake from a box and it came out delicious? Did you know you could do the same with winemaking?
Mondiale Fresco is proud to be the only product to offer home winemakers their own vineyard in one unique package. Each pail of juice is pre-balanced and adjusted to ensure you have the best winemaking success possible. Just warm up the juice to fermentation temperature and watch it go.
What does "pre-balanced" and "adjusted" mean?
Every season Mother Nature gives us a different wine grape harvest. Some years the acid, pH, and sugars are all in line with each other. Most times they aren't and there needs to be some slight adjustments made pre-fermentation to ensure top wine quality. The Fresco juices are adjusted so that the acid, pH, and sugar levels are all in balance with each other. This makes for an easier fermentation and, a very pleasing wine.
Depending on the varietal of wine you choose, enzymes and tannins might be added – all pre-measured, and ready-to-go, just open the packet and add to the pail. These add-ons help with wine clarity and mouthfeel, contributing to the "taste like made from scratch", or in this case, as if fermented on the skins. The Fresco juices are the best juices to work with for busy winemakers. You get the juice warmed up, watch it ferment, age, and bottle.
No muss, no fuss. Just delicious wine. Click HERE to via our list of Fresco Juices.
Fresco Juices are Pre-Order ONLY. Give us a call at 877-812-1137 to secure your Fresco Juice order.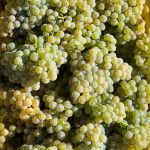 A new grape has been added to our winemaking portfolio from Cry Baby – Grenache Blanc!
 
This grape is widely planted in Spain and the Rhone Valley.
It produces wines with good alcohol content, low acidity, citrus and herbaceous notes. A great blender for Rousanne or Muscat.
It's best to ferment at low temperatures in order for the bouquet to flourish.
Interested in trying a new white wine this season? Email sales@juicegrape.com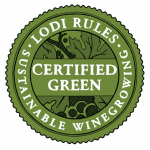 "May we farm in a way that meets the needs of today without compromising the ability of future generations to create their livelihoods." – The LODI RULES motto.
Started in 2005, the LODI RULES certification program is a collective of growers who are focused on all thing's sustainability. Many of these Lodi Farmers are 4th or 5th generation winegrowers who are focused on farming with the next 100 years in mind. We at Musto Wine Grape, are lucky enough to work with some of these amazing farmers – Mettler Ranch and Costamagna Vineyards. Look for the LODI RULES seal on the wine grape boxes this season.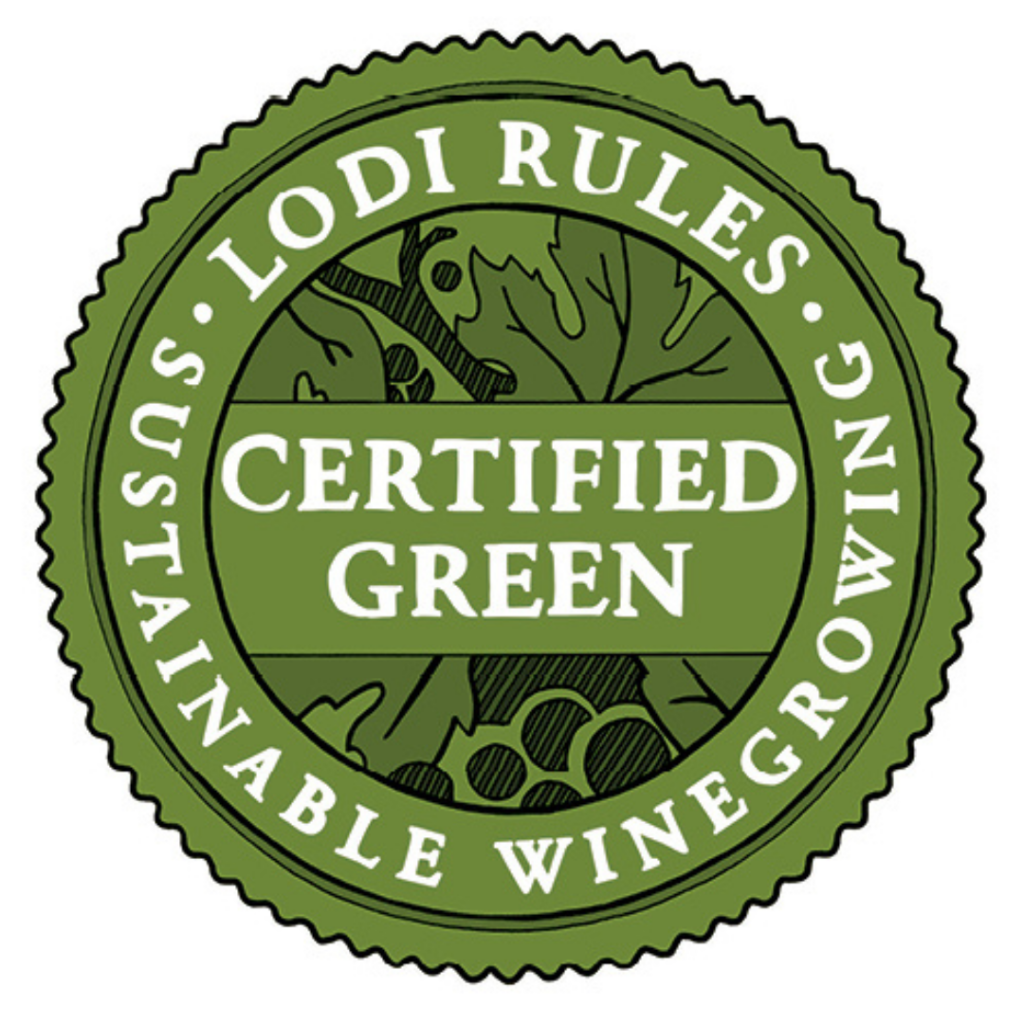 LODI RULES growers use a unique risk model to quantify the environmental and human impact of all pesticides applied in the vineyard. This model considers the dietary risks to consumers, as well as the acute risk to farm workers; small aquatic invertebrates; birds; and bees; and bees and beneficial insects. The Lodi region has documented a great decline in the use of high-risk pesticides since 1992, thanks to sustainability adaption by farmers.
LODI RULES Sustainability Standards Overview:
Water: They carefully manage the quality and efficiency of their water, appreciating every drop
Soil: They do their part to make sure that soil – the foundation of the vineyard- thrives for generations to come
Community: They support the neighborhoods and schools around the farms
Ecosystem: They encourage biodiversity and act as stewards of the land
Pest Management: They us an integrated approach to pest management, which includes protecting beneficial insects and minimizing risks to birds, bees, water, and people
People: They make sure that their vineyards are a safe and rewarding place to work
Quality: They design farming practices to improve wine grape quality
Generational Farming: They farm with the next 100 years in mind
How is certified sustainable farming different than organic and biodynamic?
Organic and biodynamic farmers follow a set of practices related to the environment. Certified sustainable farming includes practices related to the environment, the people, and the business.
LODI RULES has over 100 sustainable practices included in its certification; with over 28,776 acres certified.
Over 150 wines bear the LR seal (Mettler Ranch & Costamagna being some of them!) A wine must contain 85% certified grapes to be the LR seal.
"Sustainability means leaving everything – people, places, etc.- as good as better than how we found it" – Kevin Philips, Michael David Winery
"When you drink a glass of wine made from LODI RULES certified grapes, you are supporting a farmer, a vintner, and an entire agricultural community that embraces their responsibility to care for the environment and the people"
This is a certification I think we can all get behind. Musto Wine Grape is grateful to be bringing in these grapes this season. If you are interested in grapes from the LODI RULES program, please give us a call at 877-812-1137 to pre-order. We are looking forward to assisting with your winemaking this fall!
Grapes Available from LODI RULES Certified Vineyards:
Mettler Ranch:
Barbera
Cabernet Sauvignon
Grenache
Merlot
Pinot Grigio
Pinotage
Petite Sirah
Rousanne
Sangivoese
Syrah
Viognier
Zinfandel
Costamagna Vineyards:
Old Vine Primitivo
Cabernet
Merlot
Sangiovese
Barbera
Aglianico
Montelpulciano
Mourvedre
Nero D'Avola
Sagrantino
Cheers,
Christina Musto-Quick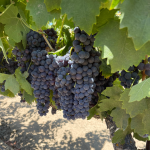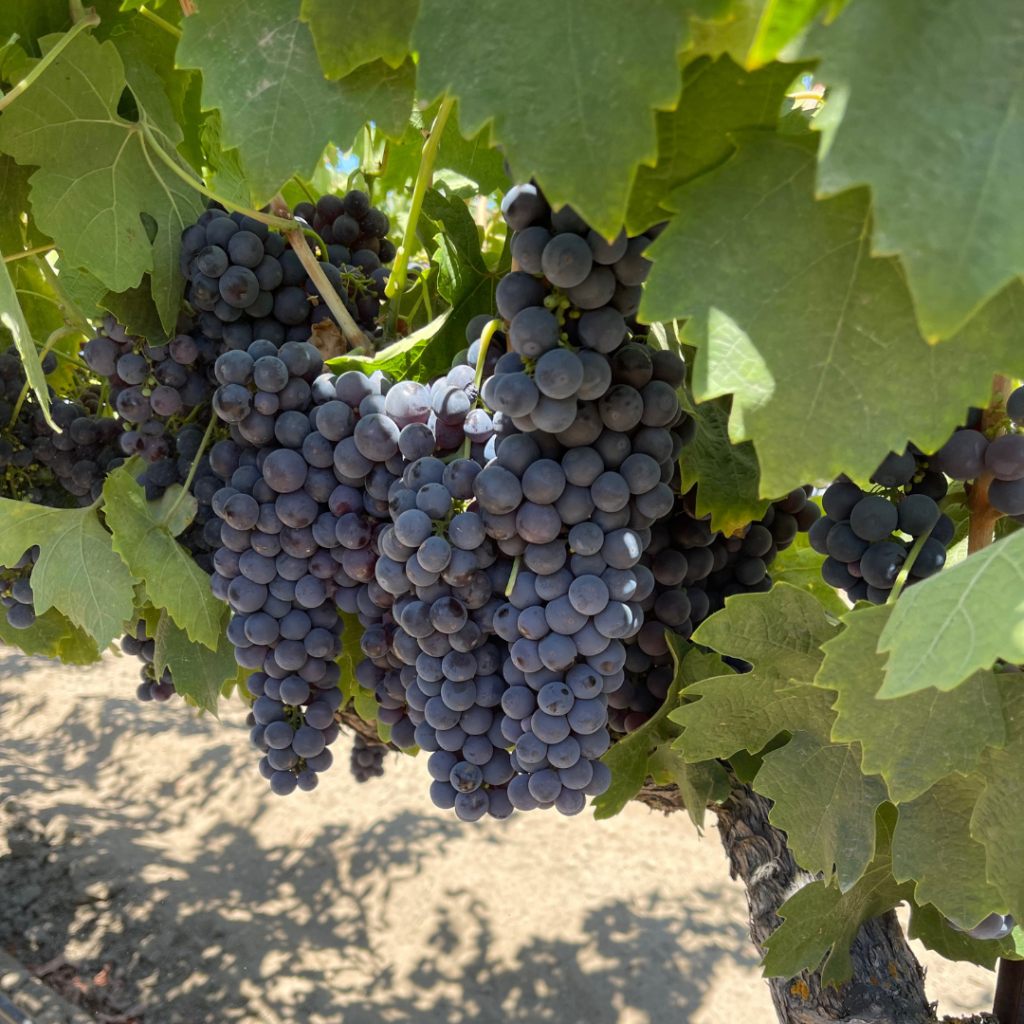 Special Primitivo coming from fifth generation farmer Berton Costamagna
There is something very special about walking through this Primitivo vineyard for fifth generation farmer Berton Costamagna. "Since 1902 my family has been here in Lodi farming these wine grapes", says Berton. "To think that my Nono (Great, Great, Great Grandfather) had the foresight to start a farming adventure back then, by planting his first vineyard of Primitivo here, and to see where it is now, is so inspiring to me." With its sandy loams, and ideal climate, farmers back then quickly saw the potential for growing wine grapes in Lodi, in the heart of California. Fast forward 120 years, and Lodi California has come to be known as the Zinfandel Capital of the World, and is now one of the top producing AVA's in the world. The Costamagna family has continued farming their family's clone of Primitivo for all these years for wineries and home winemakers to enjoy with their families. "These grapes make for a great wine, but what is truly special, is these grapes connect us to the hard work, traditions, and memories of my family before me. My hope is that folks can make as many memories drinking the wine from these grapes as our family has made farming them." 🍇🍷 We can't wait to receive these grapes from the Costamagna Family!
How to Order
We are an old school company. Give us a call at 877-812-1137 or email us at sales@juicegrape.com to get the ball rolling on your pre-order. Don't forget, we can create custom fermentation templates for you if you would like!
If you aren't local to New England and need your product shipped, please email sales@juicegrape.com for a freight quote. We will be shipping out of our Bronx, NY location – D'Arrigo. If you live in the Metro NY area and are interested in a freight quote please reach out to sales@juicegrape.com
Unfortunately, we cannot ship fresh juice. We can ship our sterile juices (Original All Juice (juicegrape.com)), they ship year-round without refrigeration. This is the best option for home winemakers who cannot pick up the fresh product from MWG's facilities.
If you have a large fresh product order (2,000lbs and up), please contact sales@juicegrape.com for a freight quote.
For more information regarding the Fall Harvest please feel free to contact us at sales@juicegrape.com  or give us a call at 877-812-1137. We are looking forward to helping you with your next great wine!
Sincerely,
Christina Musto
Musto Wine Grape Co.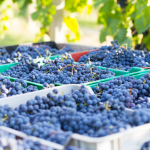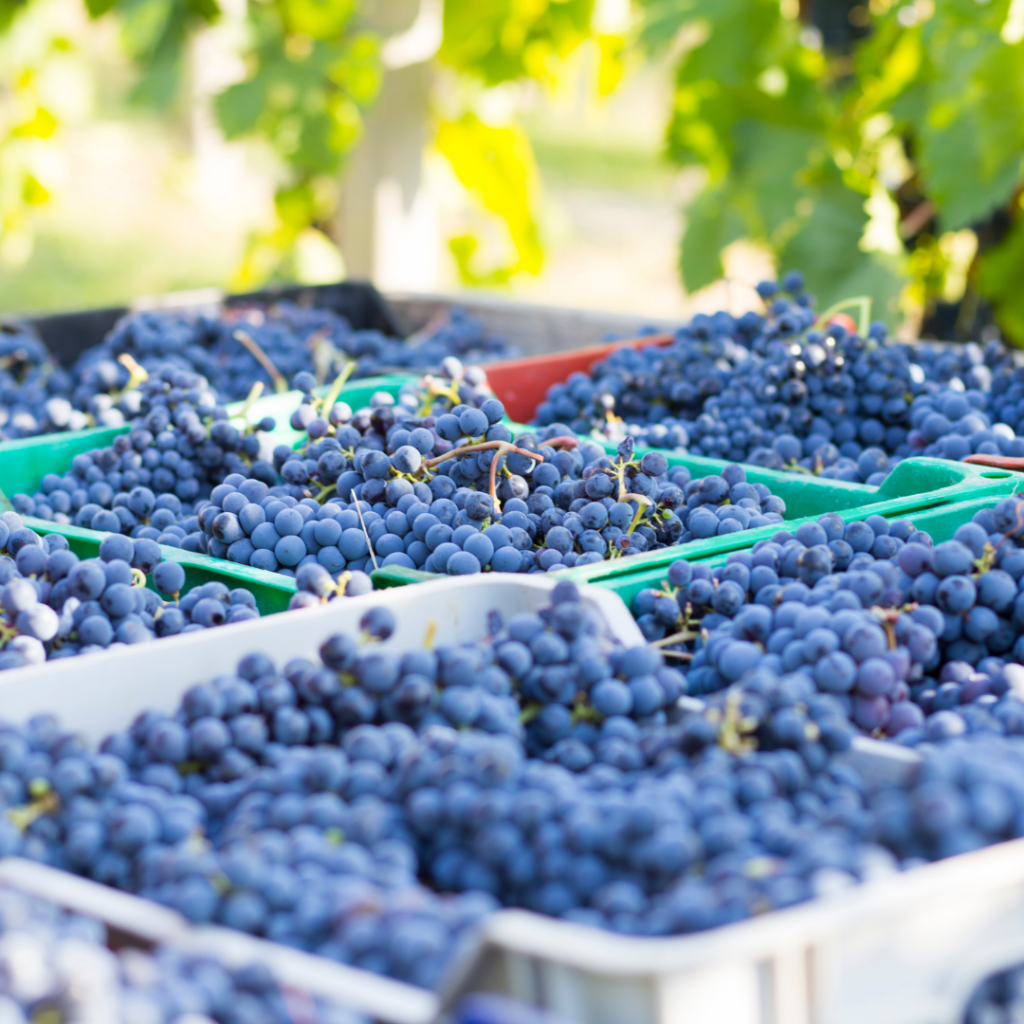 Each case of wine grapes from Chile is 18lbs. Depending on the grape variety, you should yield about 1.5-2 gallons of must per case.
However, keep in mind that certain wine grapes are "juicier" than others. For example, Syrah is considered a "juicer" grape than a Cabernet. If you look closely, you can see the difference in the shape of the berries. The Syrah grape has more of an "egg" shaped berry to it. The Cabernet is more of a circle shaped berry. The berry size, climate, soil, and vineyard practices will all help determine how much juice is produced in each berry, and the berry intensity.
Usually each case of 18lb wine grapes will yield about 1.25-1.50 gallons of finished wine.
That equates to about 7 bottles of wine.
Other factors that influence how much must and/or juice you yield per case:
How your rollers are positioned in your crusher destemmer
How much you press after fermentation is completed
How much wine you loose during racking
If you barrel age your wine
If drink a lot of wine during bottling
Keep these topics in mind when you are deciding on how many cases of grapes you want purchase versus how much wine you want to make. If you ahve any questions do not hesitate to reach out to us via email (sales@juicegrape.com) or phone (877-812-1137).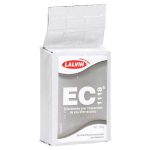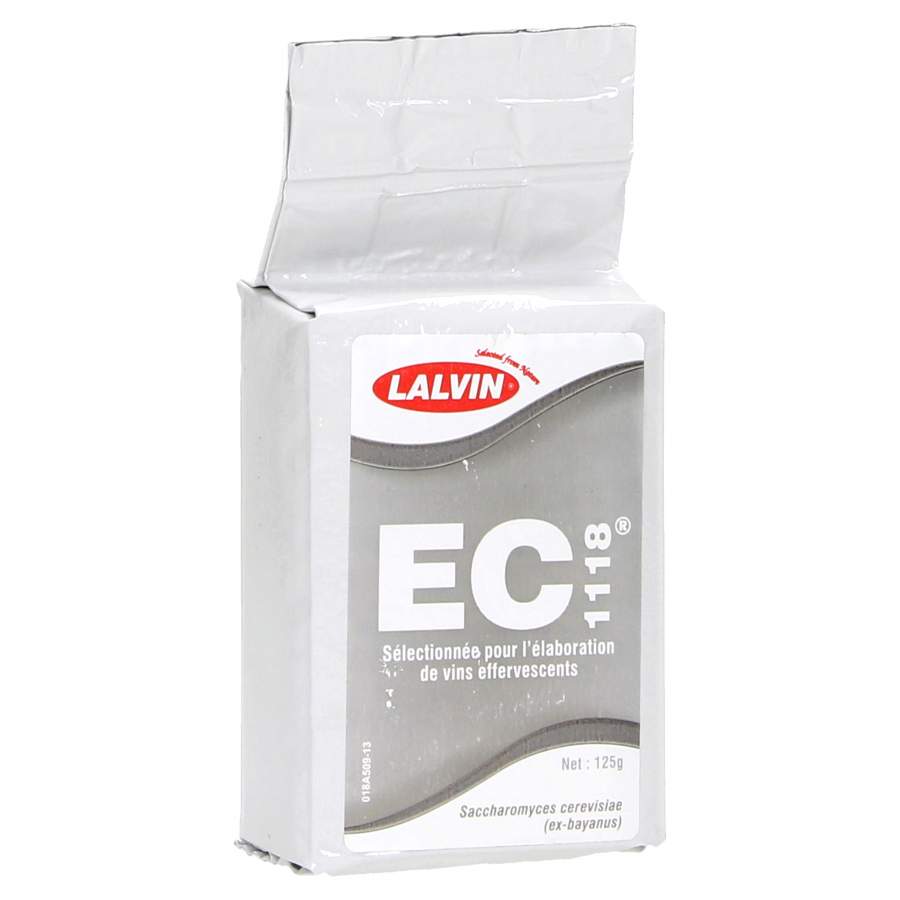 What makes EC-1118 so great?
EC-1118. It's an excellent strain to be used in a wide variety of wines. This includes red and white, including sparkling, fruit wines, late harvest wines and cider. It has a strong competitive character that will inhibit wild yeasts, and restart stuck fermentation due to it's great alcohol and sulfate tolerance. Being a very neutral yeast, it will have very little effect on the varietal character of the grape. It ferments fully, and flocculates well, producing compact lees. It has extremely low production of foam, volatile acid and hydrogen sulfide (H2S) and it ferments well over a wide range of temperatures (50 to 86 degrees Fahrenheit), making it one of the most favorable and popular wine yeasts.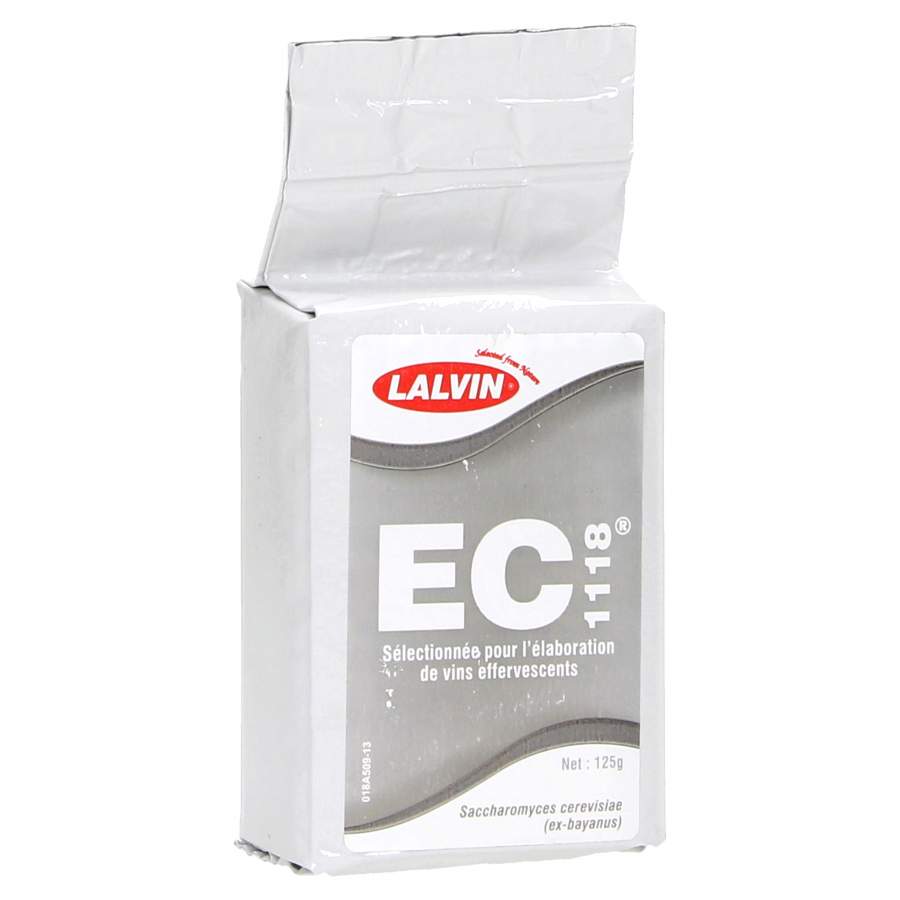 Considering EC-1118 for your next wine batch? Click here to be directed to our store to purchase online, or call us at (877) 812 – 1137 to place an order with one of our associates. We can also provide a step-by-step instructional for re-hydrating your yeast and adding it to your wine. Whether you're a newbie home winemaker or a pro, we're here to help!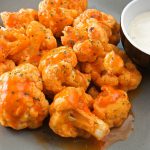 Air Fryer Buffalo Cauliflower Bites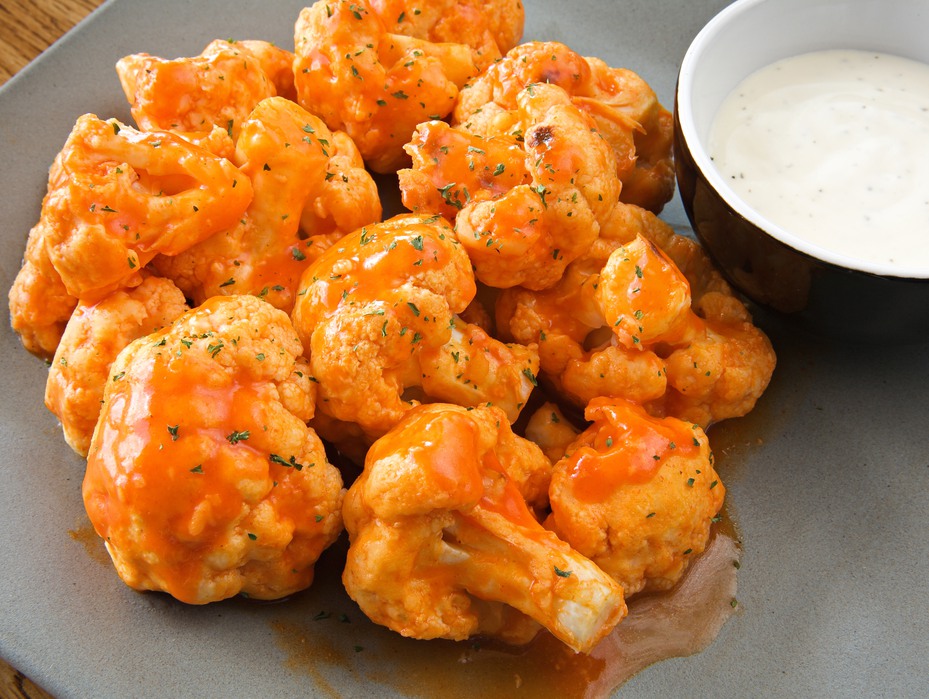 If you're obsessed with wings like I am, but are looking for a healthier alternative, try these air fryer buffalo cauliflower bites! Cauliflower has a similar texture to potatoes, but without all the carbs. There are a few way you can prepare these, but I've been obsessed with my air fryer lately so that's what I'll be using for this recipe.
What you'll need:
About 5 cups of cauliflower, chopped into florets
Buffalo Sauce – Frank's Mild Buffalo sauce is my all time favorite!
Unsalted butter
How you'll do it:
Spray the cooking basket in the air fryer with some non stick cooking spray
Add the cauliflower and cook at 375 degrees for 15 minutes. Toss the cauliflower and add back in for about 5 minutes if they aren't crispy yet. (Try cooking the cauliflower in smaller batches if they come out soggy – I've noticed if you over pack the air fryer they tend to not crisp evenly.)
Add cold butter to the warmed buffalo sauce and add to a large bowl, and pour the sauce mixture on stop and toss to fully coat.
Serve with blue cheese dressing for dipping and carrots and celery sticks to serve on the side.
The impossible pairing:
Yes, you can pair a wine (actually, quite a few!) to go with your buffalo dishes. A slightly sweet white wine will compliment the buffalo sauce the best. Reach for a Champagne, Moscato D'Asti or a Riesling. The fruity flavors and the low level of tannins really works with the buttery spice and they also help with the heat!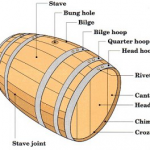 Winemaking is an investment in most winemakers' eyes. One of your most tedious but worthwhile investments will be a wine barrel. They are expensive to produce and challenging to maintain, but the impact it can have on the quality of your wine makes it worthwhile. This article will cover the anatomy of the barrel, how to clean it, and the maintenance you should familiarize yourself with if you plan on owning one.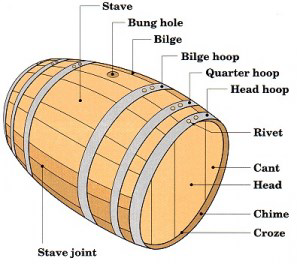 Inspecting your barrel
The first thing you should do as soon as you receive your new (or used) wine barrel is to inspect it. You should start by visually examining the barrel's exterior. Keep an eye out for broken chimes, dented or displaced heads, and misaligned staves. Also look for scrapes, gouges, and any torn or burred hoops. Next, you'll need to inspect the inside of the barrel. The inside should be completely dry and free of mold. The area where the head meets the staves can be a breeding ground for mold, which usually occurs from a combination of standing water and exposure to starch used in the construction of the barrel. Lastly, observe the aroma of the barrel. The barrel should smell clean, fresh, oaky, and/or toasty. Other than sulfur, there should be no chemical odors and certainly no aroma of spoilage.
Prepping your barrel for wine
This will include one last inspection of your barrel, which is testing your barrel for leakage first. You need to rehydrate your barrel, or "swell" it to prepare it for wine, but it'll kill two birds with one stone allowing you to inspect for any possible leaks. There are two ways to swell your barrel, the first option being the hot water/quick soak method. The second option is a coldwater/high volume soak. The only main difference is the speed of which the soaking gets done.
Hot water/quick soaking consists of filling the barrel with 3-5 gallons of filtered, chlorine-free, hot water. The ideal temperature for this would be about 180 degrees Fahrenheit. Use caution when using water hotter than this, or using high-temperature steam as this can degrade and damage the barrel. Once you've filled your barrel, place your stopper in the bunghole. Rotate the barrel from side to side, completely wetting the barrel's interior. Stand the barrel upright on its side (one head facing down, the other up) and let stand for about 4 hours to rehydrate the head. Repeat with the opposite side for an additional 4 hours. During these processes, make sure to continuously check for any leakage. If there are no leaks, turn the barrel so it's bunghole is facing toward and allow to drain and dry completely.
Coldwater/high volume soaking calls for filling he barreling completely with filtered, chlorine-free, cold water. Once you've filled the barrel completely, place your stopper in the bunghole and let the barrel stand for about 24 and 48 hours. Once no leaks are present, empty the barrel and allow it to drain and dry completely.
If your barrel continues to leak after multiple swelling attempts
If after either of these methods are complete the barrels still exhibit leaks, repeat the swelling process as it's possible it just needed more time to swell. There are some additional methods of swelling you can attempt that are more aggressive but can possibly help seal any leaks.
The submerging method:
We have found that sometimes soaking the interior and exterior of the barrel simultaneously can help to get it swelled. Start by placing the barrel upright on one head in a large container. Fermentation tubs work great for this. Next, fill the barrel halfway until water is seeping from the bunghole, then fill the container it's in up to the same bunghole. Let the barrel sit overnight, then remove all water from the barrel and container, flip the barrel onto its other head and repeat the process. Once emptied, use the cold water method and check for any leaks.
The hoop tightening method: 
The hoops on a barrel can become loose when it becomes dry. Using a hoop driver, or if no hoop driver is available, a cold chisel to hammer the hoops toward the center of the barrel. Workaround the barrel, hammering firmly at around one-quarter increments of the circumference. It may be necessary to remove the hoop nails to allow the hoop to slide tighter onto the barrel.
The Barrel Sealing Wax method: 
Beeswax can be used to seal small leaks. The first step is to mark any leaks with a pencil or chalk. To properly apply sealing wax, first make sure the barrel is dry. Next, gently sand leaking areas with rough sandpaper. Knead a small piece of beeswax in your hand and work the wax into the area using a putty knife. Beeswax will not change the flavor of your wine and is completely safe to use.
After several attempts, if your barrel continues to leak, it is important to call your sales rep immediately. Empty the barrel, allow it to drain, and completely dry. Next, you have to treat each barrel with 10-20 grams of sulfur sticks (or the equivalent gas form) and re-insert the stopper. This will ensure that you are still maintaining the integrity of the interior of the barrel.
Storing your barrels
Ideally, barrels should always have wine in them. If you are in between winemaking projects though, or you're waiting for harvest, there are a few guidelines you should follow when storing your barrels. If you are storing a new barrel, store in a cool, humid environment. Some new barrels arrive with their plastic film still on them – if yours does, keep that film on if you plan to store them for a significant amount of time. The process of storing a used barrel requires a bit more work.
If you are ready to empty your barrel, empty it and wash the barrel out with hot water until all of the deposits and tartaric crystals have been dissolved and emptied. Repeat if necessary. If you have access to larger volumes of hot water, fill the barrel completely and let sit overnight. Once emptied, rinse the barrel with cold water and let it dry with the bunghole facing down. Allow to completely dry, and then burn sulfur sticks or discs in the barrel and place stopper in the bunghole. This burning treatment should be repeated every six weeks or so until you are ready to use the barrel again. Finally, store your barrels in a cool, humid environment.
Other tips and tricks for maintaining your barrel
Never leave water in a barrel for more than two days. If the swelling process takes longer, empty, and refill the barrel with fresh water to avoid mold and spoilage micro-organism growth.
A full barrel is a happy barrel! If possible, try to refill your barrel immediately after it has been emptied and cleaned. This way you will never have to re-swell it and there is much less opportunity for bacteria and other spoilage organisms to get into the barrel.
Never use chlorine in or around a barrel, or any winemaking equipment for that matter. TCA, also known as cork taint, can infect much more than just corks. A barrel is a vulnerable place for TCA to be absorbed into due to the spores, molds, and natural phenolics of the wood.
When in doubt, throw it out – or repurpose your barrel for something other than winemaking. If you suspect that there are spoilage organisms in your barrel even after you have tried ozone/steam/proxycarb, (you can find info on these here) err on the side of caution and retire it. You can ruin any future wine you put into such a barrel and it can possibly infect the rest of your winemaking equipment if they are stored near them. Barrels can be repurposed into planters, furniture, and more!
Where can I purchase wine barrels?
Musto Wine Grape Company carries a few categories of wine barrels including new and used American and French wine barrels! Email sales@juicegrape.com or call (877) 812 – 1137 to speak with one of our Musto Crush Crew members to get your order placed, or if you need any assistance in using, maintaining, or storing your barrel. We also offer ozoning treatments if you are dealing with a problem barrel. We are here to provide everything you need to make the wine of your dreams, including the customer support to ensure your success!