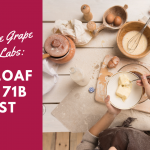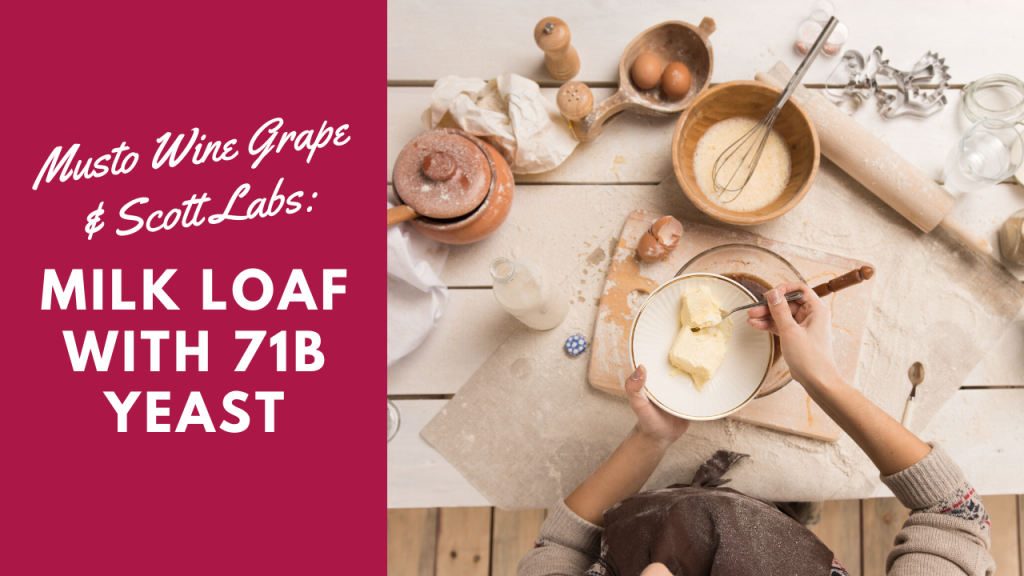 Have you run out of ideas for what to keep yourself busy with during quarantine? We've decided to experiment and the results were delicious. Using 71B yeast and Scott Lab's recipe for milk loaf, we put our baking skills to the test and had a whole bunch of fun doing it!
Prep time runs just about two and a half hours, and bake time is about 25 minutes so this will surely keep you busy!
Here's what you'll need (for a yield of 2 loaves. If you'd like more increase ingredients as needed):
4 cups of bread flour
2 teaspoons of salt
1 tablespoon of sugar
2 sachets (9 grams) of Lalvin 71B Yeast (Don't have this on hand? No worries! We have it in stock. Give us a call/visit and we'll get you what you need!)
2 tablespoons of butter
1 cup warm whole milk
1 cup tap water
Here's what you've got to do:
Mix all dry ingredients together in a bowl. Then, add butter, milk and water. Mix everything together with a spatula.
Once the wet ingredients have been absorbed, remove dough from bowl and transfer to a counter or workspace.
Extensively knead the dough by stretching and folding it repeatedly. Once the dough is smooth and slightly shiny, divide it into two pieces. Cover each with plastic and let rise for 40 minutes.
Flatten each piece of dough and roll into the shape of a football. Let the dough rise again for another 40 minutes.
Place the dough into a bread pan (about 6"-7" long, 3.5" deep) and cover with plastic and allow to rise for another 60 minutes.
Bake in a pre-heated oven at 420 degrees F for approximately 25 minutes.
Let cool and enjoy!
Show us your finished loaves on Instagram and Facebook by commenting or tagging us @mustowinegrapeco and using the hashtag #mustocrushcrew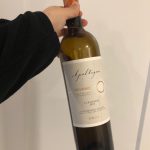 It's been a rough week to say the least…. So I opened one of the special bottles I brought back from my trip to Chile to help me relax. Which of course got me thinking about the wine I want to make this year. After drinking the Envero Gran Reserva Carmenere I think I have found my blend – 90% Carmenere and 10% Cabernet.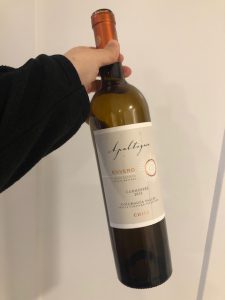 Wine Tasting Notes:
"Red-violet in color, brilliant and vivid, our Apaltagua Gran Reserva Envero shows ripe blackberries, tobacco, and spices. It possesses a remarkable combination of ripe fruit notes and oak mixed with vanilla. Its flavor is juicy, full, and concentrated, highlighting the softness in the mouth and the raspberry and plum tannins with a touch of tobacco. It has a long and lingering finish."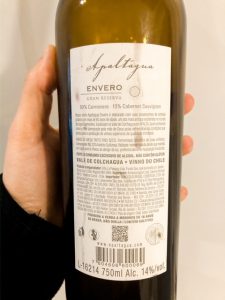 After enjoying this wine with my husband, he is totally on board with making it this spring season. So we discussed different ways to make Carmenere – things to consider, things to watch out for, and how to create the wine vibe we want. Below are some notes from our discussion on how we are going to attempt to re-create this bottle, as well as some information about where our Carmenere grapes come from.
FYI I have an alert on from Wine.com for when this wine becomes available to purchase in the US. If anyone is interested email me (cmusto@juicegrape.com) and I will share when I get the alert that it's back in stock.
Winemaking Ideas:
Yeast: CSM
Why did we decide on CSM? This yeast was derived from Bordeaux and helps create intense aromatic profiles of berries, spice, and licorice. It also helps counteract and reduce vegetal aromas and flavors. CSM aids in adding complexity to the palate and pairs well with malolactic fermentation.
Malo: VP41
We have decided to use VP41 as our malolactic bacteria because it is known for steady fermentations and helps with wine structure. We will most likely co-inoculate in order to ensure that our malo completes sooner than later.
For more information about Timing your Malolactic Fermentation click here.
TA and pH levels in Chilean Carmenere
Personally adjusting TA and pH always makes me a little nervous. Who else is with me? Acidity can be a tough stylistic balance between sweetness and astringency. It is also essential in preserving and keeping your wine safe and age worthy. You want your must to be around 6-8 grams per liter for red wines. The pH is next in the balancing act which should be around 3.3 – 3.6 in red wines. Keep in mind if you have to do adjustments, like add acid, your pH will decrease. You want to make sure your pH is in the above range. It is more important for your pH to be within the right range than your TA. This is because your pH is critical to a good fermentation and avoiding bacteria and spoilage during aging. Below are a few articles you can check out to read up on pH and TA if you need a refresher. Also, we sell the best home winemaking book in my opinion called "Techniques in Home Winemaking" by Daniel Pambiachi. If you don't already have it I would suggest ordering it. For more information on pH and TA I've referenced some articles below.
The Carmenere came in at a TA of .64 g/l and a pH of 3.84. So we adjusted the TA to 0.8 g/l and the pH to 3.56. This way our pH was in a stable range. Since we made adjustments last year, we are expecting to do a few adjustments to the must up front this season.
Watch Fermentation Temperatures
Our CSM yeast has great temperature range of 57F to 90F. Since we don't have the best temperature control, I like the flexibility it offers. However, we will need to keep track of our temperatures every day and try to make sure that the must never goes over 85F because we do not want to burn off any positive aromas.
No Cold Soak
We aren't going to do a cold soak because we don't want to extract any extra pyrazines in the wine. Pyrazines are an organic compound in wine grapes that gives off flavors and aromas similar to green peppers.
Brix Levels in Previous Carmenere
The Brix levels are very important when working with wine grapes. You want to make sure that your yeast can handle the amount of sugar in the grapes. The Carmenere grapes from Chile are picked off of 18 year old vines. So there is always a range of Brix levels, and the age of these vines help create a lot of complexity and intensity in the wines. Old vines are my favorite! The CSM yeast can take up to 14% ABV so we are usually in the right range with how the grapes have arrived in the past; which is a maximum of 25 degrees Brix. In 2019 our Brix were 25.5.
Blend Decision
90% of Carmenere and 10% of Cabernet or make it 100% Carmenere. I'm not gonna lie, I'm not sure why this blend works so well but it does and I'm looking forward to duplicating it. However, there is a lot to consider here. We don't have an aging vessel for 10% Cabernet, so we won't be able to do a separate fermentation. We will have to do a field blend of all the grapes at once. If our cellar was bigger and we had more storage options, I would ferment the Carmenere and Cabernet separately, age them separately, and then blend before bottling.
Possibly do a little French oak
The winemaker who made this Carmenere aged it in 60% American and French oak barrels and 40% in stainless steel tanks. Considering we don't have a large set up and multiple storage vessels we've decided to use French oak chips. This is because we enjoy the notes that French oak gives to the wine – vanilla, cedar, butter, cream soda, toasted bread, graham cracker, and marshmallow. Also, the wine we enjoyed had very silky tannins; usually attributed to French oak additions. Silky tannins are also attributed to micro-oxidation from aging in a barrel. If that doesn't work we might utilize some Noblesse to help soften the tannins in the future.
Racking and Filtering Thoughts
We talked about racking the wine 3-4 times and to splash rack when we do for at least the first 2 rackings, if we are getting a rotten egg smell. We will most likely use a course filter 4 months after malo has completed and a medium (polish) filter week before bottling. Many people are nervous about filtering red wines, thinking it will strip wine of color. Don't be concerned, it only takes out sediment and it really cleans up the wine.
Cellar bottles for 6 months
This is what the winemaker did with his wines, so we are going to try to do this with ours. Although the wine geek in me wants to drink it right away and maybe drink one bottle a month for "research purposes" (of course) to see the change and differences time in the bottle makes. But we will cross that bridge when we get to it. As for the types of bottles we will most likely use the CWA-018. I like the antique green color and the height gives more of a reserve style feel to the wine in my opinion. Also, we will use colmated corks as we will want to try to do some aging trials.
Viticulture Information:
Chile's wine growing success is due to the cooling influences they receive from the Pacific Ocean, the Andes Mountains, and the warm and plentiful sunshine. Their warm Mediterranean climate allows for grapes to fully ripen and avoid fungal diseases. There is a current called the Humboldt Current that flows up from Antarctica, along the Chilean coast, and the cool air is pushed inland by the wind patterns. This cooling effect helps cool off the grapes during those sunny days. Colchagua and Curico Valley both benefit from this ocean influence; which allows these regions to produce grapes from fertile soil for wines that are gaining premium reputations.
Arrival Estimates:
The Chilean grapes and juices should start arriving in late April, early May. Once the grapes are harvested we will have more details.
Grapes Available from Chile:
Cabernet Sauvignon, Cabernet Franc, Carmenere, Malbec, Merlot, Petite Verdot, Pinot Noir, Syrah, Chardonnay, Pinot Grigio, Sauvignon Blanc, and Viognier.
Juice Available from Chile:
Cabernet Sauvignon, Cabernet Franc, Carmenere, Malbec, Merlot, Petite Verdot, Pinot Noir, Syrah, Chardonnay, Pinot Grigio, Sauvignon Blanc, Viognier, and Muscat.
For more information on how to make Chilean Carmenere check out my 2019 vintage recipe here. For more information on how to order your grapes and juices please email cmusto@juicegrape.com or call 877-812-1137.
I hope you and your family are safe and healthy during these challenging times!
Sincerely,
Christina Musto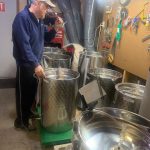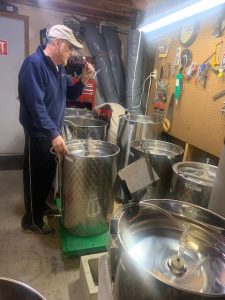 Clean out your winemaking cellar/area. As we all know, you can never be too clean in your wine making area. This may be the perfect time for a little spring cleaning. Sweep, mop, and disinfect the floor of your winemaking area. Never use bleach! You can use Mr. Clean cleaner, as it is bleach free and a good disinfectant. In a pinch, you can also mop with some B-Brite and then rinse it off very well (possibly even twice) to clear off any residue.
Clean out your winemaking "pantry". Go through all of your packages of additives such as nutrients, potassium metabisulfite, and tannins, and discard things that are over a year old. Many additives can absorb moisture and lose their effectiveness, so it is imperative to store them in sealed plastic bags, sealed plastic containers, or mason jars. Try to get rid of anything very old and make a list of items you have on hand for your next winemaking session. It will make buying new ingredients so much easier.
Rack….. When wines sit and age for a bit of time, acids and tannins can fall out in precipitate, forming a layer of sludge on the bottom of your vessel. Rack your wine off of this sludge to keep it clean and delicious.
Check sulfite levels and make additions. While racking the wine, it's the ideal time to check your sulfite level and

add some

. If you do not have the ability to test sulfites, drop off a 200ml sample at Musto Wine Grape, and we can test it for you and let you know how much to add. If you can't leave home, use the general rule of adding ¼ tsp of

Potassium Metabisulfite

per 5 gallons of wine, every 2 months. This will keep your wine fresh and tasty.
Bench Trials! There is room for improvement in every wine. With all of this extra time on our hands, it may be the ideal time to try some experimental bench trials with new products. Would your wine benefit from a fining agent such as

Noblesse

or Gelatin? Would a little

flashgum

or glycerin smooth out the finish? This is the time to see if any subtle additions to your wine may take it to the next level.
Taste Test! Now is a great time to give your wines a taste and think about them critically. Try to get as many opinions as possible. Got a wine loving neighbor or friend? Give them a small sample and ask their opinion. Their feedback may lead to you improving your wine in a new way. At the very least, you can have a nice time enjoying the fruits of your labor and deciding on how to improve it, or how much to make next vintage!
 Re-read old

Winemaker Magazines

or Winemaker Bootcamp Notes to get some winemaking inspiration and brush up on your winemaking skills. You never know what new tips and tricks you'll learn by re-reading your favorite winemaking materials.
For more information about how MWG is handling the COVID-19 pandemic, please click HERE. During these challenging times we hope you and your family stay safe and healthy!
Sincerely,
The Musto Wine Grape Company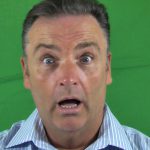 Let's face it. There are A LOT of things that can go wrong during the winemaking process. Here are 7 tips for your home winery to help ensure your wine is as tasty as ever.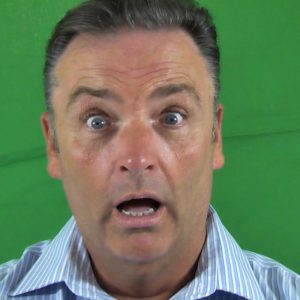 Don't use bleach!

While bleach is a great way to clean your bathroom, it is very hazardous to your winery.
Chlorine bleach is toxic to humans and should never be used to clean any vessels that are used for food purposes.
Bleach molecules also are prone to lodging themselves in cellulose material. They quickly attach to wood, cardboard, and cork, even through airborne transmission. This is the cause of cork taint, an irreparable wine fault. When the corks have been contaminated with chlorine bleach, they will contaminate the wine they come in contact with, causing a musty, stale aroma.

Do a weekly check of airlocks, tank seals, and barrel bungs.

Accidents happen, and sadly, many accidents can be avoided. Make a good habit of doing a weekly walk through of your home winery.
Check that your airlocks have the appropriate amount of water.
Check the gaskets on any tank lids are inflated and on correctly.
Check that barrel bungs are securely in place and barrels are completely filled up. These small steps can prevent oxidation before it starts.

Do rinse off soda ash and B-Brite, Don't wash off sulfite solution or 1-Step sanitizer.

Soda Ash and B-Brite are excellent cleaners in the winery. They can help remove the toughest wine stains and wine debris from tanks and carboys.
They should always be treated like soap and be rinsed off thoroughly.
A wise additional step is to neutralize any remaining soap with a citric acid rinse.

Sulfite

solution or 1-step sanitizer can then be applied to sanitize any vessels or equipment. This should not be rinsed off but the equipment should be allowed to drain or remove any bulk remaining pools of sanitizer.

Do add sulfites when you rack (every 8 weeks).

As wine ages, sediment will fall out in precipitate.
Wine should be siphoned off of the precipitate every few months to maintain clarity and "cleanliness".
This is an ideal time to add sulfites. Add 1/4tsp of sulfite powder per 5 gallons of wine. Sulfite powder should always be dissolved in warm water before being stirred into the wine.

Don't reuse store bought bottles.

While it may seem like a very cost effective step, reusing old bottles can lead to many problems further down the road.
Never try to put a cork on a screw top bottle! The glass is thinner where the threads are and when trying to remove the cork using a wine opener, the glass is highly prone to cracking.
All bottles are made differently and can have different diameter necks. It is very important to have the same size corks and bottles to prevent leaks later on. Conversely, if the corks are too large for the bottle, it will be very hard to insert them and this can damage the cork.

Don't soak or boil the corks!

Soaking or boiling the

corks

prior to inserting them will actually degrade their quality.
They will absorb too much liquid and can become brittle or leach the liquid into the bottled wine.
Instead, lightly mist the corks with sulfite spray prior to bottling.
Always keep leftover corks in a sealed container.

Do Mop up Spills!

Spills are inevitable in a winery. Be careful to mop up any spills that occur and clean well with a non-bleach cleaner.
Wipe lids of tanks often if there is any leaking from the airlock or seal.
If wine spills or leaks are left to sit, it can easily turn acetic, which is an easy source of contamination to the wine. Fruit flies can land on the spill and transfer acetic bacteria into your wine if they happen to land in it.
Interested in making your own wine? Musto Wine Grape Company is here to help! We are New England's largest supplier for home winemaking products and services. We can get you set up with all of your juice, grape and equipment needs and have you on track to making your own perfect pairing for next fall! Visit juicegrape.com or give us a call at (877) 812 – 1137 to learn more. We look forward to hearing from you!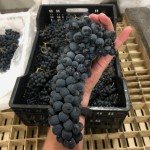 Each case of wine grapes from Chile and South Africa is 18lbs. Depending on the grape variety, you should yield about 1.5-2 gallons of must per case.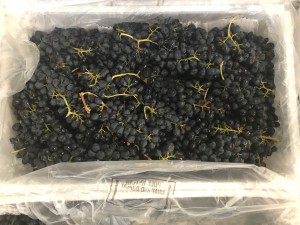 Certain wine grapes are "juicier" than others. For example, Syrah is considered a "juicer" grape than a Cabernet. If you look closely, you can see the difference in the shape of the berries. The Syrah grape has more of an "egg" shaped berry to it. The Cabernet is more of a circle shaped berry. The berry size, climate, soil, and vineyard practices will all help determine how much juice is produced in each berry, and the berry intensity.
Usually each case of 18lb wine grapes will yield about 1.25-1.50 gallons of finished wine.
That equates to about 7 bottles of wine.
Other factors that influence how much must and/or juice you yield per case:
How your rollers are positioned in your crusher destemmer

How much you press after fermentation is completed

How much wine you loose during racking

If you barrel age your wine

If drink a lot of wine during bottling 😉
Keep these topics in mind when you are deciding on how many cases of grapes you want purchase versus how much wine you want to make.
Interested in making wine from Chilean grapes? Check out this

POST
Interested in making wine from South African grapes? Check out this POST
We hope this information helps! If you have any questions please do not hesitate to reach out via sales@juicegrape.com or 877-812-1137. Cheers!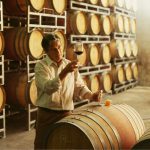 December is all about Racking, Racking, Racking!
Tis the season for holiday gatherings and fun, but don't neglect your wine. Your wine should be pressed (if necessary) and racked a minimum of two times at this point.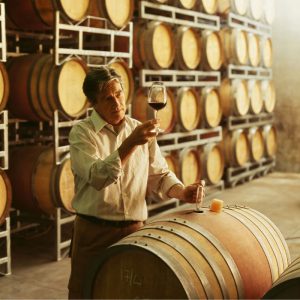 Racking is the process of transferring the wine to a fresh, sanitized container, to remove it from the sediment that has fallen out of suspension. This a natural way to clarify your wine.
A few racking tips:
Make sure you sanitize the siphon tubing, pumps, and new vessel thoroughly with sulfites
Always top up the new container as much as possible up to 1" of the top
Try not to disturb the layer of sediment on the bottom of the original vessel by keeping the siphon tip close to the surface of the wine.
To read more information about how to rack you wine click

here
Musto Wine Grape Company is here to help! We are New England's largest supplier for home winemaking products and services. We can get you set up with all of your juice, grape and equipment needs and have you on track to making your own perfect pairing for next fall! Visit juicegrape.com or give us a call at (877) 812 – 1137 to learn more. We look forward to hearing from you!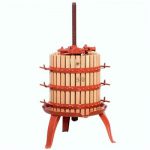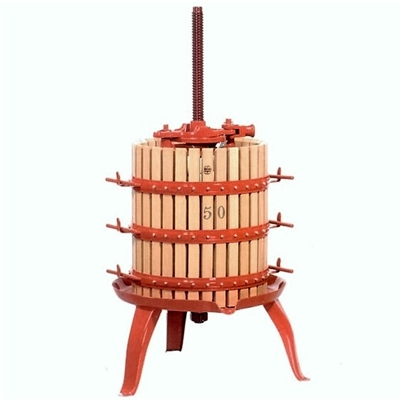 How to Pick a Press
Which kind is right for you?
One of the most visually iconic and useful tools in winemaking is the wine press. It is the device that will separate the solids and skins from the precious juice or fermented wine. There are a couple different kinds you have to choose from, though they are at their core the same in that they use pressure to push hard against the skins to extract the remaining juice or wine that has not already become separated from the skins.
But upon investing in a wine press, how does one select a size and style? Here are some tips on selecting your first wine press:
Picking a Style
There is more than one way to press a grape! For home winemakers, there are two main styles of wine press that you can choose from: ratchet press or a bladder press.
A ratchet press often has wooden sides and lid that hold in the grape must with a steel center rod and bottom juice tray. The grapes are loaded into the center of the press and large blocks are stacked on top of make up any lost volume. Then the lid is ratcheted down, applying vertical pressure from the top down upon the grapes. This style of press does an excellent job with extraction. The user must be careful not to exert too much pressure on the must as they are liable to crack seeds, which can release bitterness into the wine.
A bladder press is similar in shape to a ratchet press but operates differently. Bladder presses have metal sides and lids to hold in the grape must along with the traditional metal bottom. They work via water pressure. Simply attach a garden hose to the inlet valve and the water will inflate a center bladder which exerts horizontal pressure against the grape must. This style of press exerts more gentle and even pressure to the grape must. The press must be filled up to the top to avoid "mushrooming" and bursting the center bladder.
Considerations
Choosing a reasonable size
When selecting a new press, the size options can be overwhelming. There are many different sizes of press, often measured in liters. Always take into account the must volume versus your end produced volume. If you anticipate to make 10 gallons of finished wine, you should anticipate on having 12-13 gallons of must, as the skins take up an additional 20% of the volume. You can always fill the press multiple times, but you should average at least an hour per press fill. Rather than do a huge load and then a much smaller one, it is preferable to split up each load so they will be pressed in roughly equal amounts. This will aid in giving the pressed juices/wines more uniformity.
Will your production size increase over time?
Also factor in the possibility of growth when selecting a press size. Winemaking is contagious and you may want to increase your batch size when you begin to drink your delicious results! It's often wise to purchase a slightly larger ratchet press to accommodate for growth. If you purchase a slightly larger bladder press than what you may currently have for must, you can add rice hulls to the must to increase volume to properly inflate your bladder.
Other considerations
If you're not a "sanitation is key" winemaker (and hopefully you are!) then a ratchet press may not necessarily be the best of these two choices. Since wood is porous, if you don't remain cleanly every step of the way, then you may find yourself dealing with some very unwanted spoilage bacteria down the road. Getting a stainless steel bladder press will make it easier for you to be certain that every surface is completely cleaned and sanitized both pre- and post- use.
A wine press is a fundamental tool in home winemaking. It can dramatically increase your yield and quality. Knowledgeable staff at Musto Wine Grape can help you pick out the press that is the right fit for you!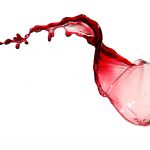 No Wimpy Wines!
How to Improve Color and Mouthfeel when Making Red Wine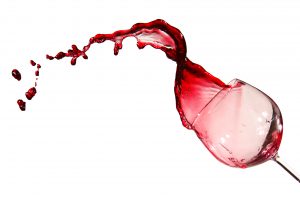 A more common complaint amongst home winemakers is that their red wine lacks the depth of color and full body and mouthfeel that they would prefer. Everyone loves a wine that has a heavier mouthfeel, giving the sensation of whole milk or cream on the palette. While it is not always an indicator of quality, many folks associate deeply pigmented red wines with being higher quality. Both color and mouthfeel can be easily managed or enhanced at fermentation through the following factors:
When selecting the grapes for your batch of wine, it is important to know what kind of wine characteristics that they generate naturally and how that matches up with your personal indicators of quality. If you favor very deeply pigmented wines, perhaps the integration of a very dark grape into your blend will help to boost color, right from the crush. Even a 10% addition of a deeply colored grape such as Petite Verdot, Petite Sirah, or Chambourcin can enhance the overall color of your batch and not detract from the primary varietal's unique flavor character.
Cold soaking the grapes is another way to physically manipulate the grapes to achieve better color extraction. After crush, grapes can be lightly sulfited, and then allowed to cold soak, provided that they are kept around 40°F. Keeping the must around 40°F is important to inhibit yeast or bacterial growth in the must. There are many ways to keep the grapes this cold, including putting them in a refrigerator, using dry ice, using frozen sanitized jugs of water, or creating a small chilling closet with air conditioning and temporary walls. The extended cold soak will allow the condensed grape skin tannins to leach out and help lock in color by binding to color pigment molecules (anthocyanins). The addition of pectic enzymes during the cold soak will also aid in the color securing process.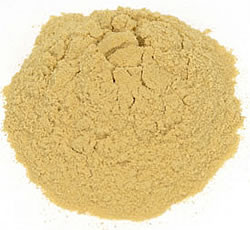 The additions of various supplemental nutrients will affect the color and mouthfeel positively. Booster Rouge and Opti-Red are supplemental nutrients for red wine fermentation that help to increase mid palette mouthfeel and enhance color stability. Opti-Red is high in polysaccharides that will help to lock in color pigments and create a more intense color. Booster Rouge is a yeast derivative nutrient that helps to contribute mid-palette volume and firmer structure to wines. Both of these nutrients also help with creating a smoother tannic profile to red wines.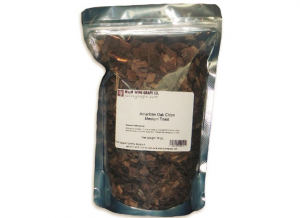 The addition of tannins at crush to the grape must will help to contribute to the overall mouthfeel of red wines, but more specifically to the mid-palette volume of the wine. Products such as FT Rouge or Oak Dust can be added to the must at the beginning of fermentation to act as sacrificial tannins for the yeast to consume throughout their metabolic process. Rather than have the yeast consume the grape tannins, they will consume the oak tannins, leaving the preferred grape skin tannins. This will help to increase the overall preferred tannin content of the wine, increasing the overall mouthfeel and perceived palette volume. FT Rouge is also very effective at locking in color pigments, working synergistically with the previously listed nutrients.
Every wine we make has the opportunity to be the best vintage yet. Following these tips may help you to improve your wines potential for greatness!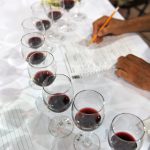 It's that time of year again!
Musto's 2019 Amateur and Commercial Wine Competition is just around the corner. Every year, home and commercial winemakers get the chance to show off their wines in a blind tasting judged by knowledgeable, seasoned wine judges in a series of blind tastings.
Click HERE to download all of your paperwork!
Who can enter?
This wine competition is open to any amateur winemaker, commercial winemaker or winery. Wine entry must be made by a winemaker, not purchased and re-bottled and used as an amateur wine maker entry. Judge may not judge a wine they have submitted.
How do I enter?
Send Musto Wine Grape your bottled wine by the deadline of November 16th at 12PM.
What can I submit?
A wine entry is a still bottle of wine and submitted for entry in a 750ml wine bottle. Ice wines or late harvest wines may be submitted in a 375ml wine bottle, however if 375ml please send 2 – 375ml bottles. Sparkling wines must be submitted in a champagne style bottle with the proper closure. All bottle entries must be free of any labeling or identifying markings. However, each must be marked with category number, winemaker(s) name, wine ingredients, percentages & vintage.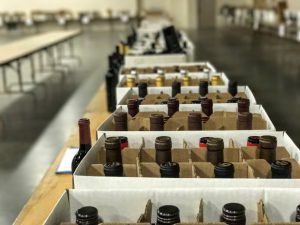 What is the judging process?
Judging of wines will be performed on a 20 point award system. Each wine will be judged on its own merits and not compared to any others in its category. Gold, Silver and Bronze medals will be awarded within each category and based on the 20 point system. The Best of Show award(s) will be those wine entries that are superior within a given category.  All award decisions made by the judges and/or sponsors, are final.
We're doing something different this year!
This year, in order to allow winemakers a more thorough and individualized analysis of their submitted wines, Musto Wine Grape Company staff will be personally judging and performing sensory analyses on each bottle. This year's competition format will allow for more time, thought, and comments to go into each individual's submission, yielding a more comprehensive understanding of each wine. Because of this, entries will be capped at 300 bottles. 
What are the categories?
Wine entries made from grapes and juice based wines will be judged and awarded in their own category. Wine entries made from kits and fresh processed and concentrated juices will be judged and awarded in a kit category.
Is there a deadline?
There sure is – have your wines sent to Musto Wine Grape, 101 Reserve Rd, Hartford CT 06114, by November 16th at 12PM.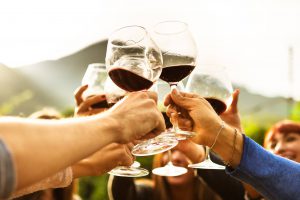 Is there a fee?
Entry fee for a single wine entry will be $11.00 and $9.00 each for 2 or more entries submitted at the same time. Make checks payable to Musto Wine Grape Company in U.S. dollars only.
Can I send in a labeled bottle?
No. All bottle entries must be free of any labeling or identifying markings. However, each must be marked with Category number, winemaker(s) name, wine ingredients and percentages & vintage.
How can I get it to you?
All shipments are the entrant's responsibility therefore packaging must be able to withstand considerable handling and shipping costs are the entrant's responsibility. COD's or postage due will be rejected. If an entry bottle is received damaged, we will make every effort to contact the entrant and notify them of the damage. Check with your shipper as to requirements for shipping wine, we suggest shipping via FedEx.
When are results announced?
There is an awards ceremony held every year to reveal this year's results, which will be held in Spring 2020 (exact date TBA) and of course you can also see the results announced on Musto's website, www.juicegrape.com. All entrants will receive a copy of the judging worksheet and a copy of the winning results.
So what do I do now?
Send us your wine ASAP! Since entries will be capped at 300, we won't be able to accept any after this. Look out for an announcement on Facebook and our website that lets you know when we have received our maximum entries.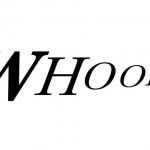 Avoid these all too common mistakes this harvest!
With all the planning, excitement, energy, and potential money you've put into preparing for harvest time, the last thing you want to do is make a silly mistake that may put the quality of your wine in jeopardy. The following is a list of pitfalls to be aware of. Heed these words to the wise and save yourself a headache in the future.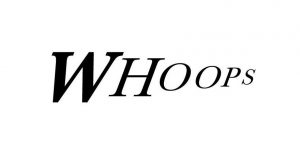 1) Inadequate space for your volume
Overflowing, bubbling, fermenting wines can make an absolute mess. You want to fill any vessel no more than 3/4 full pre-fermentation unless you're both physically and emotionally prepared for the cleanup. You will also needlessly lose volume, yeast, and nutrient, in addition to your mind. Multiple tanks or carboys of various sizes will be your saving grace here.
2) Not cleaning properly
Clean, sanitize, repeat.
The importance of proper cleanliness and sanitation practices from the get go cannot be stressed enough. B-brite, One Step, soda ash, and Proxycarb are all cleaning agents. Potassium metabisulfite + citric acid is a sanitizing solution.
You want to clean and then sanitize, not sanitize and then clean. Don't let anything with residue of fruit, juice, or must sit out for longer than necessary. That means that before you finish up for the day, your work space should be nice and clean and ready for the next day. Otherwise you will attract fruit flies, which can lead to VA issues in the wine. (Not to mention they're a pain and difficult to get rid of anyway.)
3) Underestimating the need for nutrients
Adding yeast nutrients may seem like an optional add on, but why wouldn't you want to ensure that your yeast have all of the nutrients that they need to be happy and healthy and get your juice to become the wine of your dreams? Some yeast strains almost require the addition of them to work well. There's no harm in using them, but there can definitely be harm in choosing not to.
Lack of nutrients can lead to stressed yeast which can produce off odors (H2S, the smell of rotten eggs or cabbage) that are very difficult to get rid of.
4) Skipping steps/guesstimating
Eyeballing an SO2 add, rounding up on Brix levels, or having a "eh, it's more or less correct" attitude when making wine can really complicate your life down the road. Sure, some people see winemaking as only art and some see it as only science; but the wise see it as the perfect blend of both.
Bear in mind that measurements are used for a reason; the order of operations for certain nutrient adds are not arbitrary, as adding one with DAP before the right point can actually hurt the yeast; too little SO2 and the wine will suffer, too much and it will also suffer. The list goes on, but be sure you:
do not generalize
do not come to conclusions without taking all variables into account
do not guestimate unless you know for a fact that a "more or less" mindset is applicable in a given circumstance
5) Forgetting that there's a difference between US and metric system
Freshen up on your middle school math conversions so you can quickly maneuver between gallons and liters and ounces and grams. Some labels include g/L and lb/gallon. Double (or triple) check your math to be sure you're consistent and working with the same unit of measurement. These early stage additions very much set the tone for the wine throughout its whole life so you want to get it started on the right foot. Online calculators like WineMaker Mag's sulfite calculator and winebusiness.com's conversions caulculator can be really useful because you can toggle back and forth between these systems depending on what you are most accustomed to.