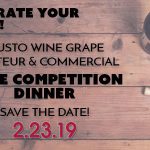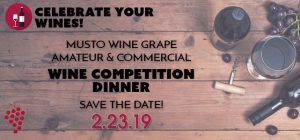 Hello Winemakers,
We hope 2019 is treating you well. We are excited to announce that several of our Wine Grape Growers will be in Connecticut for our Annual Winemaker Dinner on Saturday February 23rd. The dinner is open to anyone who would like to attend. Our wine grape growers from Suisun Valley, Lodi, Central Valley, Paso Robles, and Washington State will all be in attendance. We will be handing out medals and awards to those who entered our wine competition followed by a special guest speaker. There will be raffle prizes, a delicious dinner, wine tasting, an open bar, and dancing. It's always a lot of fun.
Regardless of if you entered your wines in our competition, you can still purchase a ticket, hand out with your fellow home winemakers, and maybe even win some free grapes and equipment. The winemaker dinner a celebration of home winemakers and the delicious wines you make. Feel free to bring a few bottles of your favorite wines to share with other attendees, our growers, and hopefully some of the Musto Wine Grape Crew. Everyone will be excited to try it!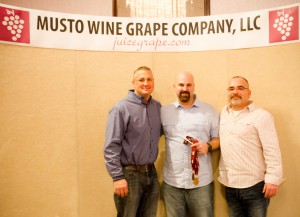 Event Details:
Zandri's Stillwood inn:
1074 S. Colony Rd, Wallingford, CT 06492
February 23rd, 2019
6:30PM – Midnight
Admission is $80.00/person and your payment serves as an RSVP. You can RSVP by purchasing tickets on our website, http://www.juicegrape.com/Competition-Dinner-RSVP/, or you can call/email Christina at 860-278-7703 or cmusto@juicegrape.com. You must purchase a ticket for this event.
We are accepting requests to reserve tables. If you would like to reserve a table please include a list of names of the people in your party. Each table holds 8-10 people. If you purchase a grouping of tickets, please email Christina the names of the people you purchased the tickets for.
We will be donating all of the proceeds from the event to Dana Farber Cancer Association to help cure brain cancer. Please bring cash to purchase your raffle tickets. There is not ATM on site and we do not take credit cards for raffle tickets.
Where to Stay:
Hotels in Wallingford, CT
Homewood Suites by Hilton Wallingford-Meriden
90 Miles Dr., Wallingford, CT
7 minute drive from venue
Hilton Garden Inn Wallingford/Meriden
1181 Barnes Road, Wallingford, CT
8 minute drive from venue
Courtyard by Marriott New Haven Wallingford
600 Northrop Road, Wallingford, CT
7 minute drive from venue
*Please note we suggest either having a designated driver or ubering to the event.
Space is limited, so don't delay! We look forward to seeing you at the Winemaker Dinner!
Sincerely,
The Musto Crush Crew