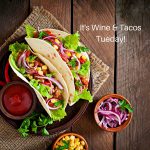 Happy Taco Tuesday! Today we've got a quick and easy taco dinner board recipe and wine pairing for you to share with your friends and family.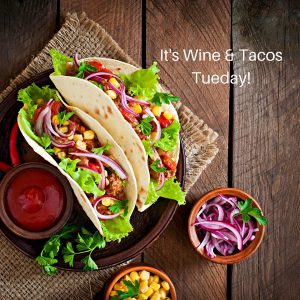 What you'll need:
Soft/Crunchy tortilla's (we love Old El Paso's Stand N Stuff tortillas for easy building and serving!)

Onions

Meat of choice

Taco seasoning

Cheese

Lettuce

Tomatoes

Salsa

Sour cream

Guacamole

Cilantro

Limes

Jalapeño peppers

Tortilla chips
Serving board, preferably one that is round with raised sides. This one is beautiful, durable and budget friendly!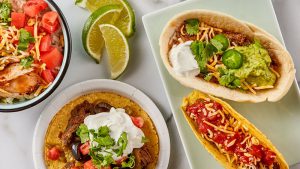 How you'll do it:
Start with your serving board – lay down some parchment paper and place a bowl with shredded lettuce and tomatoes in the center.
Place smaller bowls around the center bowl and fill them with salsa, guac, jalapeño's and sour cream. Make sure to leave room for your tortilla shells around the outside.
Take your taco meat of choice and cook with a medium onion and add your favorite seasoning. Fill the taco shells with meat and cheese and bake for 5 minutes.
Place your tacos around the outside of the board around the bowls placed in the center.
Place tortilla chips to fill in any empty spaces (and have an extra bowl to the side with more chips, because who only has a few?)
Last but certainly not least – serving some wine with your taco board. This will depend on the kind of meat you used for your tacos, so we came prepared with pairings for a few different kinds!
If you're doing fish tacos: citrusy whites tend to be best, but depending on the taco, you might be able to try a red. If you prefer wines with a touch more body and fruit, try some Sauvignon Blanc. It tends to have a mix of citrus and tropical flavors and a zippy herbal quality that's tasty with cilantro. If you're going for a grilled fish, like salmon, the red cherry fruit in lighter styles of California Pinot Noir works well. A hint if spicy oak can pair nicely with the char.
If you're doing pork tacos: try Zinfandel or a new world Pinot Noir. Spicy, seasoned pork screams for a fruit forward red to accompany the meat's robust flavors, yet one with enough acidity to cut through the taco's richness. The acidity of a new world Pinot Noir will give the pairing a lighter, more on-it's-feet feel, where as Zinfandel's signature spice and juicy mouthfeel create a lush, succulent pairing for the pork.
If you're doing steak tacos: Malbec! Malbec's rich, fruit-forward palate and robust tannins pair gorgeously with the fat and spice of grilled steak.
If you're doing ground beef tacos: Grab a bottle of Grenache for this one. The blend's spicy, dark fruit flavors and medium tannins are a perfect match for seasoned ground beef.
Interested in making your own wine? Give us a call at 877-812-1137 to discuss how to make your very own wine at home!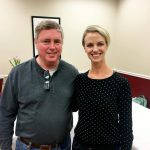 Why Pinotage rather than other red wines?
Because it is different. Because it is uniquely South African. And because it allows you to strike a blow against the tyranny of the conventional.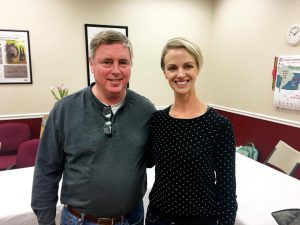 The popularity of this variety unique to South Africa has steadily been growing in the US. The 2020 harvest is well underway and the Pinotage destined for US cellars is on its way. After careful vineyard selection the grapes that are deemed worthy are immediately cooled and packed by our friendly pack house ladies.
The attitude of reverence that many people have towards wine is perhaps best illustrated with the above quote. There are surely many reasons for drinking wine and as far as Pinotage is concerned it has many things going for it. For one, and most importantly it is enjoyable. Another is that is it red – somebody once said that the first duty of wine is to be red.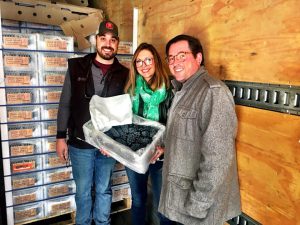 Yeast choice should be primarily based on alcohol and cold tolerance and secondarily on aroma production. Aeration during yeast rehydration is recommended for high risk fermentations (e.g. high sugar concentrations, potential nutrient imbalances and low temperatures). An enhanced estery character, suitable for wines that will be marketed earlier, will develop at fermentation temperatures of 22 – 24ºC. A less estery character, for full-bodied wines that will be marketed later, following wood maturation, is possible at temperatures of 24 – 28ºC. Fermentation at 28 – 32ºC is only recommended for full-bodied wines. Frequent mixing of skins and must by pump-overs or punch-downs is important. Skin cap temperatures exceeding 32ºC could potentially cause stuck or sluggish fermentations, or even bacterial spoilage.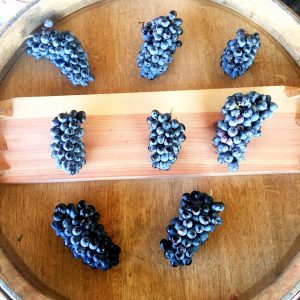 Frequent pump-overs or punch-downs during the early stages of fermentation will give less tannins as well as softer tannins. Concentrated aeration during the last phase of fermentation produces a softer tannin structure. Skin contact towards the end of fermentation or after fermentation depends on the required wine style, but pressing is usually done before completion of fermentation (2 to 8º Balling). Extended maceration is only recommended for wines made from healthy grapes harvested at optimum ripeness and that are destined for further maturation. Sensory evaluation on a daily basis is necessary.
By Grettchen van der Merwe
To read more about the South African Wine Harvest click HERE.
For more information about Grettchen and her winemaking click HERE.
For more information about making Pinotage wine click HERE.
Questions? Or would like to make an order?
Call us at 877-812-1137 or email us at sales@juicegrape.com!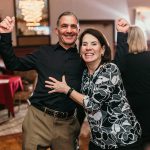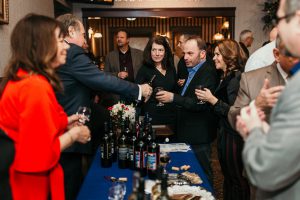 Our Annual Winemaker Awards Dinner tickets are on sale!
Get ready for a night of celebration, dancing, great food, raffles, and of course – wine tasting! We will have more details to follow with which items we will be raffling off. Also, we have a NEW feature to our Winemaker Awards Dinner this year. Every year our growers fly out and pour wine for you. But this year, if you would like, we want to invite you to pour your wines for guests and growers as well! We will have a few tables set up for you to pour your own wines during the tasting portion of the event. Please email cmusto@juicegrape.com and cmulryan@juicegrape.com to reserve your spot to pour your wines. They will set up a special table and materials just for you!
We hope to see you at this year's dinner!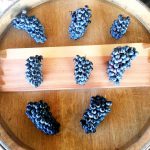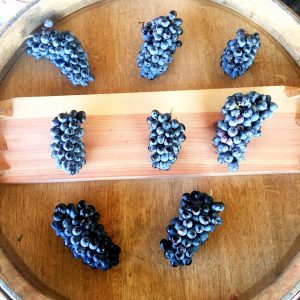 While the Chilean grapes ripen and start to harvest, our South African grapes and juices are boarding boats. South Africa grows most of their wine grapes on the west coast. There is a cold current called the Benguela that flows up from the Antarctic cooling down the coastal regions; making it perfect for growing high quality wine grapes. Between the coastal cool breezes, altitudes, and fertile soils the vineyards thrive. Altitudes have a lot to do with the vineyard climate. The altitude differentiation creates micro climates throughout the Western Cape with different and interesting soil components. Stellenbosch (where we source some of our grapes) is South Africa's hub for premier wine production. The climate is moderate and produces some of the world's best Cabernet Sauvignon. The Breed River Valley is another region we source from that is a hot and dry climate with fertile soils. The Breede River Valley produces much of South Africa's wine production, with many micro climates making up this viticulture area.
Cabernet Sauvignon is South Africa's second most planted variety, right after Chenin Blanc, which is the most planted grape in South Africa. Cabernet Sauvignon from this region of the world is full bodied, notes of black fruit, and chewy tannins. Syrah from South Africa can be created in two different ways. Some winemakers create a full bodied, rich, high in alcohol, and ripe black fruit flavor. Other winemakers create a peppery Syrah that is more medium bodied. These winemaking styles depend on your maceration time and yeast you utilized. Pinotage, a cross between Pinot Noir and Cinsault, creates an interesting red wine. It can be made in a range of styles. Some winemakers make it in a Beaujolais style, others make it in more of a Burgundian style, and more and more winemakers are making it in a fruit forward style. You have lots of room to put your own creative spin on Pinotage!
This season we will have Cabernet Sauvignon, Syrah, Pinotage, and Barbera grapes available. In juice format we will have Shiraz, Merlot, Pinotage, and Cabernet Sauvignon.
There are many white wines from South Africa that are fun to make. Chenin Blanc is the white wine of South Africa and it creates a fresh, zesty, wine with notes of stone fruit. Sauvignon Blanc is another popular wine that is widely grown. South African Sauvignon Blanc is full of green citrus notes with crisp acidity.
This season we will have Sauvignon Blanc, Chardonnay, Semillon, Chenin Blanc, and Pinot Grigio juices from South Africa.
Arrival Estimates:
The Pinotage is harvesting in Mid-February, the Barbera, Syrah, and Cabernet Sauvignon will be harvested a few weeks later. The grapes and juices from South Africa should start arriving in mid-March.
Grapes Available from South Africa:
Pinotage, Cabernet Sauvignon, and Barbera
Juices Available from South Africa:
Shiraz, Merlot, Pinotage, Cabernet Sauvignon, Semillon, Chardonnay, Pinot Grigio, Chenin Blanc, and Sauvignon Blanc.
For more information on making wine from South Africa check out these blogs posts:
For more information or if you would like to make a purchase please call us at 877-812-1137 or email sales@juicegrape.com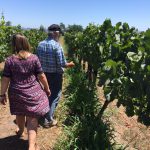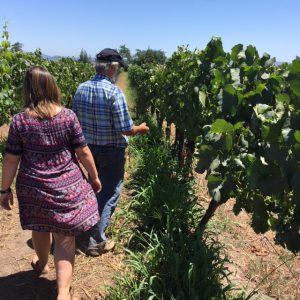 Viticulture:
Chile's wine growing success is due to the cooling influences they receive from the Pacific Ocean, the Andes Mountains, and the warm and plentiful sunshine. Their warm Mediterranean climate allows for grapes to fully ripen and avoid fungal diseases. There is a current called the Humboldt Current that flows up from Antarctica, along the Chilean coast, and the cool air is pushed inland by the wind patterns. This cooling effect helps cool off the grapes during those sunny days. Colchagua and Curico Valley both benefit from this ocean influence; which allows these regions to produce grapes from fertile soil for wines that are gaining premium reputations.
Making Chilean Wine:
Cabernet Sauvignon is the most widely planted grape in Chile. Cabernets from this region of the world boast full bodied, ripe black fruit aromas and flavors, and some herbaceous characteristics. If you are a winemaker who does not enjoy herbaceous notes, we suggest using the CSM yeast on all of your Chilean reds. This yeast was specifically cultivated to help offset herbaceous notes. Merlots from Chile tend to be medium bodied, fruit forward, and depending on your winemaking style, can produce some very complex characteristics. Carmenere from Chile (known as the main grape of the country) showcase high levels of tannins, black fruits, and some herbaceous notes depending on the winemaking style. Another grape I would like to point out is Syrah from Chile. Syrah is widely planted across the region and displays notes of black fruit, and is full bodied, with great intensity. If you have tried Syrah from South Africa in the past it might be interesting to try Syrah from Chile and compare and contrast, or even blend them both together!
This season we will have Cabernet Sauvignon, Merlot, Carmenere, Malbec, Cabernet Franc, Petite Verdot and Pinot Noir grapes and juices from Chile.
White wines from Chile are also delicious. The most widely planted white grapes are Sauvignon Blanc and Chardonnay. We are lucky to receive Viognier and Pinot Grigio, as they are not as widely planted. Sauvignon Blanc from Chile has flavors of ripe apple, citrus and tropical flavors. While the Chardonnays have notes of ripe fruit and oak flavors. All white wines from Chile poses fresh, fruity, and crisp qualities that make it the perfect summer sipper.
This season we will have Sauvignon Blanc, Chardonnay, Muscat, Viognier, and Pinot Grigio grapes and juices from Chile.
Arrival Estimates:
The Chilean grapes and juices should start arriving in late April, early May. Once the grapes are harvested we will have more details.
Grapes Available from Chile:
Cabernet Sauvignon, Cabernet Franc, Carmenere, Malbec, Merlot, Petite Verdot, Pinot Noir, Syrah, Chardonnay, Pinot Grigio, Sauvignon Blanc, and Viognier.
Juices Available from Chile:
Cabernet Sauvignon, Cabernet Franc, Carmenere, Malbec, Merlot, Petite Verdot, Pinot Noir, Syrah, Chardonnay, Pinot Grigio, Sauvignon Blanc, Viognier, and Muscat.
For more information on making wine from Chile check out these blogs posts:
For more information on how to order please email sales@juicegrape.com or call 887-812-1137. Looking forward to working with you this Spring!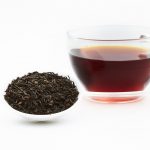 Have you heard about sacrificial tannins? If not, read on!
Why we love tannins
As wine drinkers, we love tannins because they help to give structure and mouth feel to a wine. Without it, wines would taste flabby and dull.
As wine makers, we love tannins because they aid in color stabilization, prevent and slow the process of oxidation, and give structure to the wine. Sacrificial tannins can help with this.
Tell me more!
Tannins are already present in grapes through their seeds, skins, and stems. We add more tannin through oak aging as well as with oak or tannin alternatives. As fermentation begins, color compounds within the skins bind with proteins, which then drop out of the wine and settle onto the bottom.  You can add tannins to white, rose, or red juice.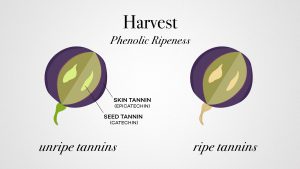 Tannins gets added as way to give these proteins within the juice extra tannins to bind on to, so that not everything is lost from the juice. This is the role of "sacrificial tannins," or tannins that you as a a winemaker add in so that you don't lose any from the grapes themselves.
How do I incorporate sacrificial tannins?
Use oak chips or oak dust (preferably medium toast) at up to 3 oz per 5 gallons of wine
FT Rouge for red wines. 5-25g/100 lb fruit. Add at first signs of alcoholic fermentation.
FT Blanc for white or rose wines. 1-3g/100 lb fruit. Add after it's been racked off of gross lees.
These can all be added directly to the juice at the onset of fermentation. Just sprinkle it into the juice and incorporate as much as possible, or add to red must right before the first punch down. It will settle to the bottom and can be racked off of at the end of fermentation.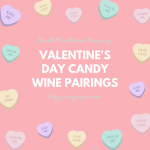 Cupid is just around the corner, and we've got the perfect candy and wine pairings for you and your valentine to try this Valentine's Day! (Or, for you to try the day after Valentine's Day when all the candy is 50% off.)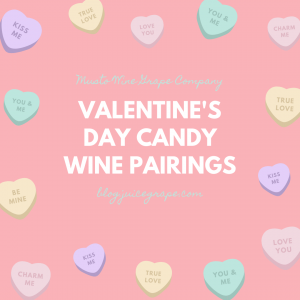 Candy Hearts and Sauvignon Blanc – A light, crisp Wooden Valley California Sauvignon Blanc won't over-power this lightly flavored, semi-sweet candy.
Chocolate Covered Marshmallows and Tawny Port – Tawny Port from Portugal is perfect with these heart shaped goodies, because a wine with too high of an acidity will curdle the chocolate which has milk in it and this port is low in acid.
Ferrero Rocher & Chardonnay – A bottle of Sonoma Cutrer Chardonnay would be the perfect pairing to this classic gifting chocolate. The hazelnut qualities of this Chardonnay will shine a spotlight on the nut, while the creamy quality of the wine will stand up to the chocolate.
Lindt White Chocolate Lindor Truffles and Rosé – A bottle of Empathy's Rosé would go great with these creamy little balls of heaven. The creaminess of the white chocolate allows the wine's fruity notes of watermelon and strawberries to pop.
Want to try this with your own Wine? Musto Wine Grape Company is here to help! We are New England's largest supplier for home winemaking products and services. We can get you set up with all of your juice, grape and equipment needs and have you on track to making your own perfect pairing for next fall! Visit juicegrape.com or give us a call at (877) 812 – 1137 to learn more. We look forward to hearing from you!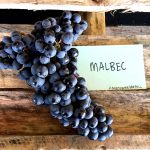 Making a New World Classic – Chilean Malbec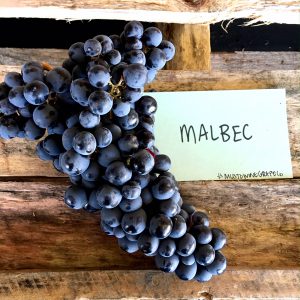 Chilean and Argentinian Malbec has become famous around the world for its consistently high quality and intense fruit flavors. Musto Wine Grape carries either fresh Chilean Malbec grapes or juice so that you can make wine at home. Chilean Malbec was the first wine that I made at the professional level, and it will always have a special place in my heart and at my dinner table. Here is my recipe for making a classic, fruity, Chilean Malbec at home.
Crush Malbec grapes into a sanitized bin or tub. (Each 18lb crate will make 1.25 gals of finished wine).
Apply 50ppm of

Potassium Metabisulfite

and stir well. Allow to sit for 8-12 hours.
Apply .5ml of Color Pro Pectic enzyme per box diluted into a 10% solution with water to the must and stir. Allow to sit for another 8-12 hours.
Mix

Booster Rouge

, FT Rouge, and Opti-Red, with spring water until it is the consistency of pancake batter and pour over top of crushed grapes. Mix in well.
Add rehydrate

CSM yeast

(1g/gal) with

Go Ferm

rehydration nutrient and warm water. Allow to sit for 15 minutes and pour over top of crushed grapes.
Punch down grapes 3 times per day throughout the duration of fermentation and monitor temperature and Brix levels daily. Use a hydrometer to test sugar content in a strained juice sample. Make sure the temperature does not exceed 85F.
One day after adding the yeast, add Fermaid O, mixed with spring water in to the pancake batter style slurry. Dump into grapes during a punch down.
After the depletion of 1/3 of the Brix (when the Brix level is between 16-11), add

Fermaid O

that is mixed with spring water into the pancake batter style slurry. Dump into to grapes at a punch down.
Add Malo-lactic bacteria the same day as the Fermaid K. If you are using liquid cultures, just pour over the grape must and mix. If you use the dry cultures, rehydrate them in warm spring water according to their specific directions, utilizing any rehydration nutrients recommended.
When the Brix have dropped below zero, press the wine into a sanitized tank, carboy, or demijohn. Make sure the vessel is topped up all the way to the top of the neck and sealed properly with a

bung

and airlock.
Rack after 48 hours and then again in a week. Allow MLF to complete before adding sulfites.
Allow the wine to age and rack it every 2 months and add sulfites when racking.
Recipe by the Winemakers at Musto Wine Grape
Interested in making your own wine? Musto Wine Grape Company is here to help! Musto's New England's largest supplier for home winemaking products and services. Visit juicegrape.com or give us a call at (877) 812 – 1137 to learn more.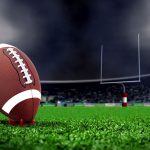 Super Bowl Party Guide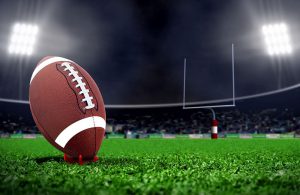 It's that time of year again. The sound of grown people screaming at the TV. Watching grown men chasing each other over a ball, you can probably guess its super bowl season again. So we've put together a guide for some super bowl foods and what to pair with them to win the party on game day.
Pregame Wine
We all like to get together and pre-game for the big game! It's nice to have a smooth and easy sipper to enjoy with friends while getting ready for the big event. One of our traditions is to watch the Puppy Bowl, as an adorable warm up to the big game. What goes better with good friends and adorable puppies than a sweet refreshing glass of Moscato? Rosabianca Moscato has delicious honeysuckle, orange, and pear notes and that make it a refreshing and delicious glass of wine.
7 layer dip
This ultimate combination of Mexican flavors including refried beans, guacamole, sour cream, cheese, tomatoes, green onions, and black olives is a classic dip that's easy to make. The best part is it can be made ahead of time, stored in the refrigerator, and served cold or at room temperature (LINK to 7 layer dip)
Rose Vineyards' Symphony wine is the perfect wine to pair with this dip. This white wine is from one of CT's newest wineries! This new, coming varietal has refreshing pineapple, citrus and tropical fruit notes that will quench the spices within the 7 layer dip. All of the great, tongue-tickling fruit flavors within the Symphony wine will pair well with the many flavors of the dip.
French Onion Beef Sliders
This is basically a bit of a fancy slider – delicious and easy to make, this is sure to take the party to the next level. (LINK to French onion beef sliders)
Some folks reach for a big IPA to drink with burgers – and that's awesome. However, we think that beers with some toasty malts, caramel sweetness, and a dry, clean finish can work wonderfully with these sliders without being too heavy. Try Ommegang's "My Watch has Ended" Brown Ale or Armada's "Sorcerer's Temple" Dunkel Lager.
If you want wine with this one, Try Chamard Winery's 2015 Syrah – This full bodied Syrah has a rich fruity nose, with firm tannins that will pair well with the rich French onion beef sliders. The savory notes of anise and black pepper will pair perfectly with the intensely savory and rich French Onion style sliders.
Philly cheese steak queso dip
This dip is a party staple; you can't have a party without it. It's a unique twist to the dip category, and all the Philly cheese steak lovers will thank you for it. (LINK to the philly cheesesteak queso dip)
For beer, we like a crisper, cleaner, hopped-up, somewhat bitter IPA to cut through the delicious cheesy, fatty goodness of this dip. Try Connecticut Valley Brewing Company's "Cross Country" IPA or Kent Fall's Brewing Company's "Line Aversion" IPA.
For wine, try R. Dee Winery's Slainte – what's more quintessential game day food than a Philly cheesteak? Pair this bold Petite Syrah with luscious blackberry and tobacco notes with the cheesy, decadent cheesteak dip. The firm tannins will cut through the rich cheese and refresh your palette to keep you coming back for more.
Bourbon Bacon BBQ Chicken Skewers
There has to be some sort of BBQ chicken at your super bowl party, or it's really not a super bowl party. Instead of going the traditional route of chicken wings, try these instead. Your guest will really enjoy the mess free convenience of these BBQ chicken skewers. (LINK to the bourbon bacon bbq chicken skewers)
We think you can go in 2 directions with a beer pairing with this one. Something crisp but also a bit smoky can complement the BBQ tastes of this dish like schwarzbiers, rachbiers, etc. You can also go with a smooth, slightly creamy, more delicate IPA that won't overpower the great flavors of this dish. Try Fox Farm Brewery's "The Camp" Smoked Lager or New Park Brewery's "Cloudscape" IPA.
For wine, try Hawk Ridge Winery's Mad Hawk Spanish style blend – Bold, bright fruit and smooth tannins make this Spanish style wine a delicious accompaniment to BBQ! The fruitiness of the wine will compliment the sweet flavors in the BBQ and the smoother tannins will not over power the chicken. A very fun new wine to try.
Post Game Celebration
When your team brings home the big win, you need to celebrate! Paradise Hill's Celebration sparkling wine is the perfect accompaniment to any touchdown dance you can come up with. Nothing says victory and rejoice, like a sparkling wine. Try one of CT's best to celebrate the big Super Bowl win!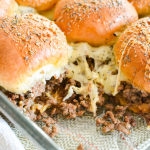 French Onion Beef Sliders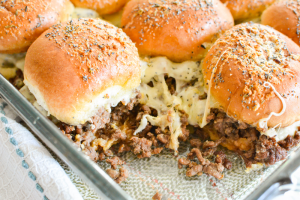 These French Onion Beef Sliders will be a huge hit with the crowd. Seasoned and buttery buns are packed with caramelized onions, melted cheese and flavorful ground beef to create the sort of appetizer that flies off of the plate.
What you'll need
8 Tablespoons or 1 stick of butter
2 large sweet onions, sliced
2 pounds of ground beef
2 Tablespoons of beef base
1 Tablespoon of Worcestershire sauce
Salt and pepper
24 slider buns
1 pound of shredded swiss cheese
2 Tablespoons of sesame seeds
1 Tablespoon of fresh thyme
1 teaspoon of onion powder
1 teaspoon of garlic powder
How you'll do it
Melt 2 Tablespoons of the butter in a skillet over medium heat.
Add onions and reduce the heat to medium low, stirring occasionally for about 25 minutes or until the onions are lightly caramelized. If the onions start to dry out or burn, add a tablespoon of water to the pan.
In a large bowl, mix the ground beef with half of the beef base and half of the Worcestershire sauce. Season with salt and pepper.
Add beef to the skillet full of onions, increasing the heat to medium high and brown the beef. Mix with the onions as you go. Drain off excess grease.
Preheat oven to 350 degrees Fahrenheit. Lightly grease a large baking sheet. Separate the tops from the bottoms of the slider buns. Fit the slider buns tightly on the baking sheet.
Evenly distribute the beef and onion mixture over the bottom buns. Top with the cheese and cover with the top buns.
In a microwave safe bowl, melt the butter with the remaining beef base. Stir in the remaining Worcestershire sauce, until well combined. Using a pastry brush, brush the beefy butter mixture over the top buns. Sprinkle with sesame seeds, thyme, onion powder and garlic powder.
Baking for about 20 minutes, or until the cheese is fully melted and the tops of the rolls are lightly browned.
Serve and enjoy with your party crew, who will definitely snag these up quickly – and maybe ask for more!