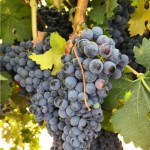 The King's River Vineyard is located in Sanger, CA – Southeast of Fresno, on the way to Squaw Valley, Tahoe and the Sierra Foothills.
The vineyard is made up of 40 acres of white ash & sandy loam soil. The vineyard has been in existence since 1954 and the family has grown everything from grapes for wine and raisins to peaches, plums, and apricots on this little piece of paradise. However, they ultimately decided to focus on what they love most – boutique style wines. The vineyard produces Cabernet Sauvignon (Clone 337), Petite Sirah, Alicante, Syrah, Barbera, Cabernet Franc, Tempranillo, Primitivo, Albariño, Muscat, and Chenin Blanc. Each block is meticulously managed. They thin leaves, drop fruit to secure intense flavors, and drip irrigate as to not over-water the vines. This family definitely produces grapes of distinction.
Their Wine Awards Include…
• 2014 Reserve Petite Sirah- Silver Medal
• 2014 Syrah- Bronze Medal
• 2014 Alicante Bouchet- Bronze Medal
• 2015 Reserve Albarino- Bronze Medal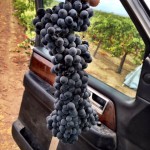 Good Morning from Paso Robles Winemakers!
Our crew is working very hard to bring you some of the finest wine grapes Paso Robles has to offer.  Yesterday and Today we are harvesting Merlot and Syrah. They are being picked around 24-26 Brix. They should be arriving in Hartford, CT around 9/23/2016.
We are still awaiting the Petite Sirah which is currently at 22 Brix. We are thinking it will harvest around 9/23.
Make sure to place your orders!
These are fantastic grapes for making Award Winning Wines!
-PS-
Drop Off You Wine Competition Entities at Pick Up!  http://www.juicegrape.com/community/wine_classic/