Philly Cheesesteak Queso Dip
Philly Cheesesteak Dip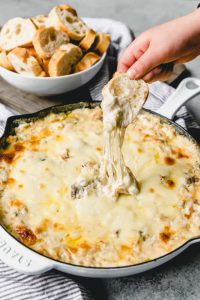 This hot, cheesy philly cheesesteak dip is one of the best queso dip you will ever have! It's easy to make, a little bit zesty and a perfect addition to your game day grub.
What you'll need
1 cup of chopped yellow onions
2 cups of chopped green bell peppers
1/3 cup of bottled zesty Italian dressing
8 ounces of cream cheese
¼ cup of plain greek yogurt
½ pound of white American cheese slices
½ pound sliced roast beef
Salt and pepper
¼ cup grated parmesan cheese
Sliced French bread
Tortilla chips
What you'll do
Move oven rack to the middle position and preheat the oven to 350 degrees Fahrenheit. Lightly spray your baking dish with nonstick cooking spray and set aside.
In a large skillet over medium heat, add onion, pepper and Italian dressing. Stir frequently until onions become translucent and soften, about 5 minutes.
Add cream cheese to the pan and break it into chunks.
Once cream cheese starts to melt add greek yogurt and American cheese. Stir constantly until all the cheese melts. Turn heat off and stir into chopped roast beef. Season with salt and pepper.
Pour mixture into prepared baking dish. Bake for 15 minutes. Sprinkle with parmesan cheese, and bake for an additional 10 minutes.
Serve and enjoy with sliced French bread and tortilla chips!