South African Harvest Update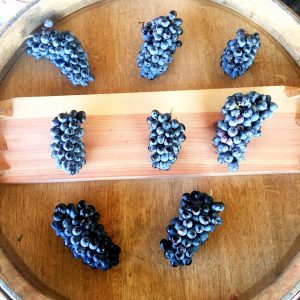 While the Chilean grapes ripen and start to harvest, our South African grapes and juices are boarding boats. South Africa grows most of their wine grapes on the west coast. There is a cold current called the Benguela that flows up from the Antarctic cooling down the coastal regions; making it perfect for growing high quality wine grapes. Between the coastal cool breezes, altitudes, and fertile soils the vineyards thrive. Altitudes have a lot to do with the vineyard climate. The altitude differentiation creates micro climates throughout the Western Cape with different and interesting soil components. Stellenbosch (where we source some of our grapes) is South Africa's hub for premier wine production. The climate is moderate and produces some of the world's best Cabernet Sauvignon. The Breed River Valley is another region we source from that is a hot and dry climate with fertile soils. The Breede River Valley produces much of South Africa's wine production, with many micro climates making up this viticulture area.
Cabernet Sauvignon is South Africa's second most planted variety, right after Chenin Blanc, which is the most planted grape in South Africa. Cabernet Sauvignon from this region of the world is full bodied, notes of black fruit, and chewy tannins. Syrah from South Africa can be created in two different ways. Some winemakers create a full bodied, rich, high in alcohol, and ripe black fruit flavor. Other winemakers create a peppery Syrah that is more medium bodied. These winemaking styles depend on your maceration time and yeast you utilized. Pinotage, a cross between Pinot Noir and Cinsault, creates an interesting red wine. It can be made in a range of styles. Some winemakers make it in a Beaujolais style, others make it in more of a Burgundian style, and more and more winemakers are making it in a fruit forward style. You have lots of room to put your own creative spin on Pinotage!
This season we will have Cabernet Sauvignon, Syrah, Pinotage, and Barbera grapes available. In juice format we will have Shiraz, Merlot, Pinotage, and Cabernet Sauvignon.
There are many white wines from South Africa that are fun to make. Chenin Blanc is the white wine of South Africa and it creates a fresh, zesty, wine with notes of stone fruit. Sauvignon Blanc is another popular wine that is widely grown. South African Sauvignon Blanc is full of green citrus notes with crisp acidity.
This season we will have Sauvignon Blanc, Chardonnay, Semillon, Chenin Blanc, and Pinot Grigio juices from South Africa.
Arrival Estimates:
The Pinotage is harvesting in Mid-February, the Barbera, Syrah, and Cabernet Sauvignon will be harvested a few weeks later. The grapes and juices from South Africa should start arriving in mid-March.
Grapes Available from South Africa:
Pinotage, Cabernet Sauvignon, and Barbera
Juices Available from South Africa:
Shiraz, Merlot, Pinotage, Cabernet Sauvignon, Semillon, Chardonnay, Pinot Grigio, Chenin Blanc, and Sauvignon Blanc.
For more information on making wine from South Africa check out these blogs posts:
For more information or if you would like to make a purchase please call us at 877-812-1137 or email sales@juicegrape.com