Wine Spotlight: South African Pinotage
Pinotage wines are on the rise throughout the world.
Wine drinkers enjoy it because Pinotage is complex, yet light in body. Winemakers love working with the grapes because fermentations are for the most part simple and smell amazing. "Strawberry cotton candy" are descriptors we've heard in the past. Yet, despite it's wonderful characteristics, it is still a wine that is relatively unknown and under rated.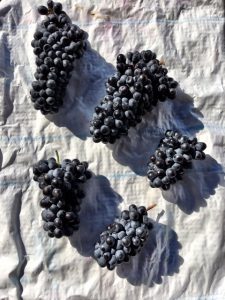 The Pinotage Grape was created in 1925 and is a cross between two vinifera grapes, Pinot Noir and Cinsault. Abaraham Izak Perold created the grape to bring out the brilliant robust flavors that both Pinot Noir and Cinsault possessed, while making the grape easy to grow.
Pinotage is known to produce smoky, earthy flavors with hints of tropical fruits. We (MWG) source our Pinotage from the Breede River Valley.  This is because the Breede River Valley produces wines that express notes of cedar, plums, and dark berry notes. The wine then rounds out with a smooth, tannic structure. Lots of complex and flavorful wines come out of this valley and now you can make your very own at home!
Quick Winemaking Tips:
Please note that if you punch through too vigorously during fermentation you can get an almost burned plastic characteristic. It is better to ferment Pinotage at lower temperatures.
Our

Winemaker Bootcampers

have made this serval times. If you ever have any fermentation questions please do not hesitate to reach out.
Check out our blog post about making Syrah from South Africa too!
 Click

here

for information about our Grower from South Africa.
Food Pairing: Enjoy these wines with a hearty stew or red meat.
Interested in making your own wine? Give us a call at 877-812-1137 to get started!