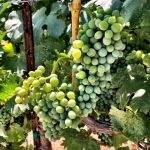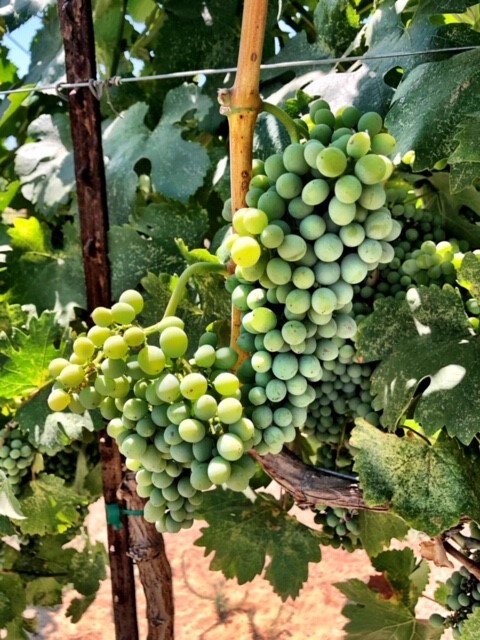 Ever consider making white wine at home but needed some advice on what grapes to use? Here's the list of the most popular white wine grapes you've been looking for to help you get started.
Try these four white wine grapes:
Chardonnay
Sauvignon Blanc
Muscat
Riesling
Why these grapes? Here are some reasons for choosing these white grapes to try in your home winemaking cellar:
• Chardonnay – One of the world's most popular grapes and ages for 5-10 years made in a wide range of styles from lean, sparkling to rich, creamy white wines aged in oak. It's primary flavors include: yellow apple, pineapple, vanilla and butter with a taste profile that makes it a dry, medium bodied wine with medium acidity and 13.5–15% ABV
• Sauvignon Blanc – Loved for its "green" herbal flavors and racy acidity; ages 3-5 years and has primary flavors of gooseberry, honeydew, grapefruit, white peach and passion fruit and makes a dry medium to light bodied wine with high acidity and 11.5–13.5% ABV
• Muscat – This grape is available in many styles, from dry to sweet to still, sparkling, and fortified, ages 3-5 years with primary flavors including orange blossom, Meyer lemon, Mandarin orange, pear and honeysuckle that produces an off-dry light bodied white wine with medium to high acidity and under 10% ABV
• Riesling – An aromatic white variety that can produce white wines ranging in style from bone-dry to very sweet; ages over 10 years. Its primary flavors include lime, green apple, beeswax, jasmine and petroleum and produces an off-dry wine with a light body, with high acidity and under 10% ABV
Which white wine grape will you try this season? We'd love to hear your experience with these popular grapes.
Email sales@juicegrape.com or call  877-812-1137 to order or discus making wine from home!
Written by Michelle Griffis aka the Nutmeg Nose from MWG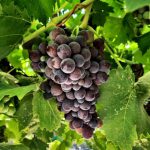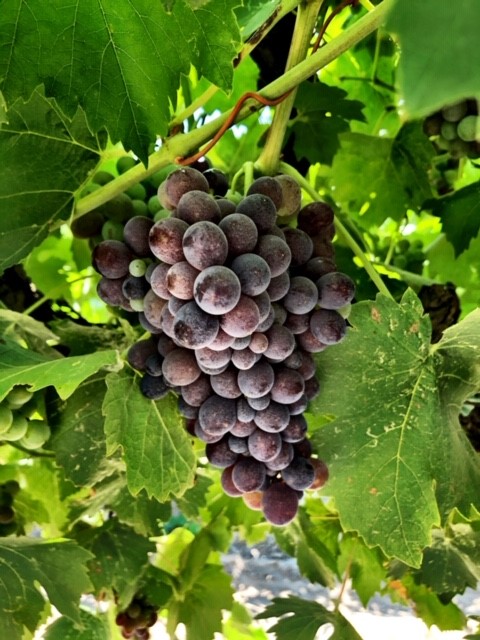 Ever wonder what the most popular red wine grapes are to use when making red wine at home? Well, wonder no more. Here is the list you've been looking for.
Try using these four popular red wine grapes as you begin your home wine making journey:
Cabernet
Merlot
Old Vine Zinfandel
Petite Sirah
Why these grapes you ask? Well, here are a few things to consider:
Cabernet – This is age worthy wine; cellar for 10+ years, produces a dry and full bodied wine with medium to high tannins, medium acidity and has 5–15% ABV
Merlot –This wine can be aged in your cellar for 10+ years and has flavors of cherry, plum, chocolate, bay leaf and vanilla with a tasting profile that makes it a bone-dry wine, with medium to full body, medium to high tannins, medium acidity and 13.5–15% ABV
Old Vine Zinfandel – Ages for 5-10 years, it is a bold, fruit forward red that's loved for its jammy fruit and smoky, exotic spice notes; it makes a dry red with medium to full bodied flavor, medium to high tannins, medium to low acidity and has over 15% ABV
Petite Sirah – Another 10+ years of aging and is loved for its deeply colored wines with rich black fruit flavors including sugarplum, blueberry, dark chocolate, black pepper and black tea and makes a dry, full bodied wine with high tannins, low acidity and over 15% ABV
What red grape will you start with today? Let us know what popular red wine you are excited to start making this season.
Email sales@juicegrape.com or call  877-812-1137 to order or discus making wine from home!
Written by Michelle Griffis aka the Nutmeg Nose from MWG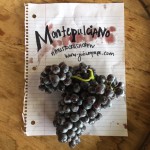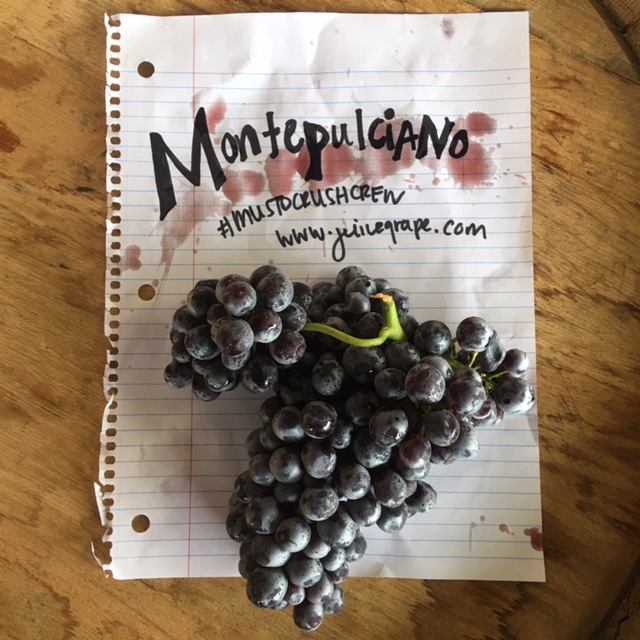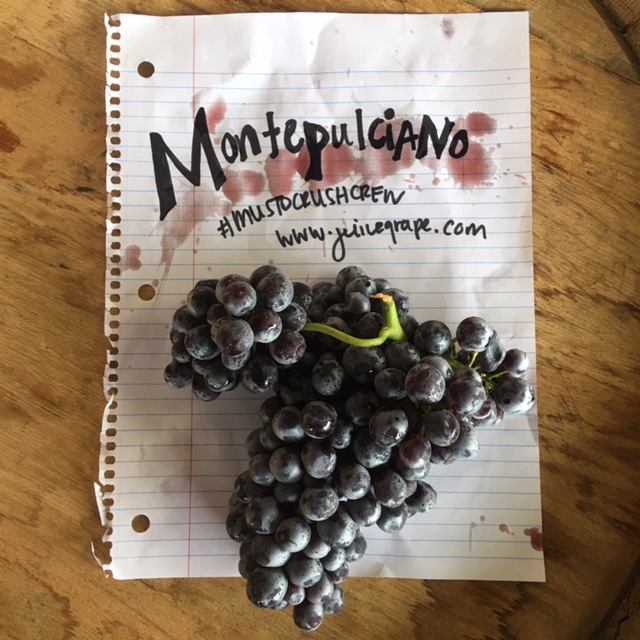 Montepulciano 2020 By Joseph A. Picone, DMD
I had the pleasure to obtain 10 (36lbs) cases of Montepulciano grapes from Musto Grapes (Frank Musto) on October 10, 2020. Making wine using the many varieties of first class Musto sourced grapes has been an Annual fall event for the Picone family and our friends for the past 30 years or so. Over the years, I have made Cabernet Sauvignon, Merlot, Old Vine Zinfandel, Sangiovese, Malbec, Reisling, Chardonnay, Sauvignon Blanc, Moscato, and White Zinfandel to name a few. Each having their own unique qualities to enjoy. Frank and his crew are great in providing all the resources and guidance needed for the first-time wine maker all the way to the seasoned-pro. I was fortunate to have taken a one semester class years ago at Naugatuck Community College on Wine Making given by Bob Herold which together with Frank's support team has allowed me to create some delicious wines over the years.
I would like to share my experience with you on making this year's Montepulciano 2020.
The grapes were outstanding. The Brix reading on the refractometer was 25. The clusters were full and the berries were a beautiful deep purple. The boxes were well packed with few if any leaves. We crushed the 360lbs of grapes and immediately added some potassium metabisulphite to kill any wild yeasts. My crusher is also a destemmer, so all the stems were separated from the must during this process. The pH of the must started at 3.70 which wasn't surprising due to the high Brix reading. I added an appropriate amount of Tartaric acid to bring the pH to a more desirable 3.41 the day of crush. 25 ml of Color Pro enzyme was added at this time as well.
At approximately 24 hours post crush, the Must was inoculated with 35 grams of yeast BM 4X4 in a solution containing GoFerm yeast nutrient. The temperature of the Must at the time of inoculation was 60 degrees F. The yeast solution was well constituted throughout the must. Periodic punching down of the "cap' was done every 6-8 hours throughout the primary fermentation time.
At 48 hours post crush, the Must temp was 66 degrees F at the Brix reading was 23.5. Fermaid O was added.
At 72 hours post crush, the Must temp was 75 degrees F and the Brix reading was 20. Fermaid K was added.
At 96 hours post crush, the Must temp was 82 degrees F and the Brix reading was 16. I added oak chips to the vat.
At 120 hours post crush, the Must temp was 78 degrees F and the Brix reading was 8.
At 144 hours post crush, the Must temp was 72 degrees F and the Brix reading was 4. 0.9mg of Malolactic culture VP41 was added to the Must and thoroughly mixed in.
At 168 hours(7 days) post crush, the Must temp was 70 degrees F and the Brix reading was 3. The Must and remnant skins were carefully pressed using a bladder press. The raw yield was approximately 27.5 gallons. The Must was placed in cleaned and sanitized demijohns utilizing airlocks to allow CO2 to escape while fermentation progresses, albeit very slowly. The residual skins were heavily consumed during the fermentation leaving behind very little structure. The color extraction was excellent and provided a deep rich purple wine. More Oak chips were added to each of the glass carboys/demijohns.
The slow fermentation in the demijohns went uneventfully and at 2 months, careful racking was accomplished and an appropriate amount of Potassium Metabisulphite was added to help kill off any more yeast cells(30ppm).
At 6 months post pressing, another racking was accomplished without the addition of any sulphites.
At 9 months, I have just begun bottling and I am very pleased with the wine. It is a crystal clear, deep purple, medium to full body, somewhat fruity flavored wine. I expect it to pair well most any dish but have enjoyed it with pasta, pork, veal, and chicken thus far.
Sincerely,
Joseph A. Picone, DMD
Thank you Joseph for sharing your Montepulciano winemaking experience! If you would like to make Montelpuciano emails sales@juicegrape.com or call 877-812-1137.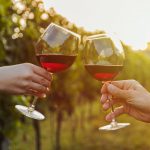 Tehama Valley is our newest edition to the Harvest Menu.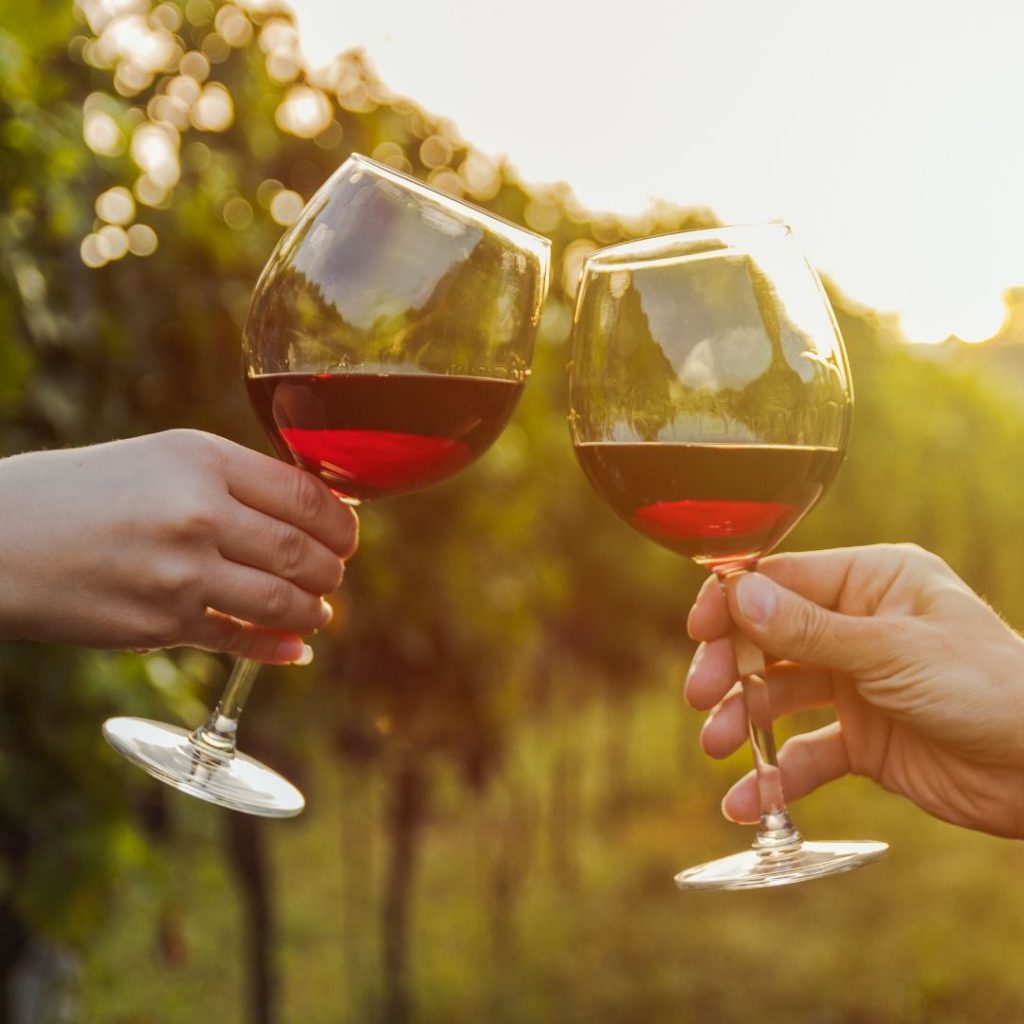 Barison Vineyards is located on a hillside made up of red volcanic soil and gravel, this regenerative farm vineyard uses its own compost, plant cover crops, and have cattle and chickens on the vineyard. The owner of this vineyard wrote the vineyard book Vitibook (used at UC Davis), and fun fact – won 7 barrel racing competitions in his home of Piedmont, Italy. We are excited to be bringing you grapes from Barison Vineyards this season! We will have Cabernet Sauvignon, Cabernet Franc, Grenache, Carignane, Dolchetto, Merlot, Nebbiolo, Pinot Noir, and Syrah.
This season's wine harvest is HERE!! Download our Harvest Menu to check out what we will be offering this season. Please email sales@juicegrape.com or call 877-812-1137 to order.
Fermenting Tubs: Product Spotlight
Fermenting tubs: we sell a variety of winemaking products, including tubs specifically made for fermenting. Why is a fermenting tub one of the best investments you can make? Choosing the proper vessel to ferment your wine in is extremely important as it effects the quality of fermentation.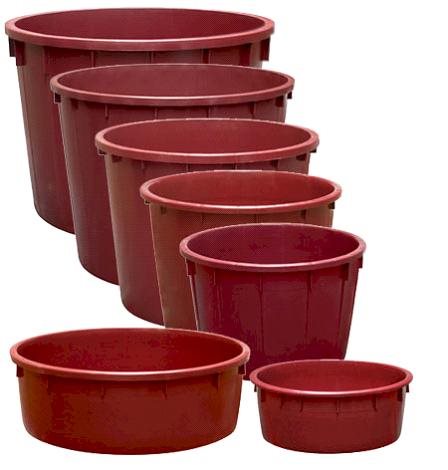 What's so special about our fermenting tubs?
Our fermenting tubs are made of food grade plastic. Did you know if you used a non-food grade plastic pail or tub to ferment your wine in, you can actually poison yourself? This is due to the plastic actually seeping into your wine while it heats up during fermentation! Wild, right?
What are the benefits of using a fermenting tub aside from not being poisoned?
Aside from not being poisoned by your fermenting tub, the way our fermenting tubs are engineered makes a big difference than per say a normal drum or bucket. Our pails gradually get wider going from the base up, giving the must more surface area to breathe. This also helps with any cold spots you may have. More surface area equals better fermentation, better fermentation equals better wine, and we all know what better wine equals!
Do your fermenting tubs come with lids?
Our fermenting tubs do come with lids (sold separately) however; we actually recommend simply using a bed sheet draped over the tub. Why? Let's revisit the need to let your wine breathe: not providing enough oxygen to your wine can actually give it a rotten egg smell, this is due to volatile sulfur compounds developing in the enclosed space between the wine and the lid. Not only do you want to avoid rotten egg smelling wine, you also don't want your tub to explode. A closed fermentation tub becomes an incubator, trapping heat with the gasses and BOOM! Now you have must everywhere AND your winemaking room smells like rotten eggs. Yuck. Using the bed sheet instead of the lid will prevent this too.
If you've decided to invest in a fermenting tub, visit our store to pick yours up or give us a call at (877) 812 – 1137 to place your order over the phone with one of our sales associates. You can view the sizes and specs of our tubs here.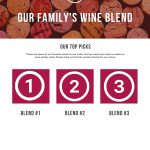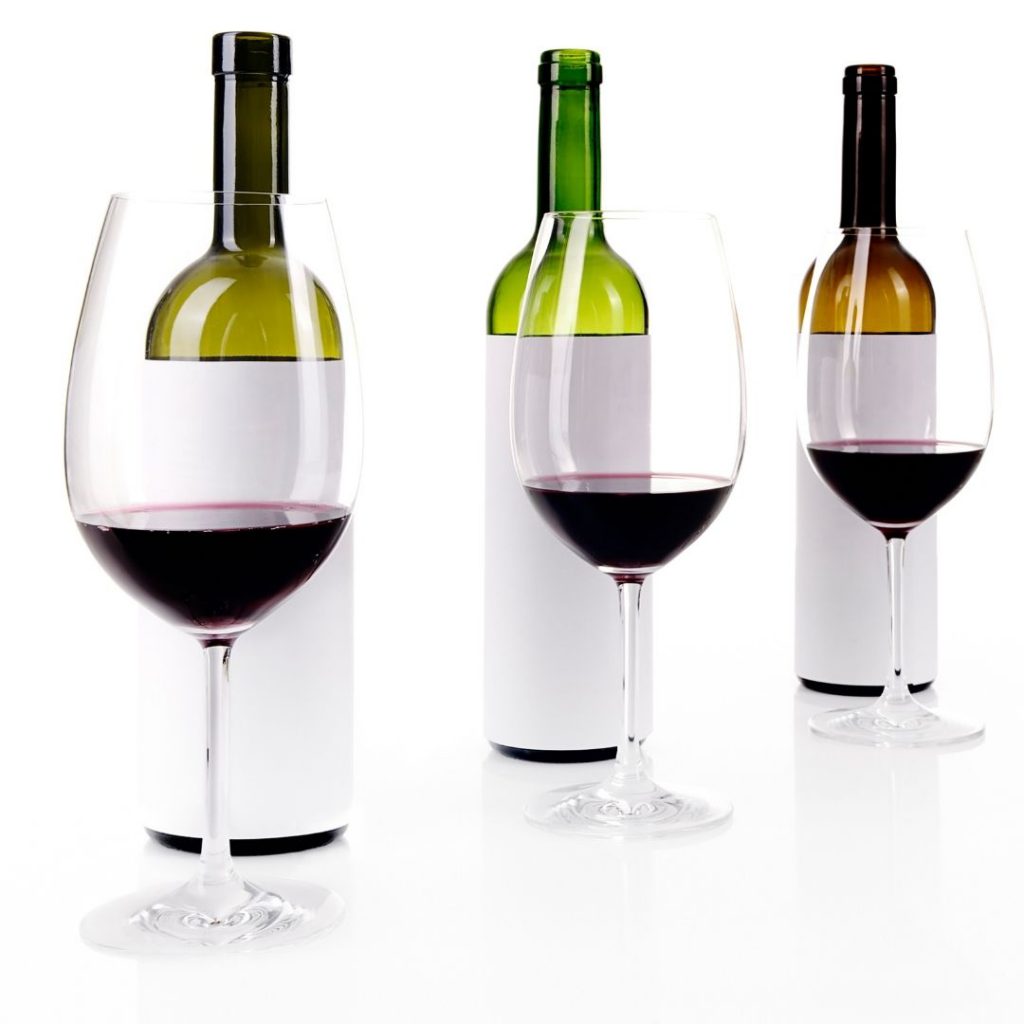 When throwing a wine blending party think about the style of wine you want to create. Are you looking for a fruit forward blend? Are you wanting a Bordeaux, earthier style blend? Once you decide on the style of blend grab samples of the wines you want to utilize. I'd suggest putting them into unmarked bottles with numbers on them or you can put them into pitchers with numbers on them. With the wines "blind" people will try be more creative and less apt to going for only Cabernet.
Next set up your blending stations.
Each blending station should have a glass for each wine being used and a glass for the blended wine
A small

pipette

100 mL

graduated cylinder

Wine Blending Sheet
Pen or pencil
Musto's Wine Blending Sheet
(email cmusto@juicegrape.com for your free download)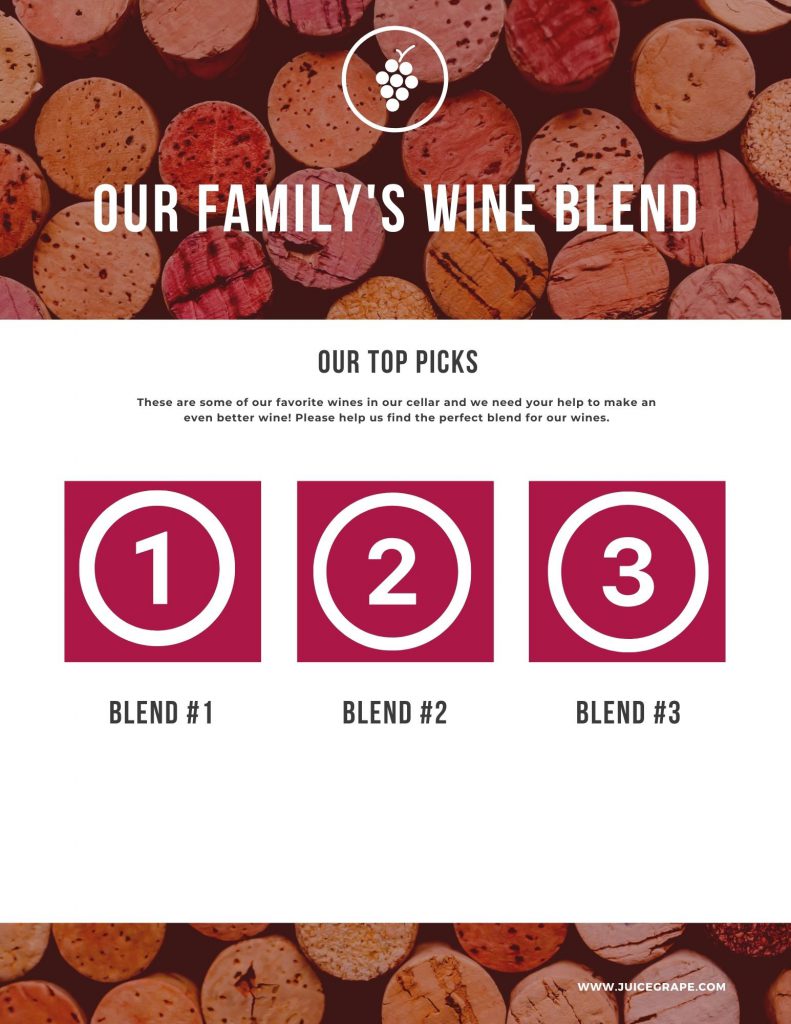 Once you have everything set up it's time to start blending! Have fun!
Here are a few popular blends to help get you and your family started.
Bordeaux Blends – Cabernet, Cabernet Franc, Merlot, Petite Sirah, Petite Verdot, Malbec
Chianti – 75% Sangiovese, usually finished with Barbera
Super Tuscan – Cab, Sangiovese, Syrah, Cabernet Franc
Rhone Blends – Grenache, Syrah, Mourvedre, Cinsault, Carignane
White Rhone blends – Marsanne, Roussanne, Viognier, Grenache Blanc
White Bordeaux – Sauvignon Blanc, Semillon, Muscadelle
Remember – at the end of the day it's all about which blend you enjoy the most!
MWG is here to help you make the wine that you love. Below are more blog posts and videos about Blending Wine. Take a look for more wine blending inspiration.
Blog Post: Beginner Blending Wine by Winemaker Chris Pallatto
How to Blend Your Wines Step by Step Video
Photos from a wine blending party with the American Wine Society
Interested in making your own wine? Contact Musto Wine Grape at sales@juicegrape.com or 877-812-1137. Cheers to Winemaking!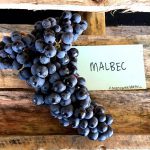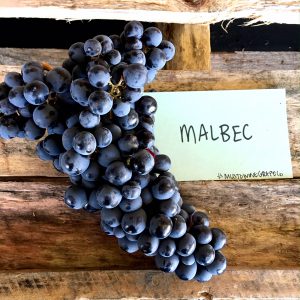 7 Tips for How to Prep for the Chilean Wine Harvest 🍇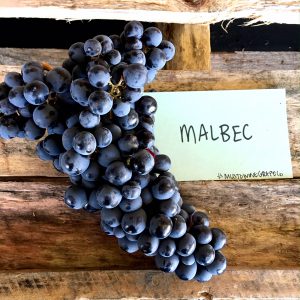 1. Clean and organize your winemaking cellar
2. Take inventory of your fermentation supplies and re-stock
3. Check all wines that are aging – top off, make SO2 adjustments
4. Inspect and double check your tools and equipment
5. Decide if you want/need to upgrade or replace any equipment
6. Look over past winemaking notes
7. Bottle any wine you need to in order to free up space for this seasons wines
Have you ordered your Chilean winemaking products yet?
Give us a call at 877-812-1137 or email us at sales@juicegrape.com to get your set up!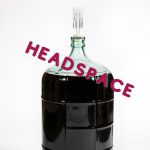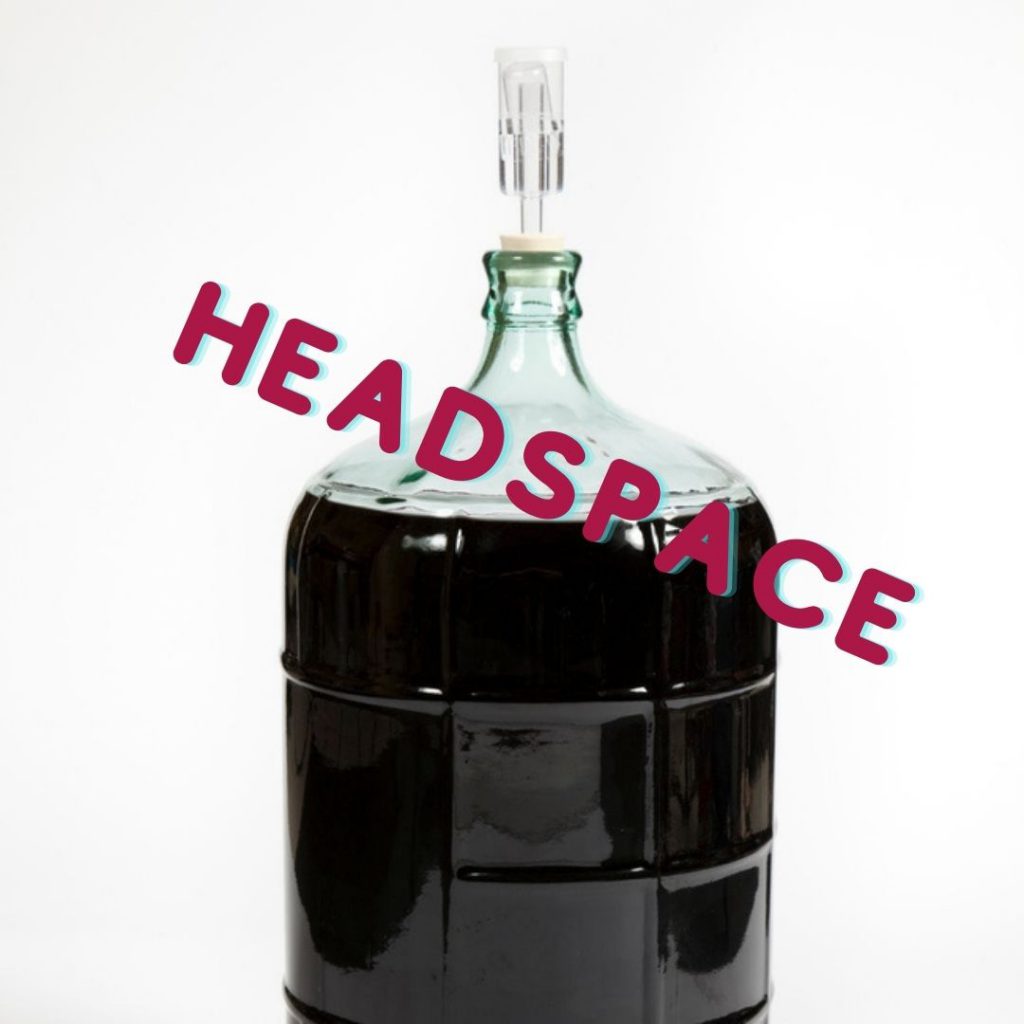 Let's talk about headspace. Extra headspace in your wine storage vessel leads to oxidation. Oxidation leads to wine faults such as – disappearance of fruit flavors, characteristics like bruised-apple take over, the color starts to brown, and brettanomyces or volatile acidity can start to develop.
However, not all oxidation is bad. If done carefully a little micro-oxidation can give help soften your red wine wine and give it complexity. Also, some wine styles require excessive oxidation like Madera.
But for most wines we want to avoid any excessive oxidation. So how to we do that? Below are a few tips to help avoid oxidation in your wine.
1. Consistently check your aging vessels and make sure they have no headspace and are topped off
2. Limit how much air you wine is exposed to during racking, pump overs, and bottling
3. Keep track of and update your SO2 levels regularly
4. Double check tank gaskets for any leaks before use
5. Use quality corks when bottling wine
We hope these tips help! 🍇🍷🥂 Looking forward to working with you all this Spring Winemaking Season. Have you ordered your Spring Winemaking Supplies yet? Email us at sales@juicegrape.com for more details.
For more on Winemaking Faults visit our sister site WinemakingInstructions.com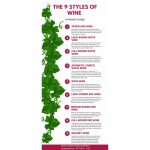 The world of wine is a big one. Whether you are a newbie winemaker or drinker, or one of the pro's that just needs a refresher.
We put together a printable pocket guide for identifying the 9 styles of wine.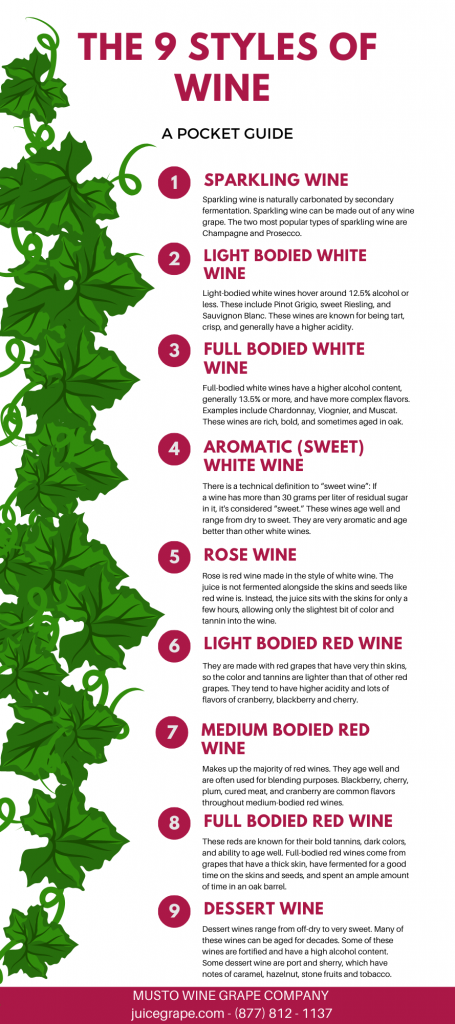 This printable pocket guide provides a simple overview of each of the 9 styles of wine and what characteristics to look for. Its a great idea to keep handy in your wine tasting notebook so as you write your tasting notes you can easily identify each wine!
Once you are able to taste the 9 styles of wine, it will give you a better understanding of wine as a whole. Once you have a good understanding for wine, you'll be able to fully understand tasting wine and even making it! Obviously wine tasting and winemaking can be complex but with dedication for learning, and having the support (us!) it can ensure your success.
Other types of reference guides that are good to keep handy are things like a wine tasting wheel and color chart that allows you to identify more colors, aromas and flavors!
Want to make your own wine? Musto Wine Grape Company is here to help. Give us a call at (877) 812-1137 to speak with one of our Crush Crew members to get you on track to making the wine of your dreams!