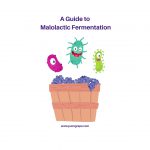 Malolactic Fermentation, also known as Secondary Fermentation or "Malo", is the process in which Malic Acid in the wine converts to Lactic Acid.
What is Malolactic Fermentation?
As stated above, it is the process in which Malic Acid in the wine converts to Lactic Acid. The primary role of Malolactic Fermentation is to deacidify the wine which affects the sensory aspects of wine, making the mouthfeel smoother and it adds complexity to the flavor and aroma of the wine. The deacidification of the wine happens by converting the harsh diprotic malic acid into the softer monoprotic lactic acid. Nearly all red wines go through Malo while only a few whites, like Chardonnay and Viognier, do. One way to recognize if a wine has gone through Malo is if it has a creamy, buttery mid-palate texture. The buttery flavor comes from diacetyl, a by-product of the reaction.
What is Diacetyl?
Diacetyl is a flavor metabolite produced by lactic acid bacteria known as Oenococcus Oeni. Oenococcus Oeni is the main bacteria responsible for conducting Malo, due to its ability to survive the harsh conditions of wine. It is responsible for the production of the sensory aspects noted above. Malo can happen naturally, though often inoculated with the bacteria culture to jumpstart the process.
When does Malo take place?
Malolactic Fermentation can happen in two different ways, during primary fermentation or after. Amid fermentation, it is Co-Inoculation. After fermentation, it is Post-Fermentation Inoculation. Inoculation that takes place after alcoholic fermentation is the most common practice. When you add bacteria cultures like MBR31 after fermentation is complete, it jumpstarts the Malo process. Co-inoculation takes place at the start of alcoholic fermentation, which allows winemakers to focus on other things such as the improvement of flavor development.
What are the signs that Malo is in progress, and how do I know if it is finished?
The best way to identify malo in progress is bubbles! The malolactic activity can be detected by the presence of tiny carbon-dioxide bubbles. When the bubbles stop, Malolactic Fermentation is complete. This can take anywhere between one and three months.
What are the benefits of each method?
Firstly, the benefits of post-fermentation inoculation include better control of the start time duration of Malo. Lessened biogenic amine production leaves the wine unprotected by sulfite for a limited amount of time. This allows less potential for spoilage by other organisms. It reduces the incidence of excessive volatile acidity and enhances flavor profiles and complexity. The benefits of co-inoculation include lower levels of the inhibitory alcohol that are present at the start of Malo, and no need to apply external heating to the ferment due to the heat generated by the yeast fermentation. This results in faster completion of Malo. This means the wine can have sulfite added earlier and reduces the potential for the growth of spoilage organisms. Finally, a bonus is that bacteria added at the start of the yeast fermentation encounter a nutrient-rich environment.
Need assistance with your winemaking process?
Musto Wine Grape Company is here to help. We offer a wide variety of products and services to help you at any stage in your winemaking journey. Email winemaker@juicegrape.com or call us at (877) 812-1137 to speak with someone who can assist you.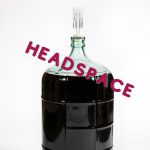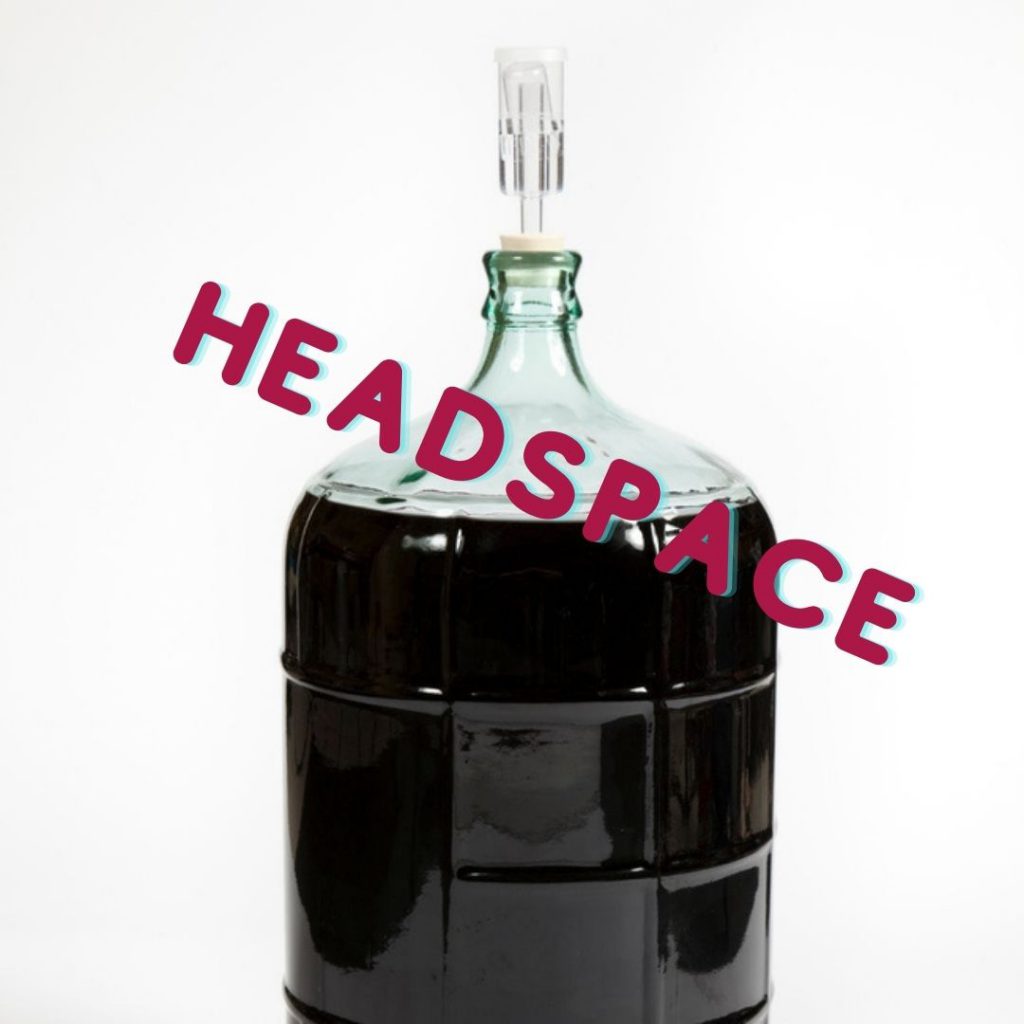 Let's talk about headspace. Extra headspace in your wine storage vessel leads to oxidation. Oxidation leads to wine faults such as – disappearance of fruit flavors, characteristics like bruised-apple take over, the color starts to brown, and brettanomyces or volatile acidity can start to develop.
However, not all oxidation is bad. If done carefully a little micro-oxidation can give help soften your red wine wine and give it complexity. Also, some wine styles require excessive oxidation like Madera.
But for most wines we want to avoid any excessive oxidation. So how to we do that? Below are a few tips to help avoid oxidation in your wine.
1. Consistently check your aging vessels and make sure they have no headspace and are topped off
2. Limit how much air you wine is exposed to during racking, pump overs, and bottling
3. Keep track of and update your SO2 levels regularly
4. Double check tank gaskets for any leaks before use
5. Use quality corks when bottling wine
We hope these tips help! 🍇🍷🥂 Looking forward to working with you all this Spring Winemaking Season. Have you ordered your Spring Winemaking Supplies yet? Email us at sales@juicegrape.com for more details.
For more on Winemaking Faults visit our sister site WinemakingInstructions.com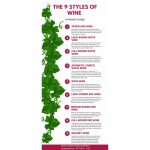 The world of wine is a big one. Whether you are a newbie winemaker or drinker, or one of the pro's that just needs a refresher.
We put together a printable pocket guide for identifying the 9 styles of wine.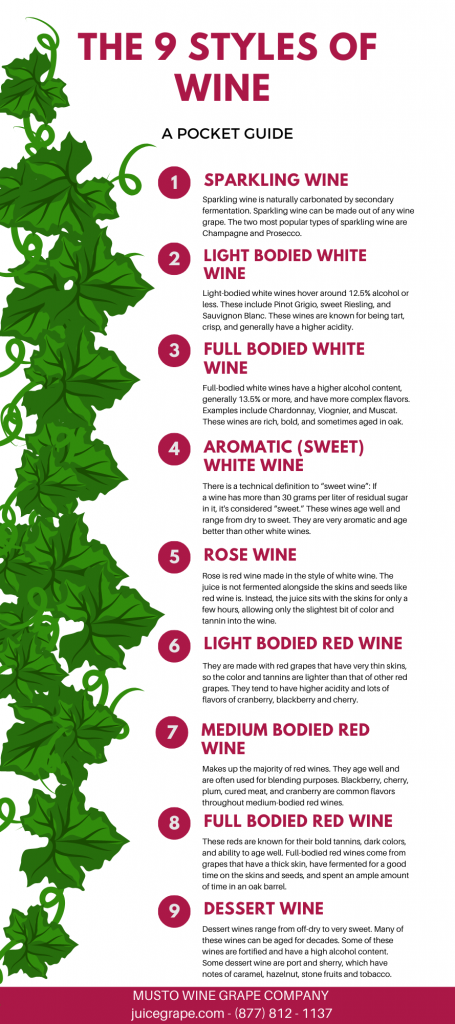 This printable pocket guide provides a simple overview of each of the 9 styles of wine and what characteristics to look for. Its a great idea to keep handy in your wine tasting notebook so as you write your tasting notes you can easily identify each wine!
Once you are able to taste the 9 styles of wine, it will give you a better understanding of wine as a whole. Once you have a good understanding for wine, you'll be able to fully understand tasting wine and even making it! Obviously wine tasting and winemaking can be complex but with dedication for learning, and having the support (us!) it can ensure your success.
Other types of reference guides that are good to keep handy are things like a wine tasting wheel and color chart that allows you to identify more colors, aromas and flavors!
Want to make your own wine? Musto Wine Grape Company is here to help. Give us a call at (877) 812-1137 to speak with one of our Crush Crew members to get you on track to making the wine of your dreams!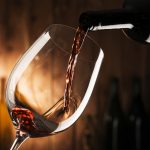 When you are first starting out in the wine-tasting world, you come face to face with the intensity and complexity of certain wines as you taste them. One of the things that your palate will start to recognize is the thickness and texture of the wine in your mouth. We identify this mouthfeel as the body of the wine. It can be difficult to explain a wine's body because it is not as obvious as sweetness or acidity.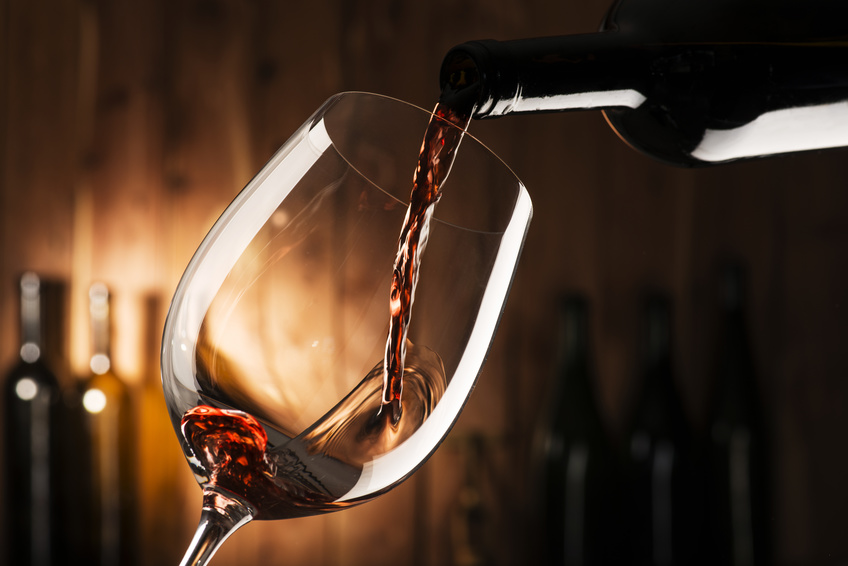 The body of wine can be described in three ways:
When the body of a wine is light, think of drinking a glass of water. It's thin, goes down easily, and is smooth.
When the body of a wine is medium, think of drinking a glass of skim milk. The consistency is thicker, but not too thick, and sticks around in your mouth a little longer.
Lastly, when the body of a wine is full, think of drinking a glass of whole milk. This would be the thickest, with the longest-lasting finish.
Light-bodied wines
Light-bodied wines are light and delicate on your palate making them popular during the summer because they are crisp and refreshing.
Medium-bodied wines
These wines are known for being "in-between" because there is no true cut off for where they actually sit on the tasting spectrum. Sometimes they can be more light-to-medium bodied, or they can be medium-to-full. These wines are usually the best to pair with food because they have the perfect balance of tannins and acidity.
Full-bodied wines
These robust and powerful natured wines are bold. These would include deep red wines and ports, and these characteristics come from their skins which are packed with tannins. If you taste a full-bodied wine, you'll notice it leaves a coated finish in your mouth.
What gives a wine its body?
Tannins, sugar, and acids all contribute and determine the overall body of a wine. Something that can help you determine the body of a wine is its alcohol level. Alcohol adds to the intensity and thickness of a wine. The more alcohol that wine has, the heavier it becomes and the bigger mouthfeel it offers.  The grape itself determines the body, starting in the skins. Thick-skinned grapes like Cabernet Sauvignon contain a lot more extract than Pinot Noir, which is thin-skinned. Production methods also impact the weight of the wine as well, say if the wine was oaked. White wines tend to be much lighter than red wines, but there can be fuller-bodied white wines – like buttercream chardonnay.
Can I make my own?
Musto Wine Grape Company is here to help you make the wine of your dreams! The Spring Chilean winemaking season starts in late April, early May. Secure your winemaking grapes or juices and give us a call at (877) 812-1137 to speak with one of our Musto Crush Crew members. We can get you set up with everything you need and provide customer support along the way to ensure your success!
Fiano

A Little History:
Fiano is an Italian wine grape variety that originated and is grown mostly in Southern Italy; specifically in Campania. It's roots are so deep in Italy that historians believe it was used to make a wine the Romans referred to as "Apianum". Now Australia, Argentina, and California are starting to experiment with this vibrant and bold white wine grape.
California and Fiano Notes:
The Fiano grapes grows well in California's Central Coast and Central Valley due to it's Mediterranean climate, similar to Southern Italy. Fiano is know for it;s low yeilds in the vineyard and it's sweetness on the vine that attracts bees. A grape that was once lost ot history because of it's lower yeild and inability to produce cost effective juice, is now going through a renaisance period. Labeled a "classic"  vareity, with new winemaking technology wineries are able to produce complex, interesting, and profitable Fiano wine.
Wine Notes:
Pale straw yellow in color, Fiano expresses floral, tropical, and nutty notes on the nose. On the palate slight hazelnut, apricot, blood orange, and honey notes, can be enjoyed. If the wine is aged 2-3 years in bottle, those flavors can develop into spicy notes over time.
Winemaking Notes:
Limiting oxidation is key when creating this wine. As premature oxidation can mute the vibrancy this grape is known for. However, many winemakers are using Fiano to experiment with less aging and skin contact white wine creation.
For more on how to make white wine from grapes click HERE
*All white grape varieties are available in 36lb cases or in 6 gallon juice pails sourced from Lodi, CA.
For more information regarding the Fall Harvest please feel free to contact us at sales@juicegrape.com or give us a call at 877-812-1137. We are looking forward to helping you with your next great wine!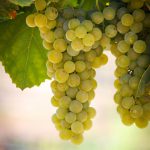 Chardonnay is a white wine grape that originated in the Burgundy wine region of eastern France. We source our Chardonnay wine grapes from 3, high quality, and sustainable appellations in California. This includes Suisun Valley, Lodi, and Central Valley. These regions produce a range of outstanding high quality to premium luxury wine grapes for the best value.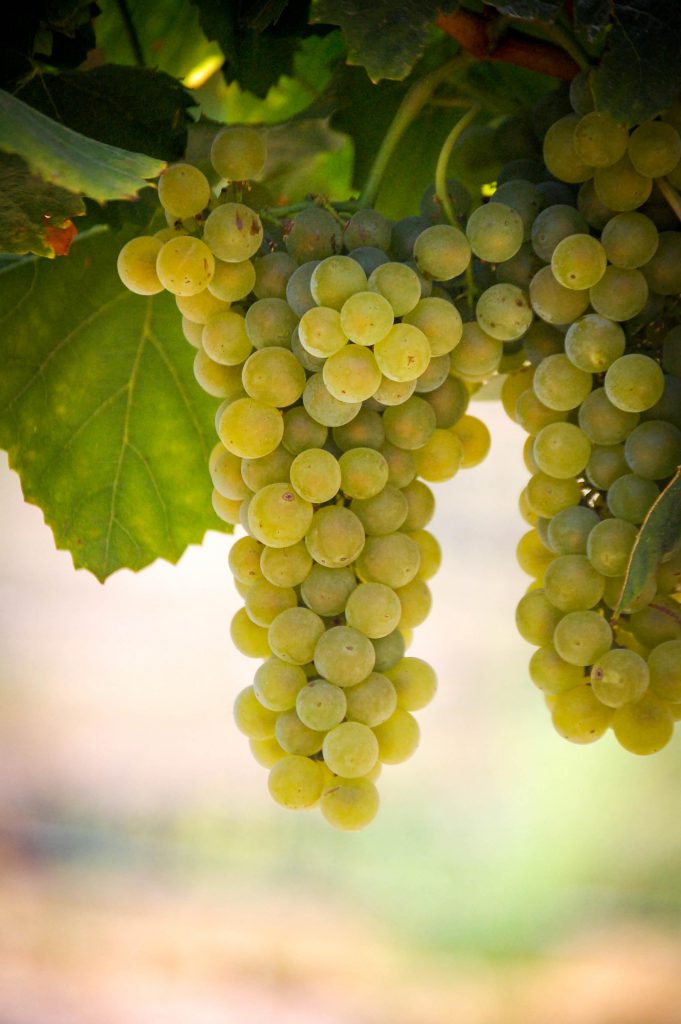 Suisun Valley, California
Firstly, Suisun Valley Chardonnay tends to yield beautiful notes of honeysuckle, green apple, and lemon tied into a welcoming nose. It is full-bodied and lush on the palate featuring tropical flavors of pineapple, peach, and bright citrus. It also has a clean and pleasant finish. We recommend fermenting in a stainless steel fermenting tank using QA23 wine yeast. This is perfect if you're aiming for that tropical profile in your Chardonnay.
Lodi, California
Secondly, If you're looking to make a beautifully balanced wine with lovely notes of pineapple and citrus, that mingles with notes of sweet vanilla custard finishing with just the right amount of silkiness and acid, we recommend the Lodi Chardonnay. We also recommend fermenting with D47 wine yeast in a French oak barrel. When you are fermenting in a barrel, it's best to use MBR31 to allow your Chardonnay to go through Malo-Lactic Fermentation. This will achieve those silky and buttery finishes.
Central Valley, California
Finally, If you're drawn to the Lodi Chard characteristics but you're looking for more complexity, try the Central Valley Chardonnay. It has the potential to yield fresh tropical fruit, pears, and peaches along with custard cream flavors leading to a creamy, soft, and mouth-filling finish. For these results, we recommend fermenting in a stainless steel tank or fermenting tub with VIN13 wine yeast and aging in a French oak barrel. Inside the barrel, it should undergo Malo-Lactic Fermentation with the use of MBR31 and will yield that layered complexity you're craving.
Ready to make your own Chardonnay? Musto Wine Grape is here to supply you with everything you need to make the wine of your dreams. Email us at sales@juicegrape.com or call (877) 812-1137 to speak with someone who can get you started!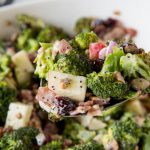 This crunchy, refreshing apple broccoli salad is a perfect summer barbecue side. Not only does it go great with virtually any barbecue food, ranging from chicken to steak and even burgers – it's also healthy without compromising tasty! I know you can't wait for this one so let's get started!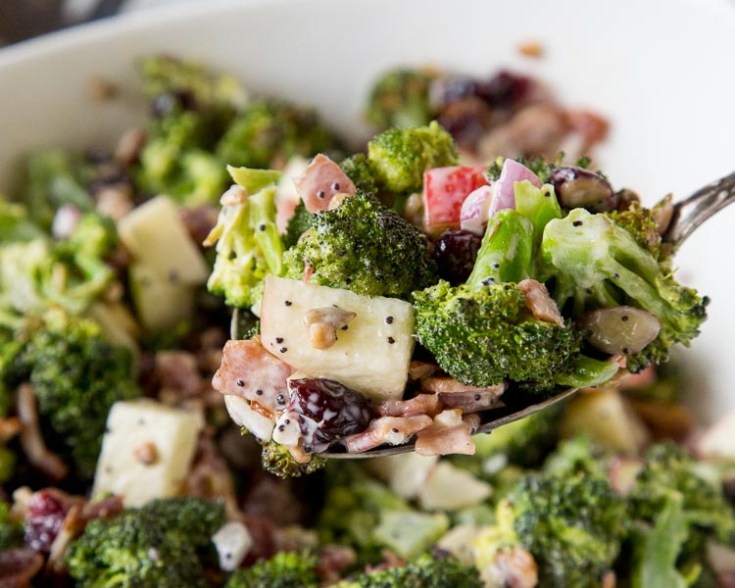 What you'll need:
2 medium heads of broccoli, chop into small florets
1/2 cup of shredded carrots
1/4 cup diced red onions
2 large apples, chopped into small pieces
1/3 cup nuts of choice. I love roasted almonds and sunflower seeds
1/3 cup dried cranberries. Ocean spray's pomegranate infused dried cranberries are delicious!
1 cup of plain greek yogurt
2 tablespoons apple cider vinegar
1 tablespoon sweetener of choice, I personally love using honey.
1/4 teaspoon salt
1/8 teaspoon pepper
What you need to do:
Combine broccoli, carrots, red onions, apples, nuts of choice, and dried cranberries in a bowl.
In a separate small bowl, combine greek yogurt, apple cider vinegar, honey, sale and pepper and whisk together.
Coat salad in dressing and toss, then serve chilled!
Wait, what about some wine to go with it?
You didn't think we'd leave you hanging on that, did you? We would never! In general, crisp white wines are a go-to when serving raw vegetables, so try a zesty Pinot Grigio with this salad. The smooth flavors and crisp acidity allows this kind of wine to be served with lighter dishes without being too overwhelming, perfect for this salad!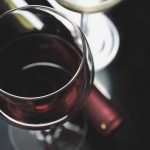 A White Wine Drinker's First Shot at Tasting Red Wines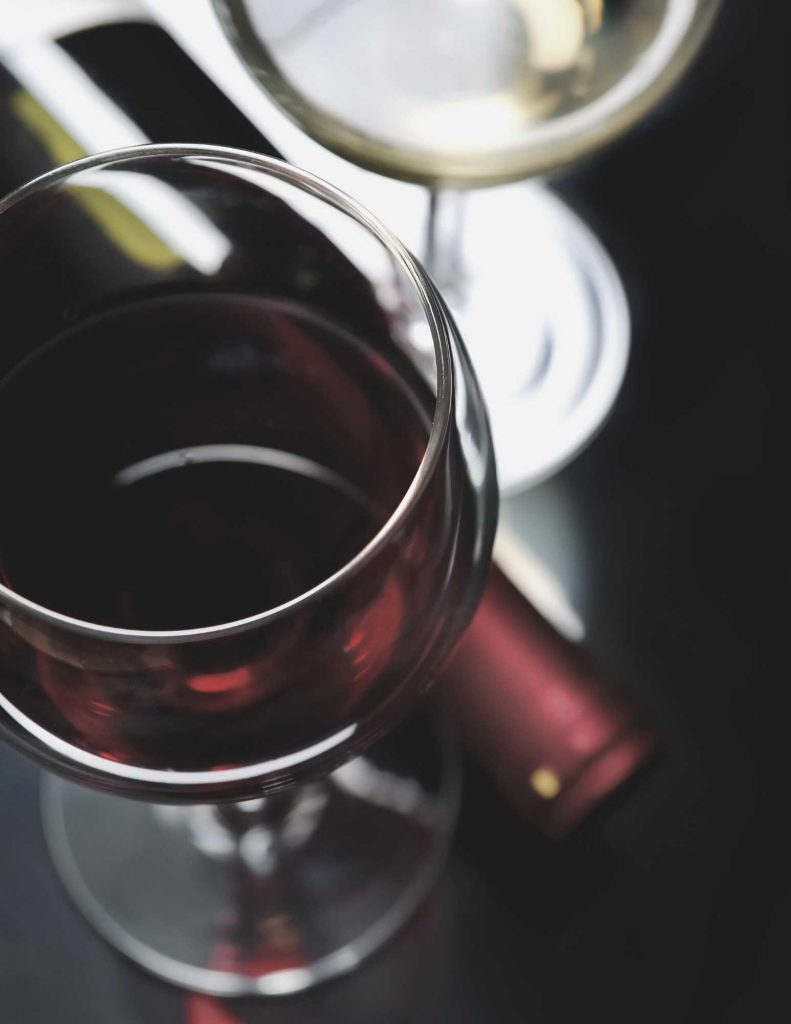 Christina has given me a few bottles of wine to stretch my tasting abilities and educate my nose and taste buds. Here's how it went! My go-to's have always been a sweet white or rosé, I haven't really ventured out with reds mostly because the first red I had was gross and I figured all red wines were like that. I was definitely wrong! Note, I am a beginner at tasting red wines so these are very amateur notes.
The first wine Christina gave me to try was a 2018 Sonoma Cabernet Sauvignon.
Ashley: I smell cherry the most, with kind of a plumy smell, and maybe prune; but cherry was the first thing I smelled.
Christina: Great! Next time think about what kind of cherry – Black cherry? Red cherry? Ripe cherry?
Ashley: It has a nice deep purple toned color to it and has no floaters.
Christina: Good, the browner the tinge of the wine the older the wine is.
Ashley: There's no carbonation or fizz – I'm used to the wines I drink having bubbles or a little fizz to them.
Christina: Good! Fizz really only happens if the wine wasn't taken care of or if it is a sparkling wine.
Ashley: It makes my mouth pucker at first but doesn't leave my tongue dry for long, it goes away quickly.
Christina: If you salivate that means the wine is high in acid, if it dries out your mouth that means tannins are present. Sometimes people use the word "pucker" referring to both. Next time try to think about what is causing that feeling? Is it the salivation in your mouth like if you just tasted a bitter lemon, or is it the drying out of your mouth/chalky feeling in your mouth?
Ashley: Alcohol is pretty high!
Christina: Glad you picked up on this! Most Cabernets from Sonoma and Napa California are higher in alcohol.
Ashley: Kind of tastes like a Cigar.
Christina: That usually has to do with barrel aging or growing region; you find this characteristic a lot in red wines from Chile and Argentina. If you find it in a CA wine it's usually due to barrel aging in a heavy toasted barrel.
Ashley: I pick up black pepper but it's not strong.
Christina: I'm glad you thought about the type of pepper. That's great. Try to be as specific as you can be.
Ashley: It's easy to swallow but gives a hot feeling in my chest, kind of like if you drank something hot with cinnamon.
Christina: That is an indicator of high alcohol. Good job picking up on that!
Ashley: Kind of a charred taste, like eating the black burnt part of a marshmallow or pizza crust.
Christina: This has to do with the aging process of this wine. It sounds to me like it was a little "tight" and could have been laid down for a few more years so the balance of fruit and earth could shine through. Great specific description of what you tasted.
Ashley: It's not something I would drink on a regular but it wasn't terrible.
Christina: Great, you are figuring out what you like. Think about what type of food you would have this with and if it would change your perception of the wine.
Next was a 2015 Cabernet Sauvignon 169.
Ashley: This one gave a rush of burning through my nose upon first sip and swallo2. It reminds me of the sensation you get when you burp through your nose
Christina: This means it's got a decent amount of alcohol in it.
Ashley: I definitely taste black pepper with this one; it's very smooth, smoky and earthy. Kind of when you eat a vegetable right out of the garden without washing it and it has like dirt on it haha!
Christina: Haha those are good descriptors!
Ashley: It doesn't seem to be too high in tannins, after a few sips my tongue started to dry out, but right off the bat I didn't feel much dryness.
Christina: This means the tannins were balanced, soft, and supple.  That's a good thing for red wines.
Ashley: I also got black cherry and plum in this one, though it is dry it kind of gave me the impression that it was going to be slightly sweet, because it smells like it but it definitely was not sweet.
Christina: This happens a lot with dry red wines; you get sweet notes on the nose but not on the palate. Good job picking up on the fruit aromas!
Ashley: Overall this is the first red wine I didn't hate and would actually drink again! I definitely see myself enjoying it with a steak for dinner.
Christina: Wow that's great!
The last wine I tried was a 2018 Chilean Malbec.
Ashley: Very earthy, I got that same dirt taste from the cab but it's way more prominent with this one.
Christina: Good descriptors!
Ashley: It's also very dry, significantly drier and higher in tannins than the cab 169. It dried my tongue out on the first sip and kind of made my throat feel dry too.
Christina: Perfect! Now you know the difference between medium/balanced tannins and high tannin wines.
Ashley: I do pick up on a black pepper, and get some licorice, some bitter blackberry as well. But the dirt taste is what my mouth captures first and sticks throughout the whole experience.
Christina: Okay good observations and descriptors!
Ashley: I wasn't a fan of this one because the dirt taste was all I could focus on.
Christina: Good! You know now that you don't like high tannin earthy wines.
Reflection
The Cab 169 from Suisun Valley, CA definitely left an impression on me and I am going to explore with other wines from the similar region and see what else I can take a liking to! Overall this was a fun experience and I look forward to experimenting and broadening my wine horizons. A big thanks to Christina for being an awesome teacher, it's looking like I'll be a pro at tasting and winemaking in no time!
If you are interested in wine tasting and help with developing your palate, do not hesitate to reach out to us at Sales@JuiceGrape.com, or by calling us at 877-812-1137. At Musto Wine Grape we are always searching for ways connect with you and help you along in your winemaking and wine loving journey.  We offer a wide variety of products, services and classes to help you create a wine you love and assist you in being able to experience the way wine was created to be experienced!
For updates on harvests, educational tutorials and more, follow us on Instagram and Facebook.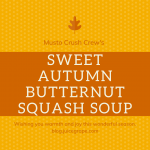 During harvest we need some tasty fuel to keep us going. This sweet autumn butternut squash soup is nourishing and fulfilling, sure to satisfy the whole family. As the temperatures drop, we wanted to share this recipe to help keep you warm!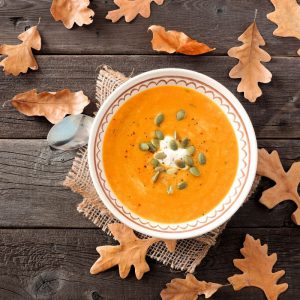 Ingredients
3 cups of diced butternut squash
1 unpeeled, diced apple
1 unpeeled, diced pear
2 tablespoons of extra-virgin olive oil
2 garlic gloves, minced
1 small onion, ½" diced
½ teaspoon of curry powder
¼ teaspoon of ground ginger
¼ teaspoon of ground cinnamon
4 cups of vegetable broth
Salt & black pepper
¼ cup chopped walnuts (toasted), 2 tablespoons roasted pumpkin seeds, chives and plain greek yogurt as optional toppings.

Instructions
Heat the oil in a large saucepan over medium heat and add the onion. Stir frequently until tender (for about 5 minutes) then stir in the garlic and continue to stir for another minute.
Add the squash, apple, pear, curry powder, cinnamon and ginger. Stir.
Stir in the broth, increase heat to high. Cover and bring to a boil.
Once boiling, reduce heat and maintain at a low boil, covered for 30 minutes.
Let cool for about 15 minutes and transfer to a blender (if you do not have an immersion blender). Puree until very smooth. Transfer back into the pot, reheat and season with salt and pepper to taste. Serve with optional toppings.
Pair with  a bottle of Gewurztraminer. This semi-sweet aromatic wine has notes of cinnamon, ginger and honey that compliment the silky and spicy characteristic of this soup.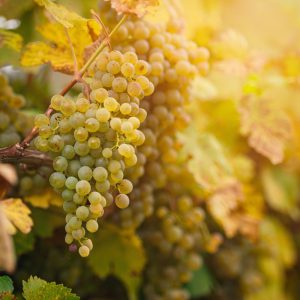 Gewurztraminer Recipe + Instructions
First choose if you want to make a sweet wine or a dry wine, as this will dictate a lot of your decisions when making your wine.
Secondly, feel confident in your pronunciation of this delicious variety, as you'll be telling all of your friends about the great wine you've made to be paired with the butternut squash soup. Let's say it together. Guh-VERTZ-truh-meen-er. That's right!
Decide if you are going to make wine from fruit, juice, or concentrate. This time of year you'll need to be making wine from juice or concentrate.
Add pectic enzyme to your juice. This will help with settling and clarifying down the road to ensure a clear and beautiful finished wine.
Pick the

yeast

of your choosing. Some great options for retaining the fruity, aromatic, perfume-like traits of Gewurztraminer include Alchemy I, Vin 13, QA23, and D47. Rehydrate your yeast using

Go-Ferm

for best results.
Time to ferment your wine! If you're using a kit, follow the directions they give you.
If fermenting fresh juice, add Booster Blanc and Opti-White to increase mouth feel and mid-palate intensity.
When you see the Brix drop by 2-3, add Fermaid O to your juice.
Continue checking the Brix each day. When you see a 1/3 drop in the starting number, add Fermaid K to ensure the fermentation remains strong and the yeast have the energy they need.
When alcoholic fermentation is over, rack off the gross lees. Add potassium metabisulfite. This is important, as this is a variety that stylistically does not benefit from malolactic fermentation.
If you want to back sweeten, you can do so. Gewurztraminer can make fantastic dry, semi-sweet, and sweet wines, so you can't go wrong with whatever you decide!
 For more information about making wine from juice click

HERE

!
Want to make your own wine for your next pairing? Musto Wine Grape Company is New England's largest supplier for home winemaking products and services. We'll get you set up with all of your juice, grape and equipment needs and have you on track to making your own perfect pairing. Visit juicegrape.com or give us a call at (877) 812 – 1137 to learn more. We look forward to hearing from you!