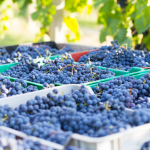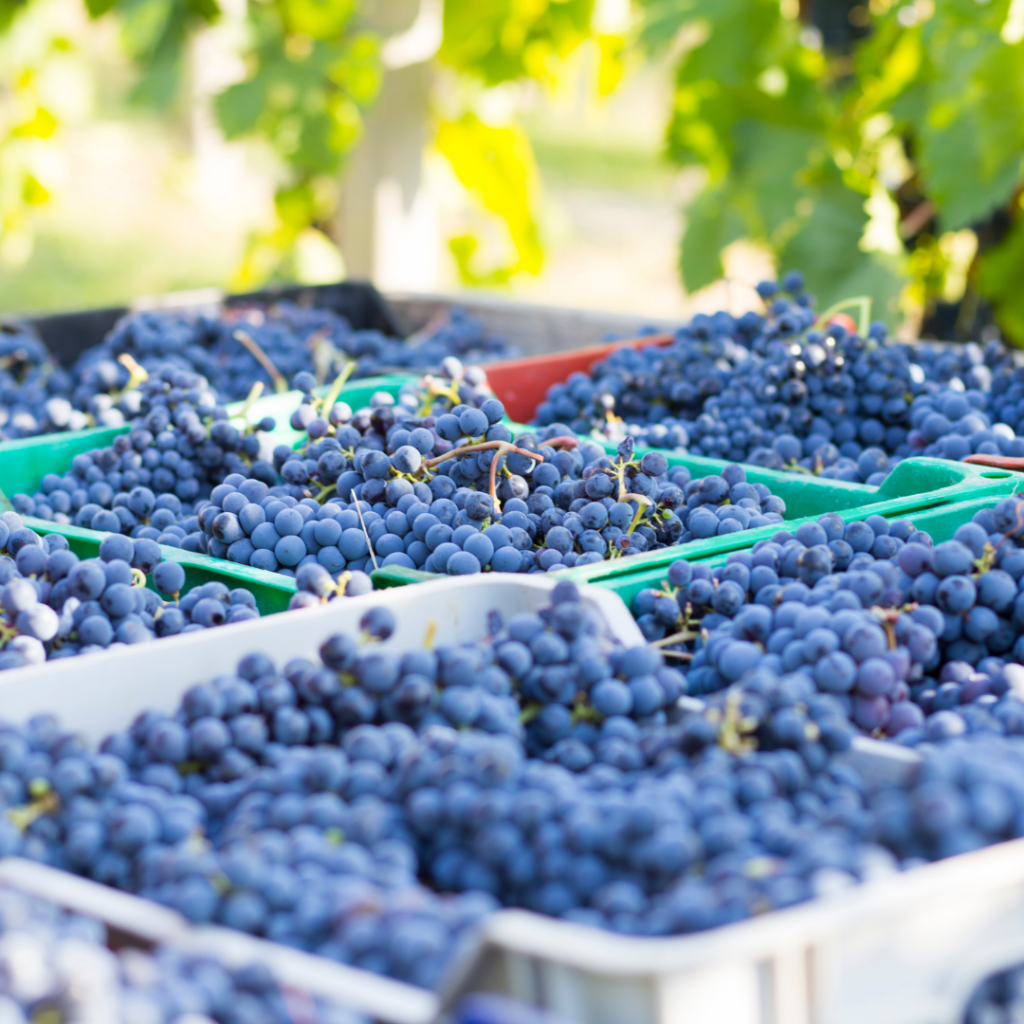 Dear Winemakers,
It's Spring time! And you know what that means…. South African and Chilean Season!! We are so excited to get winemaking again. Below is a list of all our Spring Offerings this season. Please feel free to reach out to us via email at sales@juicegrape.comor via the phone at 877-812-1137 with any questions or to make an order.
2023 Spring Grape Offerings:
South Africa: Pinotage
Chile: Cabernet Sauvignon, Cabernet Franc, Carmenere, Malbec, Merlot, Petite Verdot, Pinot Noir, Syrah, Chardonnay, Pinot Grigio, Sauvignon Blanc, and Viognier
Musto's 2023 Spring Juice Offerings:
South Africa: Shiraz, Merlot, Pinotage, Cabernet Sauvignon, Semillon, Chardonnay, Pinot Grigio, Chenin Blanc, and Sauvignon Blanc.
Chile: Cabernet Sauvignon, Cabernet Franc, Carmenere, Malbec, Merlot, Petite Verdot, Pinot Noir, Syrah, Chardonnay, Pinot Grigio, Sauvignon Blanc, Viognier, and Muscat.
Crush/Destemm is Back!
We will be crushing and destemming again this year! However, there is a minimum order of 24 cases of Spring grapes. This will give you 6 pails of must, and about 20+ gallons of juice to work with.
Winemaking Classes:
Have you heard about our new Facebook Live series? Frank Renaldi is teaching free classes on Musto's Facebook Page once a month. Each month Frank picks a topic to chat about and go live with a presentation, plus a q&a period. Usually scheduled on a Thursday night, make sure to keep an eye out for them. The next one will be Thursday March 30th at 7:00PM. Feel free to send Christina suggestions for future topics.
How do you access Facebook Live? It's easy. Go to Musto's Facebook Page on the given date/time, and Frank's class will automatically popup on your screen. There you can ask questions in real time. We hope you enjoy this series and look forward to bringing you more information to help you make your favorite wine!
Don't forget that you can always access Frank Renaldi's online classes via our sister site WinemakingInstructions.com.
Winemaker Hours:
One of our on staff Winemakers -Sam Lee will be in the store and available for questions on Tuesdays and Fridays from 8:00AM-4:00PM. If you want to speak to a winemaker in person, make sure to stop by and see Sam! You can also email him at winemaker@juicegrape.com.
Store Hours:
February Hours:
Mon-Fri: 8:00AM-4:00PM
Sat-Sun:  Closed
Looking forward to working with you all this Spring!
Cheers!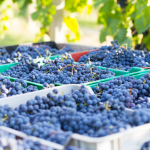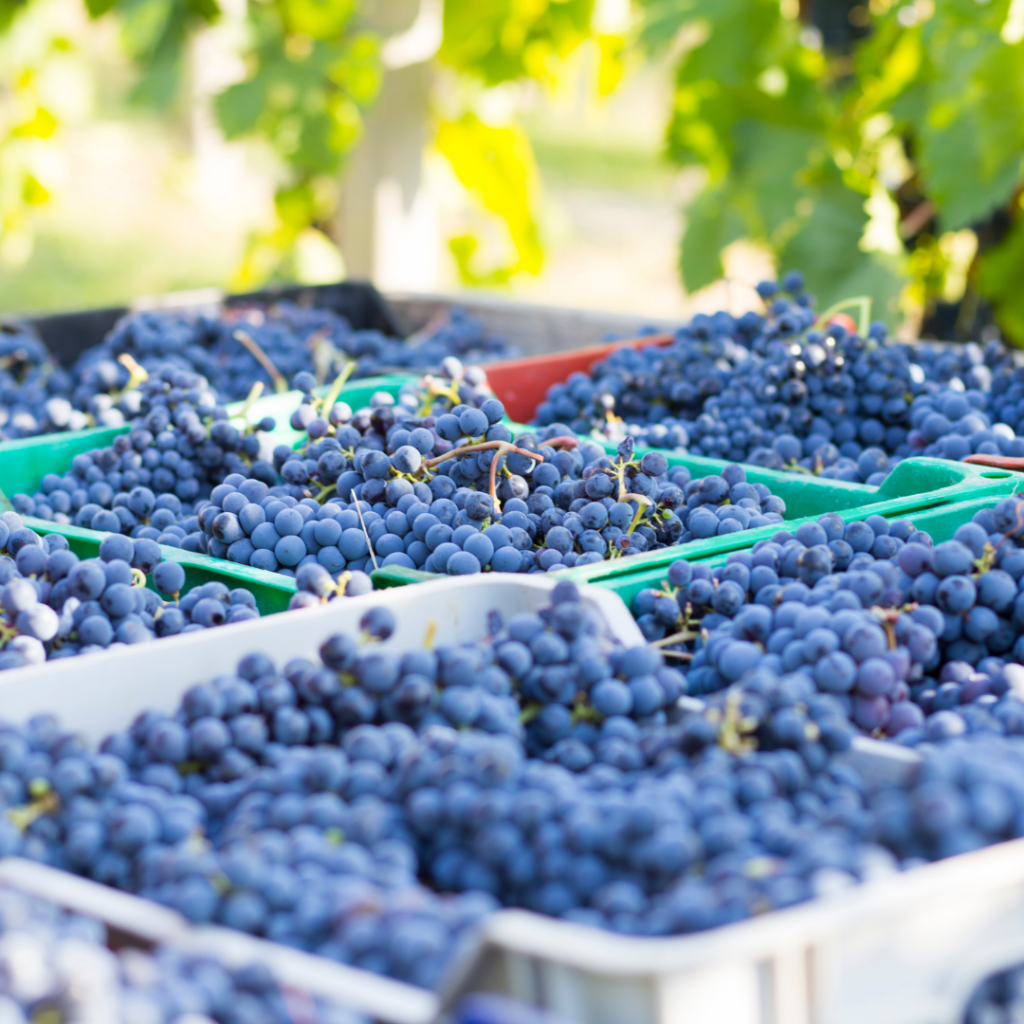 Each case of wine grapes from Chile is 18lbs. Depending on the grape variety, you should yield about 1.5-2 gallons of must per case.
However, keep in mind that certain wine grapes are "juicier" than others. For example, Syrah is considered a "juicer" grape than a Cabernet. If you look closely, you can see the difference in the shape of the berries. The Syrah grape has more of an "egg" shaped berry to it. The Cabernet is more of a circle shaped berry. The berry size, climate, soil, and vineyard practices will all help determine how much juice is produced in each berry, and the berry intensity.
Usually each case of 18lb wine grapes will yield about 1.25-1.50 gallons of finished wine.
That equates to about 7 bottles of wine.
Other factors that influence how much must and/or juice you yield per case:
How your rollers are positioned in your crusher destemmer
How much you press after fermentation is completed
How much wine you loose during racking
If you barrel age your wine
If drink a lot of wine during bottling
Keep these topics in mind when you are deciding on how many cases of grapes you want purchase versus how much wine you want to make. If you ahve any questions do not hesitate to reach out to us via email (sales@juicegrape.com) or phone (877-812-1137).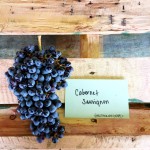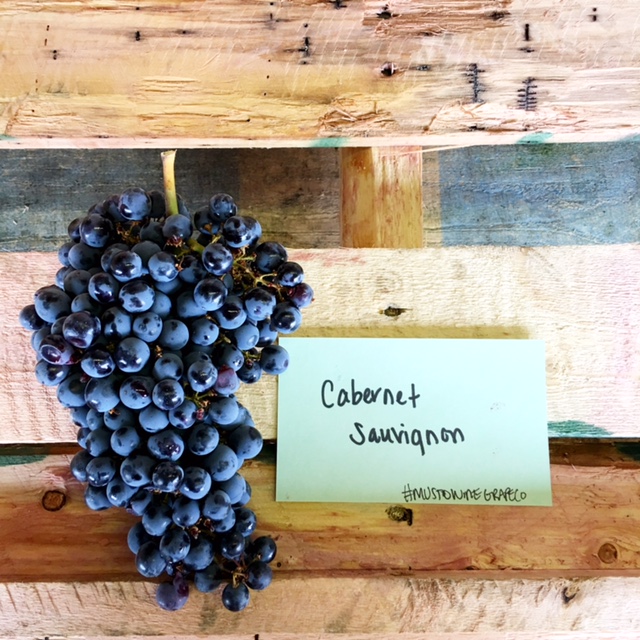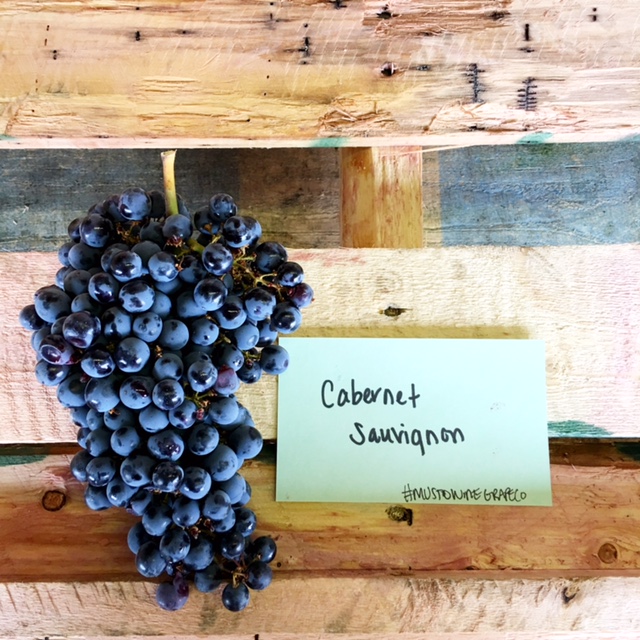 Cabernet is King, no matter the region. At MWG we are grateful to be able to bring in Cabernet grapes and juices frrom Chile for wineries and home winemakers. Cabernets from Chile are very bold with notes of blackberry, casis, and plum. The tannins are medium to medium plus on the palate make this a great wine to enjoy with a steak or a hearty meal. Introducing oak into this style of wine only helps create more complexity on the palate and finish. Some winemakers also blend thier California Cabernet with thier Chilean Cabernet to create an "International" Cabernet Wine. There are lots of fun things to try when making Cabernet from Chile!
Crush Cabernet grapes into a sanitized bin or tub. (Each 18lb crate will make 1.25 gals of finished wine).
Apply 50ppm of

Potassium Metabisulfite

and stir well. Allow to sit for 8-12 hours.
Apply .5ml of Color Pro Pectic enzyme per box diluted into a 10% solution with water to the must and stir. Allow to sit for another 8-12 hours.
Mix

Booster Rouge

, FT Rouge, and Opti-Red, with spring water until it is the consistency of pancake batter and pour over top of crushed grapes. Mix in well.
Add rehydrate

CSM yeast

(1g/gal) with

Go Ferm

rehydration nutrient and warm water. Allow to sit for 15 minutes and pour over top of crushed grapes.
Punch down grapes 3 times per day throughout the duration of fermentation and monitor temperature and Brix levels daily. Use a hydrometer to test sugar content in a strained juice sample. Make sure the temperature does not exceed 85F.
One day after adding the yeast, add Fermaid O, mixed with spring water in to the pancake batter style slurry. Dump into grapes during a punch down.
After the depletion of 1/3 of the Brix (when the Brix level is between 16-11), add

Fermaid O

that is mixed with spring water into the pancake batter style slurry. Dump into to grapes at a punch down.
Add Malo-lactic bacteria the same day as the Fermaid K. If you are using liquid cultures, just pour over the grape must and mix. If you use the dry cultures, rehydrate them in warm spring water according to their specific directions, utilizing any rehydration nutrients recommended.
When the Brix have dropped below zero, press the wine into a sanitized tank, carboy, or demijohn. Make sure the vessel is topped up all the way to the top of the neck and sealed properly with a

bung

and airlock.
Rack after 48 hours and then again in a week. Allow MLF to complete before adding sulfites.
Allow the wine to age and rack it every 2 months and add sulfites when racking.
Recipe by the Winemakers at Musto Wine Grape
Interested in making your own wine? Musto Wine Grape Company is here to help! Musto's New England's largest supplier for home winemaking products and services. Visit juicegrape.com or give us a call at (877) 812 – 1137 to learn more.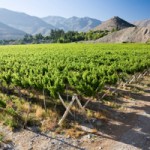 The Spring Harvest Menu is now available to download HERE
Browse what's available to create this Spring and give us a call (877-812-1137) or email us (sales@juicegrape.com) to secure your order!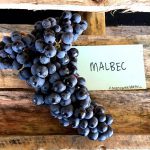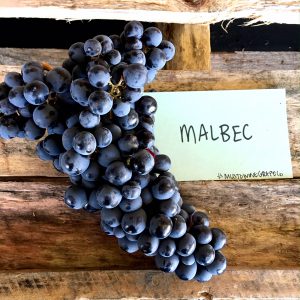 7 Tips for How to Prep for the Chilean Wine Harvest 🍇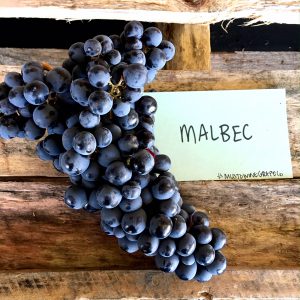 1. Clean and organize your winemaking cellar
2. Take inventory of your fermentation supplies and re-stock
3. Check all wines that are aging – top off, make SO2 adjustments
4. Inspect and double check your tools and equipment
5. Decide if you want/need to upgrade or replace any equipment
6. Look over past winemaking notes
7. Bottle any wine you need to in order to free up space for this seasons wines
Have you ordered your Chilean winemaking products yet?
Give us a call at 877-812-1137 or email us at sales@juicegrape.com to get your set up!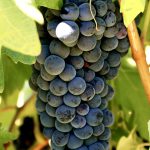 Malbec is a grape variety with a deep, inky color, producing dry red wines that boast robust tannins and a long, smooth finish.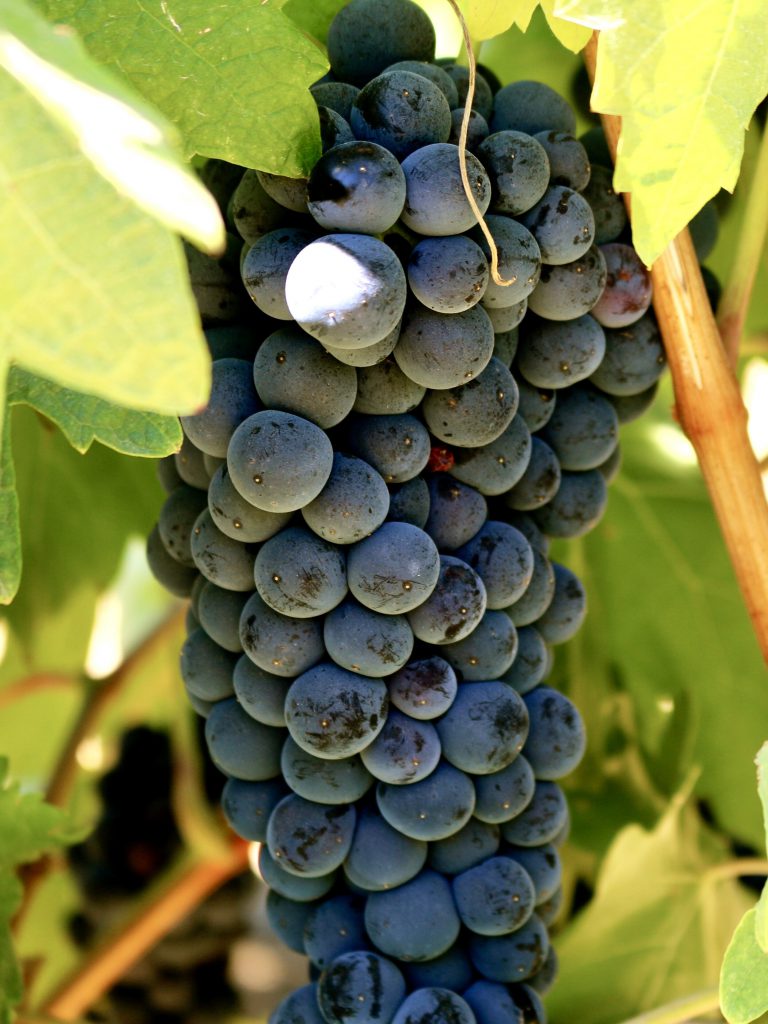 Where is Malbec from?
Malbec was almost exclusively grown in France, where it played a primary role as one of the main Bordeaux grapes. The climate and pests in France did not allow for Malbec to perform to its utmost potential. Struggling to thrive, growers saw it as weak, finicky, and susceptible to disease as well as rot. It is mainly associated with Argentina and Chile now because it thrives there. It took well to the climate, excelling in the high elevation and heat, making it one of the most widely planted grapes. In the United States, you can find the majority of wine grape plantings in California, yet Malbec only makes up for 0.5% of those plantings.
Malbec Characteristics
This grape can yield a wide range of fruit aromas that vary widely depending on the climate they are grown in. Cooler climates like France and Washington state yield black cherry, raspberry, and plum aromas. For warmer climates like Chile, you'll get more blackberry, blueberry, plum, and black cherry. They're juicy and jammy, with notes of vanilla, tobacco, dark chocolate, and oak. They have medium acid and moderate levels of tannins. Chilean Malbec's boast with red fruit flavors like cherry, raspberry and have floral and slight earthy notes.
Can I make my own?
Musto Wine Grape Company is here to help you make the wine of your dreams! The Spring Chilean winemaking season starts in late April, early May. Secure your Malbec and give us a call at (877) 812-1137 to speak with one of our Musto Crush Crew members. We can get you set up with everything you need and provide customer support along the way to ensure your success!
While we were busy crushing and pressing in the fall, our Chilean vineyards were going through bud break.
Bud break is the start of the grape vine's annual cycle. Bud break is a relaxing time in the vine's life as long as they don't experience any intense weather occurrences, such as frost.  Frost can kill the buds or delay their growth.
This season Chile had a some cold weather come through the vineyards. Thankfully our vineyards were able to keep the vines protected and did not have any frost damage. Take a look at the bud break in our Chilean vineyards and get a sneak peak at the harvest ahead.
Bud Break in Chile – October 2019
Grapes Available: Chardonnay, Pinot Grigio, Sauvignon Blanc, Viognier, Cabernet Sauvignon, Carmenere, Cabernet Franc, Malbec, Merlot, Petite Verdot, Pinot Noir, and Syrah
Juices Available: Carmenere, Cabernet Sauvignon, Cabernet Franc, Cabernet/Merlot Blend, Malbec, Merlot, Petite Verdot, Pinot Noir, Syrah, Chardonnay, Pinot Grigio, Sauvignon Blanc, and Viognier
Fresco Juices Available: Cabernet Sauvignon, Carmenere, Merlot, Malbec, Chardonnay, Sauvignon Blanc, Viognier, Chardonnay/Semillon Blend
For more information on making wine, please visit our website at www.juicegrape.com and our Facebook Page for real time harvest updates. Our Chilean wine grapes arrive in late-April and early-May. If you are interested in making an order please email sales@juicegrape.com or give us a call at 877-812-1137 to discuss this season's harvest.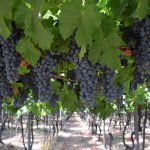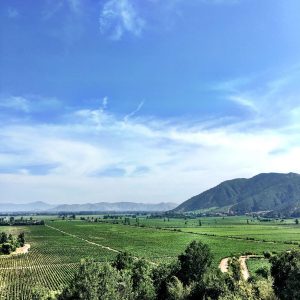 Our Chilean grapes are ripening and flourishing. The red grapes have full color and should be arriving in late April/early May. The Chilean juices should be arriving the first week in May.
Arrival Dates: White grapes should arrive around the last week in April and the red grapes should start to arrive around the last week in April, first week in May. Get your crushers ready!
Ps- check out our grower's Chilean Wine Festival Video HERE.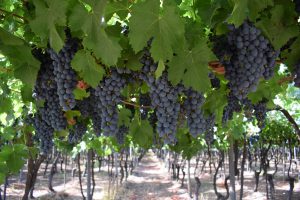 Grapes Available: Chardonnay, Pinot Grigio, Sauvignon Blanc, Viognier, Cabernet Sauvignon, Carmenere, Cabernet Franc, Malbec, Merlot, Petite Verdot, Pinot Noir, and Syrah
Juices Available: Carmenere, Cabernet Sauvignon, Cabernet Franc, Cabernet/Merlot Blend, Malbec, Merlot, Petite Verdot, Pinot Noir, Syrah, Chardonnay, Pinot Grigio, Sauvignon Blanc, and Viognier
Fresco Juices Available: Cabernet Sauvignon, Carmenere, Merlot, Malbec, Chardonnay, Sauvignon Blanc, Viognier, Chardonnay/Semillon Blend
Give us a call or send us an email to secure your order! 
Phone: 877-812-1137
Email: sales@juicegrape.com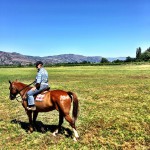 As the grapes begin to harvest we reflect back on the amazing trip that we had in Chile. Check out our Chilean itinerary below. Anyone up for a trip to Chile? Because we can't wait to go back and visit!
Day 1: Colchagua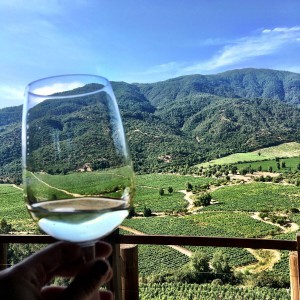 As we drove through the Colchagua Valley I couldn't help but feel like I was back in Napa driving down the Silverado Trail or HWY 29. Lush vineyards surrounded us on either side of the highway. Each winery we passed was just as majestic as or more than the next. A blissful start to our trip.
We stopped at few wineries that day before we visited our vineyards for research purposes ;). The first winery we stopped at was Lapostelle's Clos Apalta winery. This winery calls itself "French in essence, Chilean by birth". A striking winery that is 100% gravity fed. They have over six levels in the winery. Each with a specific fermentation or aging purpose. The tasting room is on the second to last floor and is so cold they offer blankets for patrons when tasting wine in their cave like room. Directly below the tasting room is the proprietor's personal cellar, with over 1000 bottles of wine. Quite the collection.  This was one of the more interesting tasting experiences we've had.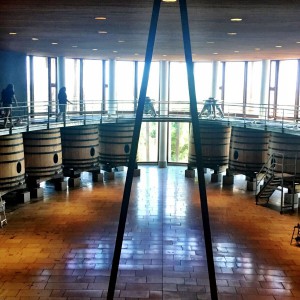 For the rest of the day we visited our Colchagua Vineyards and they were incredible! The Colchagua Valley is known for growing bold red wines, such as Carménère, Cabernet Sauvignon, Cabernet Franc, and Syrah. It has a mediterranean climate and is located along the southern end of the Rapel Valley. This topography creates a climate that receives around 23.3 inches of rainfall per year and little to no rainfall during their summer months. This helps keep the grapes safe close to harvest and ensures that the grapes are fighting for water therefore creating a more intense fruit.  The soil is made up of sand, decomposed granite, and clay. Another great indicator of quality viticulture. These soil components soak up acidity and help create a more balanced wine grape to work with.
Days 2-3: Curico Valley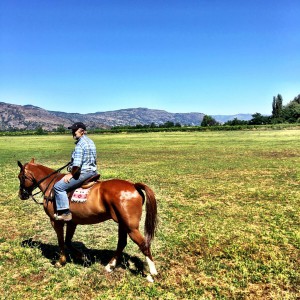 The hospitality in Chile was something we have never experienced before. The people were so kind and accommodating. First, we rode on horseback around the Chardonnay vineyard. Not being very good at horseback riding this was a little nerve wrecking, but we were able to make it around the vineyard (barely). Besides the stress of being on a horse the views were gorgeous and it was quite the way to take in the vineyard views.
Curico is place where many wineries and growers work with large producers. They have high-end equipment with state of the art technology; but at the same time there are family wineries and growers who create incredible boutique wines using a combination of old world tradition and a few new world winemaking practices. You can see the combination of new and old just by driving down the street. You not only pass fancy cars, but every once in a while you'll pass a horse and buggy. Yes that is correct. Many people ride horseback throughout the area rather than drive cars.  Curico has been a wine grape growing region since the 1800s and you can see the incredible history of the wine region as you drive down the street.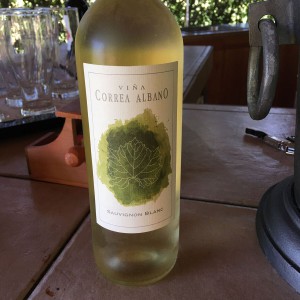 The wines from our grower's personal winery were delicious! Sebastian and Manuela make a great father/daughter team when it comes to winemaking. Their wine label is called "Correa Albano" and the Sauvignon Blanc was so fruit forward and bright. I couldn't get enough of it. Especially on such a hot summer day, it was the perfectly refreshing and complex Sauvignon Blanc. The Carmenere was unlike anything I've ever tasted. It had a "dusty" almost "napa-like" nose to it. It was full of delicious dark fruits with soft and rich tannins. This wine has inspired me to try to make Carmenere again. I am hoping the new CSM yeast will get me close to this flavor profile. One of things Manuela touched on was the importance of temperature during fermentation for both white and red wines. She said she is meticulous about monitoring temperature during her primary fermentations and it is one of the keys to her winemaking success.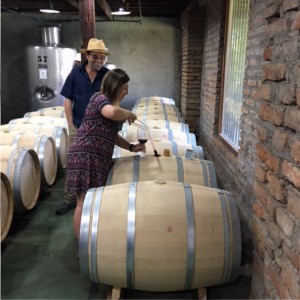 After tasting some our grower's wines we sat down for a true Chilean lunch and the food was delicious! Our growers were incredibly kind and prepared a few authentic Chilean dishes for us to enjoy (keep an eye out for some recipes to hit the blog soon). It was a feast of delicious Chilean produce, spices, and flavors, which was followed by a barrel tasting where Sebastian and Manuela let us try some of their aged red wines. They used multiple yeasts and are starting to think about blending the different oaks.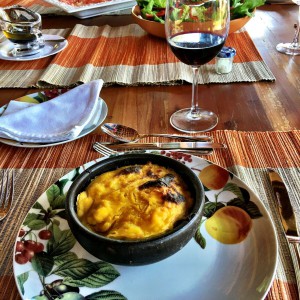 As our 5 hour lunch and tasting came to an end we went to see more of the vineyards, and let me tell you, this car ride was epic. It was to a point where we didn't think our rental car would make it over the rocks and through the brush. I felt like I was on a jungle safari in a car that was about to crumble underneath us with each bump we hit. We went from a beautiful roadside vineyard of Malbec and Merlot, up a large hill rocky hill to Cabernet Sauvignon, through a jungle forest that opened up to a gorgeous Syrah and Cabernet Sauvignon vineyards. It felt like we discovered a vineyard oasis. It was Sebastian's father's favorite vineyard. You could tell it held a special place in his heart.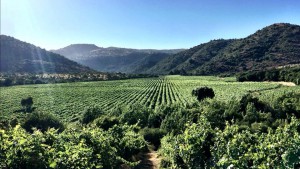 Day 4: Viña Alpatagua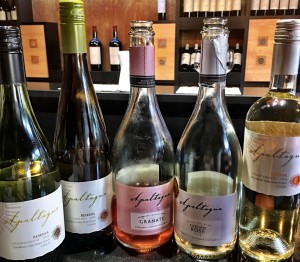 The next winery we visited was Viña Alpatagua. The winemaker gave us an insider's tour of the tank area, barrel room, and bottling line. It is a winery that is full of creativity and passion. The level of precision that is taken with each wine was very apparent, as was how creative the winemaker was. The winemaker, Pablo Barros, infused their sparkling wine with pomegranate juice from their estate pomegranate trees. It was a delicious addition to an already delicious sparkling wine.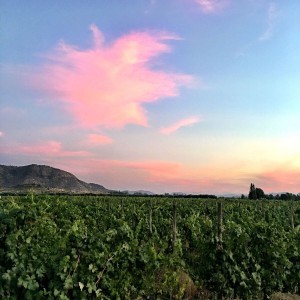 Most of their wines were appellation focused. We tried wines specifically from Curico and Colchagua. Most of the vines that they worked were very old, some up to 70 years old! My favorite wines were the Pomegranate infused sparkling, the Carmenere, their Cabernet Sauvignon, and Riesling.  This winery creates wines of great distinction. A must see if you are in Chile.
Day 5:  Santiago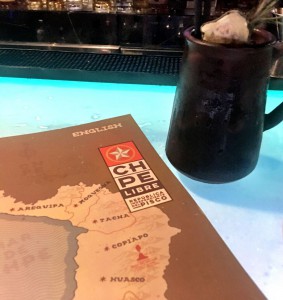 On the last day of our trip we enjoyed some delicious Pisco with some of our hosts, Alfredo and Suzanne. Alfredo and Suzanne are kind enough to take video, photos, and give us up to date harvest information. We are very lucky that they are so willing to give us information so quickly and efficiently. Alfredo and his family are a big part of why we are able to bring in such high end grapes from Chile.
Since it was our first time trying Pisco, they took us to a Pisco bar in downtown Santiago. This bar had some delicious ways to try it. They had over 30 different cocktails centered on the authentic, grape-based liquor. What a way to leave Chile! The next morning we reluctantly headed back to the US. An incredible trip with so many great memories, new knowledge, and media to share with our winemakers back home.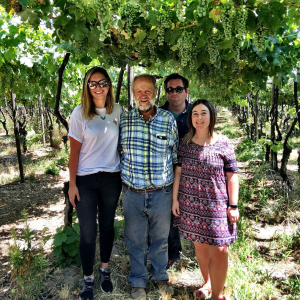 As the plane took off and I settled in for the long flight home I couldn't help but reflect back on the incredible people we met. They are kind and caring families who truly love what they do. You can see the passion they have for the wine industry, their families, and the people they work with. They said, "Wine is made in the details… If people work in a good way it takes a direct effect on the wines." I couldn't agree more. It was an incredible trip and we feel so very fortunate that we are able to work with such amazing growers and their families.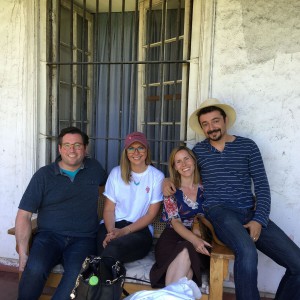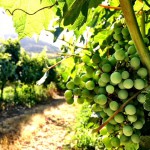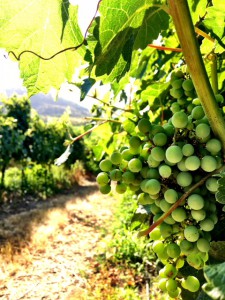 The Chilean harvest is starting soon. Verasion, or as the Chileans call it, "Enverno," began in some wine grape varieties around January 25th and most of the grapes are currently around 15 Brix. We should be seeing white grapes start to arrive around the last week in April, and red grapes start to arrive around the second or third week in May. We will be sourcing grapes from Curcio and Colchagua valleys this year.
The Curico Valley, known as the "Heart of the Chilean wine industry," and will produce some intense grapes this year. One of the steps that were put into place when cultivating this year's crop was the pruning the vines later in order to delay the plants from maturing. Our growers started pruning Chardonnay around
October 1st
and Cabernet Sauvignon around
September 20th
. This was done to help reduce the risks associated with seasonal frosts and this tactic definitely paid off as the grapes look excellent.  The Colchagua Valley is known for hearty red wines, such as Carménère, Cabernet Sauvignon, Cabernet Franc, and Syrah. It is located 100 miles south of Santiago, and is an ideal growing region for bold grapes. A little cooler than Curico Valley, but it still remains a Mediterranean climate. A great place for growing intense wine grapes that make complex and palate pleasing wines.
The crop this year looks to be of normal tonnage, but with a tighter marketplace developing around Chilean wines, grapes are tighter than previous years. Additionally, the growing season was a bit cooler than normal and harvest is expected to be about 10 days behind last year. This year's growing season should produce some intense and complex wines.