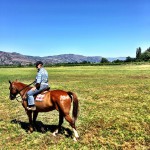 As the grapes begin to harvest we reflect back on the amazing trip that we had in Chile. Check out our Chilean itinerary below. Anyone up for a trip to Chile? Because we can't wait to go back and visit!
Day 1: Colchagua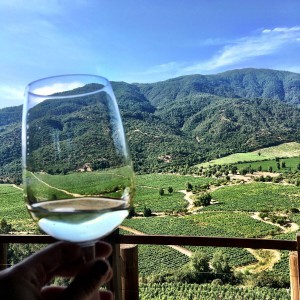 As we drove through the Colchagua Valley I couldn't help but feel like I was back in Napa driving down the Silverado Trail or HWY 29. Lush vineyards surrounded us on either side of the highway. Each winery we passed was just as majestic as or more than the next. A blissful start to our trip.
We stopped at few wineries that day before we visited our vineyards for research purposes ;). The first winery we stopped at was Lapostelle's Clos Apalta winery. This winery calls itself "French in essence, Chilean by birth". A striking winery that is 100% gravity fed. They have over six levels in the winery. Each with a specific fermentation or aging purpose. The tasting room is on the second to last floor and is so cold they offer blankets for patrons when tasting wine in their cave like room. Directly below the tasting room is the proprietor's personal cellar, with over 1000 bottles of wine. Quite the collection.  This was one of the more interesting tasting experiences we've had.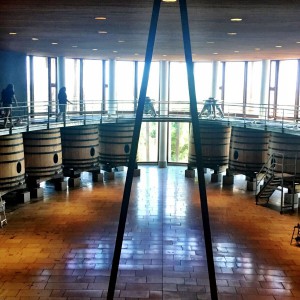 For the rest of the day we visited our Colchagua Vineyards and they were incredible! The Colchagua Valley is known for growing bold red wines, such as Carménère, Cabernet Sauvignon, Cabernet Franc, and Syrah. It has a mediterranean climate and is located along the southern end of the Rapel Valley. This topography creates a climate that receives around 23.3 inches of rainfall per year and little to no rainfall during their summer months. This helps keep the grapes safe close to harvest and ensures that the grapes are fighting for water therefore creating a more intense fruit.  The soil is made up of sand, decomposed granite, and clay. Another great indicator of quality viticulture. These soil components soak up acidity and help create a more balanced wine grape to work with.
Days 2-3: Curico Valley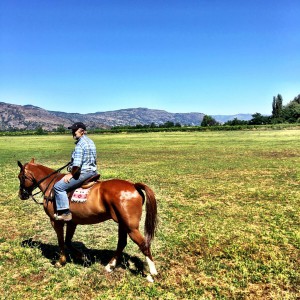 The hospitality in Chile was something we have never experienced before. The people were so kind and accommodating. First, we rode on horseback around the Chardonnay vineyard. Not being very good at horseback riding this was a little nerve wrecking, but we were able to make it around the vineyard (barely). Besides the stress of being on a horse the views were gorgeous and it was quite the way to take in the vineyard views.
Curico is place where many wineries and growers work with large producers. They have high-end equipment with state of the art technology; but at the same time there are family wineries and growers who create incredible boutique wines using a combination of old world tradition and a few new world winemaking practices. You can see the combination of new and old just by driving down the street. You not only pass fancy cars, but every once in a while you'll pass a horse and buggy. Yes that is correct. Many people ride horseback throughout the area rather than drive cars.  Curico has been a wine grape growing region since the 1800s and you can see the incredible history of the wine region as you drive down the street.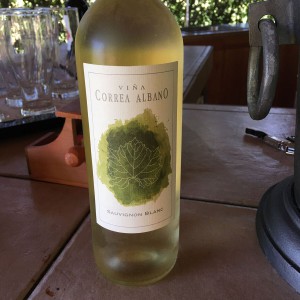 The wines from our grower's personal winery were delicious! Sebastian and Manuela make a great father/daughter team when it comes to winemaking. Their wine label is called "Correa Albano" and the Sauvignon Blanc was so fruit forward and bright. I couldn't get enough of it. Especially on such a hot summer day, it was the perfectly refreshing and complex Sauvignon Blanc. The Carmenere was unlike anything I've ever tasted. It had a "dusty" almost "napa-like" nose to it. It was full of delicious dark fruits with soft and rich tannins. This wine has inspired me to try to make Carmenere again. I am hoping the new CSM yeast will get me close to this flavor profile. One of things Manuela touched on was the importance of temperature during fermentation for both white and red wines. She said she is meticulous about monitoring temperature during her primary fermentations and it is one of the keys to her winemaking success.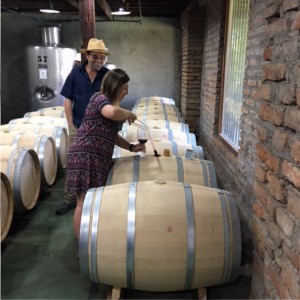 After tasting some our grower's wines we sat down for a true Chilean lunch and the food was delicious! Our growers were incredibly kind and prepared a few authentic Chilean dishes for us to enjoy (keep an eye out for some recipes to hit the blog soon). It was a feast of delicious Chilean produce, spices, and flavors, which was followed by a barrel tasting where Sebastian and Manuela let us try some of their aged red wines. They used multiple yeasts and are starting to think about blending the different oaks.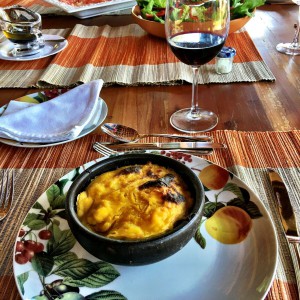 As our 5 hour lunch and tasting came to an end we went to see more of the vineyards, and let me tell you, this car ride was epic. It was to a point where we didn't think our rental car would make it over the rocks and through the brush. I felt like I was on a jungle safari in a car that was about to crumble underneath us with each bump we hit. We went from a beautiful roadside vineyard of Malbec and Merlot, up a large hill rocky hill to Cabernet Sauvignon, through a jungle forest that opened up to a gorgeous Syrah and Cabernet Sauvignon vineyards. It felt like we discovered a vineyard oasis. It was Sebastian's father's favorite vineyard. You could tell it held a special place in his heart.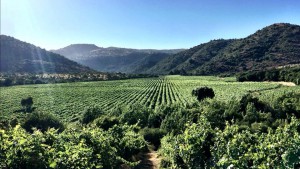 Day 4: Viña Alpatagua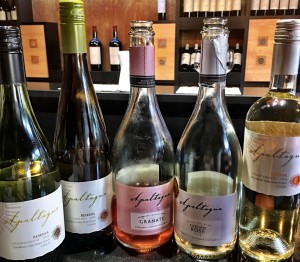 The next winery we visited was Viña Alpatagua. The winemaker gave us an insider's tour of the tank area, barrel room, and bottling line. It is a winery that is full of creativity and passion. The level of precision that is taken with each wine was very apparent, as was how creative the winemaker was. The winemaker, Pablo Barros, infused their sparkling wine with pomegranate juice from their estate pomegranate trees. It was a delicious addition to an already delicious sparkling wine.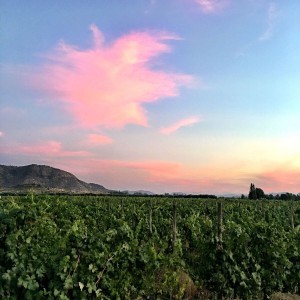 Most of their wines were appellation focused. We tried wines specifically from Curico and Colchagua. Most of the vines that they worked were very old, some up to 70 years old! My favorite wines were the Pomegranate infused sparkling, the Carmenere, their Cabernet Sauvignon, and Riesling.  This winery creates wines of great distinction. A must see if you are in Chile.
Day 5:  Santiago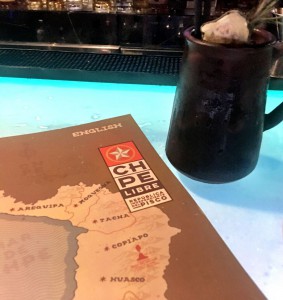 On the last day of our trip we enjoyed some delicious Pisco with some of our hosts, Alfredo and Suzanne. Alfredo and Suzanne are kind enough to take video, photos, and give us up to date harvest information. We are very lucky that they are so willing to give us information so quickly and efficiently. Alfredo and his family are a big part of why we are able to bring in such high end grapes from Chile.
Since it was our first time trying Pisco, they took us to a Pisco bar in downtown Santiago. This bar had some delicious ways to try it. They had over 30 different cocktails centered on the authentic, grape-based liquor. What a way to leave Chile! The next morning we reluctantly headed back to the US. An incredible trip with so many great memories, new knowledge, and media to share with our winemakers back home.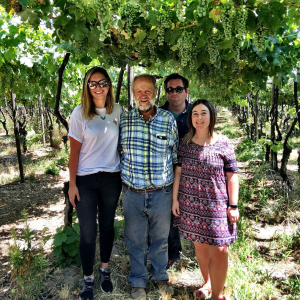 As the plane took off and I settled in for the long flight home I couldn't help but reflect back on the incredible people we met. They are kind and caring families who truly love what they do. You can see the passion they have for the wine industry, their families, and the people they work with. They said, "Wine is made in the details… If people work in a good way it takes a direct effect on the wines." I couldn't agree more. It was an incredible trip and we feel so very fortunate that we are able to work with such amazing growers and their families.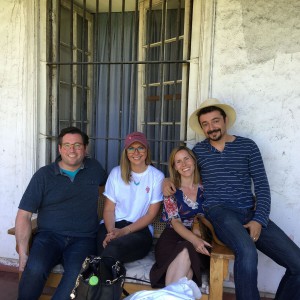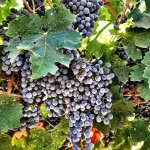 Good Morning from Madera! Our Clone 337 Cabernet is looking GORGEOUS and coming in at 21/22 Brix. We will work to harvest these around 24-25 Brix. According to the weather we will see a heat spike in the coming days. Central Valley harvest may be here before we know it! Seeing grapes as early as September 6th!
Clone 337 is best known as one of the premier French clones. It is similar to the Dijon clones and gives good yield, small intense berries, and very fruit forward flavors. These wines create a lush mouthfeel, have deep color, and intense dark fruit, chocolate, and intense tannins. Age in French or Hungarian Oak for an extra shot of intensity and depth.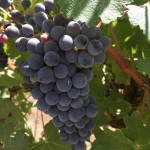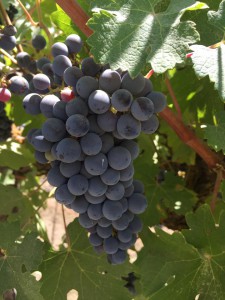 Paso Robles is one of California's emerging AVA's. It has grown from a sleepy town to a high end wine growing and wine producing region. Paso Robles Wine Country is ideally located along California's Central Coast, conveniently between San Francisco and Los Angeles. Over the past decade the number of wineries has more than tripled, and Paso Robles is now home to nearly 200 wineries. Winemaking on the Central Coast began when the Franciscan Friars traveled through California establishing Missions. The Missionaries started planting grapes in 1790. You can still see these vines growing today. Since the original plantings of the Missionaries, Paso Robles has become a top destination for farmers to plant grapes. Many famous people have planted vineyards and started wineries in this region. For example, Ignace Paderewski, the Polish pianist purchased 2,000 acres in the 1920's. He planted Petite Sirah and Zinfandel and eventually opened York Mountain Winery; which is still in existence today.
Paso Robles is comprised of 26,000 acres of wine grapes. It is one of the fastest growing wine regions in California and on the Central Coast. It has a diverse topography. There are rivers, roiling hills, flat lands, and mountains. The soil is comprised of bedrock, weather granite, marine sedimentary rocks, and volcanic rocks. Because of the many different soil components one vineyard block could contain several different soil types.
In terms of grapes, Paso Robles is known for growing Zinfandel, but has gained recognition for Bordeaux and Rhone varieties. The AVA likes to produce non-traditional blends. It is a valley that doesn't follow the rules and expectations of tradition winemaking. The winemakers of Paso Robles like to make their own rules.
Musto Wine Grape Company will be offering the following wine grapes from Paso Robles: Cabernet Sauvignon, Cabernet Franc, Merlot, Pinot Noir, Petite Sirah, Syrah, Zinfandel, and Old Vine Zinfandel.
The Paso Petite Sirah resides on the East side of Paso Robles. Days are hot for a longer period of time than the west side but the temperature will drop down to 50 degrees and below at night. The grapes ripen while maturing slowly to produce  a wine with aromas of blueberry, raspberry, and black coffee.  The wines from this area show deep color, are full bodied, and have a smooth tannic structure.
The Paso Merlot, and Syrah are sourced from Tolosa Winery from their "Meeker Vineyard" blocks.  The Syrah is the Shenandoah Clone and on 5BB rootstock. Finally, the Merlot is Clone 3 and on 5BB rootstock.
The Paso Zinfandel and Old Vine Zinfandel are sourced from the Steinbeck Vineyard. The Zinfandel resides on east-west rolling hills. The soils are calcareous and are farmed by a multiple generation vintner.
The Pinot Noir is sourced from Opolo Vineyards of Paso Robles. The Pinot Noir vineyards are located in the Willow Creek AVA. This region cools down earlier than the East side. The area is known for getting any varietal ripe and mature. The soil is very calcareous which produces a very elegant Pinot Noir.
The Cabernet is sourced from Parrish Templeton Vineyards. These grapes go to wineries such as Opolo and Justin. It is located in the "Pomar Junction" area of the Templeton gap. The soil consists of clay topsoil, over-lying a fractured calcareous base. This vineyard was created to produce high end Cabernet.
Varieties from Paso Robles:

Cabernet Suavignon
Merlot
Pinot Noir
Petite Sirah
Syrah
Zinfandel
Old Vine Zinfandel
We are currently taking orders for ALL Paso Robles grapes. The Pinot Noir will be arriving on 9/9/16. Make sure to secure your grapes today!
sales@juicegrape.com / 877.812.1137