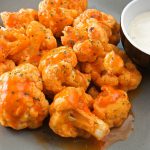 Air Fryer Buffalo Cauliflower Bites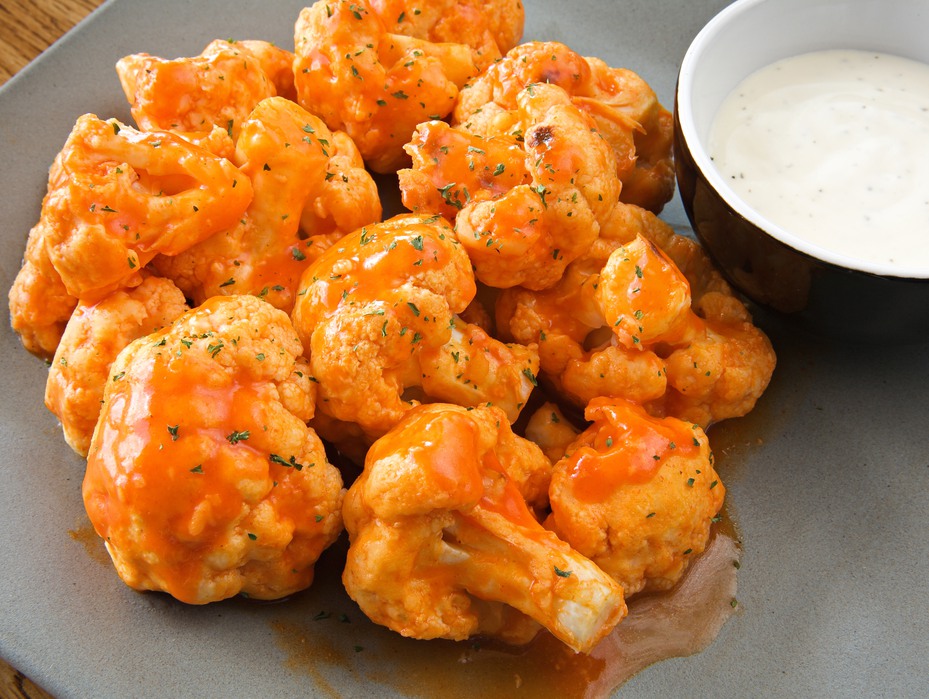 If you're obsessed with wings like I am, but are looking for a healthier alternative, try these air fryer buffalo cauliflower bites! Cauliflower has a similar texture to potatoes, but without all the carbs. There are a few way you can prepare these, but I've been obsessed with my air fryer lately so that's what I'll be using for this recipe.
What you'll need:
About 5 cups of cauliflower, chopped into florets
Buffalo Sauce – Frank's Mild Buffalo sauce is my all time favorite!
Unsalted butter
How you'll do it:
Spray the cooking basket in the air fryer with some non stick cooking spray
Add the cauliflower and cook at 375 degrees for 15 minutes. Toss the cauliflower and add back in for about 5 minutes if they aren't crispy yet. (Try cooking the cauliflower in smaller batches if they come out soggy – I've noticed if you over pack the air fryer they tend to not crisp evenly.)
Add cold butter to the warmed buffalo sauce and add to a large bowl, and pour the sauce mixture on stop and toss to fully coat.
Serve with blue cheese dressing for dipping and carrots and celery sticks to serve on the side.
The impossible pairing:
Yes, you can pair a wine (actually, quite a few!) to go with your buffalo dishes. A slightly sweet white wine will compliment the buffalo sauce the best. Reach for a Champagne, Moscato D'Asti or a Riesling. The fruity flavors and the low level of tannins really works with the buttery spice and they also help with the heat!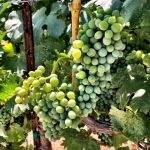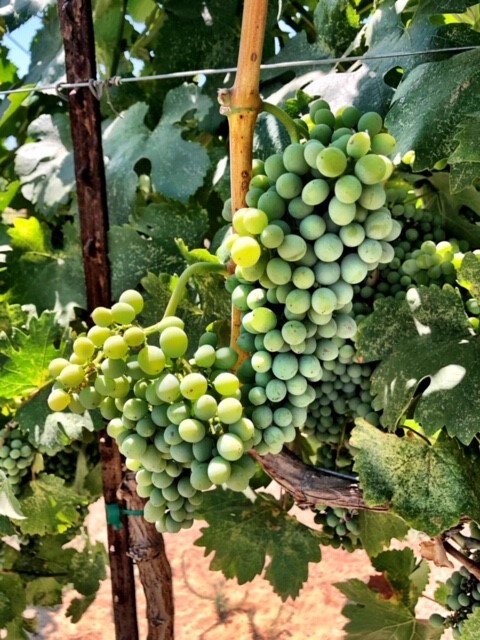 Ever consider making white wine at home but needed some advice on what grapes to use? Here's the list of the most popular white wine grapes you've been looking for to help you get started.
Try these four white wine grapes:
Chardonnay
Sauvignon Blanc
Muscat
Riesling
Why these grapes? Here are some reasons for choosing these white grapes to try in your home winemaking cellar:
• Chardonnay – One of the world's most popular grapes and ages for 5-10 years made in a wide range of styles from lean, sparkling to rich, creamy white wines aged in oak. It's primary flavors include: yellow apple, pineapple, vanilla and butter with a taste profile that makes it a dry, medium bodied wine with medium acidity and 13.5–15% ABV
• Sauvignon Blanc – Loved for its "green" herbal flavors and racy acidity; ages 3-5 years and has primary flavors of gooseberry, honeydew, grapefruit, white peach and passion fruit and makes a dry medium to light bodied wine with high acidity and 11.5–13.5% ABV
• Muscat – This grape is available in many styles, from dry to sweet to still, sparkling, and fortified, ages 3-5 years with primary flavors including orange blossom, Meyer lemon, Mandarin orange, pear and honeysuckle that produces an off-dry light bodied white wine with medium to high acidity and under 10% ABV
• Riesling – An aromatic white variety that can produce white wines ranging in style from bone-dry to very sweet; ages over 10 years. Its primary flavors include lime, green apple, beeswax, jasmine and petroleum and produces an off-dry wine with a light body, with high acidity and under 10% ABV
Which white wine grape will you try this season? We'd love to hear your experience with these popular grapes.
Email sales@juicegrape.com or call  877-812-1137 to order or discus making wine from home!
Written by Michelle Griffis aka the Nutmeg Nose from MWG