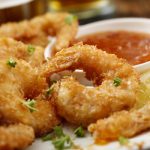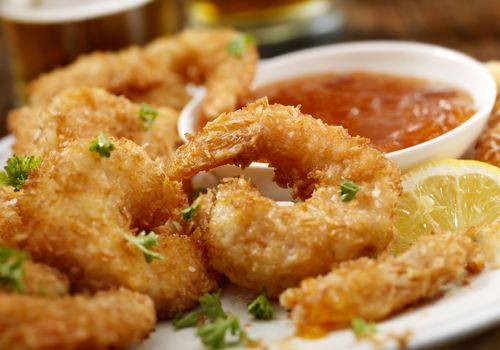 Calling all shrimp lovers! We've got a recipe ready to knock your tastebuds out of the park. Air Fryer Coconut Shrimp. Oh yeah – we went there. Pair with Pinot Grigio, Riesling, Sauvignon Blanc, or Pinot Noir.
How to make it:
If you don't have an air fryer then what are you doing? Go get one and hop on this recipe ASAP! Air frying allows you to have the experience of oh-so-good friend seafood without all the grease and deep frying. Shrimp can be delicate and you may be skeptical about using your air fryer to cook them, but we haven't had any issues with it cooking them to anything less than perfect.
We personally love crunchy shrimp, so this recipe will call for these to yield crunchy shrimp. You can reduce the amount of ingredients to your discretion if you prefer them less crunchy! We'll be using flour, eggs, panko breadcrumbs, and shredded coconut to bread the shrimp.
Firstly, preheat your air fryer to 390 degrees Fahrenheit and set up your ingredients in multiple bowls. You should have a bowl for your flour, beaten eggs, and panko flour mixed with shredded coconut.  We also use fresh, raw shrimp because there's no need to wait for defrosting and we also believe it cooks better than if you were using already cooked shrimp. Using already cooked shrimp could cause them to shrink and dehydrate.
Secondly, dip each piece of shrimp in your bowls in the following order: First the flour, then the egg, and then the panko and shredded coconut mixture.
Now, lightly spray the basket with non-stick cooking spray or line with parchment paper to prevent sticking. Line up your shrimp in the basket in a single layer, they will cook evenly this way opposed to on top of each other. Spray a small amount of oil on the shrimp and cook for 4 minutes. After 4 minutes, reopen the air fryer and flip the shrimp, spraying another small amount of oil on the flipped side of the shrimp to ensure even cooking. Close the air fryer and continue to cook for about 4-5 more minutes. Once finished, serve with sweet chili sauce for the ultimate flavorbomb! This Panda Express Chili Sauce you can find at Target is pretty good!
Interested in Making Your Own Wine? Give us a call (877-812-1137) or email us (sales@juicegrape.com) and we will help you get started!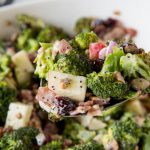 This crunchy, refreshing apple broccoli salad is a perfect summer barbecue side. Not only does it go great with virtually any barbecue food, ranging from chicken to steak and even burgers – it's also healthy without compromising tasty! I know you can't wait for this one so let's get started!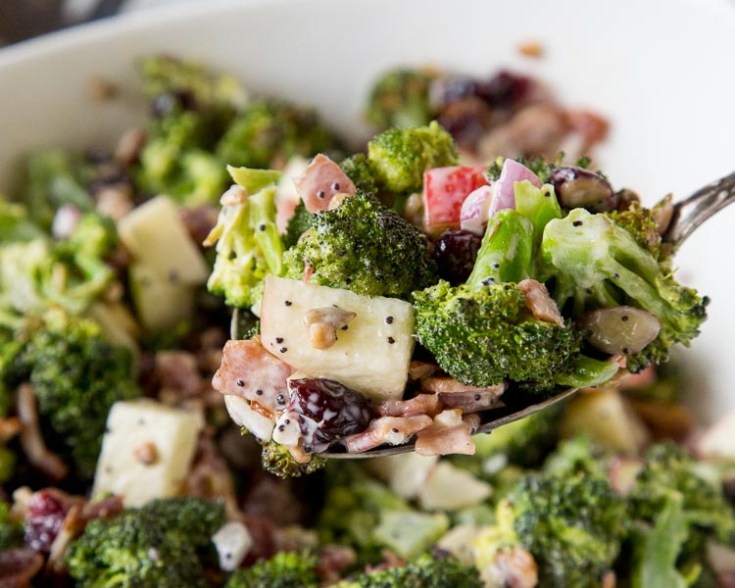 What you'll need:
2 medium heads of broccoli, chop into small florets
1/2 cup of shredded carrots
1/4 cup diced red onions
2 large apples, chopped into small pieces
1/3 cup nuts of choice. I love roasted almonds and sunflower seeds
1/3 cup dried cranberries. Ocean spray's pomegranate infused dried cranberries are delicious!
1 cup of plain greek yogurt
2 tablespoons apple cider vinegar
1 tablespoon sweetener of choice, I personally love using honey.
1/4 teaspoon salt
1/8 teaspoon pepper
What you need to do:
Combine broccoli, carrots, red onions, apples, nuts of choice, and dried cranberries in a bowl.
In a separate small bowl, combine greek yogurt, apple cider vinegar, honey, sale and pepper and whisk together.
Coat salad in dressing and toss, then serve chilled!
Wait, what about some wine to go with it?
You didn't think we'd leave you hanging on that, did you? We would never! In general, crisp white wines are a go-to when serving raw vegetables, so try a zesty Pinot Grigio with this salad. The smooth flavors and crisp acidity allows this kind of wine to be served with lighter dishes without being too overwhelming, perfect for this salad!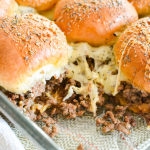 French Onion Beef Sliders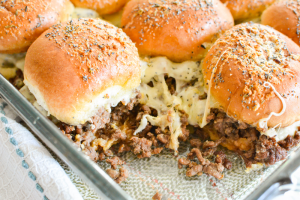 These French Onion Beef Sliders will be a huge hit with the crowd. Seasoned and buttery buns are packed with caramelized onions, melted cheese and flavorful ground beef to create the sort of appetizer that flies off of the plate.
What you'll need
8 Tablespoons or 1 stick of butter
2 large sweet onions, sliced
2 pounds of ground beef
2 Tablespoons of beef base
1 Tablespoon of Worcestershire sauce
Salt and pepper
24 slider buns
1 pound of shredded swiss cheese
2 Tablespoons of sesame seeds
1 Tablespoon of fresh thyme
1 teaspoon of onion powder
1 teaspoon of garlic powder
How you'll do it
Melt 2 Tablespoons of the butter in a skillet over medium heat.
Add onions and reduce the heat to medium low, stirring occasionally for about 25 minutes or until the onions are lightly caramelized. If the onions start to dry out or burn, add a tablespoon of water to the pan.
In a large bowl, mix the ground beef with half of the beef base and half of the Worcestershire sauce. Season with salt and pepper.
Add beef to the skillet full of onions, increasing the heat to medium high and brown the beef. Mix with the onions as you go. Drain off excess grease.
Preheat oven to 350 degrees Fahrenheit. Lightly grease a large baking sheet. Separate the tops from the bottoms of the slider buns. Fit the slider buns tightly on the baking sheet.
Evenly distribute the beef and onion mixture over the bottom buns. Top with the cheese and cover with the top buns.
In a microwave safe bowl, melt the butter with the remaining beef base. Stir in the remaining Worcestershire sauce, until well combined. Using a pastry brush, brush the beefy butter mixture over the top buns. Sprinkle with sesame seeds, thyme, onion powder and garlic powder.
Baking for about 20 minutes, or until the cheese is fully melted and the tops of the rolls are lightly browned.
Serve and enjoy with your party crew, who will definitely snag these up quickly – and maybe ask for more!